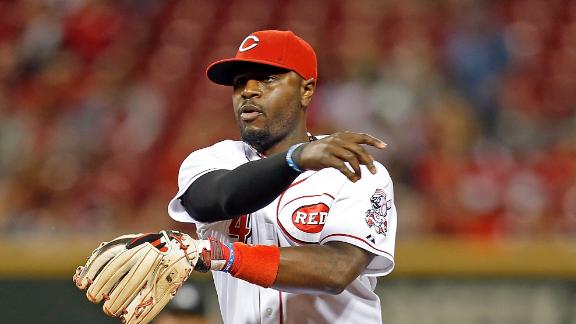 Source: Yanks nix Gardner-for-Phillips deal
Updated 9 hours ago
Share
Tweet
The New York Yankees rejected the Cincinnati Reds' trade offer of All-Star second baseman Brandon Phillips for outfielder Brett Gardner, a source confirmed to ESPNNewYork.com's Andrew Marchand, confirming multiple reports.
Source:
ESPN.com
Roundup: Two Ex-Mets Getting Look From Yankees

Updated 9 hours ago

Share Tweet

With the uncertainty surrounding the Japanese pitcher Masahiro Tanaka, the Yankees have had preliminary discussions with the agents for Johan Santana and Mike Pelfrey.

Source:

nytimes.com

Yankees, Reds reportedly discussed Phillips deal

Updated 10 hours ago

Share Tweet

The Reds and Yankees have held trade talks regarding All-Star second baseman Brandon Phillips, MLB.com confirmed via an industry source on Wednesday night.

Mariano Rivera to be honored with street outside Yankee Stadium

Updated 12 hours ago

Share Tweet

The honors keep rolling in for New York Yankees legend Mariano Rivera following his retirement from Major League Baseball. The latest — and undoubtedly one of the coolest — came on Tuesday when a City Council proposal to rename a street outside Yankee S…

Source:

yahoo.com

Updated 14 hours ago

Share Tweet

The Orioles are increasing their efforts to make a move, although it remains to be seen if they will have anything to show for it when they head north on Thursday.

Red Sox continue to keep tabs on Drew

Updated 16 hours ago

Share Tweet

Though the Red Sox aren't likely to execute a single transaction at this year's Winter Meetings, which conclude on Thursday, they continue to keep tabs on the market for free agent shortstop Stephen Drew.

Orioles open to contract extension for Hardy

Updated 16 hours ago

Share Tweet

The O's are considering an extension for J.J. Hardy, who is signed through 2014. "J.J. has had a couple of really good years for the team," Dan Duquette said on Wednesday, "and I think the interest is mutual between he and the Orioles and…

Yankees expressing interest in ex-Met Santana

Updated 19 hours ago

Share Tweet

Johan Santana threw the first no-hitter in Mets history. (Mitchell Layton/Getty Images)

Source:

CNNSI.com

Hairston retires, may join Dodgers' broadcasts

Updated 20 hours ago

Share Tweet

Jerry Hairston announced his retirement Wednesday, following a 16-year Major League career that included a World Series title with the Yankees in 2009. The 37-year-old has a deal to serve as a pregame and postgame analyst for the Dodgers' television bro…

Roy Halladay and family thank Philadelphia fans with newspaper ad

Updated Dec 10 (yesterday)

Share Tweet

Former Philadelphia Phillies right-hander Roy Halladay officially retired on Monday after signing a one-day contract with his original team, the Toronto Blue Jays. That type of short-term agreement is a little unusual in MLB — at least compared to the o…

Source:

yahoo.com

Updated Dec 10 (yesterday)

Share Tweet

Curtis Granderson, who will wear No. 3 — Babe Ruth's number — with the Mets, is a home run hitter, but he also struck out a club-record 195 times in his last full season with the Yankees.

Sources:

nytimes.com yahoo.com deadspin.com

Buchholz regaining arm strength

Updated Dec 10 (2 days ago)

Share Tweet

The Red Sox envision right-hander Clay Buchholz being back at full strength and hopefully ready to pick up where he left off early in 2013, when he pitched like a Cy Young Award candidate.

Steiner Sports brings Yanks' 'Core Four' together

Updated Dec 10 (2 days ago)

Share Tweet

After all of those years, all of those parades up Broadway, all of those records, all of those awards, all of those cheers, all of those good times and all of those farewells, the Yankees' "Core Four" gathered together Monday night in New York.

Updated Dec 10 (2 days ago)

Share Tweet

Yesterday, free-agent pitcher Roy Halladay announced that he'd sign a one-day contract with the Toronto Blue Jays and never play professional baseball...

Source:

grantland.com

Stephen Drew, Prodigal Son?

Dec 11

Gordon Edes tells Karl Ravech why he thinks Jackie Bradley Jr. is a lock to succeed Jacoby Ellsbury and how the Red Sox may wait for Stephen Drew to return.

Girardi Talks Yankees' Deal-Making

Dec 10

Joe Girardi visits the BBTN set to talk about the Yankees approach coming into the winter meetings, strengthening the rotation and Derek Jeter's health expectations.

Cashman Breaks Down Yankees' Moves

Dec 10

Buster Olney asks Brian Cashman how he heard about Robinson Cano's deal with the Mariners and recalls Joe Torre's greatness as a manager.

Numbers Never Lie: Cano's Contract

Dec 10

Tim Kurkjian joins Michael Smith and Jemele Hill to show that massive contracts in MLB are almost always a mistake.