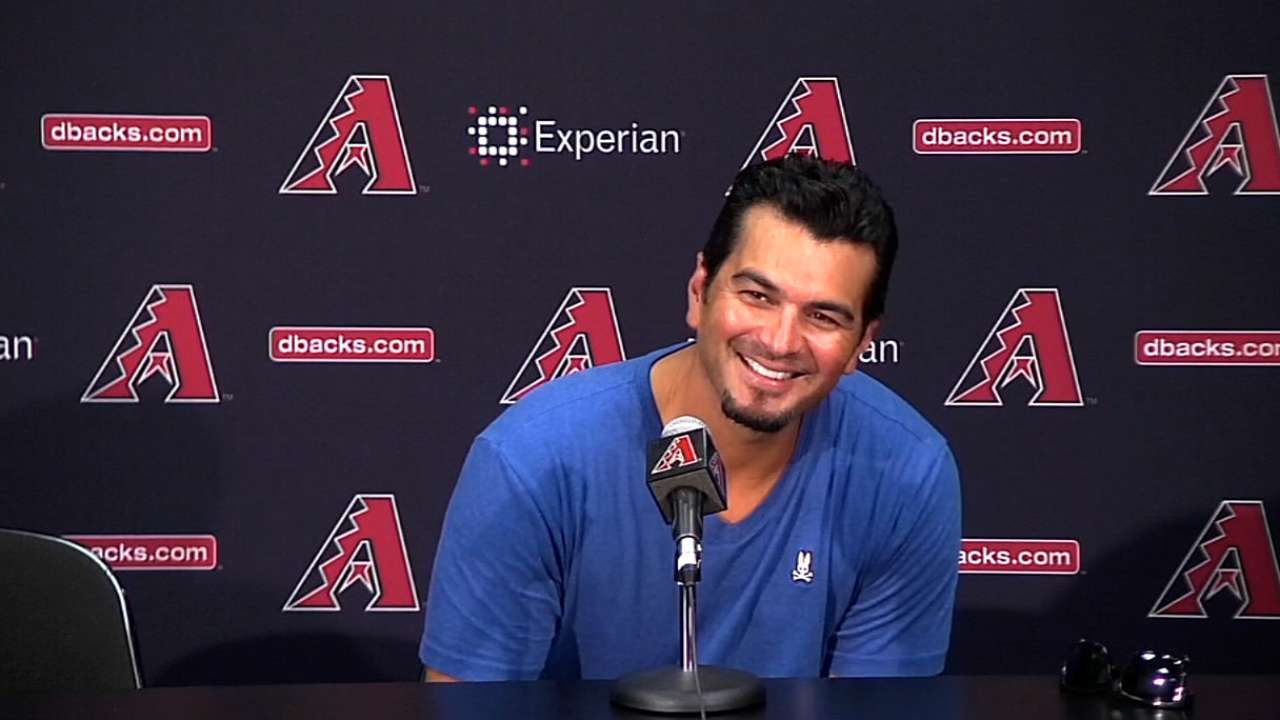 Orioles decline OF Markakis' $17.5M option

ESPN.com

42 minutes ago

The Baltimore Orioles declined their $17.5 million mutual option on Nick Markakis' contract, perhaps ending the veteran outfielder's nine-year stint in Baltimore.

Upvote Share Tweet

Revisions made to Yankees' spring schedule

MLB.com

15 hours ago

The Yankees announced on Friday that four revisions have been made to their 2015 Spring Training schedule.

Upvote Share Tweet

ESPN.com deadspin.com

18 hours ago

The Chicago Cubs will announce the hiring former Tampa Bay Rays skipper Joe Maddon as the 54th manager in franchise history on Monday, the team announced in a release Friday.

Upvote Share Tweet

First to 10? Rays exercise option on Zobrist

ESPN.com

16 hours ago

Ben Zobrist's $7.5 million option for 2015 has been exercised by the Tampa Bay Rays.

Upvote Share Tweet

Red Sox decline Breslow's option for 2015

MLB.com

18 hours ago

The Red Sox declined their $4 million option on reliever Craig Breslow -- key component during Boston's run to the 2013 World Series championship -- allowing the veteran lefty to become a free agent on Friday.

Upvote Share Tweet

Blue Jays claim Dirks, sign Francis to Minor League deal

MLB.com

18 hours ago

The Blue Jays brought in a couple experienced players on Friday, claiming outfielder Andy Dirks off waivers from Detroit and signing left-hander Jeff Francis to a Minor League contract with an invitation to Major League Spring Training.

Upvote Share Tweet

Red Sox positioned for active Hot Stove season

MLB.com

20 hours ago

The conclusion of the World Series means the beginning of what will be a busy Hot Stove season for Red Sox general manager Ben Cherington. A second last-place American League East finish in three seasons didn't sit well within anyone in the offices of 4…

Upvote Share Tweet

nydailynews.com

Oct 31 (yesterday)

The Jets once brought in Joe Girardi to teach Mark Sanchez how to slide. Now they should bring in Brian Cashman to teach John Idzik how to deal with the media. When it comes to maneuvering and manipulating, when it comes to either answering questions ca…

Upvote Share Tweet

The Orioles have exercised a $4.75 million option on left-hander Wei-Yin Chen and a $4.25 million option on right-hander Darren O'Day.

Upvote Share Tweet

Cherington hopes to meet with Lester

Starting on Tuesday, the Red Sox can start negotiating with free agents on other teams. And that could include a pitcher the Red Sox are extremely familiar with in lefty Jon Lester, the man they traded to the Oakland Athletics for Yoenis Cespedes back i…

Upvote Share Tweet

Castillo may not play winter ball because of thumb injury

Red Sox outfielder Rusney Castillo's plan of getting a number of at-bats during the offseason has been derailed by a right thumb contusion he sustained while playing in the Arizona Fall League.

Upvote Share Tweet

The luster wore off Boston Red Sox closer Koji Uehara a bit in 2014, but the team still likes Uehara enough to extend him for two more seasons. The team announced Thursday a new two-year contract for Uehara, who will bypass free agency and make $18M ove…

Upvote Share Tweet

Bird, Mondesi added to Fall Stars Game rosters

The Arizona Fall League announced Wednesday six players have been added to the rosters for Saturday's Fall Stars Game, including Scottsdale first baseman Greg Bird, the circuit's home run leader and Yankees' No. 11 prospect, and Peoria shortstop Raul Mo…

Upvote Share Tweet

ESPN.com

Oct 30 (yesterday)

Former Boston Red Sox infielder Kevin Youkilis is retiring, his agent says.

Upvote Share Tweet

nytimes.com deadspin.com

Oct 29 (3 days ago)

Maddon, who managed the Tampa Bay Rays for the last nine seasons and exercised an opt-out clause in his contract last week to leave the team, reached a deal to manage the Cubs.

Upvote Share Tweet

Imagine if the SF Giants could turn to Zack Wheeler in World Series Game 7 vs. the Royals 

nydailynews.com

Oct 29 (3 days ago)

The Giants are proof of what great scouting and some good fortune can produce with high draft picks, the type the Yankees haven't had in 20-some years.

Upvote Share Tweet

MLB.com

Oct 29 (3 days ago)

Jake Peavy didn't help his cause with a rough Game 6 performance on Tuesday, but he could still join an exclusive club by winning a World Series in consecutive seasons with two teams following his championship with the Red Sox in 2013.

Upvote Share Tweet

The Toronto Blue Jays claimed Seattle Mariners first baseman Justin Smoak off waivers Tuesday.

Upvote Share Tweet

Ex-Tigers pitcher Robinson dies at age 52

Jeff Robinson, who helped the Detroit Tigers to an AL East championship as a rookie in 1987 and went on to pitch in the major leagues through 1992, has died. He was 52.

Upvote Share Tweet

Yanks, Mets donate Berra replicas to museum

According to a statement on the website of the Yogi Berra Museum and Learning Center in Little Falls, New Jersey, Berra's two former teams, the Yankees and Mets, will donate replicas of the priceless items stolen from the museum in an Oct. 9th burglary.

Upvote Share Tweet

The Atlanta Braves have hired Kevin Seitzer from the Toronto Blue Jays to replace Greg Walker as hitting coach.

Upvote Share Tweet

Roc Nation ties have Red Sox looking to deal Yoenis Cespedes

nydailynews.com

Oct 26 (6 days ago)

Yoenis Cespedes' decision to switch agents to Roc Nation is said to increase the likelihood the Red Sox will trade the Cuban slugger this winter while they can still get something substantial in return for him with his free agency pending after next sea…

Upvote Share Tweet

yahoo.com

Oct 25

The Detroit Tigers season ended earlier then they'd hoped and in very disappointing fashion after they were swept by the Baltimore Orioles in the ALDS. Now their offseason is getting off to a pretty rough start too after the team learned that Miguel Cab…

Upvote Share Tweet

Youkilis To Retire From Baseball

Oct 30

ESPN senior baseball writer Jerry Crasnick discusses Kevin Youkilis retiring from baseball.

Red Sox Sign Koji Uehara To Two-Year Deal

Oct 30

Gordon Edes discusses the two-year, $18 million deal Koji Uehara signed with the Boston Red Sox and what it means for the team.

Maddon Expected To Join Cubs

Oct 29

Buster Olney and Barry Larkin discuss the impact Joe Maddon would make on the Cubs as manager.

30 for 30: Brothers in Exile - Temptation

Oct 29

Players are often tempted by outside influence while playing for The Cuban National Team. 30 for 30: Brothers in Exile premieres Tuesday November 4th at 9pm ET on ESPN.