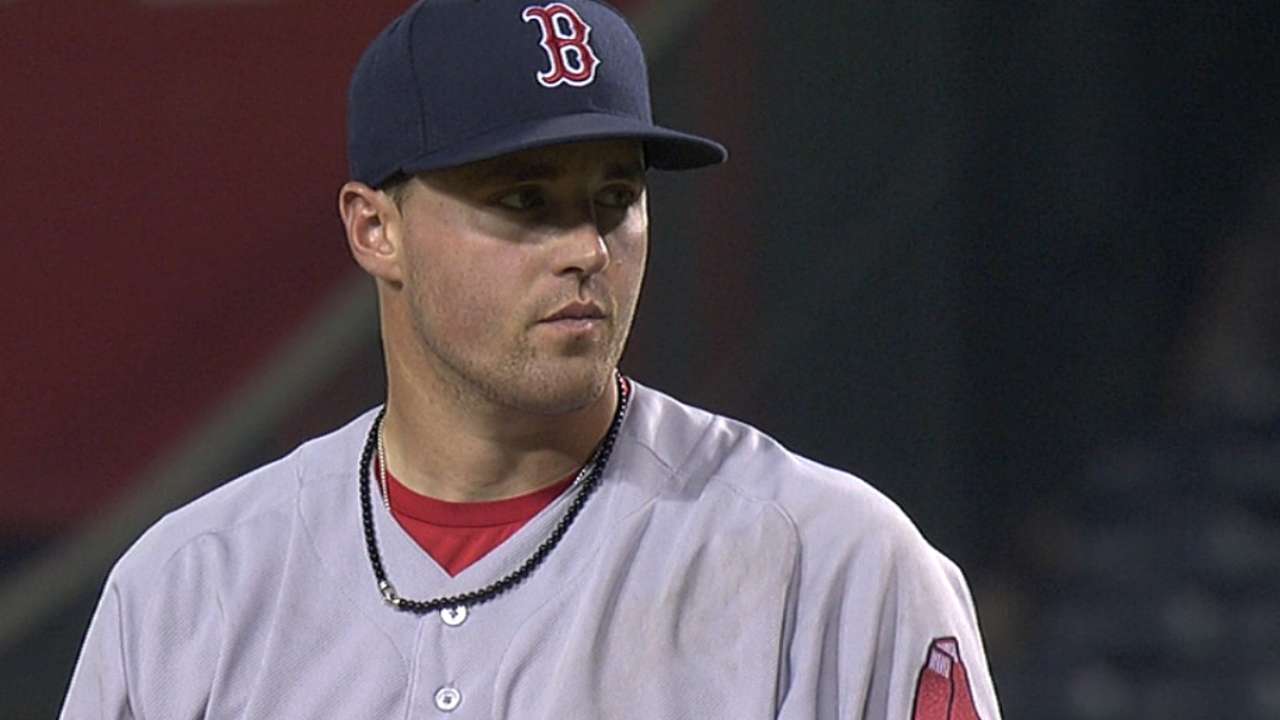 Rays, Archer Complete Sweep of Blue Jays

nytimes.com

59 minutes ago

Chris Archer pitched two-hit ball in seven scoreless innings and Brandon Guyer drove in four runs Sunday as the Tampa Bay Rays won their fifth straight, 5-1 over the Toronto Blue Jays.

Share Tweet

Matt Harvey proves he is ace of city by dominating Yankees, getting Mets back on track

nydailynews.com

16 hours ago

This is what it is like, in all ways, to be the ace of the staff and of the city, and the biggest baseball star in New York.

Share Tweet

The Yankees' biggest surprise isn't Alex Rodriguez, it's the early success of their starting rotation

nydailynews.com

16 hours ago

You ask Brian Cashman what has surprised him about his baseball team in April and he says, "A-Rod would be the surprise."

Share Tweet

MLB.com nytimes.com

17 hours ago

David Lough's home run in the bottom of the 10th helped the Orioles rally past the Red Sox for a 5-4 win and end a five-game losing streak.

Share Tweet

nydailynews.com nytimes.com yahoo.com

17 hours ago

These may not be the '98 Yankees, but they're still the Yankees, and they'd whipped on up on the Mets on Friday.

Share Tweet

C. C. Sabathia's Troubles Continue

nytimes.com

18 hours ago

Sabathia's strikeout totals declined and his E.R.A. rose as his record fell to 0-4 on Saturday against the Mets.

Share Tweet

Beckham's clutch double paces Rays' comeback over Jays

MLB.com

19 hours ago

Tim Beckham's two-run double in the eighth inning led the Rays to a come-from-behind 4-2 win over the Blue Jays Saturday night at Tropicana Field.

Share Tweet

Orioles Fans Stuck In Stadium After Mayor & Cops Ask Them Not To Leave

deadspin.com

19 hours ago

Fans at tonight's extra-inning thriller between the Red Sox and Orioles may end up staying at the ballpark even longer than ten (probably) innings of gameplay. That's because Baltimore's mayor and the city police department have asked fans to remain ins…

Share Tweet

nytimes.com

20 hours ago

Tim Beckham hit a tiebreaking double during a three-run eighth inning and the Tampa Bay Rays won their fourth straight game by beating the Toronto Blue Jays 4-2 on Saturday night.

Share Tweet

nytimes.com MLB.com

20 hours ago

The Mets starter Harvey, a Yankees fan as a child, stood on the mound at the beloved Yankee Stadium and dismantled his former favorite team.

Share Tweet

yahoo.com

21 hours ago

On Saturday, protestors started gathering in the streets of Baltimore to express their anger over the death of Freddie Gray, a 25-year-old African-American man who suffered a spinal injury that allegedly occurred while he was being arrested by Baltimore…

Share Tweet

Victorino placed on DL with hamstring strain

MLB.com

22 hours ago

The Red Sox placed outfielder Shane Victorino on the disabled list with a hamstring strain and called up pitcher Matt Barnes from Triple-A.

Share Tweet

When Ricky Romero was named to the All-Star game in 2011 it appeared it was just the start of a long and prosperous career with the Toronto Blue Jays. Then he suddenly lost the ability to pitch effectively at the major league level and now his career in…

Share Tweet

Mark Teixeira's New Diet Fuels a Resurgence With Yankees

nytimes.com

Apr 25 (yesterday)

Teixeira attributed his early success at the plate this season to a new eating regimen he adopted this off-season, which included abstaining from junk food and reducing foods that might cause inflammation.

Share Tweet

Extra Bases: What About Those Three Kingman Homers? Oops

nytimes.com

Apr 25 (yesterday)

A question from Paul Olden, now the Yankees' public-address announcer, ignited a profane tirade by the Dodgers' manager in 1978.

Share Tweet

yahoo.com

Apr 25 (yesterday)

Before the on field hostilities kicked in between the Baltimore Orioles and Toronto Blue Jays Tuesday night at Rogers Centre, it's reported the Orioles were already displeased by the ballpark's new artificial turf, which early in the season has played v…

Share Tweet

Ellsbury Confident He'll Be Ready For Opener

Mar 19

Wallace Matthews discusses Jacoby Ellsbury's oblique injury and when he could return to the Yankees.

Sabathia Discusses Spring Debut

Mar 17

Buster Olney speaks with Yankees pitcher CC Sabathia about his first pitching outing since May. He allowed two runs in two innings Tuesday against the Blue Jays.

Mets Fall To Red Sox

Mar 16

Matt Harvey allowed three hits over four scoreless innings for his second strong start following elbow surgery, but the Mets lost to the Red Sox 4-3.

A-Rod Homers

Mar 11

Alex Rodriguez hit a home run in the Yankees' 10-6 loss to the Red Sox.