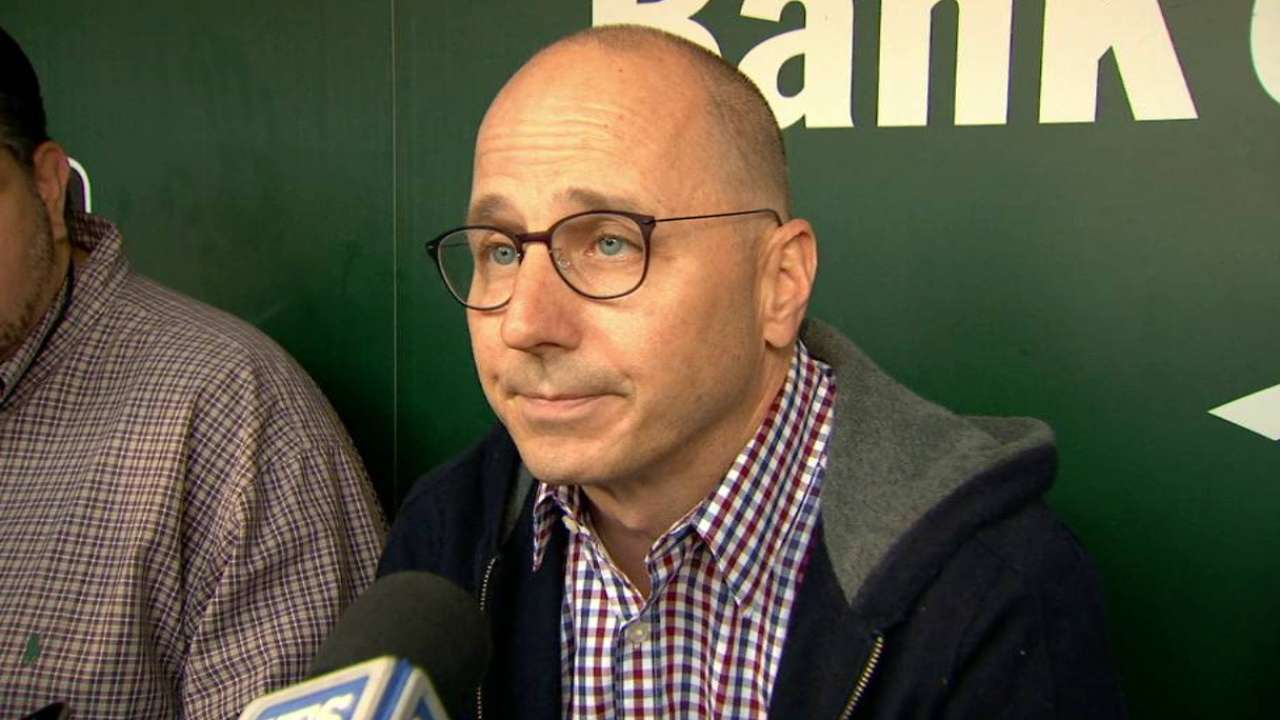 Cashman: Coaching staff not to blame for skid
MLB.com
Updated 6 hours ago
Yankees general manager Brian Cashman joined his team on Tuesday in Baltimore's Inner Harbor, acknowledging the serious situation that their sluggish April has created, though he stressed that his presence should not be construed as a warning shot at ma…
Share
Tweet
yahoo.com

6 hours ago

Welcome to The Walk Off, the nightly MLB recap from Big League Stew. Here we'll look the top performers of the night, show you a must-see highlight and rundown the scoreboard. First, we start with what else? A walk-off home run. The Toronto Blue Jays ha…

Share Tweet

nytimes.com

8 hours ago

Trayce Thompson, Joc Pederson and Yasiel Puig homered as the Los Angeles Dodgers pulled out of an offensive funk with a 10-5 victory over the Tampa Bay Rays on Tuesday night.

Share Tweet

MLB.com nytimes.com ESPN.com

8 hours ago

Jose Quintana's scoreless-innings streak came to an end during the White Sox 4-1 victory over the Red Sox on Tuesday night at U.S. Cellular Field. But the southpaw still was impressive enough to improve for his fourth win by yielding the lone run over e…

Share Tweet

nytimes.com

9 hours ago

In a game where runs were at a premium, Justin Smoak's first two home runs of the season couldn't have come at a better time.

Share Tweet

MLB.com nytimes.com

9 hours ago

Mark Trumbo homered twice to back starter Chris Tillman's seven strong innings in the Orioles' 4-1 series-opening win over the Yankees on Tuesday night.

Share Tweet

MLB.com

10 hours ago

Yankees designated hitter Alex Rodriguez was removed from Tuesday's 4-1 loss to Orioles at Camden Yards after sustaining a right hamstring injury running out a fifth-inning ground ball and will undergo an MRI on Wednesday.

Share Tweet

Rodriguez, Kelly make progress in rehab

MLB.com

10 hours ago

Red Sox starting pitchers Eduardo Rodriguez and Joe Kelly both made significant steps on Tuesday in their quest to get back on the active roster.

Share Tweet

nytimes.com MLB.com

11 hours ago

Pablo Sandoval's rocky second season with the Boston Red Sox was cut short by shoulder surgery on Tuesday.

Share Tweet

On Baseball: Yankees Burdened by Past Success

nytimes.com

12 hours ago

An unmatched collection of titles and 23 straight winning season creates an illusion that the Yankees cannot endure a full season of failure.

Share Tweet

yahoo.com

12 hours ago

Warning: this video contains NSFW language. Hollywood is calling for David Ortiz, and he'll be playing the role he was born to play: himself. According to The Hollywood Reporter, the Boston Red Sox slugger will appear in the upcoming movie Patriots Day,…

Share Tweet

Girardi: Chapman will make 'bullpen longer'

MLB.com

13 hours ago

Aroldis Chapman can't cure what has ailed the Yankees' sluggish offense, but the club is still looking forward to plugging the flame-throwing left-hander in for some save situations, beginning next week.

Share Tweet

nytimes.com MLB.com

16 hours ago

Shortstop J.J. Hardy was placed on the 15-day disabled list Tuesday by the Baltimore Orioles because of a hairline fracture in his left foot.

Share Tweet

yahoo.com

19 hours ago

The New York Yankees have had a pretty putrid start to their 2016 season. They're seven games below .500, and their record of 8-15 has them in last place in the AL East. When a team does this badly, it's not usually just one thing. So what's failing the…

Share Tweet

deadspin.com

19 hours ago

When Shin-Soo Choo went down with a calf injury, the Texas Rangers called up 21-year-old rookie Nomar Mazara to take his place in right field. Through his first 19 games, Mazara has hit .333/.386/.486 with three homers, and last night against the Blue J…

Share Tweet

Joe DiMaggio's Yankees career began 80 years ago today

ESPN.com

21 hours ago

Joe DiMaggio's Yankees career began 80 years ago today

Share Tweet

Ellsbury Confident He'll Be Ready For Opener

Mar 19

Wallace Matthews discusses Jacoby Ellsbury's oblique injury and when he could return to the Yankees.

Sabathia Discusses Spring Debut

Mar 17

Buster Olney speaks with Yankees pitcher CC Sabathia about his first pitching outing since May. He allowed two runs in two innings Tuesday against the Blue Jays.

Mets Fall To Red Sox

Mar 16

Matt Harvey allowed three hits over four scoreless innings for his second strong start following elbow surgery, but the Mets lost to the Red Sox 4-3.

A-Rod Homers

Mar 11

Alex Rodriguez hit a home run in the Yankees' 10-6 loss to the Red Sox.