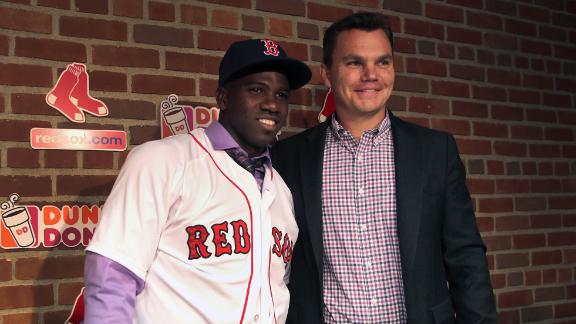 Red Sox rookie Castillo granted work visa
ESPN.com
Updated 7 hours ago
Newly signed Red Sox outfielder Rusney Castillo has successfully obtained his work visa from the U.S. government and is immediately eligible to play in games, according to Juan Perez, the president and CEO of Roc Nation Sports.
Upvote
Share
Tweet
Detroit sock city: Yanks hammer Price, gain in WC race

MLB.com

9 hours ago

Beginning with leadoff man Jacoby Ellsbury, nine straight batters collected hits as the Yankees took a swing at the record books in the third inning Wednesday night at Comerica Park. The resulting eight-run inning sent David Price to the showers early a…

Upvote Share Tweet

Yankees Catcher Gets Hit In The Dick, YES Thinks It Was His Collarbone

deadspin.com

9 hours ago

Francisco Cervelli took a foul ball to the dick in the fifth inning of Wednesday's game against the Tigers. In real time, it was hard to tell where he actually got hit and when the trainer came out to check him out it looked like he was grabbing Cervell…

Upvote Share Tweet

MLB.com

9 hours ago

Another ritual in the march of Derek Jeter's final season occurred Wednesday night at Comerica Park as the Tigers honored the retiring Yankees shortstop. The ceremony begged the question: Who is going to take Jeter's place as baseball's primary role mod…

Upvote Share Tweet

nytimes.com ESPN.com MLB.com

10 hours ago

With a third-inning outburst against the Tigers' David Price, the Yankees won and gained ground in the division race and the wild-card race.

Upvote Share Tweet

MLB.com nytimes.com

11 hours ago

A healthy dose of Drew Smyly helped the Rays overcome some early mistakes Wednesday night in a 3-1 win over the Orioles at Oriole Park at Camden Yards.

Upvote Share Tweet

nytimes.com MLB.com

11 hours ago

Pinch-hitter Danny Valencia had a go-ahead, three-run homer in the seventh inning, leading the Toronto Blue Jays over the Boston Red Sox 5-2 Wednesday night.

Upvote Share Tweet

Struggling Santos designated for assignment

MLB.com

19 hours ago

Sergio Santos' season took yet another unfortunate turn on Wednesday afternoon when he was designated for assignment for the second time this year.

Upvote Share Tweet

yahoo.com

22 hours ago

Boston Red Sox slugger Mike Napoli has seen one home run. Therefore, he has seen them all. Napoli, staying on message, said he was not impressed with the distance and height of his 451 foot home run that landed in the fifth deck at Rogers Centre on Tues…

Upvote Share Tweet

Jeter's Nephew Tips His Hat

Aug 27

Jalen Jeter acknowledges the crowd with a tip of his hat.

Yankees Chase Price Off The Mound

Aug 27

Francisco Cervelli's single for the Yankees' sixth run forced Tigers starter David Price out of the game in the third inning.

Yankees Hand Price Early Exit

Aug 27

Highlight Of The Night: David Price was removed in the third inning after surrendering nine-straight hits in the Tigers' 8-4 loss to the Yankees.

Jeter On SportsCenter

Aug 27

Derek Jeter talks to Steve Levy after the Yankees' 8-3 win over the Tigers.