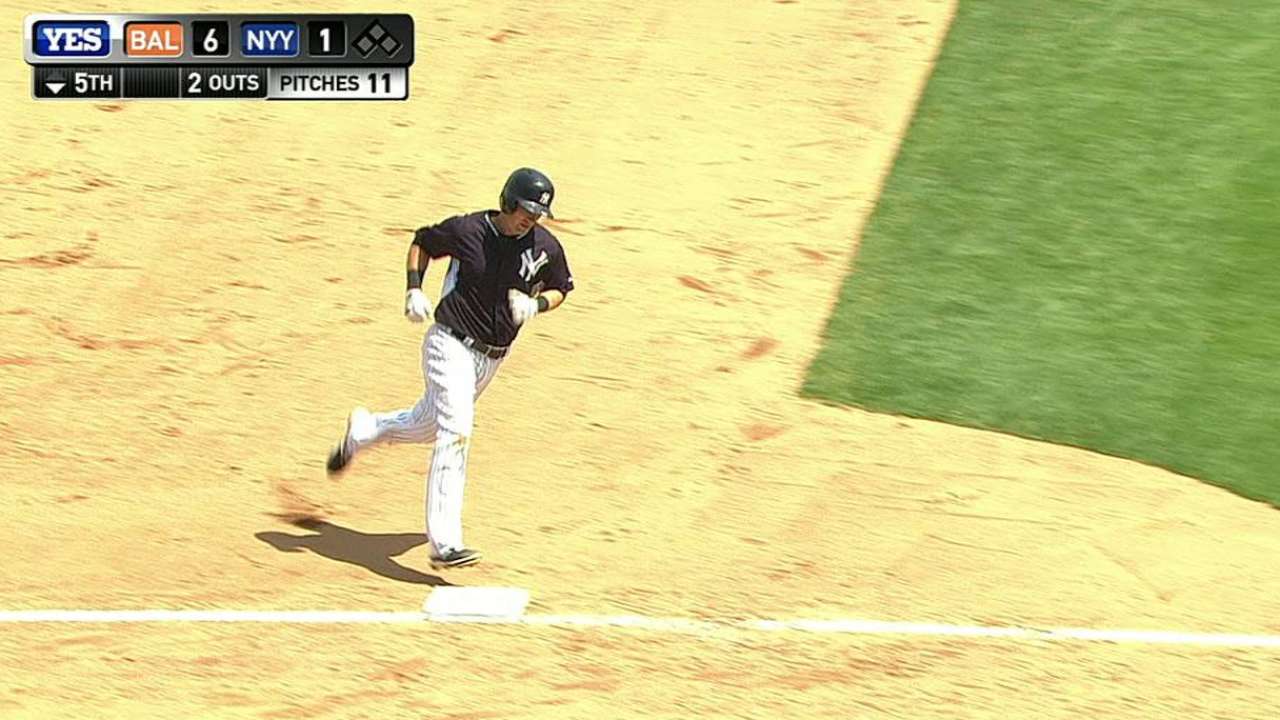 MLB.com
yahoo.com
nytimes.com
Updated 2 hours ago
Alejandro De Aza hit a three-run homer to back Tyler Wilson's impressive start as the Orioles defeated the Yankees, 10-2, on Saturday at George M. Steinbrenner Field.
Share
Tweet
Red Sox Rough Up Rays Starter Karns in 9-6 Victory

nytimes.com

2 hours ago

Nathan Karns is excited about an opportunity to open the season in Tampa Bay's pitching rotation.

Share Tweet

Bautista Hits 2-Run Double for Blue Jays in Loss to Braves

nytimes.com

5 hours ago

Jose Bautista hit a two-run double for the split-squad Toronto Blue Jays in a 5-3 loss to the Atlanta Braves on Saturday.

Share Tweet

Polanco Homers as Pirates Beat Blue Jays

nytimes.com

5 hours ago

Gregory Polanco homered for the second straight day and Neil Walker hit a two-run double Saturday, as the Pittsburgh Pirates beat a Toronto Blue Jays split squad 8-3.

Share Tweet

Window for a Detroit Tigers World Series title is closing

nydailynews.com

5 hours ago

A few days ago, a veteran scout compared the Tigers to the Yankees. It was not meant to be a compliment.

Share Tweet

New York Yankees shortstop Didi Gregorius sprained his left wrist going for a ground ball in a spring training game and has been taken out for precautionary reasons

Share Tweet

Alex Rodriguez's absence from 'Sandlot' video shows Yankees are selling next stars  

nydailynews.com

6 hours ago

Anyone else wondering why A-Rod didn't perform in Yankees' recent video re-enactment of the Babe Ruth scene from the movie "The Sandlot?"

Share Tweet

The Red Sox found "something" in the MRI they conducted on Christian Vazquez's right elbow. That something -- whatever it winds up being -- is all but certain to knock the catcher out of Boston's lineup on Opening Day and the early part of the season.

Share Tweet

Count on the Orioles being back atop the AL East perch

MLB.com

10 hours ago

The Orioles might not be the popular pick to win the A.L. East again this year, but it is always unwise to count out Buck Showalter and Co.

Share Tweet

Hardy says left shoulder feels 'pretty sore'

MLB.com

10 hours ago

Orioles shortstop J.J. Hardy had been hoping to avoid taking anti-inflammatory medication this spring, but he had no choice after jamming his left shoulder diving for a ball during Friday's rain-shortened game.

Share Tweet

yahoo.com

21 hours ago

The New York Yankees entered spring training with more questions than answers regarding the outlook of their roster. Fortunately, the answers they're receiving so far have been mostly encouraging, and that continued on Friday with Joe Griardi's announce…

Share Tweet

Ellsbury Confident He'll Be Ready For Opener

Mar 19

Wallace Matthews discusses Jacoby Ellsbury's oblique injury and when he could return to the Yankees.

Sabathia Discusses Spring Debut

Mar 17

Buster Olney speaks with Yankees pitcher CC Sabathia about his first pitching outing since May. He allowed two runs in two innings Tuesday against the Blue Jays.

Mets Fall To Red Sox

Mar 16

Matt Harvey allowed three hits over four scoreless innings for his second strong start following elbow surgery, but the Mets lost to the Red Sox 4-3.

A-Rod Homers

Mar 11

Alex Rodriguez hit a home run in the Yankees' 10-6 loss to the Red Sox.