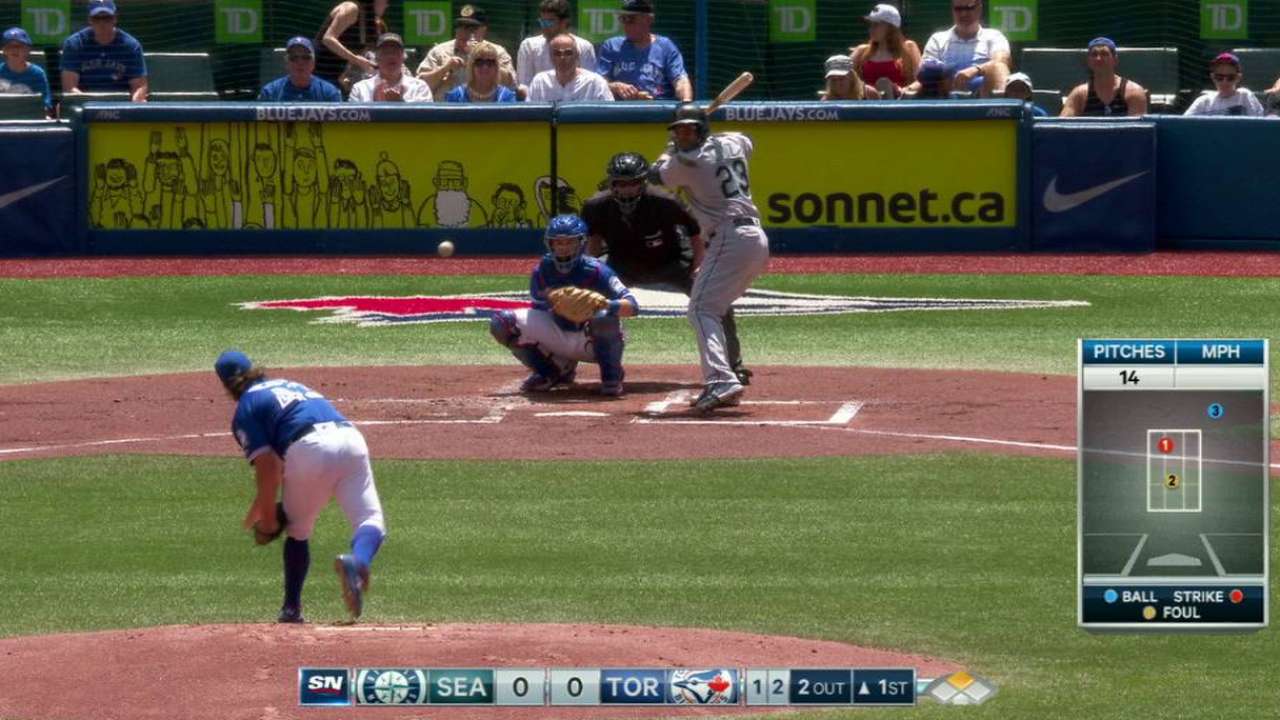 O'Day nearing return from DL stint

MLB.com

25 minutes ago

After more than a month and a half on the disabled list, Darren O'Day (right hamstring strain) seems primed to rejoin the Orioles' bullpen. Manager Buck Showalter said the club expects to either activate him on Sunday or have him pitch one more rehab ga…

Share Tweet

Mariners go on Cruz control vs. Blue Jays

MLB.com

40 minutes ago

With hitting coach Edgar Martinez away in Cooperstown for Ken Griffey Jr.'s induction, Nelson Cruz joked the Mariners wanted to show the coach how much he was missed.

Share Tweet

nytimes.com

1 hour ago

In July 1999, Piazza stepped to the plate and unleashed a 482-foot sonic boom that brought his foes to their feet in the dugout — and looking skyward in awe in the field.

Share Tweet

nytimes.com MLB.com

2 hours ago

Mariners hitting coach Edgar Martinez is away from the team this weekend so he can watch friend and former teammate Ken Griffey Jr. be inducted into the Hall of Fame on Sunday.

Share Tweet

MLB.com

3 hours ago

David Ortiz's complicated Hall of Fame case moved into the spotlight for a moment on Saturday, when Hall of Famer electee Ken Griffey Jr. endorsed the retiring Red Sox legend for a spot in Cooperstown.

Share Tweet

Colabello to stay in Minors after suspension

MLB.com

5 hours ago

The Blue Jays announced on Sunday that they've reinstated Chris Colabello from the restricted list and removed him off the team's 25-man roster.

Share Tweet

Eduardo Rodriguez provides silver lining in tough Red Sox loss

ESPN.com

17 hours ago

Eduardo Rodriguez provides silver lining in tough Red Sox loss

Share Tweet

Crisp's Single in the 13th Lifts Athletics Past Rays 1-0

nytimes.com

17 hours ago

Coco Crisp singled home the winning run in the 13th inning for his eighth career game-ending RBI, and the Oakland Athletics beat the Tampa Bay Rays 1-0 on Friday night.

Share Tweet

nytimes.com yahoo.com

18 hours ago

Bumgarner, who batted in Oakland last month instead of the San Francisco Giants using a designated hitter, was limited to the mound at Yankee Stadium.

Share Tweet

ESPN.com nytimes.com MLB.com

18 hours ago

Orioles' Dylan Bundy only part of solution for reeling rotation

Share Tweet

Yankees send Giants to sixth straight loss

MLB.com

19 hours ago

The San Francisco Giants' losing streak reached a season-high six games Friday night as the National League West leaders endured an eighth-inning collapse in a 3-2 setback against the New York Yankees.

Share Tweet

Gibson Holds Boston to 2 Hits, Twins Beat Red Sox

nytimes.com

19 hours ago

After an ominous beginning, Kyle Gibson put a decisive end to Boston's two-game hitting outburst.

Share Tweet

AL East clubs discussing deals for Upton, Cashner

MLB.com

20 hours ago

Melvin Upton Jr. could soon be on the move. The Padres are reportedly informing teams that they're close to trading the veteran outfielder, according to Jeff Passan of Yahoo Sports, who cautioned that the news "may ultimately be posturing" by San Diego.

Share Tweet

Twins escape 9th-inning jam to top Red Sox

MLB.com

20 hours ago

After Mookie Betts smacked his second straight leadoff homer for the Red Sox, it seemed it could be another long night for the Twins. Instead, right-hander Kyle Gibson settled in, tossing eight strong innings of two-hit ball, and was backed by a solo ho…

Share Tweet

Betts day to day due to right knee soreness

MLB.com

21 hours ago

Red Sox right fielder Mookie Betts exited Friday night's 2-1 loss to the Twins with right knee soreness in the fifth inning. He was replaced by utility man Michael Martinez.

Share Tweet

Paxton Pitches 7 Innings, Mariners Beat Blue Jays 2-1

nytimes.com

21 hours ago

James Paxton pitched seven strong innings to win for the first time in three starts, Seth Smith doubled home the go-ahead run in the sixth inning and the Seattle Mariners beat the Blue Jays 2-1 on Friday night, snapping Toronto's winning streak at three…

Share Tweet

Foul off foot forces Posey to leave game

MLB.com

22 hours ago

The Giants' luck continued to plummet as catcher Buster Posey left Friday night's 3-2 Interleague loss to the New York Yankees with a bruised right foot.

Share Tweet

yahoo.com

24 hours ago

Russell Martin will miss two games with baseball's latest weird injury. (Getty Images) It's never good news when an off day leads to a new injury. Unfortunately for Toronto Blue Jays catcher Russell Martin, that's the situation he's in after suffering a…

Share Tweet

Blue Jays activate Estrada, Morales from DL

MLB.com

24 hours ago

Right-hander Marco Estrada was officially reinstated from the 15-day disabled list Friday, and he will start the Blue Jays' series opener against the Mariners at Rogers Centre. Left-hander Franklin Morales also was reinstated from the DL.

Share Tweet

Chapman Nats' top target before Trade Deadline

The Nationals continue to have Yankees left-hander Aroldis Chapman as their top target before the Aug. 1 non-waiver Trade Deadline.

Share Tweet

After growing up Red Sox fan, Finley embracing pinstripes

Most 20-year-olds are still in college, trying to decide what to do with their lives beyond those four years. But Drew Finley isn't like most 20-year-olds.

Share Tweet

Tazawa returns from DL as Sox option Ramirez

The Red Sox's bullpen is finding some order again as the team activated right-hander Junichi Tazawa from the 15-day disabled list on Friday and optioned righty Noe Ramirez to Triple-A Pawtucket.

Share Tweet

Will The Yankees Get Out Of Their Own Way And Be Sellers?

deadspin.com

Jul 22 (yesterday)

The New York Yankees are a mediocre baseball team that also happens to employ a plethora of talented players that more competitive teams would gladly pay a decent price to acquire. If the Yankees were any other team, the path forward would be quite clea…

Share Tweet

ESPN.com

Jul 22 (yesterday)

Old reliables David Ortiz and Dustin Pedroia still leading young Red Sox

Share Tweet

Ellsbury Confident He'll Be Ready For Opener

Mar 19

Wallace Matthews discusses Jacoby Ellsbury's oblique injury and when he could return to the Yankees.

Sabathia Discusses Spring Debut

Mar 17

Buster Olney speaks with Yankees pitcher CC Sabathia about his first pitching outing since May. He allowed two runs in two innings Tuesday against the Blue Jays.

Mets Fall To Red Sox

Mar 16

Matt Harvey allowed three hits over four scoreless innings for his second strong start following elbow surgery, but the Mets lost to the Red Sox 4-3.

A-Rod Homers

Mar 11

Alex Rodriguez hit a home run in the Yankees' 10-6 loss to the Red Sox.