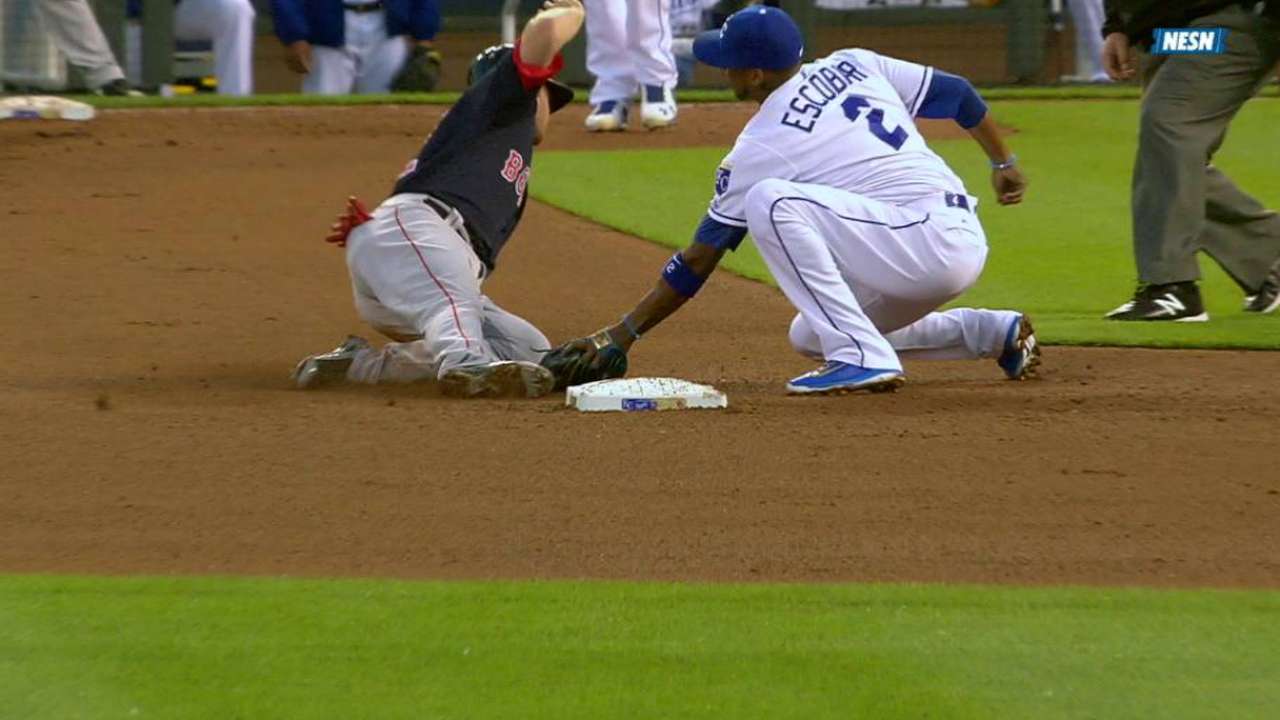 Yankees offering to assist with Gooden's rehab

ESPN.com

17 minutes ago

Yankees offering to assist with Gooden's rehab

Share Tweet

Red Sox's top 2016 Draft pick Groome sharp in pro debut

MLB.com

4 hours ago

Away from the spotlight, in the virtual anonymity that the rookie-level Gulf Coast League provides, the top left-handed pitching prospect in baseball took his first steps forward in his pro career.

Share Tweet

yahoo.com

5 hours ago

Edwin Encarnacion (Getty Images) Toronto Blue Jays first basemen Edwin Encarnacion is embroiled in a stunning lawsuit that alleges, among other things, that he knowingly gave a woman two STDs. Encarnacion himself won't be commenting on the suit, but he …

Share Tweet

Orioles on pace for stolen base 'record'

MLB.com

6 hours ago

In the first inning of the Orioles' 15-8 loss to the Astros last Friday, No. 2 hitter Hyun Soo Kim stood at first base with no outs following a single. For some teams, the situation might stir thoughts of a stolen base, which would move the runner into …

Share Tweet

Aw Man, The Yankees Are Going To Be Very Good Very Soon

deadspin.com

8 hours ago

Gary Sanchez has had a start to his MLB career right up there with those of Yankees, uh, legends, like Shane Spencer and Kevin Maas and Shelley Duncan. With two more dang dingers last night in New York's 7-5 loss in Seattle, the 23-year-old catcher now …

Share Tweet

ESPN.com nytimes.com

15 hours ago

Five things we learned Monday: A star is born for the Yankees

Share Tweet

yahoo.com deadspin.com nytimes.com MLB.com

15 hours ago

Welcome to The Walk Off, the nightly MLB recap from Big League Stew. Here we'll look at the top performers of the night, show you a must-see highlight and rundown the scoreboard. First, we start with a game you need to know about. Now this is the David …

Share Tweet

nytimes.com

16 hours ago

The Seattle Mariners hit fewer home runs than the New York Yankees, but got more scoring out of them.

Share Tweet

Sanchez celebrates POW honor with 2 homers

MLB.com

17 hours ago

The day Yankees rookie catcher Gary Sanchez was named American League Player of the Week, he hit two home runs, combining for three RBIs, in his first three at-bats.

Share Tweet

Andrew Benintendi makes sure you'll know his name after this insane catch

yahoo.com

17 hours ago

Boston Red Sox rookie Andrew Benintendi has already announced his presence in the big leagues, hitting .322 in 18 games since his call-up from Double-A. But his everybody-look-at-me moment came Monday night in the Red Sox's game against the Tampa Bay Ra…

Share Tweet

Beninten-D! Boston LF robs Ray of HR

MLB.com

18 hours ago

One day after hitting his first Major League home run and triple in the same game, Red Sox left fielder Andrew Benintendi quickly added to his resume Monday night in Boston's 6-2 victory over the Rays.

Share Tweet

Kiermaier back, but Rays will exercise caution

MLB.com

19 hours ago

Kevin Kiermaier rejoined the Rays' starting lineup for Monday's 6-2 loss to the Red Sox after a two-day absence, but Tampa Bay is going to be cautious with its Gold Glove Award-winning center fielder.

Share Tweet

Bundy, homering O's right ship with win over Nats

MLB.com

19 hours ago

The Orioles entered the series with the Nationals in the midst of a 1-5 homestand that's seen them fall from first place in the American League East to third. In need of a win to stop the slide, rookie Dylan Bundy and Baltimore's power-hitting lineup de…

Share Tweet

Trumbo, Schoop Hit HRs to Help Orioles Beat Nationals 4-3

nytimes.com

19 hours ago

Two rookie pitchers with plenty of hope for the future could end up playing big roles this year for the Orioles and Nationals.

Share Tweet

Look out for more than homers when Orioles and Nationals cross paths

Share Tweet

MLB.com

Aug 22 (yesterday)

When you think of the Blue Jays, you often think of them outslugging opponents. But they have quietly had the AL's best pitching staff this season.

Share Tweet

Ellsbury Confident He'll Be Ready For Opener

Mar 19

Wallace Matthews discusses Jacoby Ellsbury's oblique injury and when he could return to the Yankees.

Sabathia Discusses Spring Debut

Mar 17

Buster Olney speaks with Yankees pitcher CC Sabathia about his first pitching outing since May. He allowed two runs in two innings Tuesday against the Blue Jays.

Mets Fall To Red Sox

Mar 16

Matt Harvey allowed three hits over four scoreless innings for his second strong start following elbow surgery, but the Mets lost to the Red Sox 4-3.

A-Rod Homers

Mar 11

Alex Rodriguez hit a home run in the Yankees' 10-6 loss to the Red Sox.