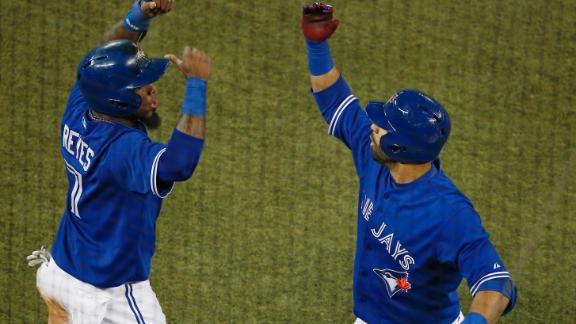 Updated Apr 4
Share
Tweet
J.P. Arencibia hit two solo homers, Edwin Encarnacion added a three-run shot and the Toronto Blue Jays beat the Cleveland Indians 10-8 on Thursday night, avoiding their first 0-3 start since 2004.
Updated Apr 4

Share Tweet

Mariano Rivera appeared in a game for the first time since tearing his ACL on May 3, 2012, pitching the ninth inning and recording the save against Boston in the Yankees' 4-2 win Thursday night.

Updated Apr 4

Share Tweet

Yankees pitcher Hiroki Kuroda will throw a bullpen session Friday that will allow the veteran pitcher to test his injured finger and better judge whether he can make his next scheduled start at Cleveland on Monday.

Sources:

ESPN.com CNNSI.com nydailynews.com

Updated Apr 4

Share Tweet

Chris Davis homered for the third straight day and drove in four runs Thursday to lead the Baltimore Orioles to a 6-3 victory over the Tampa Bay Rays.

Updated Apr 4

Share Tweet

Baltimore Orioles second baseman Brian Roberts will undergo an MRI after injuring his right hamstring while stealing second base in the ninth inning of Thursday's 6-3 victory over the Tampa Bay Rays.

Source:

ESPN.com

A Long Relief Stint Helps the Yankees

Updated Apr 4

Share Tweet

Adam Warren, one of the last players to make the Yankees' roster out of spring training, helped the team's bullpen when he replaced Hiroki Kuroda on Wednesday.

Source:

nytimes.com

Tampa Bay Rays mascot holds inappropriate Steve Irwin sign

Updated Apr 4

Share Tweet

Someone went to the trouble of making an insensitive sign associating deceased "Crocodile Hunter" Steve Irwin and the Tampa Bay Rays. Further, the team's furry blue mascot - known as Raymond - acted as a semi-witting accomplice by holding up the sign

Source:

yahoo.com

James Shields 'puzzled, disappointed' by Evan Longoria comments about Tampa Bay Rays

Updated Apr 4

Share Tweet

Who has been the face of the Tampa Bay Rays over the past five seasons? Surely manager Joe Maddon but, among the players, you would be hard-pressed to name anyone other than James Shields or Evan Longoria. And it's probably Shields, at least before he l…

Source:

yahoo.com

Brotherly competition still resonates with Alomars

Updated Apr 4

Share Tweet

Roberto and Sandy Alomar may no longer be foes on the diamond, but there nonetheless remains a bit of a competitive edge between the two, palpable even during this week's opening series between Roberto's Blue Jays and Sandy's Indians.

Source:

MLB.com

Yankees Pick Up First Win Of The Season

Apr 4

Yankees ride Andy Pettitte and Mariano Rivera to first victory.

Davis' Big Day Fuels Orioles

Apr 4

Chris Davis hit a two-run home run and drove in four total runs to lead the Orioles past the Rays 6-3.

Blue Jays Power Past Indians

Apr 4

Baseball Tonight Spotlight: The Blue Jays' offense slugged five home runs en route to defeating the Indians 10-8.

Yankees Get Big Win

Apr 4

Baseball Tonight breaks down the Yankees' 4-2 win over the Red Sox to avoid being swept.