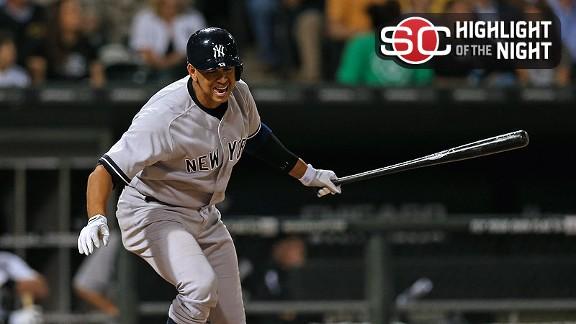 ESPN.com
yahoo.com
CNNSI.com
deadspin.com
Updated Aug 5, 2013
Alex Rodriguez blooped a single in his first at-bat of the season hours after being hit with a long suspension, but that was it for the embattled slugger as the Chicago White Sox snapped a 10-game losing streak with an 8-1 win Monday night.
Share
Tweet
Greinke wins duel with bat, arm to extend road streak

MLB.com

Aug 5, 2013

The Dodgers' historic road winning streak reached another milestone Monday. With a 3-2 win against the Cardinals at Busch Stadium, the Dodgers extended their stretch of wins away from Los Angeles to 15, tying the 1939 Red Sox, '51 White Sox, '53 Yankees…

Share Tweet

yahoo.com ESPN.com deadspin.com grantland.com

Aug 5, 2013

CHICAGO — Fans at U.S. Cellular Field were expected to greet the debut of Alex Rodriguez with a shower of boos and they didn't disappoint when the New York Yankees star came to the plate to lead off the top of the second inning on Monday night. Here's h…

Share Tweet

Rodriguez to reporters: 'I'm fighting for my life'

CNNSI.com

Aug 5, 2013

CHICAGO (AP) -- Alex Rodriguez says he's fighting for his life.

Share Tweet

yahoo.com

Aug 5, 2013

On the day the New York Yankees get Alex Rodriguez back, they're losing Derek Jeter — again. Jeter, who has played only five games this season between two previous disabled-list trips, is headed to the DL again with a Grade 1 strain in his right calf. J…

Share Tweet

Yankees third baseman Alex Rodriguez, a 14-time All-Star and three-time Most Valuable Player Award winner, was suspended by Major League Baseball on Monday through the remainder of the 2013 season, beginning Thursday, and all of the 2014 season for viol…

Share Tweet

deadspin.com

Aug 5, 2013

Tonight's NYY Lineup at Chicago-AL. First pitch at 8:10 ET. pic.twitter.com/oILITK6sVm — Yankees PR Dept. (@YankeesPR) August 5, 2013Read more...

Share Tweet

yahoo.com

Aug 5, 2013

Alex Rodriguez won't walk alone when it comes to appealing his long suspension. In a statement released Monday afternoon, MLBPA head Michael Weiner says the union agrees with the New York Yankees' decision to fight the 211-game ban. Weiner says commissi…

Share Tweet

A-Rod Speaks

Aug 5

Alex Rodriguez speaks before playing tonight with the Yankees.

Biogenesis Investigation Roundtable

Aug 5

Buster Olney, Jayson Stark and Doug Glanville discuss the latest news surrounding Alex Rodriguez's 211-game suspension and the 12 players who accepted 50-game suspensions.

MLB suspends 13 in PED scandal

Aug 5

Curt Schilling and John Kruk share their thoughts on Alex Rodriguez's suspension and the 12 other players banned for 50 games, including All-Stars Nelson Cruz, Everth Cabrera and Jhonny Peralta.

A-Rod Suspended Through 2014

Aug 5

ESPN investigative reporter T. J. Quinn and Bob Ley discuss the 211-game suspension handed down to Alex Rodriguez for his involvement with Biogenesis and violation of the league's PED policy.