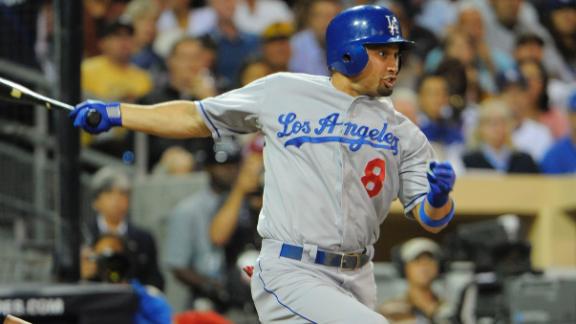 NASHVILLE, Tenn. (AP) -- Free agent outfielder Shane Victorino and the Boston Red Sox are close to completing a three-year deal worth $39 million, a person familiar with the talks told The Associated Press on Tuesday
Share
Tweet
Cashman confirms meeting with Youkilis' agent

ESPN.com

Dec 4, 2012

New York Yankees general manager Brian Cashman struck a very pessimistic tone about replacing Alex Rodriguez after heard the price tags for other third basemen on the open market, including Kevin Youkilis.

Share Tweet

Machado fully recovered from bout with meningitis

Orioles infielder Manny Machado was hospitalized with meningitis last month, but is fully recovered and has resumed his offseason workouts.

Share Tweet

Farrell addresses his departure from Toronto

John Farrell maintains he was always open and honest with the Blue Jays' front office about his desire to one day return to Boston.

Share Tweet

Orioles working on repeat of charmed 2012

Things are different in Baltimore this year, as the Orioles try to improve on their breakout 93-win campaign. But where do they go for an encore?

Share Tweet

Reimold, Wada progressing ahead of schedule

The Orioles have gotten positive reports from outfielder Nolan Reimold and pitcher Tsuyoshi Wada, who are recovering from surgical procedures and are ahead of their projected schedule.

Share Tweet

Joe Girardi On The Yankees' Offseason

Dec 4

Joe Girardi talks about Alex Rodriguez's injury and what is next for the Yankees.

Winter Meetings: Trade Buzz

Dec 4

Buster Olney discusses the trade market surrounding R.A. Dickey and Jason Kubel, and whether Curtis Granderson could be moved to create payroll flexibility.

Prospects In MLB Trade Talks

Dec 4

Keith Law gives his scouting report on young prospects being mentioned in possible trades.

Winter Meetings Day 2 Update

Dec 4

Tim Kurkjian and Jim Bowden look at the possibility of a trade involving Elvis Andrus and Justin Upton and the Red Sox looking to acquire starting pitching.