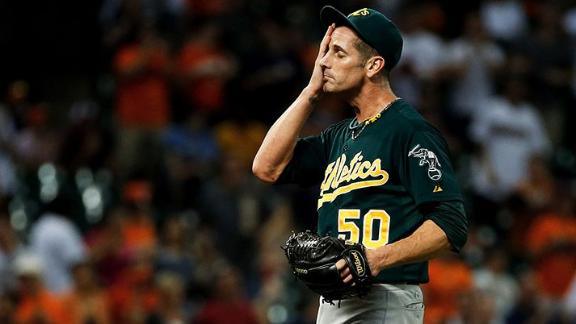 ESPN.com
Updated Dec 19, 2013
Free-agent closer Grant Balfour's deal with the Baltimore Orioles is in jeopardy of falling through due to a concern over his physical, ESPN's Tim Kurkjian is reporting.
Share
Tweet
The Walk-Off: Grant Balour's deal with O's is in jeopardy; A-Rod's Cousin Yuri returns

yahoo.com

Dec 19, 2013

The Walk-Off is your end-of-the-day collection of news and gossip from the world of baseball, plus the best of the blogosphere and other assorted goodness. NEWS: Grant Balfour's free-agent deal with the Baltimore Orioles is in "serious jeopardy&quo…

Share Tweet

nytimes.com

Dec 19, 2013

The New York Yankees beefed up their batting strength and likely postseason prowess by signing free agent outfielder Carlos Beltran, an eight-time All-Star, to a three-year contract on Thursday.

Share Tweet

Draft-pick compensation makes for tough decisions

MLB.com

Dec 19, 2013

Teams do eventually swallow and sacrifice Draft picks to get instant contributors. But lasting success is more often found with shrewd Draft choices, like the one the Red Sox made when they took Dustin Pedroia in the second round of the 2004 Draft.

Share Tweet

Reports: Tanaka Will Not Be Posted

Dec 19

Tim Kurkjian breaks down the impact of news that Masahiro Tanaka wont be posted on other Major League Baseball free agents and the baseball trade market.