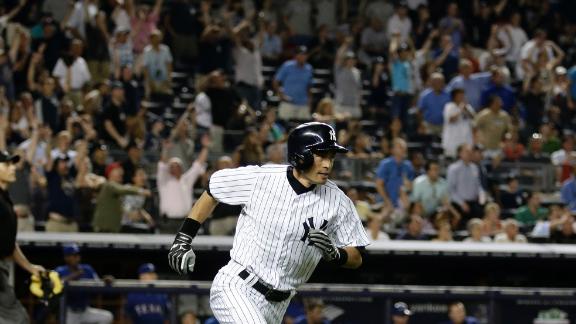 Ichiro Suzuki homered off Tanner Scheppers with two outs in the ninth inning, lifting the New York Yankees to a 4-3 victory over the Texas Rangers on Tuesday night.
Share
Tweet
Boston combined for season-high 20 hits Tuesday, including 12 in the first three innings, en route to an 11-4 victory over the Rockies in the series opener at Fenway Park.

Share Tweet

The Rays busted the Blue Jays' 11-game win streak on Monday and may have started a streak of their own as they prevailed again, 5-1, on Tuesday night at Tropicana Field for their third consecutive win.

Share Tweet

Davis hits 28th HR as O's snap 4-game skid

Chris Davis and Alexi Casilla homered in a five-run seventh inning, and the Baltimore Orioles beat the Cleveland Indians 6-3 Tuesday night to end a four-game losing streak.

Share Tweet

Livid over Alex Rodriguez's decision to tweet an update on his rehab process, Yankees general manager Brian Cashman had a message for the third baseman.

Share Tweet

Orioles bash their losing streak to bits

The Orioles snapped a four-game losing streak, beating the Indians, 6-3, on Tuesday at Camden Yards on the strength of a five-run seventh inning.

Share Tweet

Michael Cuddyer extended his Major League-best hitting streak to 22 games as the Rockies played the Red Sox at Fenway Park on Tuesday night.

Share Tweet

Yankees Say Desire to Cut Payroll Won't Hinder This Season's Spending Needs

nytimes.com

Jun 25, 2013

The Yankees want to cut about $30 million in payroll before 2014, but Randy Levine, the team's president, said that would not keep them from adding salary this season if needed.

Share Tweet

Berkman back in lineup after missing 4 games

Rangers designated hitter Lance Berkman returned to the lineup on Tuesday night against the New York Yankees after missing the previous four games due to lower back and right knee issues.

Share Tweet

yahoo.com

Jun 25, 2013

We all know how glorious the ice cream man can be on a hot day. So imagine being in Boston, being a Red Sox fan, seeing an ice cream truck, then recognizing the perm inside handing out cool deliciousness. Pedro Martinez! Yep, one of baseball's more fear…

Share Tweet

Orioles agree to terms with top 2 draft picks

The Baltimore Orioles have reached agreement with their top two draft picks, high school players Hunter Harvey and Josh Hart.

Share Tweet

The Yankees are bracing for the possibility of more bad news for injured first baseman Mark Teixeira, who was sent to have his right wrist evaluated by team doctors on Tuesday and could be facing season-ending surgery.

Share Tweet

Red Sox demote struggling 3B Middlebrooks

The Red Sox on Tuesday sent the struggling Will Middlebrooks to Triple-A Pawtucket, a move that makes the surprising Jose Iglesias the team's everyday third baseman.

Share Tweet

'Apples on Parade' hits NYC in honor of All-Star Game

On the 10th anniversary of the first placement of All-Star statues and the fifth anniversary of the positioning of replica Statues of Liberty for the Yankees' All-Star Week in 2008, Major League Baseball continued a tradition Tuesday by announcing that …

Share Tweet

Baltimore Orioles prized pitching prospect Dylan Bundy will visit a specialist Tuesday due to lingering pain in his right forearm.

Share Tweet

Blue Jays, Padres show fight to pull off turnarounds

In case you missed it -- and it happened so quickly, there's a chance many did -- the Padres and Blue Jays have seemingly come out of nowhere and established themselves as contenders. Left for dead by many, they have battled back from 10 games under to …

Share Tweet

SweetSpot TV: Team Needs

Jun 25

David Schoenfield and Tristan Cockcroft pick their MLB team that has to make a deal before the trade deadline.

Ichiro's HR Lifts Yankees To Walk-Off Win

Jun 25

Ichiro Suzuki's second career walk-off home run put an end to the Rangers' five-game winning streak.

Red Sox Roll Rockies

Jun 25

The Red Sox scored 11 runs on 20 hits to beat the Rockies 11-4.

Orioles Double Up Indians

Jun 25

A big fifth inning lifts the Orioles to the 6-3 win over the Indians.