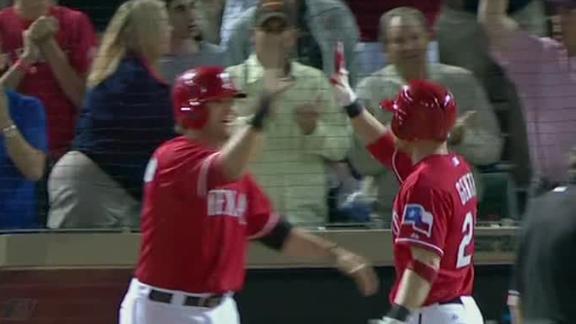 Ogando leads way in another strong pitching effort

For the second straight game, Texas' pitching put Boston's red-hot bats in the deep freeze Saturday and the Rangers iced the Red Sox, 5-1.

Share Tweet

Steve Pearce's RBI single with two outs in the 10th inning lifted the Baltimore Orioles to a 5-4 victory over the Los Angeles Angels on Saturday.

Share Tweet

ESPN.com

May 4, 2013

Tampa Bay Rays shortstop Yunel Escobar left Saturday night's game against the Rockies after being hit on the left hand by a pitch from Colorado starter Jon Garland.

Share Tweet

Rotation could get boost soon with Lewis, Perez

Not that Rangers pitching isn't more than holding its own, leading the American League with a 3.09 ERA heading into Saturday night's game against the Red Sox, but reinforcements are just around the corner if needed.

Share Tweet

Iwakuma rides power surge to comfy win in Toronto

Michael Saunders hit a pair of homers and Dustin Ackley belted his first grand slam to lift Hisashi Iwakuma and the Mariners to a comfortable 8-1 victory over the Blue Jays Saturday at Rogers Centre.

Share Tweet

Boston Red Sox are underdogs, but sit atop the AL East

nydailynews.com

May 4, 2013

With apologies to the great songwriter George Gershwin, who told us how "they all laughed at Christopher Columbus when he said the world was round. They all laughed when Edison recorded sound," they also all laughed when Larry Lucchino referred to the

Share Tweet

Hughes gets 1st win as Yanks double up A's

ESPN.com

May 4, 2013

Phil Hughes pitched eight shutout innings of four-hit ball for his first win of the season, and the New York Yankees beat the Oakland Athletics 4-2 on Saturday.

Share Tweet

Athletics put OF Young on DL; Taylor replacement

CNNSI.com

May 4, 2013

NEW YORK (AP) The Oakland Athletics have placed Chris Young on the 15-day disabled list with a strained left quadriceps and recalled fellow outfielder Michael Taylor from Triple-A Sacramento.

Share Tweet

Vargas twirls shutout, holding Orioles to three hits

Jason Vargas pitched the first shutout for the Angels this season, limiting the Orioles to three hits and two walks and keeping a short-handed bullpen bored in a 4-0 win at Angel Stadium.

Share Tweet

nydailynews.com

May 4, 2013

You sure couldn't blame this loss on CC Sabathia. And yet even while surrendering only two runs over six innings to the A's, the big lefthander did give you more reason to wonder if he can continue to live up to his role as the Yankees' ace.

Share Tweet

Orioles Top Angels In 10

May 4

Steve Pearce's RBI single in the 10th lifted the Orioles to a 5-4 win over the Angels.

Saunders, Ackley Power Mariners

May 4

Michael Saunders and Dustin Ackley combined to drive in seven runs to lead the Mariners past the Blue Jays 8-1.

Phil Hughes Shuts Down Athletics

May 4

Phil Hughes struck out nine batters over eight innings to lead the Yankees past the Athletics 4-2.

Rangers Win Battle With Red Sox

May 4

Baseball Tonight Spotlight: Craig Gentry drives in three runs in the Rangers' 5-1 win over the Red Sox.