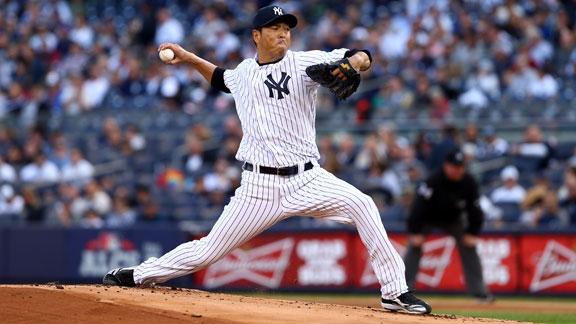 Arnie Beyeler was named Boston Red Sox first-base coach Tuesday, making it to the big leagues after 26 years in the minors.

Upvote Share Tweet

ST. PETERSBURG, Fla. (AP) - Free agent reliever Joel Peralta has finalized a $6 million, two-year contract to remain with the Tampa Bay Rays.

Upvote Share Tweet

After a forgettable 2012 season, Toronto followed its blockbuster trade with the Marlins and signing of Melky Cabrera by bringing back the fiery John Gibbons to manage the much-hyped '13 version of the Blue Jays.

Upvote Share Tweet

Banuelos among six added to Yankees' roster

Rehabbing prospect Manny Banuelos is among six players the Yankees added to their 40-man roster on Tuesday, thus protecting them from next month's Rule 5 Draft.

Upvote Share Tweet

Managerial encores common in MLB history

John Gibbons' return to Toronto was the second managerial encore for the Blue Jays in the past four years, and the 18th skipper reunion during the expansion era.

Upvote Share Tweet

Cabrera finalizes two-year, $16M deal with Jays

TORONTO (AP) -- New Blue Jays manager John Gibbons is happy to have Melky Cabrera after the All-Star game MVP finalized a $16 million, two-year contract with Toronto.

Upvote Share Tweet

deadspin.com CNNSI.com

Nov 20, 2012

What was rumored last week has been officially announced: News Corporation will purchase 49 percent of the YES Network, and become the single biggest shareholder in the single most lucrative regional sports network in the country. More »

Upvote Share Tweet

SEATTLE (AP) -- Looking to add depth to the infield, the Seattle Mariners have acquired versatile Robert Andino from the Baltimore Orioles in exchange for reserve outfielder Trayvon Robinson.

Upvote Share Tweet

The Orioles selected the contracts of infielder Jonathan Schoop and left-hander Mike Belfiore from Double-A Bowie, thus protecting both from selection in the Rule 5 Draft.

Upvote Share Tweet

News Corporation to acquire equity stake in YES

News Corporation and Yankees Global Enterprises announced an agreement on Tuesday that calls for News Corporation to acquire a 49 percent equity stake in the Yankees Entertainment and Sports Network (YES).

Upvote Share Tweet

Famous Yankees dog dies at 16, played role in '98 season after biting David Cone

yahoo.com

Nov 20, 2012

It is with a heavy heart that we report that one of the most entertaining characters from the New York Yankees' magical 1998 season has died. Yes, make sure to pour out a bit of puppy chow today because Veronica, the Jack Russell terrier who belonged to…

Upvote Share Tweet

Tom Verducci: Record-setting Hamilton tops list of prospects at Arizona Fall League

Once again, this year's Arizona Fall League provided a glimpse of the game's next wave of talent. Tom Verducci lists 10 who impressed most, and their best big league comparison.

Upvote Share Tweet

NEW YORK (AP) -- Baseball Commissioner Bud Selig says he will not block Blue Jays-Marlins trade.

Upvote Share Tweet

Buster Blog: Questions Remain For Blue Jays

Nov 20

Buster Olney blogs about the Blue Jays' trade with the Marlins being finalized and the questions that remain for the club.

Kuroda, Yankees Agree On Deal

Nov 20

Andrew Marchand with the latest on Hiroki Kuroda agreeing on a one-year deal with the Yankees.