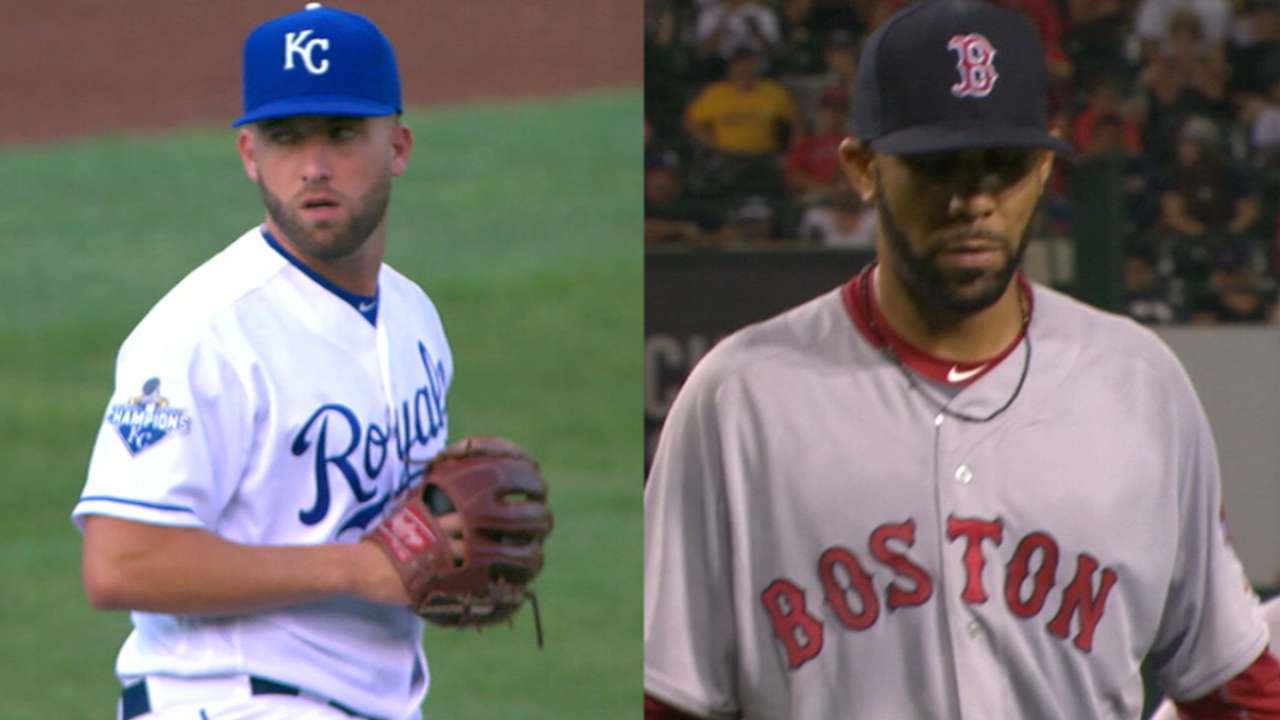 Playoff previews on tap for full MLB.TV slate
MLB.com
Updated 3 hours ago
For fans eager for the postseason, today's Major League schedule offers a potential preview of what's to come in October. Four division-leaders -- Cubs at Dodgers and Indians at Rangers -- and two Wild Card contenders -- Royals at Red Sox -- are among t…
Share
Tweet
Indians end funk with furious 17-hit attack

MLB.com

13 hours ago

Following a four-game stretch that saw the Indians score only three runs -- all via solo home runs -- the offense kicked into high gear Friday night in a 12-1 victory over the Rangers.

Share Tweet

Tribe relentless in Texas to back Kluber

MLB.com

14 hours ago

The Rangers and Indians have each put their Cy Young candidate on display this series. On Friday night, it was Corey Kluber's turn to show why he belongs in the discussion, and he did just that in a 12-1 victory at Globe Life Park.

Share Tweet

Rookie Luke Weaver allowed one run over six innings Friday to pick up his first Major League victory. Jedd Gyorko slugged a two-run home run off A's starter Ross Detwiler, who allowed three runs in 5 1/3 innings. Yonder Alonso had two hits for Oakland, …

Share Tweet

Justin Upton's go-ahead two-run homer punctuated a sixth-inning outburst in support of Justin Verlander, sending the Tigers to their fifth consecutive win with a 4-2 victory over the Angels on Friday night at Comerica Park.

Share Tweet

Best throwback jersey: Final four!

MLB.com

15 hours ago

The semifinals of the best throwback jersey voting pit the White Sox against the Nationals and the A's vs. the Astros.

Share Tweet

Astros respond with back-to-back HRs in 9th

MLB.com

15 hours ago

Talk about a power surge. Carlos Correa and Evan Gattis hit back-to-back homers in the ninth to give the Astros a 5-4 walk-off win over the Rays on Friday night in the series opener. It was Houston's first win at Minute Maid Park in five games.

Share Tweet

Felix Hernandez is starting to look more like, well, Felix Hernandez these days. And it couldn't come at a better time for the Mariners as they rode their ace to a 3-1 victory over Chris Sale and the White Sox in a battle of two of the American League's…

Share Tweet

nytimes.com

16 hours ago

Carlos Correa and Evan Gattis hit back-to-back homers in the ninth inning to lift the Houston Astros to a 5-4 victory over the Tampa Bay Rays on Friday night.

Share Tweet

MLB.com

16 hours ago

Hampered by a hamstring injury during his first road trip as a Major Leaguer, Yulieski Gurriel returned to the Astros' lineup on Friday for his home debut against the Rays.

Share Tweet

Tribe won't 'run away from' Tomlin in rotation

MLB.com

18 hours ago

Prior to Friday night's game against the Rangers, manager Terry Francona indicated that Josh Tomlin would make his next scheduled start as planned, even after another rough performance Thursday.

Share Tweet

Lucroy, Indians move on from near trade

MLB.com

18 hours ago

After Jonathan Lucroy reached second base in the second inning on Thursday night, Indians shortstop Francisco Lindor said something to the Rangers catcher before patting him on the back. If Cleveland fans thought Lindor had any harsh words for Lucroy, t…

Share Tweet

ESPN.com

Aug 26 (yesterday)

Rangers hoping taking chance on Carlos Gomez pays off

Share Tweet

MLB.com nytimes.com

Aug 26 (yesterday)

Rangers right-hander Jeremy Jeffress was arrested early Friday morning on a DWI charge, and he has been placed on Major League Baseball's restricted list.

Share Tweet

Powerful heart of the order has Mariners contending

As under the radar as the Mariners have been for most of this season, nobody has three regulars as consistently productive as Nelson Cruz, Robinson Cano and Kyle Seager. They're leading the way for a team that needs to be taken seriously as a contender.

Share Tweet

Felix vs. Sale duel highlights MLB.TV slate

Two American League pitching titans will share the mound today when Felix Hernandez and the Mariners take on Chris Sale and the White Sox in Chicago.

Share Tweet

Celebrate 14 years of MLB.TV with $9.99 subscription

MLB.TV Premium is now available for a limited-time offer of just $9.99 for the rest of the year to celebrate today's 14th anniversary of the first live video stream of a Major League Baseball game, between the Rangers and Yankees on Aug. 26, 2002.

Share Tweet

As far as the Mariners are concerned, they can't change the name of U.S. Cellular Field soon enough. A day after the White Sox announced they'll be renaming the facility Guaranteed Rate Field for next season, Seattle's struggles on the South Side contin…

Share Tweet

Kershaw Struck By Liner, Loses Part Of Tooth

Mar 20

Clayton Kershaw was hit by Andy Parrino's broken-bat liner in the bottom of the third inning in the Dodgers' 3-2 loss to the A's. Kershaw remained in the game.

Bacon-Loving Rangers Fans Rejoice!

Mar 18

ESPN sports business reporter Darren Rovell discusses the new bacon-related items being offered by the Texas Rangers this season.

Future Cloudy For Yu Darvish's Return

Mar 13

Stephania Bell explains the unknown of when Yu Darvish will be able to return and whether he can avoid a second corrective surgery down the line.

Yu Darvish To Undergo Tommy John Surgery

Mar 13

Tim Kurkjian reacts to the news that Yu Darvish's season will end before it even begins as the Rangers' ace will undergo Tommy John surgery.