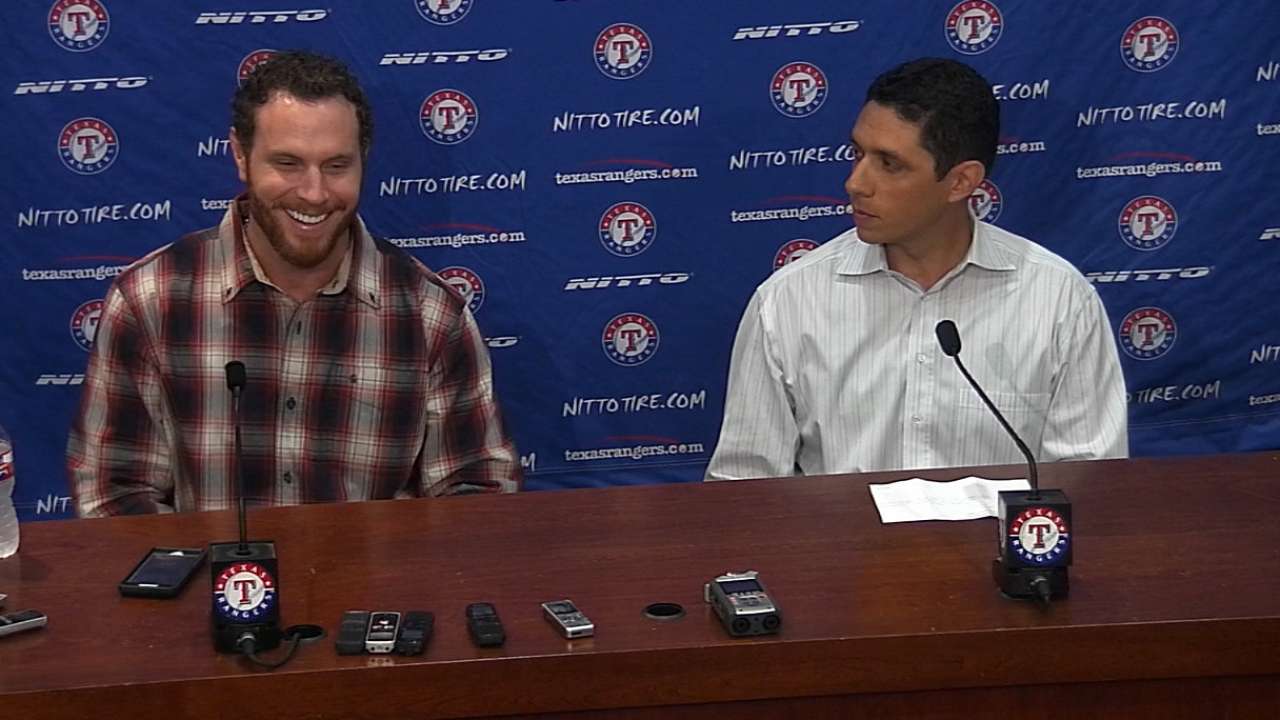 nytimes.com
MLB.com
deadspin.com
Updated 4 hours ago
Josh Hamilton knows he never was the player the Los Angeles Angels wanted and expected him to be.
Share
Tweet
Rasmus Drives in 3, Astros Beat Padres 9-4 for 4th Straight

nytimes.com

4 hours ago

Colby Rasmus homered and drove in three runs as the surprising Houston Astros beat the San Diego Padres 9-4 Monday night for their fourth straight victory.

Share Tweet

Walker Has Solid Start for Mariners in 3-1 Win at Rangers

nytimes.com

6 hours ago

Taijuan Walker pitched seven solid innings, Nelson Cruz had an RBI single against his former team and the Seattle Mariners beat the Texas Rangers 3-1 in a rain-delayed series opener Monday night.

Share Tweet

MLB.com

8 hours ago

This week's series against the Padres marks a homecoming of sorts for Astros manager A.J. Hinch, who spent four years with San Diego before being hired by Houston at the end of last season.

Share Tweet

The week ahead: What's wrong with Nationals, Mariners, Indians?

ESPN.com

13 hours ago

The week ahead: What's wrong with Nationals, Mariners, Indians?

Share Tweet

deadspin.com yahoo.com

16 hours ago

Rangers third baseman Adrian Beltre got worked over pretty good by Angels starter Garrett Richards on Friday night. Beltre faced Richards three times in six innings, and ended up with nothing more than three broken bats to show for it.Read more...

Share Tweet

Diverted by storm, Mariners endure bumpy flight to Texas

MLB.com

19 hours ago

After a turbulent flight and a late-night diversion to San Antonio due to heavy thunderstorms in Texas, the Mariners' charter plane from Seattle arrived at Love Field in Dallas at about 3:30 a.m. CT on Monday

Share Tweet

NL Teams Experimenting With Pitchers Hitting 8th

nytimes.com

Apr 27 (yesterday)

Amid a testy start to the season — looking at you, Bryan Price; also you, Royals, White Sox and Athletics — comes a bit of managerial creativity sure to put a smile on the face of any innovative Strat-O-Matic player.

Share Tweet

MLB.com nytimes.com

Apr 26 (yesterday)

Designated hitter Evan Gattis drove in four runs, including two in the ninth against closer Tyler Clippard, to guide the Astros to a series-sweeping 7-6 victory over the A's at the Coliseum on Sunday afternoon.

Share Tweet

Angels waiting on Hamilton-trade-to-Texas announcement

MLB.com

Apr 26 (yesterday)

No announcements were expected as of late Sunday afternoon, more than 48 hours after news first broke that the Angels and Rangers had a deal in place to send Josh Hamilton back to Texas. But neither side expects any hiccups. The trade could be finalized…

Share Tweet

Mauer's two-run triple sinks Mariners in 11 innings

MLB.com

Apr 26 (yesterday)

Joe Mauer's two-run triple in the 11th inning provided the winning runs as the Twins earned a 4-2 win over the Mariners in the rubber game on Sunday at Safeco Field. Seth Smith went deep for Seattle.

Share Tweet

LEADING OFF: Astros Go for 1st Sweep vs. A's, Volquez Active

nytimes.com

Apr 26 (2 days ago)

A look at what's happening all around the major leagues today:

Share Tweet

MLB.com nytimes.com

Apr 26 (2 days ago)

The Twins took advantage of shaky defense by the Mariners and made the most of their run-scoring opportunities to beat Seattle, 8-5, on Saturday night before 33,566 at Safeco Field. Minnesota knocked Mariners starter James Paxton out of the game in the …

Share Tweet

MLB.com nytimes.com

Apr 26 (2 days ago)

C.J. Cron lined a two-run single with two-out in the sixth inning that lifted the Angels to a 4-1 victory over the Rangers on Saturday night at Angel Stadium.

Share Tweet

Kershaw Struck By Liner, Loses Part Of Tooth

Mar 20

Clayton Kershaw was hit by Andy Parrino's broken-bat liner in the bottom of the third inning in the Dodgers' 3-2 loss to the A's. Kershaw remained in the game.

Bacon-Loving Rangers Fans Rejoice!

Mar 18

ESPN sports business reporter Darren Rovell discusses the new bacon-related items being offered by the Texas Rangers this season.

Future Cloudy For Yu Darvish's Return

Mar 13

Stephania Bell explains the unknown of when Yu Darvish will be able to return and whether he can avoid a second corrective surgery down the line.

Yu Darvish To Undergo Tommy John Surgery

Mar 13

Tim Kurkjian reacts to the news that Yu Darvish's season will end before it even begins as the Rangers' ace will undergo Tommy John surgery.