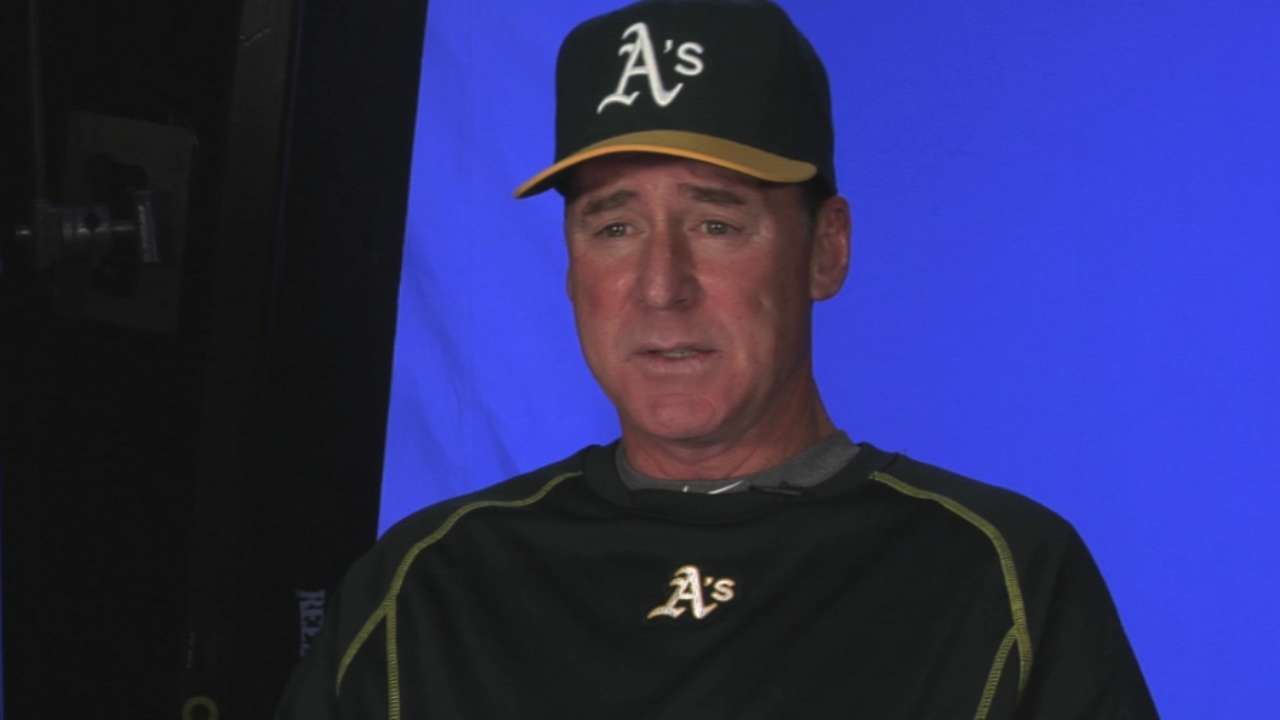 Melvin excited about A's new infield

MLB.com

6 hours ago

Odds are the Athletics will begin the 2015 season with a completely different infield than the one that began the 2014 season.

Upvote Share Tweet

MLB.com yahoo.com deadspin.com nytimes.com ESPN.com

7 hours ago

Josh Hamilton's recent meeting with Major League Baseball stemmed from a relapse that occurred this year, sources with knowledge of the situation confirmed to MLB.com on Friday. The Angels, who have only confirmed that Hamilton met with league officials…

Upvote Share Tweet

MLB.com

8 hours ago

The Astros are expecting Roberto Hernandez to compete for a spot in the rotation, but the Dominican hurler has not yet reported to camp because of visa issues.

Upvote Share Tweet

Change offers Canha opportunity to go home

Mark Canha always wanted to settle down in the Bay Area, where he grew up. The power-hitting outfielder/first baseman finally gets that chance this season with the A's.

Upvote Share Tweet

Happy Prince gives Rangers reason to smile

You're not really supposed to hit the ball hard during live batting practice, at least not in February. Even the best hitters take some time to catch up to pitching in Spring Training. Yet that didn't stop Adrian Beltre from getting on Prince Fielder on…

Upvote Share Tweet

The Astros welcomed a guest into the clubhouse at Osceola County Stadium on Thursday morning that more than a few players hoped would have just stayed away. Before taking the field for the morning work, some players posed for photos with Sunshine, an 11…

Upvote Share Tweet

Here Are Some Houston Astros Just Chillin' With An Albino Python

deadspin.com

Feb 26 (yesterday)

"Broooo, lookit the size of that sucker!" I imagine one of the Astros exclaiming when Sunshine the Albino Python was brought in the room. "Haha, you scared bro?" another one probably quipped. "Nuh uh! If Britney can rock one aro…

Upvote Share Tweet

nytimes.com

Feb 26 (yesterday)

Reliever Dan Otero spoke up, as did many others, with a question on the topic of domestic violence that has been at the forefront of professional sports following the NFL's recent troubles.

Upvote Share Tweet

Sure-handed infielder Ellis retires at 37

MLB.com

Feb 25 (yesterday)

Second baseman Mark Ellis is retiring from baseball, according to a report by the San Francisco Chronicle. The 37-year-old Ellis, a ninth-round selection of the Royals in the 1999 First-Year Player Draft, played 12 years in the Majors with the A's, Rock…

Upvote Share Tweet

Rangers' Darvish faces first hitters since Aug.

ESPN.com

Feb 25 (yesterday)

Texas Rangers ace Yu Darvish faced hitters for the first time since last August, throwing 30 pitches against teammates during batting practice Wednesday.

Upvote Share Tweet

ESPN.com

Feb 25 (2 days ago)

Mike Trout arrived for the Los Angeles Angels' first full-squad workout Wednesday with a three-pronged agenda for 2015.

Upvote Share Tweet

McCarthy, Anderson eye successful reunion with Dodgers

MLB.com

Feb 25 (2 days ago)

Former A's Brandon McCarthy and Brett Anderson, now reunited in the Dodgers rotation, have always had a lot in common off the field, and this season they're both looking to prove their durability and help Los Angeles in its quest for a World Series cham…

Upvote Share Tweet

King Felix Ready To Lead Mariners To Postseason

Feb 27

2010 AL Cy Young winner Felix Hernandez talks about Seattle's improved starting rotation, the acquisition of Nelson Cruz and their playoff hopes.

How Mike Trout Can Get Even Better

Feb 26

Aaron Boone and Tim Kurkjian look at the ways that reigning MVP Mike Trout can get even better this season.

Scioscia On Trout's Progression

Feb 26

Jay Crawford speaks with Angels manager Mike Scioscia about Mike Trout's progression and what Trout took from his first postseason experience last season.

Trout Wishes The Best For Hamilton

Feb 26

Angels outfielder Mike Trout shares his thoughts on Josh Hamilton, who met with MLB officials on Wednesday about a disciplinary issue.