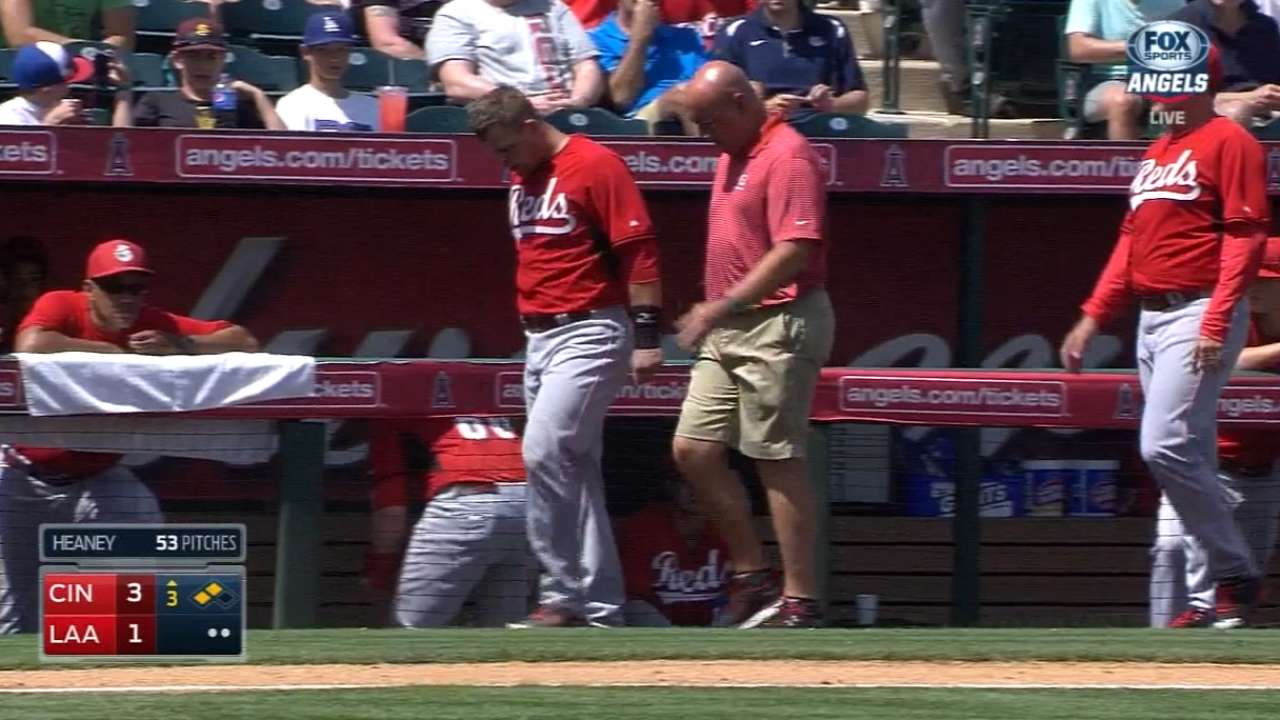 Mesoraco relieved after quad cramp diagnosis
MLB.com
Updated 1 hour ago
Reds All-Star catcher Devin Mesoraco felt relieved Sunday afternoon after being diagnosed with a left quadriceps cramp. Mesoraco felt his quad tighten running the bases and worried it was serious when he exited the game vs. the Angels.
Share
Tweet
MLB.com nytimes.com

2 hours ago

Kendall Graveman has looked like a very emphatic answer this spring in why the A's were willing to trade Josh Donaldson. Graveman has pitched his way into the A's rotation, where at the moment, he is penciled into the No. 4 spot.

Share Tweet

Rollins Helps Dodgers Beat Rangers 10-5

nytimes.com

3 hours ago

Jimmy Rollins hit a leadoff double in Los Angeles' five-run third inning, and a split-squad of Dodgers beat the Texas Rangers 10-5 in spring training on Sunday.

Share Tweet

Marquis Solid, Cron Hits 3rd HR as Reds Beat Angels

nytimes.com

3 hours ago

Cincinnati right-hander Jason Marquis continued his strong comeback with six good innings in the Reds' 8-6 victory over the Los Angeles Angels on Sunday.

Share Tweet

A-Rod Debut at First Base as Yanks Beat Astros 7-0

nytimes.com

5 hours ago

Alex Rodriguez played first base for the first time in his professional career Sunday, handling three chances in three innings during the New York Yankees' 7-0 win over the Houston Astros.

Share Tweet

Left-hander pitcher Roenis Elias has been optioned by the Seattle Mariners to Triple-A Tacoma, a decision that likely means right-hander Taijuan Walker will be the Mariners' fifth starter.

Share Tweet

ESPN.com

11 hours ago

Top prospect Carlos Correa and Matt Dominguez, Houston's regular third baseman for the last two seasons, were among eight players cut by the Astros from their big league spring training camp Sunday.

Share Tweet

yahoo.com

19 hours ago

You can walk or drive past any major league stadium and figure out pretty quickly which players the corresponding team views as faces of the franchise. The Los Angeles Angels are no exception to that rule. At the main entrance to Angel Stadium, six larg…

Share Tweet

Seattle Mariners pitching prospect Victor Sanchez died on Saturday, six weeks after sustaining serious head injuries in a boating accident in his home country of Venezuela. He was only 20. According to the initial reports, Sanchez was swimming off the b…

Share Tweet

Kershaw Struck By Liner, Loses Part Of Tooth

Mar 20

Clayton Kershaw was hit by Andy Parrino's broken-bat liner in the bottom of the third inning in the Dodgers' 3-2 loss to the A's. Kershaw remained in the game.

Bacon-Loving Rangers Fans Rejoice!

Mar 18

ESPN sports business reporter Darren Rovell discusses the new bacon-related items being offered by the Texas Rangers this season.

Future Cloudy For Yu Darvish's Return

Mar 13

Stephania Bell explains the unknown of when Yu Darvish will be able to return and whether he can avoid a second corrective surgery down the line.

Yu Darvish To Undergo Tommy John Surgery

Mar 13

Tim Kurkjian reacts to the news that Yu Darvish's season will end before it even begins as the Rangers' ace will undergo Tommy John surgery.