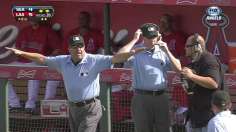 Ackley's hot spring continues before Mariners rally
MLB.com
Updated 3 hours ago
A three-run eighth pushed the Mariners ahead, and a four-run ninth sealed the win as Seattle rallied past the Angels, 10-6, on Tuesday at Tempe Diablo Stadium. Dustin Ackley doubled and scored to bring his spring average to .462 in the victory, while th…
Upvote
Share
Tweet
Trout, Pujols Have RBI Doubles in Angels Loss

nytimes.com

Updated 1 hour ago

Mike Trout and Albert Pujols each had RBI doubles for the Los Angeles Angels, but the Robinson Cano continued his torrid spring training in the Seattle Mariners' 10-6 win Tuesday.

Upvote Share Tweet

nytimes.com MLB.com

Updated 3 hours ago

John Danks pitched four-hit ball for five innings and Jose Abreu went 3 for 3 with two RBIs, leading the Chicago White Sox to a 7-6 win over the Texas Rangers on Tuesday.

Upvote Share Tweet

MLB.com nytimes.com

Updated 3 hours ago

The Padres rallied from a five-run deficit on Tuesday for a 6-5 victory over the A's at the Peoria Sports Complex.

Upvote Share Tweet

After McClendon inquires, call overturned

MLB.com

Updated 3 hours ago

The first chance Lloyd McClendon had to use the new replay system worked out well for the Mariners, with a call being overturned during an eighth-inning rally on Tuesday against the Angels.

Upvote Share Tweet

Otero becoming valuable piece of bullpen puzzle

MLB.com

Updated 4 hours ago

Not all Athletics are made the same, and that's where right-handed reliever Dan Otero fits into the unique Oakland mold. He doesn't play videos games. He doesn't drink coffee. He doesn't even listen to music. No, instead he does crossword puzzles. And l…

Upvote Share Tweet

Russell out at least one week with hamstring strian

MLB.com

Updated 7 hours ago

After sustaining a right hamstring strain on Monday afternoon, A's shortstop Addison Russell will be sidelined for at least a week. Hamstring injuries are notoriously tricky and often linger for a while, so the A's want to play it safe with their prized…

Upvote Share Tweet

MLB.com

Updated 8 hours ago

Jason Castro and Dexter Fowler, who was traded to the Houston Astros prior to this season, said their experience in the Arizona Fall League helped make them into the players they are today.

Upvote Share Tweet

A son also rises: Davis set to star for Brewers

MLB.com

Updated 8 hours ago

Khris Davis returns to the Valley of the Sun for Spring Training as the favorite to win the starting left-field job for the Brewers in 2014, a thrilling prospect for Davis and his father, Rodney, who moved his family to Arizona in 1994 while working for…

Upvote Share Tweet

Choo out with sore elbow, hopes to play Wednesday

MLB.com

Updated 10 hours ago

Outfielder Shin-Soo Choo is the latest Rangers player to come down with one of those nagging Spring Training ailments. Choo said he has been bothered by a sore left elbow and was out of the lineup Tuesday against the White Sox.

Upvote Share Tweet

D-backs' prospect Archie Bradley generating lots of buzz

CNNSI.com

Updated 12 hours ago

He's only 21 years old, but Arizona phenom Archie Bradley is already pushing for an MLB shot.

Upvote Share Tweet

nytimes.com

Updated 21 hours ago

Arizona's Patrick Corbin gave up three runs and six hits in four innings in the Diamondbacks' 3-3 tie with a Seattle Mariners split squad Monday night.

Upvote Share Tweet

Pujols: It's Been Tough

Mar 7

Albert Pujols talks about his injury struggles over the past couple of seasons and how his health is doing now.

Puig, Dodgers Throw Out Trout

Mar 6

Mike Trout gets tagged out at home plate trying to complete an inside-the-park home run.

Should Pujols Be Angry With Trout Comparison?

Mar 6

Michelle Beadle, Marcellus Wiley and Max Kellerman debate whether Albert Pujols should be upset about being asked if he was motivated to put up the same numbers as Mike Trout.

Mint Condition: Griffey Reflects On RC

Mar 5

Former Mariners outfielder Ken Griffey Jr. gives his thoughts on his 1989 Upper Deck rookie card 25 years after its release.