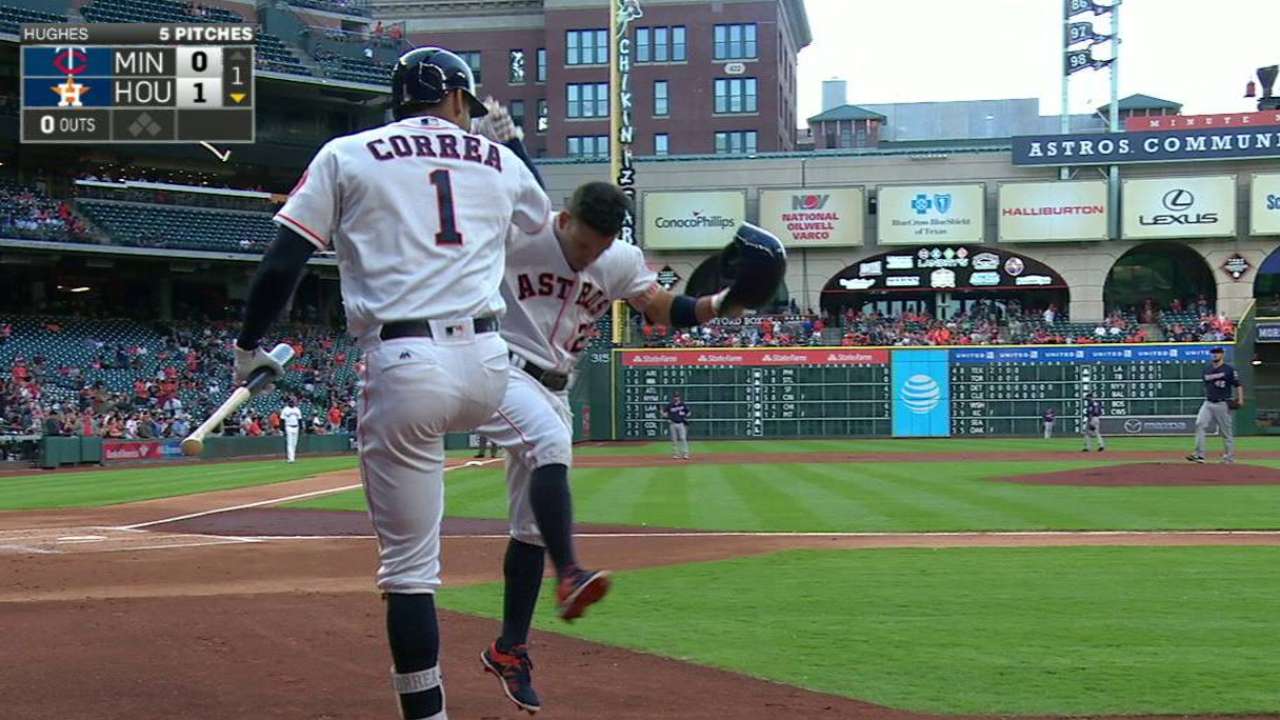 Near-cycle built for two: Altuve, Correa 3B shy
MLB.com
Updated 13 hours ago
Jose Altuve, Jason Castro and Carlos Correa each homered, with Altuve and Correa adding a single and a double, to lead the Astros to consecutive wins for the first time this season in a 16-4 rout of the Twins on Wednesday night at Minute Maid Park.
Share
Tweet
nytimes.com

12 hours ago

About a week ago Jason Castro was struggling at the plate, batting a paltry .114 and searching for answers to end his woes.

Share Tweet

With walk-off hit, Martin recaptures winning feeling

MLB.com

13 hours ago

When Russell Martin walked into his postgame scrum after a 4-3 walk-off victory over the Rangers on Wednesday night, there was a sense of relief in the air. It had been a long time coming, but the veteran catcher finally had something to celebrate.

Share Tweet

Martin caps Blue Jays' 2nd straight walk-off

MLB.com

14 hours ago

Russell Martin hit a deep single to right field as the Blue Jays walked off against the Rangers for the second consecutive night with a 4-3 victory on Wednesday night at Rogers Centre.

Share Tweet

nytimes.com

14 hours ago

Russell Martin singled home the winning run in the bottom of the ninth inning and the Toronto Blue Jays beat Texas 4-3 on Wednesday night, their second straight last at-bat victory over the Rangers.

Share Tweet

Large human Dae-Ho Lee helps keep first-place Mariners rolling

ESPN.com

15 hours ago

Large human Dae-Ho Lee helps keep first-place Mariners rolling

Share Tweet

Nelson Cruz Sent This Pitch To Goddamn Pluto

deadspin.com

16 hours ago

The Seattle Mariners wrapped up a sweep of the Oakland A's today in the Bay Area, and the club is now first in the AL West (the A's are weirdly twice as good on the road than at home this season, perhaps owing to the fact that their stadium is a caverno…

Share Tweet

Angels' fatigued Richards unsure on next start

ESPN.com

16 hours ago

Angels' fatigued Richards unsure on next start

Share Tweet

MLB.com nytimes.com

17 hours ago

It was only 15 days ago that Mike Trout came to bat in Chicago and the scoreboard read .220 next to his batting average. When he came to bat in Wednesday's ninth inning, Angels starter Hector Santiago glanced towards Miller Park's center-field JumboTron…

Share Tweet

Boomstick bros: Cruz, Lee crush home runs

MLB.com

17 hours ago

Nelson Cruz is a strong man, as evidenced again by a thunderous home run hit by the Mariners' designated hitter in the fifth inning of Wednesday's 9-8 win against the A's at Oakland Coliseum.

Share Tweet

Ponytailed A's Fan Robs Other Ponytailed A's Fan With Great Catch

deadspin.com

May 4 (yesterday)

Fewer than 13,000 fans showed up to watch the A's get rolled by the Mariners last night, but what they lacked in numbers they made up for in hustle, especially the dude laying out over a bunch of seats.Read more...

Share Tweet

Whether you prefer day games or night games, today's Major League schedule has games -- and aces -- for you. The first seven games all will begin in the afternoon, with the Nationals' Stephen Strasburg and the Mariners' Felix Hernandez among the pitcher…

Share Tweet

Martin adds surprise jolt to Mariners' power surge

Leonys Martin isn't supposed to be a power hitter. Nor does he have a history of faring well against A's ace Sonny Gray. So of course it was Martin who launched a two-run homer off Gray in the third inning on Tuesday to kickstart Seattle's 8-2 victory o…

Share Tweet

Mariners crush Gray, A's as Kuma cruises

Robinson Cano, Leonys Martin and Kyle Seager homered for the Mariners, backing a tremendous seven-inning performance from right-hander Hisashi Iwakuma to help Seattle secure an 8-2, series-clinching victory over the A's at the Coliseum on Tuesday night.

Share Tweet

yahoo.com

May 4 (yesterday)

Welcome to The Walk Off, the nightly MLB recap from Big League Stew. Here we'll look the top performers of the night, show you a must-see highlight and rundown the scoreboard. First, we start with what else? A walk-off home run. The Toronto Blue Jays ha…

Share Tweet

Butler befuddled with lack of playing time

Billy Butler isn't pouting, but he's certainly perplexed as to why he's been reduced to a platoon role on an A's club that handed him $30 million to be their everyday designated hitter.

Share Tweet

Aoki making impact despite struggles at plate

The Mariners need leadoff hitter Norichika Aoki to get on base and they don't care how he does it, as long as he's out there running and bothering opposing pitchers and putting himself in position to score.

Share Tweet

Mariners Rally Against A's Bullpen for First Sweep of Season

nytimes.com

May 4 (yesterday)

Even with a four-run deficit, Nelson Cruz hollered through the dugout some words of confidence.

Share Tweet

Kershaw Struck By Liner, Loses Part Of Tooth

Mar 20

Clayton Kershaw was hit by Andy Parrino's broken-bat liner in the bottom of the third inning in the Dodgers' 3-2 loss to the A's. Kershaw remained in the game.

Bacon-Loving Rangers Fans Rejoice!

Mar 18

ESPN sports business reporter Darren Rovell discusses the new bacon-related items being offered by the Texas Rangers this season.

Future Cloudy For Yu Darvish's Return

Mar 13

Stephania Bell explains the unknown of when Yu Darvish will be able to return and whether he can avoid a second corrective surgery down the line.

Yu Darvish To Undergo Tommy John Surgery

Mar 13

Tim Kurkjian reacts to the news that Yu Darvish's season will end before it even begins as the Rangers' ace will undergo Tommy John surgery.