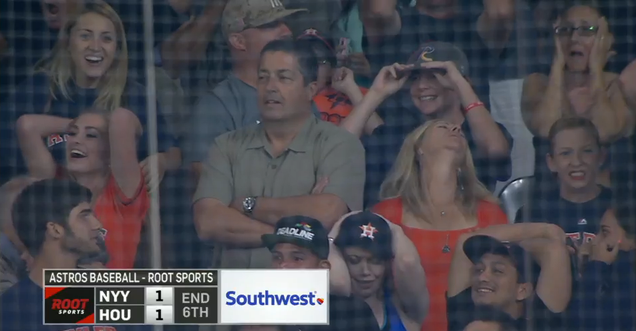 deadspin.com
MLB.com
yahoo.com
Updated 8 hours ago
Another day, another top prospect for the Astros. Alex Bregman, the second overall pick in 2015, made his MLB debut last night in Houston's 2-1 loss to the Yankees, and while it's been barely more than a year, fans have been waiting for this for a while…
Share
Tweet
Welcome to The Walk Off, the nightly MLB recap from Big League Stew. Here we'll look at the top performers of the night, show you a must-see highlight and rundown the scoreboard. First, we start with a game you need to know about. At this point in his c…

Share Tweet

Romine, Pineda, New-Look Bullpen Lead Yanks Past Astros 2-1

nytimes.com

18 hours ago

Austin Romine hit a tiebreaking double in the eighth inning to make a winner of Michael Pineda, and the New York Yankees' bullpen did just fine Monday night without star closer Aroldis Chapman in a 2-1 victory over the Houston Astros.

Share Tweet

Pujols Drives in 4, Angels Beat Royals 6-2

nytimes.com

18 hours ago

Albert Pujols drove in four runs, Hector Santiago won his fifth consecutive start and the Los Angeles Angels beat the Kansas City Royals 6-2 on Monday night.

Share Tweet

yahoo.com

19 hours ago

Any kid who grows up loving baseball imagines themselves in the majors at some point. It's the bottom of the ninth in the World Series. The bases are loaded. You're called upon to finish off the opposing team. For most kids, that memory comes when you'r…

Share Tweet

MLB.com yahoo.com nytimes.com

24 hours ago

The Rangers expect Prince Fielder will have season-ending surgery to repair a herniated disk in his neck in the next few weeks, general manager Jon Daniels announced Monday.

Share Tweet

deadspin.com

Jul 25 (yesterday)

Yesterday's game between the Corpus Christi Hooks and the Frisco RoughRiders—the Double A affiliates of the Houston Astros and Texas Rangers, respectively—got out of hand in a damn hurry. Read more...

Share Tweet

Kershaw Struck By Liner, Loses Part Of Tooth

Mar 20

Clayton Kershaw was hit by Andy Parrino's broken-bat liner in the bottom of the third inning in the Dodgers' 3-2 loss to the A's. Kershaw remained in the game.

Bacon-Loving Rangers Fans Rejoice!

Mar 18

ESPN sports business reporter Darren Rovell discusses the new bacon-related items being offered by the Texas Rangers this season.

Future Cloudy For Yu Darvish's Return

Mar 13

Stephania Bell explains the unknown of when Yu Darvish will be able to return and whether he can avoid a second corrective surgery down the line.

Yu Darvish To Undergo Tommy John Surgery

Mar 13

Tim Kurkjian reacts to the news that Yu Darvish's season will end before it even begins as the Rangers' ace will undergo Tommy John surgery.