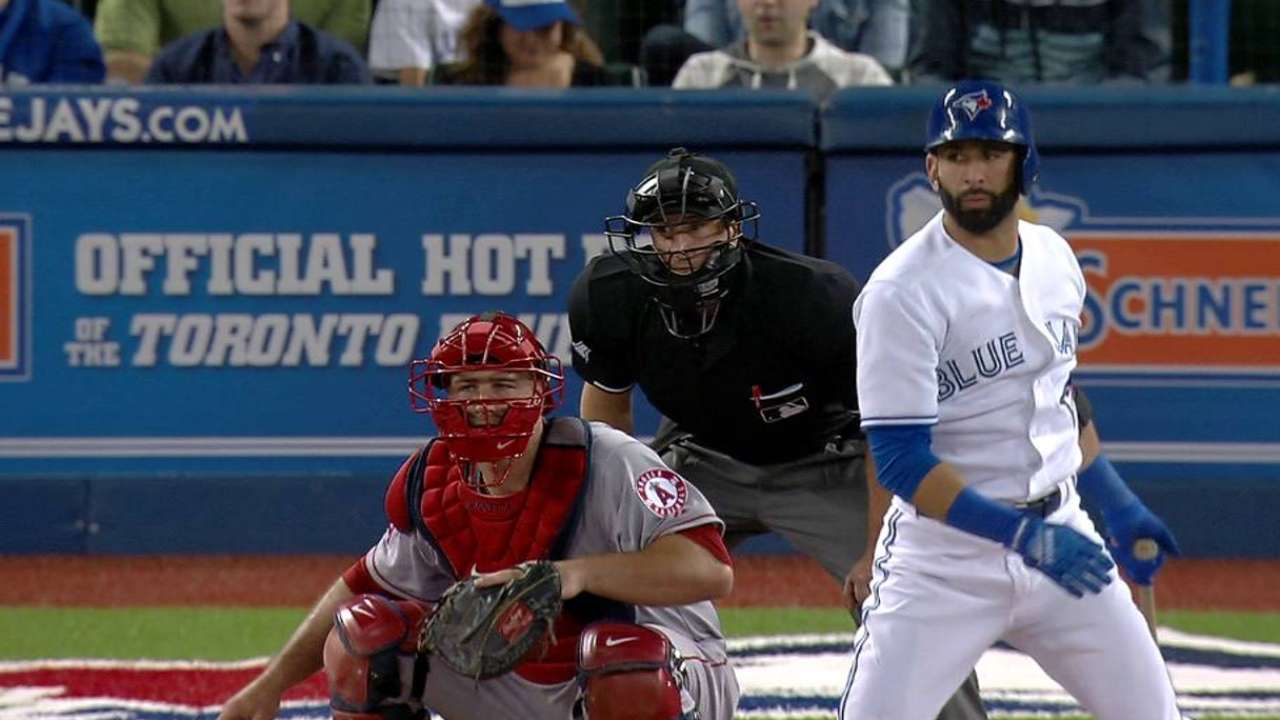 Josh Hamilton, who was called up by the Texas Rangers after a 12-game stint in the minors, will star

deadspin.com

31 minutes ago

Josh Hamilton, who was called up by the Texas Rangers after a 12-game stint in the minors, will start for the team against the Cleveland Indians tomorrow. He will play left field and likely bat fifth. "We're going to open our arms and give him a great b…

Share Tweet

MLB.com nytimes.com

1 hour ago

Athletics ace Sonny Gray left Sunday's game against the Rays at Tropicana Field after the fifth inning with a right ankle contusion. X-rays on his ankle came back negative.

Share Tweet

nytimes.com MLB.com

2 hours ago

Evan Gattis and Preston Tucker both homered in the sixth inning, and the Houston Astros slugged their way to another victory Sunday, rallying past the Detroit Tigers 10-8.

Share Tweet

nytimes.com MLB.com

2 hours ago

Mike Napoli hit his fourth homer of the series and drove in four runs, Wade Miley allowed one run in eight innings and the Boston Red Sox beat the Los Angeles Angels 6-1 on Sunday.

Share Tweet

Encarnacion and Goins Homer, Blue Jays Beat Mariners 8-2

nytimes.com

3 hours ago

Edwin Encarnacion and Ryan Goins homered, Aaron Sanchez won for the first time in three starts and the Toronto Blue Jays beat the Seattle Mariners 8-2 on Sunday, avoiding a three-game sweep.

Share Tweet

MLB.com

4 hours ago

Steven Souza Jr. had to leave Sunday's Rays-A's contest while hitting with two outs in the third inning. He has a sprained left wrist and is day to day.

Share Tweet

Bedrosian replaces Morin in Angels' bullpen

MLB.com

5 hours ago

The Angels' bullpen picked up a little bit more velocity on Sunday morning, when hard-throwing right-hander Cam Bedrosian came up from Triple-A Salt Lake to replace the injured Mike Morin, who was placed on the 15-day disabled list.

Share Tweet

yahoo.com nytimes.com deadspin.com

7 hours ago

The Houston Astros entered play on Saturday with the third highest winning percentage in MLB. Third! Needless to say, they've been the biggest and/or most pleasant surprise in the entire league, and they've done it by doing everything well. That include…

Share Tweet

Victorino exits game due to calf tightness

MLB.com

20 hours ago

The struggling Red Sox offense was expecting to rely on Shane Victorino as its No. 2 hitter against the Angels on Saturday, but the oft-injured outfielder had to be removed from the game after tweaking his left calf during the third inning.

Share Tweet

yahoo.com MLB.com nytimes.com

20 hours ago

The Texas Rangers have set a time and a place for Josh Hamilton's return. Speaking on Saturday night, general manager Jon Daniels confirmed that Hamilton will be activated and available for duty when they meet the Cleveland Indians on Monday at Progress…

Share Tweet

MLB.com

22 hours ago

"He's been durable and pretty consistent for us," said A's manager Bob Melvin after the Athletics' 5-0 victory over the Rays on Saturday at Tropicana Field. Eric Sogard backed up his manager's by gathering two hits and a walk in his four plate…

Share Tweet

Graveman, Fuld Lead A's to 5-0 Win Over Rays

nytimes.com

24 hours ago

Kendall Graveman gave up three hits over six innings in his return from the minors, Sam Fuld drove in two runs and the Oakland Athletics beat the Tampa Bay Rays 5-0 on Saturday.

Share Tweet

yahoo.com

24 hours ago

It might be premature to say the wheels have come off the New York Yankees, but the evidence during their current five-game losing streak certainly hasn't been encouraging. After dropping the series finale in Kansas City and being swept by the Nationals…

Share Tweet

Detroit's dynamic double-play duo at it again

MLB.com

May 23 (yesterday)

Tigers middle infielders Ian Kinsler and Jose Iglesias have made a habit of combining for spectacular double plays. On Saturday afternoon against the Astros, the duo dazzled again.

Share Tweet

Rangers 15, Yankees 4: Starter Is Pummeled in the Third. Again. And the Yanks Lose. Again.

nytimes.com

May 23 (yesterday)

For the second straight game, the Rangers pulverized a Yankees starter by taking advantage of a series of fielding miscues as C. C. Sabathia pitched just two and one-third innings.

Share Tweet

nytimes.com MLB.com

May 23 (yesterday)

Shin-Soo Choo hit a go-ahead single and a three-run homer in a 10-run third inning that chased CC Sabathia from his shortest start in six years, and the Texas Rangers routed the reeling Yankees 15-4 Saturday to send New York to its ninth loss in 10 game…

Share Tweet

Paxton Wins 3rd Straight, Mariners Beat Blue Jays 3-2

nytimes.com

May 23 (yesterday)

Kyle Seager homered, James Paxton earned his first road win of the season and the Seattle Mariners beat the Toronto Blue Jays 3-2 on Saturday.

Share Tweet

Kershaw Struck By Liner, Loses Part Of Tooth

Mar 20

Clayton Kershaw was hit by Andy Parrino's broken-bat liner in the bottom of the third inning in the Dodgers' 3-2 loss to the A's. Kershaw remained in the game.

Bacon-Loving Rangers Fans Rejoice!

Mar 18

ESPN sports business reporter Darren Rovell discusses the new bacon-related items being offered by the Texas Rangers this season.

Future Cloudy For Yu Darvish's Return

Mar 13

Stephania Bell explains the unknown of when Yu Darvish will be able to return and whether he can avoid a second corrective surgery down the line.

Yu Darvish To Undergo Tommy John Surgery

Mar 13

Tim Kurkjian reacts to the news that Yu Darvish's season will end before it even begins as the Rangers' ace will undergo Tommy John surgery.

Sports Columnists

2015 NBA playoffs - Golden State Warriors learning what it takes to be cha…

May 21

Steve Kerr is trying to impress upon his inexperienced Warriors just how hard the playoffs can be, without them actually proving it by adding to the degree of difficulty.

NBA Playoffs 2015 - Golden State Warriors and Houston Rockets going small …

May 21

The Western Conference finals are downsizing. And while Houston has no problem going small, it might be playing right into Golden State's hand.