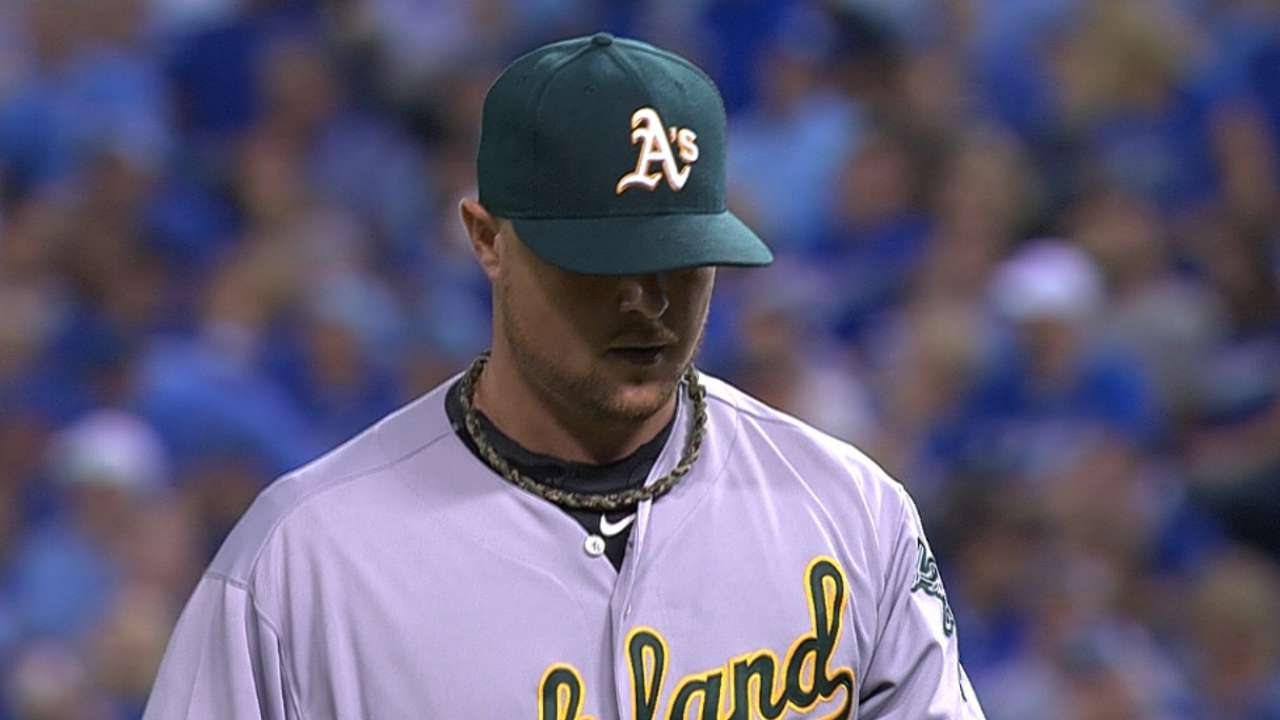 Beane defends trades after A's postseason exit
MLB.com
Updated 4 hours ago
A's general manager Billy Beane is standing behind both of his July blockbuster trades, particularly the one that gave him 12 starts from Jon Lester. "Simply put, if we don't have Jon Lester, I don't think we make the playoffs," he said.
Upvote
Share
Tweet
Sources: Ex-player Young close to joining Texas

ESPN.com

6 hours ago

The Texas Rangers are close to bringing former player Michael Young to the organization in a front-office role, according to multiple sources.

Upvote Share Tweet

MLB.com nytimes.com deadspin.com

8 hours ago

Although some analytics-driven folks may cringe when manager Ned Yost bunts or steals with so few outs to work with, there's no denying he has the perfect team with which to play small ball. That won't change when the Royals take on the Angels in Game 1…

Upvote Share Tweet

MLB.com

8 hours ago

Jered Weaver has been close enough to taste championships twice, in college at Long Beach State and with the 2009 Angels, only to fall short on each occasion. "I think that it just makes you strive for more," said Weaver, the Halos' starter fo…

Upvote Share Tweet

MLB.com

8 hours ago

Jered Weaver and Jason Vargas are close friends, and not just because they were teammates with the Angels last season. They were also teammates in 2004 at Long Beach State. Now they will face off on the big stage, starting Game 1 of the American League …

Upvote Share Tweet

Hamilton aims to atone for injury-riddled season

MLB.com

9 hours ago

It's easy to be skeptical about Josh Hamilton going into the ALDS. He's coming off a poor year, he still isn't fully healthy, and he was only able to play in one of the Angels' last 23 regular-season games, with nagging ailments in his right shoulder an…

Upvote Share Tweet

yahoo.com nytimes.com

10 hours ago

Perhaps the most intriguing LDS series begins Thursday night in Anaheim. The Kansas City Royals finally took the step many anticipated was coming this season, snapping their 29-year playoff drought by qualifying for the AL wild card. After beating Oakla…

Upvote Share Tweet

MLB.com

11 hours ago

The Angels will go with a three-man rotation in their American League Division Series against the Royals, with Matt Shoemaker starting Game 2, C.J. Wilson starting Game 3 and Game 1 starter Jered Weaver coming back on short rest to start Game 4.

Upvote Share Tweet

Sanchez, Soria likely to be key cogs in bullpen

MLB.com

11 hours ago

Anibal Sanchez spent part of his Tuesday night viewing the Royals and Athletics battle in the American League Wild Card Game, watching the Royals' ability to put pressure on opponents with their speed.

Upvote Share Tweet

A's-Royals Confused The Hell Out Of Gamblers

deadspin.com

16 hours ago

Last night's AL play-in game was the kind of protracted back-and-forth that makes a baseball game genuinely exciting. It also drives bettors nuts. Here are the implied winning percentages, which are modeled off of live betting on Betfair by Gambletron 2…

Upvote Share Tweet

Royals puppy woman watched comeback from outfield and will get puppy after playoffs

yahoo.com

18 hours ago

Katie Castan will get her puppy, but she's waiting until after the playoffs to adopt. Castan was the Kansas City Royals fan spotted by TBS cameras in the middle of the fifth inning of Tuesday's wild card game between the Oakland A's and Royals holding a…

Upvote Share Tweet

This probably wasn't how Adam Dunn imagined things would go. Dunn was traded to the Oakland Athletics from the Chicago White Sox on Aug. 31 as Oakland looked to add postseason power. It was going to be the slugger's first time in the playoffs in his 14-…

Upvote Share Tweet

A's bullpen picks wrong time for rough night

All but one of the five relievers who entered after Jon Lester exited in the eighth inning either gave up a run or allowed inherited runners to score.

Upvote Share Tweet

Guthrie may be Royals' top option for ALDS opener

Right-hander Jeremy Guthrie has never pitched in the postseason despite his 11 years in the Majors. He's pitched well down the stretch, with an 8-2 record and 3.42 ERA in his last 12 starts, and could be tabbed to start against the Angels on Thursday in…

Upvote Share Tweet

yahoo.com

Oct 1 (yesterday)

KANSAS CITY, Mo. – Salvador Perez just needed to take a pitch. A player not known for his patience at the plate, Perez was especially antsy in the late innings of Tuesday's wild-card win against the Oakland A's. With the Royals trailing 7-6 with one out…

Upvote Share Tweet

yahoo.com deadspin.com

Oct 1 (yesterday)

Ned Yost escaped with his job still in tact Tuesday night, after his Kansas City Royals came back three times to beat the Oakland Athletics in the AL wild-card game. For a while, it didn't look like Yost would be so lucky. He took out starting pitcher J…

Upvote Share Tweet

Position-by-position breakdown: Royals-Angels

After a thrilling victory in Tuesday night's American League Wild Card game, Kansas City heads west to meet the top-seeded Angels in the AL Division Series -- the first playoff meeting between the two. Game 1 is slated for Thursday night at 9:07 p.m. ET…

Upvote Share Tweet

Defiant Royals Outfox A's in Wild Card Game

nytimes.com

Oct 1 (yesterday)

The Kansas City Royals beat the Oakland Athletics 9-8 in a thrilling, 12-inning do-or-die Wild Card playoff on Tuesday to eke out a victory in their first postseason game for 29 years.

Upvote Share Tweet

A's catcher Geovany Soto was forced to exit Tuesday night's 9-8 loss to the Royals in the American League Wild Card Game in the bottom of the third inning because of a left thumb injury.

Upvote Share Tweet

Royals Rally For Wild-Card Walk-Off Win

Sep 30

SportsCenter Highlight of the Night: Salvador Perez's RBI single in the 12th inning advanced the Royals to the American League Division Series with a 9-8 win over the Athletics.

Breaking Down The A's Season

Sep 30

Baseball Tonight Minute: The Baseball Tonight crew discusses the Oakland Athletics' season and what went wrong.

Perez On Game-Winning Hit

Sep 30

Salvador Perez discusses his RBI single that lifted the Royals past the A's 9-8 in extra innings.

Breaking Down Royals' Win

Sep 30

Dallas Braden breaks down the Royals' 9-8 win over the A's.