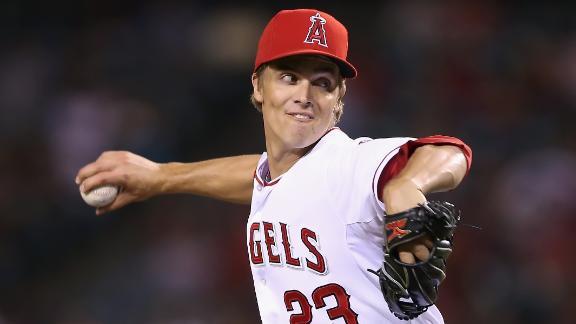 Scioscia looks to fill void left by Torii

MLB.com

Dec 5, 2012

Mike Scioscia is comfortable with the Angels' outfield alignment despite Torii Hunter's free-agent departure, but replacing the veteran in the No. 2 spot in the lineup is a tall task.

Share Tweet

Texas Rangers general manager Jon Daniels said he met with Josh Hamilton's agent, Mike Moye, but that nothing has changed in terms of negotiating a deal with the former American League MVP.

Share Tweet

MLB.com

Dec 5, 2012

At some point soon -- by the end of the winter, by the end of the week or maybe even by time you're done reading this article -- something big is bound to go down in the American League West.

Share Tweet

NASHVILLE, Tenn. (AP) A person familiar with the deal tells The Associated Press that free agent outfielder Jason Bay has reached a one-year contract with the Seattle Mariners.

Share Tweet

CNNSI.com

Dec 5, 2012

Zack Greinke is the only true No. 1 starter on the market and there are only two teams still in the running for his services. Tom Verducci weighs the merits of the Dodgers and Rangers.

Share Tweet

CNNSI.com

Dec 5, 2012

ASHVILLE, Tenn. (AP) -- Free agent pitcher Dan Haren and the Washington Nationals are close to completing a one-year deal for $13 million, a person familiar with the talks told The Associated Press.

Share Tweet

Winter Meetings: Free Agent Update

Dec 5

ESPN's Keith Law on where big name free agents such as Zack Greinke, Josh Hamilton and Nick Swisher may land.

Winter Meetings Afternoon Report

Dec 5

Jon Sciambi, Jim Bowden and Jayson Stark take a look at some of the remaining free agents such as John Hamilton and Zach Greinke and discuss where they may land.