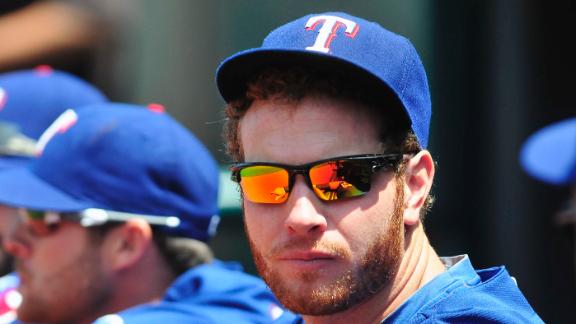 ESPN.com
Updated Dec 6, 2012
Texas Rangers general manager Jon Daniels said he leaves baseball's winter meetings without getting any major deals "across the finish line" but did get a clearer picture of how he hopes to assemble his 2013 team.
Share
Tweet
The hottest position of this Hot Stove season is the hot corner. Cliff Corcoran examines the thin third-base market, the lack of multi-year contracts for starting pitchers and more.

Share Tweet

NASHVILLE, Tenn. (AP) -- Reliever Koji Uehara has reached an agreement with the Boston Red Sox, pending a physical.

Share Tweet

While the Rangers did not make any major announcements at the Winter Meetings, they were certainly stirring up the rumors and at least appearing to be on the brink of doing something big.

Share Tweet

Strong already, AL West can up the ante

The American League West is where the power resides now, with all due respect to the reigning World Series champions in San Francisco and the Giants' eternal rivals down south.

Share Tweet

It's been a winter of content for Angels

Here's to the Los Angeles Angels of Anaheim, who've quietly had themselves a terrific offseason. Bullpen? Check. Rotation? Check.

Share Tweet

Seattle takes Farris in Triple-A portion of Rule 5

The Mariners didn't select anyone in the Major League portion of Thursday's Rule 5 Draft at the Winter Meetings, but they did take second baseman Eric Farris from the Brewers' organization in the Triple-A portion of the proceedings.

Share Tweet

Texas grabs 'pen candidate Wood in Rule 5 Draft

The Rangers selected right-handed reliever Coty Wood from the Rockies' organization in the Rule 5 Draft on Thursday morning at the Winter Meetings.

Share Tweet

Tom Verducci: It might finally be time for Upton, Diamondbacks to part ways

Justin Upton has MVP talent and the Diamondbacks have him under contract for three more years. So why might it be time for them to part ways? Tom Verducci explains in Three Strikes.

Share Tweet

Josh Hamilton and Zack Greinke remained in play as several free agents struck deals Wednesday. Until the Rangers make a move, the anticipation continues to build, writes Joe Lemire.

Share Tweet

Hamilton Staying Or Going?

Dec 6

ESPN's Buster Olney, Tim Kurkjian, and Richard Durrett on if Josh Hamilton will remain in Texas.

Winter Meetings Afternoon Report

Dec 6

ESPN's Buster Olney and Tim Kurkjian on the chances Michael Young gets traded and what teams have the best chance to land Josh Hamilton and Zack Greinke.

Winter Meetings Morning Report

Dec 6

Jon Sciambi and Buster Olney on where Josh Hamilton and Zack Greinke may land, and the chances that Philadelphia acquires Michael Young.