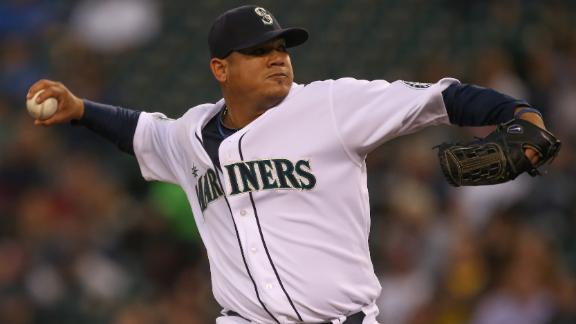 Mariners finalize Saunders deal, designate Carp

Lefty starter Joe Saunders officially signed a one-year Major League deal with the Mariners on Tuesday and first baseman/outfielder Mike Carp was designated for assignment to make room on the 40-man roster.

Share Tweet

General manager Jon Daniels said the Rangers are still looking outside the organization for a possible utility infielder who can play shortstop, but candidates may be reluctant to sign with the club because playing time is limited behind its incumbent A…

Share Tweet

Anderson looking to pull his weight for A's staff

Though Tommy John surgery was just around the corner, Brett Anderson did find solace away from the mound in the days leading up to his major operation in 2011. Such comfort was tucked away in the kitchen.

Share Tweet

CNNSI.com

Feb 12, 2013

TAMPA, Fla. (AP) -- Alex Rodriguez will not report to spring training with the Yankees' position players and will work on his rehabilitation from hip surgery in New York.

Share Tweet

Mariners catcher Jesus Montero says he's put last week's report linking his name to the controversial Miami anti-aging clinic behind him and is focused solely on getting ready for Spring Training and the upcoming season.

Share Tweet

Only 14 of the 35 pitchers and catchers reporting to Mariners camp Tuesday have ever played in the Majors for Seattle, so there'll be plenty of new faces and challengers when the group gathers on the field today for the first time with manager Eric Wedg…

Share Tweet

Hernandez's $175M Deal Done

Feb 12

Felix Hernandez and the Seattle Mariners have reached an agreement on a seven-year, $175 million contract, making him the highest-paid pitcher in baseball.

Sports Columnists

Kobe Bryant says chastising fan on Twitter was 'right thing to do'

Feb 13

Kobe Bryant welcomes challenges, which explains why he chastised a fan on Twitter for using a homophobic slur. "It's the right thing to do," Bryant told ESPN.com. "I couldn't help myself. I saw it, I was like, 'I can't help myself. I have to respond.'"

Don Banks: Philadelphia Eagles 2013 Offseason Preview

Feb 12

SI.com is laying out offseason road maps for all 32 teams as they start their journey for the Lombardi Trophy -- two teams per day, from the teams that need the most work to contend in 2013 to the ones that are in pretty good shape. See them all.