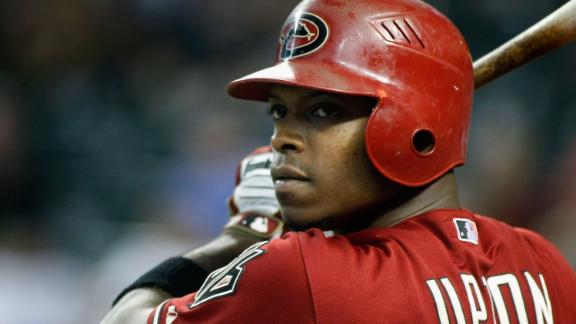 Healthy Sizemore set to help wherever A's need him

MLB.com

Jan 10, 2013

Scott Sizemore feels normal again. Translation: The A's infielder is fully healthy, just as he was a year ago. That was before he suffered a torn ACL on the first day of spring workouts, underwent a lengthy rehab on his surgically repaired left knee and…

Share Tweet

Injured Chris Narveson agrees to $840k deal with Brewers

CNNSI.com

Jan 10, 2013

MILWAUKEE (AP) -- Left-hander Chris Narveson and the Milwaukee Brewers have agreed to an $840,000, one-year contract.

Share Tweet

Right-hander Chris Resop has agreed to a $1.35 million, one-year contract with the Oakland Athletics.

Share Tweet

Soria targets June return from elbow surgery

ESPN.com

Jan 10, 2013

Texas Rangers reliever Joakim Soria has targeted late May or early June for a return to the big leagues following the second Tommy John surgery of his career.

Share Tweet

Blue Jays claim Hottovy off waivers from Rangers

MLB.com

Jan 10, 2013

The Blue Jays claimed left-hander Tommy Hottovy off waivers from the Rangers on Thursday afternoon.

Share Tweet

Jerry Dipoto offers encouragement, reassurance on Mike Trout's future in latest letter to fan

yahoo.com

Jan 10, 2013

It was around this time last winter when Jerry Dipoto, who was in the midst of an aggressive rookie offseason as general manager of the Los Angeles Angels, impressed us by taking time from his busy schedule to write a legitimate and sincere response to …

Share Tweet

Mint Condition: Memorabilia Market Hurt By No New HOFers

Jan 10

Tristar Productions president Jeffrey Rosenberg joins Michele Steele to discuss the financial impact on the sports memorabilia market of having no new Baseball Hall of Famers in 2013.

Buster Blog: Hall Of Fame Tipping Point

Jan 10

Buster Olney blogs that Jeff Bagwell and Mike Piazza's Hall of Fame candidacies represent a tipping point for the Hall of Fame and performance-enhancing drugs.