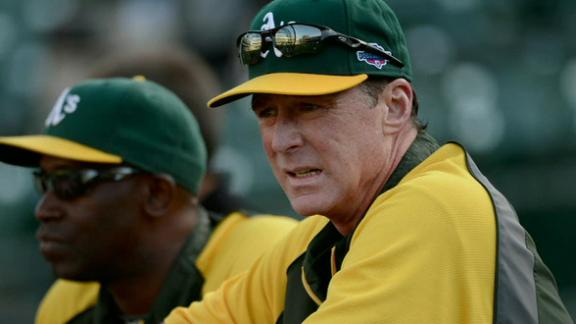 My personal favorite moment of 2012 might have been watching A's manager Bob Melvin -- exhausted, happy and soaked in champagne -- sit on a table outside his clubhouse and try to find the words to describe what had just happened.
Share
Tweet
A's, Kottaras avoid arbitration with one-year deal

The A's on Monday agreed to terms with George Kottaras on a one-year contract for the 2013 season to avoid arbitration.

Share Tweet

Top prospect Cowart among 21 invited to camp

The Angels announced 21 non-roster players who will be joining those on the 40-man roster in Spring Training next month.

Share Tweet

Soria happy to set up, but hopes to close again

Joakim Soria said he signed with the Rangers because he wanted a place to pitch. He was a closer for five seasons for the Royals but understands that might not be his role with the Rangers.

Share Tweet

Rangers' offseason may be for the best

This is a time of year when it's easy to look at a team's roster and get a queasy feeling about the question marks, but the Rangers have been careful about not throwing good money -- or prospects -- at bad.

Share Tweet

Have the Diamondbacks Lost Their Leverage With Justin Upton?

grantland.com

Jan 14, 2013

The Diamondbacks negotiated a trade with the Mariners last week, one that would have netted a strong package of young talent. But when the two teams f...

Share Tweet

Bob Melvin Gets 2-Year Extension

Jan 14

David Schoenfield discusses Oakland Athletics manager Bob Melvin getting a two-year contract extension.