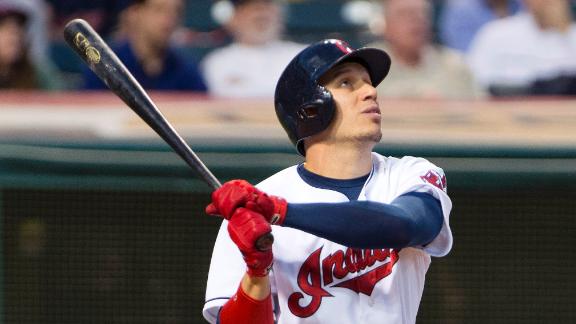 Asdrubal Cabrera homered twice and Mark Reynolds hit one to the deepest reaches of Progressive Field, leading the Cleveland Indians to a 7-3 win over the Oakland Athletics on Monday night.
Share
Tweet
Hamilton at center of Angels' first-month woes

MLB.com

May 6, 2013

Josh Hamilton is confident his swing will come, with the Angels having just gone through a rough first month of the season.

Share Tweet

Mike Trout fish hats! Los Angeles Angels giving caps away June 18

yahoo.com

May 6, 2013

Fish hats, get your Mike Trout fish hats! The Los Angeles Angels already sell, or did a season ago, a foam cap shaped like a fish in honor of star slugger Mike Trout. You can buy one on eBay for $24.99. They're solid, if not durable-looking. Good enough…

Share Tweet

Cool C.J. Wilson makes coolest cap grab of foul ball EVER look so cool

yahoo.com

May 6, 2013

C.J. Wilson cooly and casually catching a bouncing foul ball from the front row of the Los Angeles Angels dugout takes the phrase "act like you've been there before" to nirvana. Notice, though, some of Wilson's teammates cowering as the ball - which adm

Share Tweet

Rangers, Cards, Tigers rise to top of rankings

MLB.com

May 6, 2013

Here's what we know for certain: Yu Darvish is pitching like an ace, never count out the Giants or the Yankees, the Cardinals are on a roll, and the Royals and Pirates look like they are for real. And no one should ever forget that the Tigers are the de…

Share Tweet

Cabrera, Reynolds Power Indians

May 6

Asdrubal Cabrera hit two homers and Mark Reynolds added a long ball of his own in the Indians' 7-3 win.