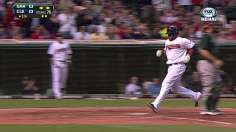 Updated May 7

Share Tweet

CLEVELAND (AP) Oakland Athletics outfielder Josh Reddick is expected to be sidelined for a few days with a sore right wrist.

Updated May 7

Share Tweet

PITTSBURGH (AP) The Pittsburgh Pirates have placed struggling right-handed pitcher James McDonald on the 15-day disabled list with stiffness in his right shoulder and recalled infielder Josh Harrison from Triple-A Indianapolis.

Once again, expensive free agents are failing to meet expectations

Updated May 7

Share Tweet

As another expensive crop of free-agents fails to meet expectations with their new teams, it's clear free-agency is more like a used-car lot than ever before, writes Tom Verducci.

Angels fans get chance to earn trivia 'Bucks'

Updated May 7

Share Tweet

MLB.com's 'Bucks on the Pond' stopped by Angel Stadium recently to give fans a chance to show off their knowledge and earn some money.

Feldman's scoreless start leads Cubs past Rangers

Updated May 7

Share Tweet

Starlin Castro and Anthony Rizzo both hit two-run singles in the fourth and Rizzo added a two-run home run in the eighth to back Scott Feldman, who helped himself with an RBI single, to give the Cubs a 9-2 victory over the Rangers.

Indians Blank A's

May 7

Zach McAllister tossed 7 2/3 scoreless innings to lead the Indians to a 1-0 win over the Athletics.

SweetSpot TV: Leadoff Hitters

May 7

Eric Karabell and David Schoenfield break down the best and worst leadoff hitters this season.

Brewers Use Long Ball To Top Rangers

May 7

Brewers put up a five-spot in the first inning en route to a 6-3 win over the Rangers.