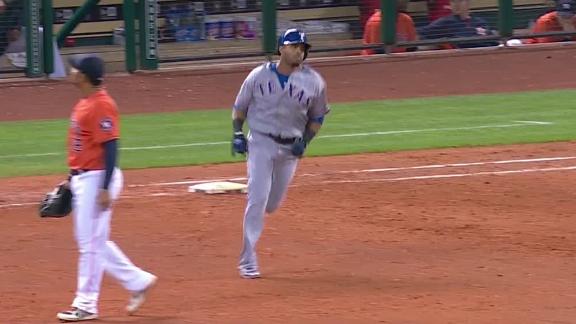 ESPN.com
Updated May 10, 2013
Jeff Baker hit a tiebreaking home run in the seventh, and Texas relievers threw 3 1/3 hitless innings to lead the Rangers to a 4-2 win over the Houston Astros on Friday night.
Share
Tweet
Young likely nearing rehab assignment in Arizona

A depleted A's club could soon be welcoming back one of its ailing outfielders, as Chris Young is expected to begin a rehab assignment within a few days.

Share Tweet

Scioscia moving on from 'isolated incident'

Angels manager Mike Scioscia briefly doubted his interpretation of the rules for pitching changes, but he was accurate and is ready to move forward after the umpires were disciplined and Astros manager Bo Porter apologized.

Share Tweet

Lewis, Ramirez make progress at Frisco

The Rangers had two pitchers make significant starts in the Minor Leagues on Wednesday: Colby Lewis at Triple-A Las Vegas and Neil Ramirez at Double-A Frisco. Lewis is on the road back from last year's flexor tendon surgery, and Ramirez is on the road b…

Share Tweet

Porter issues apology for misinterpreting rules

Astros manger Bo Porter issued a public apology Friday afternoon for making an illegal pitching change in Thursday's loss to the Angels, a move that led to the two-game suspension and fine of crew chief Fieldin Culbreth and fines for the rest of his cre…

Share Tweet

Umpire Fieldin Culbreth suspended two games for misapplication of rules in Angels-Astros game

yahoo.com

May 10, 2013

You say you wanted more accountability for the umpires and less transparency from Major League Baseball in terms of how their umpires are disciplined? Good news. The league made a lot of progress in both areas on Friday as they announced that veteran um…

Share Tweet

The rule covering pitching changes was not applied correctly by the umpiring crew in the seventh inning of Thursday's Angels-Astros game in Houston, Major League Baseball said Friday.

Share Tweet

deadspin.com

May 10, 2013

Well, what do you know? MLB has not only decided to swing its shithammer at the crew that screwed up a basic rules interpretation during last night's Angels-Astros game, but that it's publicizing the discipline being meted out.Read more...

Share Tweet

MLB acknowledged its umpires messed up for the second straight day. This time, one umpire has been suspended and three more were fined for Thursday's Angels-Astros rules gaffe.

Share Tweet

The White Sox activated outfielder Dayan Viciedo from the 15-day disabled list prior to Friday's game against the Angels and optioned Jordan Danks to Triple-A Charlotte to make room on the roster.

Share Tweet

Peter Gammons suspects umpire Angel Hernandez let botched call stand as objection to replay

yahoo.com

May 10, 2013

And the plot thickens. Veteran baseball analyst Peter Gammons went on The Dan Patrick Show on Friday and made a bold claim: Angel Hernandez, the umpire who refused to overturn the botched home-run call in Wednesday's Indians-A's game, did so as an objec…

Share Tweet

Astros Fan Behind Home Plate Really Wants You To See His Fake Dong

deadspin.com

May 10, 2013

We pride ourselves on vigilance to behind-the-plate fan frivolity, what with jackasses pantomiming blowjobs at Wrigley or dudes outfitting themselves in Marlins gear during non-Marlins postseason games. So when this fan at last night's Angels-Astros gam…

Share Tweet

CNNSI.com

May 10, 2013

Another day, another umpire gaffe. This one, at least, did not affect the outcome of a game. Why does MLB let unaccountable umps insult fans -- and the game? asks Tom Verducci.

Share Tweet

Following controversy, Halos rally past Astros

In a wild game that featured a controversial call by crew chief Fieldin Culbreth, an official protest by manager Mike Scioscia, injuries to shortstop Erick Aybar and reliever Scott Downs and plenty of back-and-forth, the Angels avoided a sweep against t…

Share Tweet

The Angels' 6-5 victory over the Astros rescinded manager Mike Scioscia's official protest of Thursday night's game at Minute Maid Park, while somewhat downplaying another umpiring controversy one day after the big home run dispute in Cleveland.

Share Tweet

Torre Addresses Perception Of Umpires

May 10

Joe Torre discusses this week's missed home run call, whether replay would have helped, and the resulting perception of umpires.

How Accountable Are MLB Umpires?

May 10

Buster Olney looks at the pitching change that led the Angels to protest Thursday night's game.

Iwakuma Leads M's Past A's

May 10

Hisashi Iwakuma strikes out nine batters over seven strong innings to lead the Mariners to a 6-3 win over the Athletics.

Rangers Use Long Ball To Top Astros

May 10

Three Rangers homered in the final four innings to lift the Rangers past the Astros 4-2.