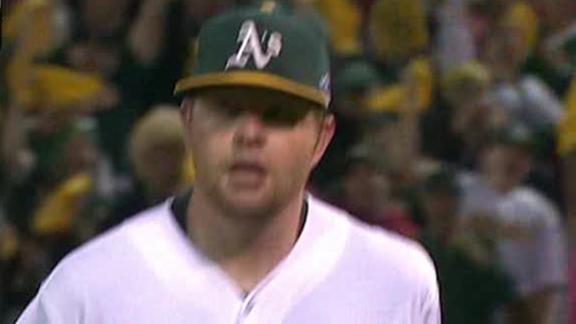 Anderson-led A's shut out Tigers to stay alive
ESPN.com
Updated Oct 9, 2012
Brett Anderson outdueled fellow playoff first-timer Anibal Sanchez and received stellar defense all over the diamond, and the upstart Athletics avoided another playoff sweep by Detroit, beating the Tigers 2-0 Tuesday night.
Share
Tweet
CNNSI.com nytimes.com

Oct 9, 2012

Coco Crisp scored a run and made a home-run saving catch and Brett Anderson pitched six shutout innings as the A's topped the Tigers 2-0 on Tuesday to force a Game 4 in the ALDS.

Share Tweet

Coco Crisp robs Prince Fielder of home run in ALDS Game 3

yahoo.com

Oct 9, 2012

Your browser does not support iframes. Oakland Athletics outfielder Coco Crisp berated himself on Twitter after his attempt at a basket catch failed for a huge two-run error in Sunday's Game 2 of the ALDS. That's a terrible feeling seeing the ball fly o…

Share Tweet

Tigers try to complete sweep of A's

CNNSI.com

Oct 9, 2012

Coco Crisp has scored a run and robbed Prince Fielder of a home run in the early parts of Game 3 in Oakland. Follow along as the A's try to avoid a sweep at the hands of the Tigers.

Share Tweet

History Lesson: The Time Dave Stewart Was Arrested For Soliciting A Transvestite Prostitute

deadspin.com

Oct 9, 2012

An occasional feature in which we recall notable incidents that we would've covered the hell out of had we existed at the time. More »

Share Tweet

Your Giants-Reds And A's-Tigers Open Thread

deadspin.com

Oct 9, 2012

Welcome to today's divisional series open thread. There are two games to watch tonight. The San Francisco Giants are fighting for their playoff lives against the Cincinnati Reds in a game that just got underway, and the A's will be trying to stave off e…

Share Tweet

Wash regrets not resting regulars down the stretch

MLB.com

Oct 9, 2012

Rangers manager Ron Washington, in reviewing what went wrong with his club at the end of the season, said Tuesday he may have made a mistake by not getting his starting players enough time off down the stretch.

Share Tweet

Josh Hamilton has made it clear the Rangers will get the "first chance" at re-signing him. The Rangers are declining that offer.

Share Tweet

Albert Chen: A's looking to keep Best Story in Baseball alive for another day

CNNSI.com

Oct 9, 2012

The A's have been the best story in baseball. Tonight, they'll try to avoid having ALDS Game 3 be their final chapter. Even if it is there's good times ahead, writes Albert Chen.

Share Tweet

Oakland A's on the Verge of a Non-Hollywood Ending

grantland.com

Oct 9, 2012

So this is what it's come to? Three must-wins in a row? On June 21, I wrote on Grantland that the A's were "a long shot to make the playoffs this seas...

Share Tweet

Rangers To Let Josh Hamilton Test Open Market

Oct 9

The Texas Rangers will not make an offer to Josh Hamilton before he hits the open market in free agency

Breaking Down The A's Game 3 Win

Oct 9

Baseball Tonight breaks down the A's win over the Tigers

A's Blank Tigers In Game 3

Oct 9

A's top Tigers 2-0 to avoid sweep.

SweetSpot: Game 3s

Oct 9

David Shoenfield and Eric Karabell on whether the Giants and A's can avoid being swept.