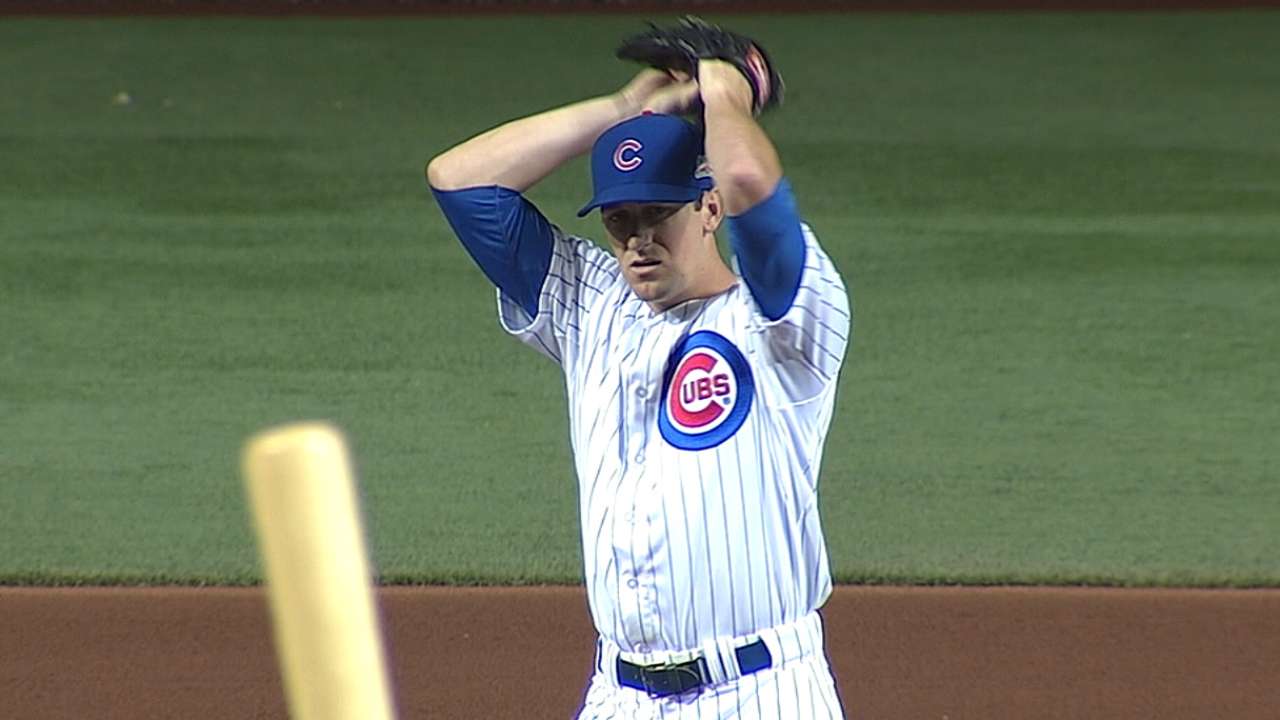 MLB.com
nytimes.com
Updated 3 hours ago
While Kris Bryant, Javier Baez and Addison Russell were packing up their lockers to move to the Minor League side of the Cubs complex Monday, Kyle Hendricks was prepping for his penultimate spring start. If Hendricks is on the Cubs' Opening Day roster, …
Share
Tweet
Kemp goes yard to back Kennedy's six strong

MLB.com

4 hours ago

Using three home runs, including one from Matt Kemp, the Padres rolled to a 6-3 victory over the Reds on Monday at Goodyear Ballpark. Ian Kennedy tossed six scoreless innings.

Share Tweet

nytimes.com MLB.com

4 hours ago

Washington Nationals closer Drew Storen exited early because of a blister on his right big toe Monday in a 6-2 loss to the St. Louis Cardinals.

Share Tweet

Wong sees positives despite down spring

MLB.com

4 hours ago

In one of his better games of the spring, second baseman Kolten Wong drew two walks and scored a run in the Cardinals' 6-2 win against the Nationals on Monday. The fact that such a performance is notable is indicative of the tough time Wong has had in G…

Share Tweet

Cards put Martinez in rotation; Garcia to DL

ESPN.com

5 hours ago

The St. Louis Cardinals have picked Carlos Martinez as their fifth starter and put pitcher Jaime Garcia on the 15-day disabled list.

Share Tweet

MLB.com yahoo.com nytimes.com ESPN.com

5 hours ago

The Cubs' decision to send slugger Kris Bryant to the Minors to open the season has divided the baseball world, but the decision is totally justifiable, writes former Major League general manager Dan O'Dowd.

Share Tweet

Pirates' Sean Rodriguez challenged Phillies' Kevin Slowey to a fight

yahoo.com

5 hours ago

The Pittsburgh Pirates and Philadelphia Phillies nearly came to blows Monday. While no punches were thrown, two coaches were ejected after benches emptied during the fifth inning. All of this happened during a spring training game where the results don'…

Share Tweet

Perez's bid to join Brewers ends with release

ESPN.com

7 hours ago

The Brewers have released Chris Perez, ending the former All-Star closer's bid for a setup job in the Milwaukee bullpen.

Share Tweet

Benches Clear, Pirates Hit 6 Homers in Win Over Phillies

nytimes.com

7 hours ago

A shouting match between coaches cleared the benches in a rare testy spring training game, and Pedro Alvarez homered twice, including a grand slam, as the Pittsburgh Pirates teed off on the Philadelphia Phillies for an 18-4 victory Monday.

Share Tweet

Left-Hander Paul Maholm Released by Cincinnati Reds

nytimes.com

8 hours ago

Left-hander Paul Maholm has been released from a minor league contract with the Cincinnati Reds.

Share Tweet

Reds add room for nursing moms in stadium

ESPN.com

12 hours ago

The Cincinnati Reds are opening a nursing center in their ballpark, believed to be the first such facility inside a sports venue.

Share Tweet

Jackson Helps Cubs Blank Royals 7-0

Edwin Jackson arrived at the ballpark in time for a solid spring start with the Chicago Cubs.

Share Tweet

Mesoraco relieved after quad cramp diagnosis

MLB.com

Mar 29 (yesterday)

Reds All-Star catcher Devin Mesoraco felt relieved Sunday afternoon after being diagnosed with a left quadriceps cramp. Mesoraco felt his quad tighten running the bases and worried it was serious when he exited the game vs. the Angels.

Share Tweet

Kendall Graveman continued his impressive spring with 6 1-3 innings of three-hit ball, further staking his claim to a spot in the Athletics' rotation and leading Oakland to a 7-0 win over the Milwaukee Brewers on Sunday.

Share Tweet

Marquis Solid, Cron Hits 3rd HR as Reds Beat Angels

Cincinnati right-hander Jason Marquis continued his strong comeback with six good innings in the Reds' 8-6 victory over the Los Angeles Angels on Sunday.

Share Tweet

Miller hopes to take recent success into regular season

MLB.com

Mar 29 (yesterday)

Shelby Miller produced his most dominant outing of the spring as he limited the Pirates to one hit over six innings on Sunday afternoon at Champion Stadium.

Share Tweet

Dillon Gee allowed singles to four of his first five batters, then settled in to pitch seven innings Sunday in the New York Mets' 3-2 win over the St. Louis Cardinals.

Share Tweet

Miller Solidifies Braves' Spot in 4-2 Loss to Pirates

Shelby Miller is settling in quite nicely with his new team.

Share Tweet

ESPN.com

Mar 29 (yesterday)

Jaime Garcia was scratched from Sunday's start by the St. Louis Cardinals because his surgically repaired shoulder doesn't feel right, making it unlikely he will start the season on the active roster.

Share Tweet

The Art Of Pitch-Framing

Mar 21

Brewers catcher Jonathan Lucroy explains the finer points of pitch-framing

Miguel Montero Excited For New Rotation

Mar 20

Cubs catcher Miguel Montero is ready to work with the new rotation for the team and explains what needs to be worked on in spring training.

Epstein's 'Mission Impossible'

Mar 8

William Rhoden explains how Theo Epstein went from the Boston Red Sox's "boy wonder" to undertaking an impossible mission as the president of baseball operations for the Chicago Cubs.

Lester Impressive In First Cubs Outing

Mar 6

Jon Lester got his Cubs career underway with his first appearance on the mound in a spring training game.