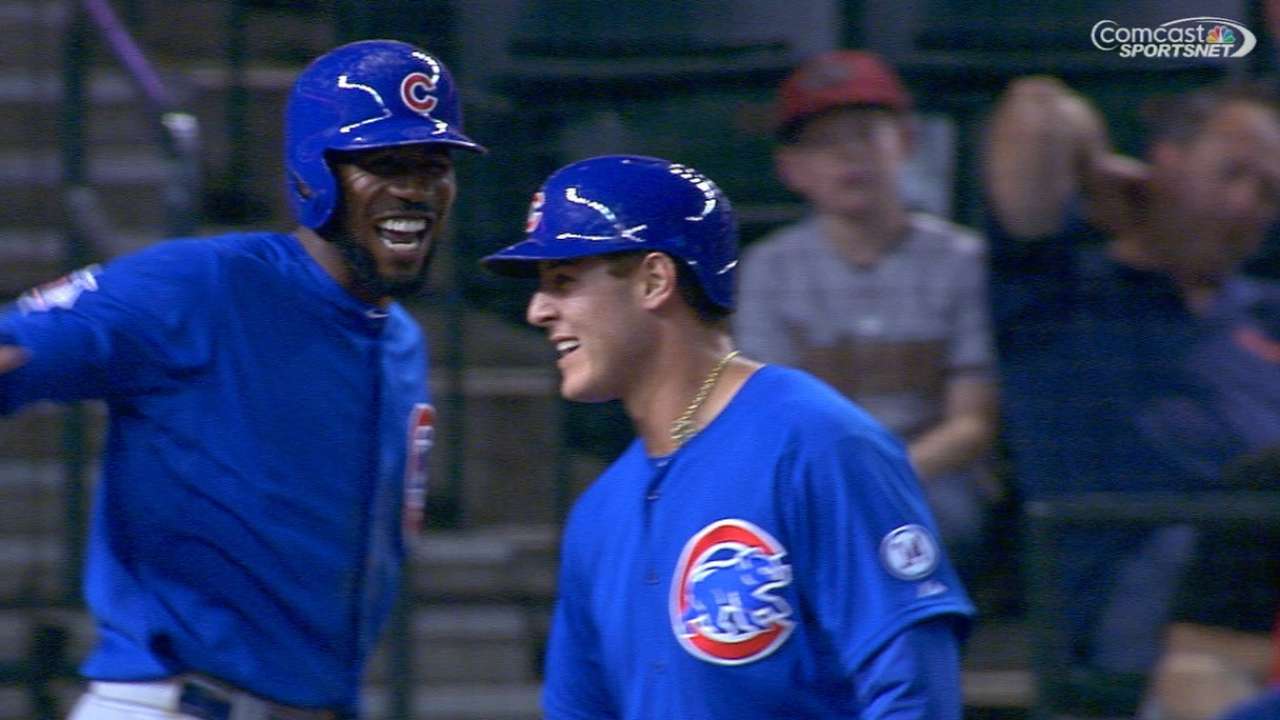 MLB.com
nytimes.com
Updated 4 hours ago
Anthony Rizzo belted a three-run homer in the top of the ninth to power the Cubs to a 9-6 win over the D-backs on Saturday night at Chase Field.
Share
Tweet
Braves rookie delivers in 11th to sink Brewers

MLB.com

8 hours ago

Shelby Miller bounced back from a rocky first inning and the Braves' bullpen held off the Brewers long enough for Jace Peterson to give Atlanta a walk-off single for a 3-2, 11-inning win Saturday.

Share Tweet

MLB.com

9 hours ago

Royals third baseman Mike Moustakas left Saturday's 3-2 win over the Cardinals prior to the bottom of the fifth inning and was replaced by Christian Colon. Club officials indicated that Moustakas exited with a left clavicle contusion and is considered d…

Share Tweet

Gordon's HR aids Royals in rain-shortened I-70 clash

MLB.com

9 hours ago

Alex Gordon drilled a two-run homer and Edinson Volquez went six strong innings for the Royals in a 3-2 win over the Cardinals on Saturday in a rain-shortened game that ended after 5 1/2 innings. St. Louis starter John Lackey went five innings in the lo…

Share Tweet

MLB.com nytimes.com

9 hours ago

Saturday's game at PNC Park was billed as a pitchers' duel, a showdown between Mets ace Matt Harvey and veteran A.J. Burnett. But the Pirates quickly turned it into the worst start of Harvey's young career, running away with an 8-2 win over the Mets. Bu…

Share Tweet

Kluber Solid Again, Pitches Indians Past Reds 2-1

nytimes.com

11 hours ago

After Reds manager Bryan Price was ejected before the first pitch, Corey Kluber threw eight effective innings and led the Cleveland Indians over Cincinnati 2-1 Saturday for their fifth straight win.

Share Tweet

MLB.com yahoo.com nytimes.com deadspin.com

11 hours ago

There was a nice duel between starting pitchers and a tight game played Saturday that the Reds ultimately lost by a 2-1 score to the Indians. And Reds manager Bryan Price was not in the dugout for any of it. Price missed all of Saturday's game vs. the I…

Share Tweet

Actions Speak Louder for a Pirates Rookie

nytimes.com

14 hours ago

Jung Ho Kang, a 27-year-old shortstop from South Korea, has secured a regular place in the lineup with the Pittsburgh Pirates.

Share Tweet

Cueto to miss start with 'general stiffness'

MLB.com

17 hours ago

A rotation that has little room for bad news got some more on Saturday when the Reds revealed that ace Johnny Cueto will not make his next start on Sunday versus the Indians. The reason the club gave was "general stiffness" that Cueto has expe…

Share Tweet

yahoo.com

19 hours ago

One of the more unusual and admittedly entertaining moments during the 2013 postseason occurred when Scott Van Slyke of the Los Angeles Dodgers and Joe Kelly, then of the St. Louis Cardinals, engaged in a standoff immediately following the national anth…

Share Tweet

MLB.com nytimes.com

May 23 (yesterday)

Nick Ahmed's one-out single to left scored Tuffy Gosewisch to give the D-backs a 5-4 walk-off win over the Cubs in 13 innings Friday night at Chase Field.

Share Tweet

MLB.com

May 23 (yesterday)

The Indians offense came alive for 11 hits and eight walks in a 7-3 victory in the series opener against Cincinnati on Friday night.

Share Tweet

The Art Of Pitch-Framing

Mar 21

Brewers catcher Jonathan Lucroy explains the finer points of pitch-framing

Miguel Montero Excited For New Rotation

Mar 20

Cubs catcher Miguel Montero is ready to work with the new rotation for the team and explains what needs to be worked on in spring training.

Epstein's 'Mission Impossible'

Mar 8

William Rhoden explains how Theo Epstein went from the Boston Red Sox's "boy wonder" to undertaking an impossible mission as the president of baseball operations for the Chicago Cubs.

Lester Impressive In First Cubs Outing

Mar 6

Jon Lester got his Cubs career underway with his first appearance on the mound in a spring training game.

Sports Columnists

2015 NBA playoffs - Golden State Warriors learning what it takes to be cha…

May 21

Steve Kerr is trying to impress upon his inexperienced Warriors just how hard the playoffs can be, without them actually proving it by adding to the degree of difficulty.

NBA Playoffs 2015 - Golden State Warriors and Houston Rockets going small …

May 21

The Western Conference finals are downsizing. And while Houston has no problem going small, it might be playing right into Golden State's hand.