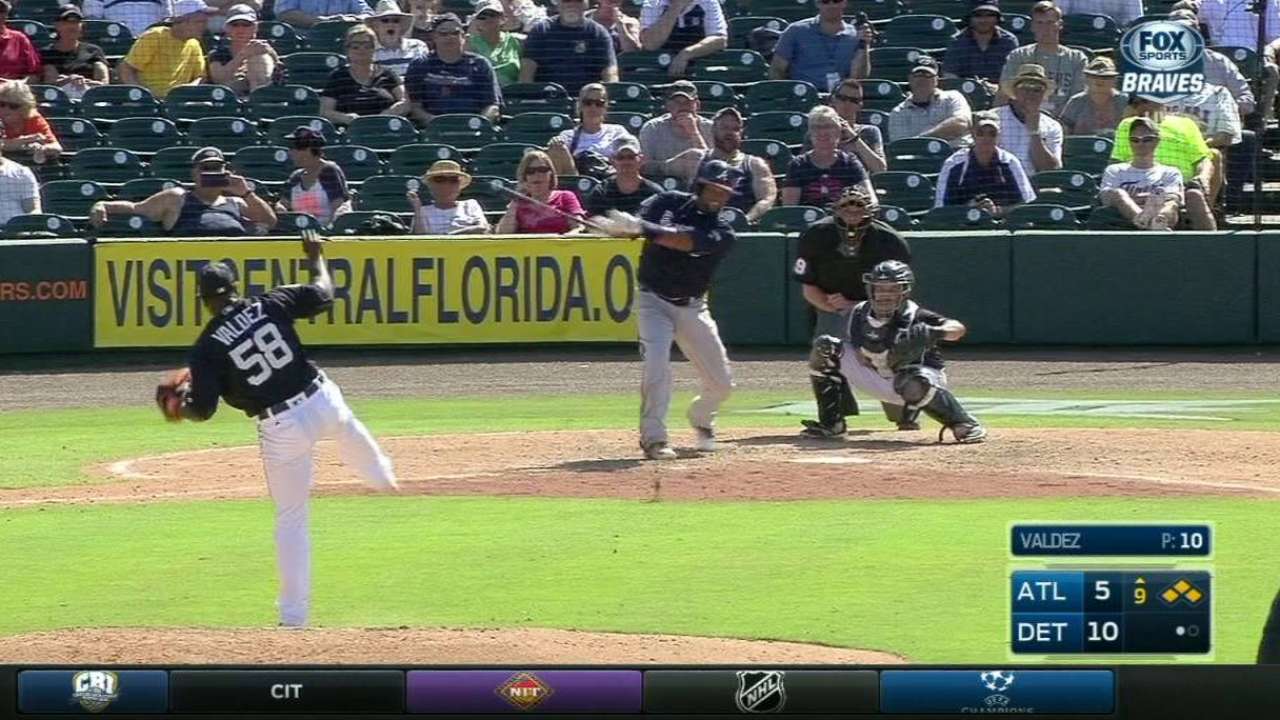 nytimes.com
MLB.com
Updated 1 hour ago
A front-office mistake left the Atlanta Braves short a player for their game against the Chicago Cubs on Sunday.
Share
Tweet
Brandon Phillips goes behind-the-back, celebrates by dabbing

yahoo.com

3 hours ago

As long as smooth is still a word, then Brandon Phillips will be the definition. The Cincinnati Reds second baseman has always carried himself with that special brand of confidence that makes everything he does look intentional, and definitely smooth. I…

Share Tweet

Iglesias to DL; Adleman set for Reds debut

MLB.com

4 hours ago

Right-hander Tim Adleman will start Sunday for the Reds against the Pirates in place of Raisel Iglesias, who was placed on the disabled list with an impingement in his right shoulder.

Share Tweet

yahoo.com

12 hours ago

When casual baseball fans think of the Pittsburgh Pirates, the first and sometimes only name that comes to their mind is that of Andrew McCutchen. That's not necessarily a slight on his teammates, either. It's as much about the impact the 29-year-old ou…

Share Tweet

Marlins Hit Four Homers in 7-5 Win Over Brewers

nytimes.com

17 hours ago

Adeiny Hechavarria had four hits, including one of four Miami solo home runs, to help the Marlins beat the Milwaukee Brewers 7-5 on Saturday night.

Share Tweet

nytimes.com

17 hours ago

Francisco Liriano won for the first time since opening day and John Jaso homered to open the bottom of the first as Pittsburgh beat Cincinnati 5-1 Saturday night for the Pirates' sixth straight win and Reds their sixth consecutive loss.

Share Tweet

Bucs end April on a tear, win 6th straight

MLB.com

17 hours ago

Behind Francisco Liriano's longest start of the season, the Pirates extended their winning streak to six games and finished April with a 5-1 victory over the Reds on Saturday night at PNC Park.

Share Tweet

St. Louis Cardinals struggled to tread water in April

ESPN.com

19 hours ago

St. Louis Cardinals struggled to tread water in April

Share Tweet

yahoo.com

21 hours ago

It's not often that a triple play isn't among the top three or even top five most interesting things to happen in a major-league game, but that may have been the case Friday night in Milwaukee. As the record will show, the Brewers did in fact turn a bea…

Share Tweet

MLB.com nytimes.com

22 hours ago

For the second straight game, the Nationals parlayed a four-run inning into a road victory over the Cardinals, this time claiming a 6-1 victory on Saturday at Busch Stadium behind another strong performance from starter Joe Ross and an early three-run h…

Share Tweet

Blah pitching, bad fielding still plagues Cardinals

ESPN.com

22 hours ago

Blah pitching, bad fielding still plagues Cardinals

Share Tweet

yahoo.com

24 hours ago

As Ichiro Suzuki closes in on his 3,000th career hit in Major League Baseball, he's also collecting a few other milestones along the way. That includes a pretty big one that was reached during Friday's 6-3 win against the Milwaukee Brewers. In the first…

Share Tweet

nytimes.com MLB.com

Apr 30 (yesterday)

If there's any question about his first-place team, Chicago Cubs manager Joe Maddon says it has to do with its untested relief corps.

Share Tweet

ESPN.com

Apr 30 (yesterday)

Cards' Martinez returns; team gathering facts

Share Tweet

The Cardinals Lost Their 11th Game

deadspin.com

Apr 30 (yesterday)

Stephen Strasburg overcame eight hits in seven innings to improve to 4-0 on the season as the Washington Nationals beat the St. Louis Cardinals last night 5-4.Read more...

Share Tweet

nytimes.com

Apr 30 (yesterday)

Marlins lefty Adam Conley threw no-hit ball for 7 2/3 innings before being pulled by manager Don Mattingly after 116 pitches, and Miami's bullpen wound up holding off the Milwaukee Brewers 6-3 on Friday night.

Share Tweet

The Art Of Pitch-Framing

Mar 21

Brewers catcher Jonathan Lucroy explains the finer points of pitch-framing

Miguel Montero Excited For New Rotation

Mar 20

Cubs catcher Miguel Montero is ready to work with the new rotation for the team and explains what needs to be worked on in spring training.

Epstein's 'Mission Impossible'

Mar 8

William Rhoden explains how Theo Epstein went from the Boston Red Sox's "boy wonder" to undertaking an impossible mission as the president of baseball operations for the Chicago Cubs.

Lester Impressive In First Cubs Outing

Mar 6

Jon Lester got his Cubs career underway with his first appearance on the mound in a spring training game.