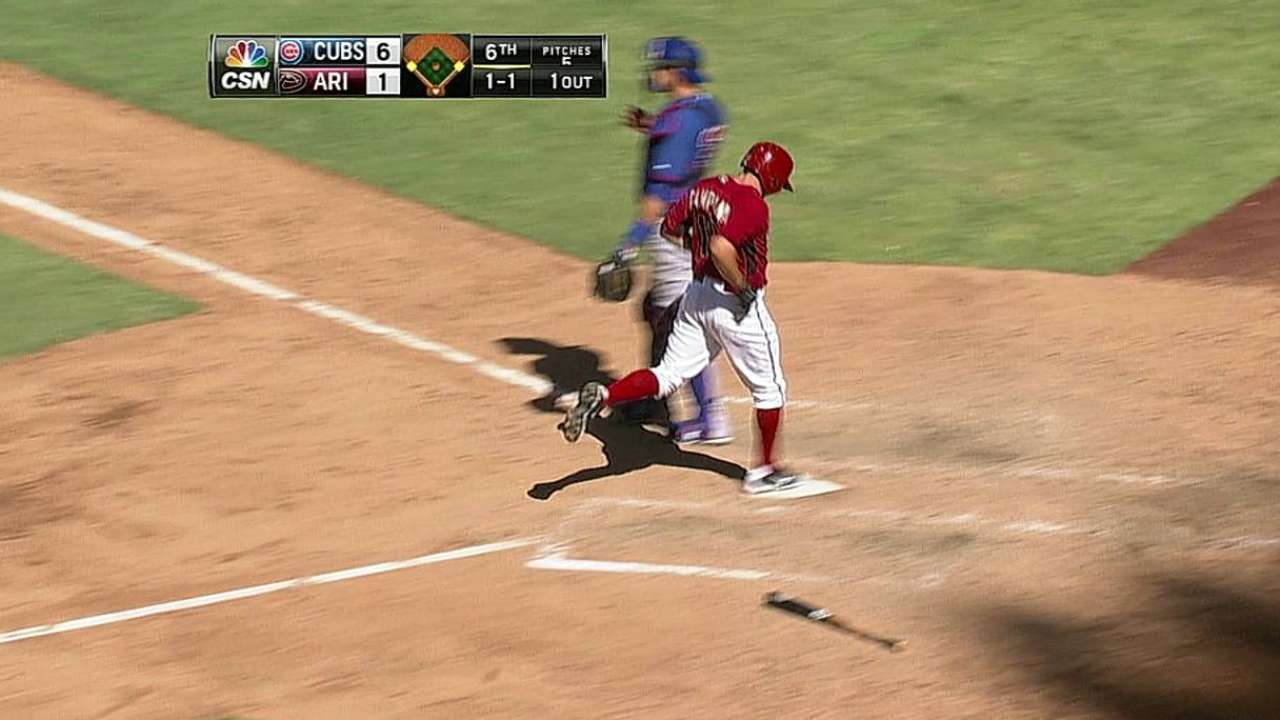 Bill Bavasi to be named director of MLB Scouting Bureau

MLB.com

10 hours ago

Former Angels and Mariners GM Bill Bavasi is set to be named as the new director of the Major League Baseball Scouting Bureau (MLBSB), leaving his job as vice president of scouting, player development and international operations for the Reds.

Upvote Share Tweet

Cubs, A's to play Spring Training games in Las Vegas

The Cubs are headed back to Las Vegas to play the Athletics in split-squad Spring Training games March 13-14.

Upvote Share Tweet

Friars show interest in dealing for Bruce

Say this much about first-year Padres general manager A.J. Preller: He's apparently leaving no stone unturned in his pursuit of offensive help. Now it appears the Padres may have interest in Reds outfielder Jay Bruce.

Upvote Share Tweet

White Sox reportedly asking about catcher Montero

The White Sox are one of three teams inquiring about D-backs catcher Miguel Montero, according to a report Thursday in The Arizona Republic. Montero, 31, is a two-time All-Star who has drawn interest from the crosstown-rival Cubs and Dodgers, as well as…

Upvote Share Tweet

Counsell takes himself out of running for Rays job

Former big league infielder Craig Counsell said he has removed himself from the running to be the next Tampa Bay Rays manager, in part because he's enjoying his role as a special assistant to the general manager for the Brewers.

Upvote Share Tweet

Mariners acquire Gaviglio from Cards for Kelly

MLB.com

Nov 20 (yesterday)

Mariners infielder Ty Kelly, who spent all of last season with Triple-A Tacoma, was traded to the Cardinals on Thursday for right-handed pitcher Sam Gaviglio.

Upvote Share Tweet

Pirates designate 1B Davis for assignment

ESPN.com

Nov 20 (2 days ago)

The Pittsburgh Pirates have designated first baseman Ike Davis for assignment and have added pitcher Jameson Taillon to the 40-man roster.

Upvote Share Tweet

MLB.com

Nov 20 (2 days ago)

Last December, Cubs pitcher Marcos Mateo was selected by the D-backs in the Rule 5 Draft, one of nine players picked in the Major League section. Mateo was reclaimed in March, but Chicago must protect its top prospects -- such as C.J. Edwards -- in orde…

Upvote Share Tweet

Brewers face roster moves for Rule 5 eligible players

MLB.com

Nov 19 (3 days ago)

Former first-round Draft pick Taylor Jungmann, fellow Top 20 Brewers prospect David Goforth and shortstop Yadiel Rivera are among the farmhands who must be added to Milwaukee's 40-man roster Thursday or be exposed to claims by other clubs during next mo…

Upvote Share Tweet

NL Central projects to be most dominant division in 2015

MLB.com

Nov 19 (3 days ago)

As we speak, the most balanced, deepest and quite possibly toughest division in baseball is the National League Central. No other division can claim to have this much talent, established or youthful, spread throughout its five clubs.

Upvote Share Tweet

Robinson, Boggs, Hurdle, Harrison honored by MLBPAA

Hall of Fame third basemen Brooks Robinson and Wade Boggs received Lifetime Achievement Awards, Pirates manager Clint Hurdle was given the Brooks Robinson Community Service Award and Pirates All-Star Josh Harrison was named overall recipient of the Hear…

Upvote Share Tweet

Miller excited to get started with Braves

Instead of worrying about what he is leaving behind, Shelby Miller has grown excited about the chance to become an integral part of a Braves organization that is currently making a flurry of changes with the hope of realizing some of the consistent succ…

Upvote Share Tweet

Melancon finds off-the-field calling a world away

What sets Pirates closer Mark Melancon apart from the masses is that he has an unusual perspective, one that he strives to bring to life each day. He knows that if he does lose, which doesn't happen often, it's not the end of the world. Never was this m…

Upvote Share Tweet

One cannot rewrite history. But the Pirates, unable to bring back the joyride of the 2012 season, have at least brought back one of the unsung arms who had made it happen. Brad Lincoln, the valuable swingman of the pitching staff that had the Bucs in se…

Upvote Share Tweet

nytimes.com

Nov 17 (5 days ago)

Catcher Russell Martin, who helped the Pirates to consecutive wild-card berths, built on that success by agreeing with the Blue Jays on a five-year, $82 million contract.

Upvote Share Tweet

Waino trade in '03 similar to Braves-Cards deal

When the Braves and Cardinals announced a four-player trade that featured Jason Heyward and Shelby Miller on Monday, there was reason to draw similarities to the trade these two teams made 11 years ago. Only this time, it is the Braves who are hoping to…

Upvote Share Tweet

MLB.com nytimes.com deadspin.com ESPN.com

Nov 17 (5 days ago)

Needing to fill an unexpected hole in right field for 2015, the Cardinals went for a big splash, acquiring outfielder Jason Heyward from the Braves along with right-handed reliever Jordan Walden. The cost was heavy, however, as the Cardinals sent a pair…

Upvote Share Tweet

Cards-Braves deal full of varying upside, risk

This is a tremendous trade for the St. Louis Cardinals. Not because they got the best of the Atlanta Braves. Truth is, they may not have. In fact, the Braves know exactly what they're getting, and it's plenty good. The Cardinals can't do this. They're g…

Upvote Share Tweet

Search for left-field pop brings challenges for Reds

If they didn't know it already, last week's General Managers Meetings in Phoenix made the Reds and GM Walt Jocketty aware that finding a free-agent left fielder -- even of the non-superstar variety -- is not going to be cheap or easy.

Upvote Share Tweet

Bucs recognize gains in expected loss of Martin

The Pirates' formal divorce from catcher Russell Martin came as anything but a surprise and was on grounds of irreconcilable differences.

Upvote Share Tweet

Blue Jays hire Jacoby as new hitting coach

The Blue Jays named Brook Jacoby their hitting coach on Monday. The former Reds hitting coach most recently worked as the Rangers' Minor League assistant hitting coordinator.

Upvote Share Tweet

Rizzo hosts third annual 'Walk-Off For Cancer' 5K

MLB.com

Nov 16 (6 days ago)

Cubs first baseman Anthony Rizzo blasted two walk-off home runs during his 2014 All-Star season. His latest came Sunday morning in his South Florida hometown for the third annual Walk-Off For Cancer at Pine Trails Park.

Upvote Share Tweet

Changes or no changes, Cards the NL Central favorite

MLB.com

Nov 15

If the St. Louis Cardinals didn't change a thing with their everyday lineup, how good would they be in 2015? Not many teams could even consider a question like that one. But the Cardinals are good enough to do just that. Spoiler alert. The Cardinals see…

Upvote Share Tweet

Cubs to host Cardinals in first-ever night opener at Wrigley Field

yahoo.com

Nov 15

One of baseball's oldest and greatest rivalries will take center stage in MLB's standalone Sunday night opener on April 5. And no, we're not talking about Yankees/Red Sox or Dodgers/Giants for a change. The back-to-back NL Central champion St. Louis Car…

Upvote Share Tweet

Buster's Blog: Cubs Miss Martin

Nov 20

Buster Olney discusses Russell Martin signing with the Blue Jays and, in light of this, whether the Cubs will still prioritize signing a catcher in the offseason.

Heyward Addition Big Plus For Cardinals

Nov 17

Eric Karabell and David Schoenfield discuss the Cardinals' trade for outfielder Jason Heyward.

Braves Trade Heyward To Cardinals

Nov 17

Buster Olney breaks down the Braves' decision to trade Jason Heyward and Jordan Walden to the Cardinals for Shelby Miller and Tyrell Jenkins.

Blue Jays Sign C Martin To Five-Year Deal

Nov 17

Eric Karabell and David Schoenfield discuss why signing catcher Russell Martin was a good move for the playoff-hopeful Toronto Blue Jays.