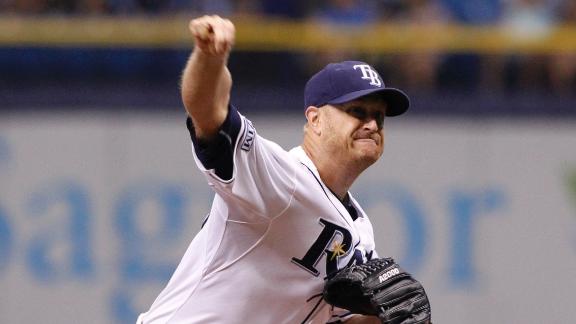 MLB.com
ESPN.com
nytimes.com
Updated 1 hour ago
Alex Cobb allowed one run on three hits while striking out 12 in eight innings to claim his seventh win of the season, leading the Rays to a 5-1 win over the Brewers on Tuesday night at Tropicana Field.
Upvote
Share
Tweet
nytimes.com

3 hours ago

Alex Cobb pitched eight strong innings and Ben Zobrist drove in two runs as Tampa Bay won for 11th time in 12 games.

Upvote Share Tweet

nytimes.com MLB.com

2 hours ago

Trevor Cahill gave Arizona what it needed — a solid start that rested the bullpen. The Diamondbacks' offense couldn't hold up its end.

Upvote Share Tweet

Parra has stiff back; Ondrusek progressing

MLB.com

6 hours ago

Reds lefty reliever Manny Parra is dealing with back stiffness, and righty reliever Logan Ondrusek -- on the disabled list since July 22 -- has resumed a throwing program.

Upvote Share Tweet

Reds outfielder Jay Bruce went on the bereavement list Tuesday before the second game of a series against the Arizona Diamondbacks.

Upvote Share Tweet

ESPN.com MLB.com nytimes.com

19 hours ago

Tsuyoshi Wada earned his first big league win with seven strong innings in the Chicago Cubs' 4-1 victory over the Colorado Rockies on Monday.

Upvote Share Tweet

yahoo.com ESPN.com nytimes.com MLB.com

22 hours ago

A day after Greg Maddux was enshrined in the National Baseball Hall of Fame, Pittsburgh Pirates pitcher Vance Worley nearly achieved a "Maddux" — the Internet-recognized feat of throwing a complete game with fewer than 100 pitches. But this wa…

Upvote Share Tweet

Slumping Reds strike out 18 times in bat-breaking loss to D-backs

yahoo.com

22 hours ago

You want to know what type of game it was Monday night for the Cincinnati Reds? Just watch the video above. There's Jay Bruce — who was 0-for-4 in the game with three strikeouts — breaking his bat over his knee after going down on strikes in the ninth i…

Upvote Share Tweet

Chapman turns up the heat against D-backs

MLB.com

Jul 29 (yesterday)

Reds closer Aroldis Chapman threw 20 pitches on Monday night and 15 of them were fastballs. None of Chapman's fastballs were clocked at less than 101 mph and the average speed of those pitches was 102 mph. Chapman hit 104 mph on a pitch to Paul Goldschm…

Upvote Share Tweet

Overturned call upholds Rockies' head's-up play

MLB.com

Jul 29 (yesterday)

The Rockies fell to the Cubs, 4-1, on Monday and ended the night with the National League's worst record, but they made several stellar defensive plays -- one of which counted after a call was overturned via replay.

Upvote Share Tweet

ESPN.com nytimes.com

Jul 29 (yesterday)

Nick Ahmed's RBI single with two outs in the 15th inning sent the Arizona Diamondbacks to a 2-1 victory over the Cincinnati Reds on Monday night and kept their franchise perfect when games go really long.

Upvote Share Tweet

nytimes.com MLB.com

Jul 28 (yesterday)

Jake Odorizzi won his third consecutive start, James Loney had two RBIs and the Tampa Bay Rays beat the Milwaukee Brewers 2-1 on Monday night.

Upvote Share Tweet

D-backs lose challenge after fan catches foul ball

MLB.com

Jul 28 (yesterday)

The D-backs lost a manager's challenge in the ninth inning during Monday night's game against the Reds at Great American Ball Park.

Upvote Share Tweet

nytimes.com

Jul 28 (yesterday)

Ervin Santana kept the Padres off balance with his slider, and Evan Gattis gave him the support he needed with a homer in the seventh as the Braves won their third in a row.

Upvote Share Tweet

Brewers minor leaguer gets 50-game drug ban

ESPN.com

Jul 28 (yesterday)

A minor league third baseman in the Milwaukee Brewers' organization has been suspended for 50 games after testing positive for an amphetamine.

Upvote Share Tweet

Dodgers land 2B Barney in deal with Cubs

ESPN.com

Jul 28 (yesterday)

The Chicago Cubs have traded second baseman Darwin Barney and cash considerations to the Los Angeles Dodgers for a player to be named later.

Upvote Share Tweet

Josh Harrison Overshoots Second Base, Somehow Escapes Rundown

deadspin.com

Jul 28 (yesterday)

Pirates utility man Josh Harrison overshot second base on his steal attempt in Sunday's game against the Rockies, so he took his only option left and kept going to third. It worked!Read more...

Upvote Share Tweet

Cobb Shuts Down Brewers

Jul 29

Alex Cobb struck out 12 over eight innings as the Rays rolled to their 11th win in 12 games.

Reds Shut Out Diamondbacks

Jul 29

Mike Leake pitched 7 2/3 scoreless innings and Aroldis Chapman record his 100th career save in the Reds' 3-0 win over the Diamondbacks.

The GM's Office: Theo Epstein

Jul 29

Cubs general manager Theo Epstein stops by the GM's Office to talk about the team's blockbuster trade with the Athletics, what other trades the Cubs have in mind by the trade deadline and when the team will be ready for contention.

MLB Daily Download: Monday

Jul 28

Prim Siripipat recaps Sunday's action from around the league, including David Ortiz's antics against the Rays and the Athletics providing plenty of run support for Scott Kazmir.