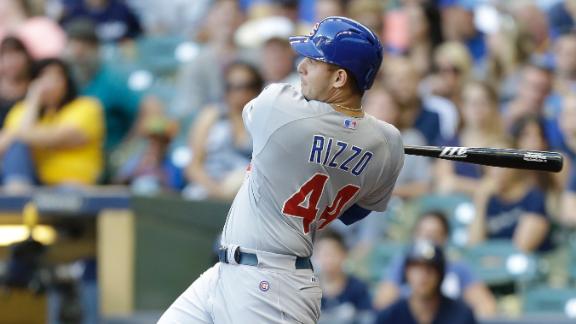 ESPN.com
nytimes.com
Updated 4 hours ago
Anthony Rizzo, Kyle Schwarber carry Cubs to fourth straight win
Share
Tweet
MLB.com nytimes.com

4 hours ago

A Cardinals team that exploded for 28 hits and 15 runs in the first two games of the series struggled on Saturday against Jorge De La Rosa, who threw 6 2/3 innings and lifted the free-swinging Rockies to a 6-2 win on Saturday night.

Share Tweet

Hamilton reaches milestone 50th stolen base

MLB.com

5 hours ago

Reds center fielder Billy Hamilton claimed his 50th and 51st stolen bases of the season in the third inning of Saturday's 4-3 victory over the Pirates at Great American Ball Park.

Share Tweet

nytimes.com

5 hours ago

Rookie right-hander Raisel Iglesias pitched six solid innings while shortstop Eugenio Suarez drove in three runs to lift the Cincinnati Reds to a 4-3 victory over the Pittsburgh Pirates on Saturday.

Share Tweet

Take Me Out to the Rooftop: Wrigley Changes Bring New Looks

nytimes.com

Aug 1 (yesterday)

Top of the first, one out. It's a Friday in July, the start of a holiday weekend, and the Chicago Cubs are hosting the Miami Marlins.

Share Tweet

With Cubs, White Sox chasing wild-card spots, their plans are paying off

ESPN.com

Aug 1 (yesterday)

With Cubs, White Sox chasing wild-card spots, their plans are paying off

Share Tweet

You couldn't write a more dramatic script if you spent years trying. Two days after Wilmer Flores fought back tears on the field, thinking he was about to be traded to the Milwaukee Brewers in a blockbuster Carlos Gomez trade, the New York Mets shortsto…

Share Tweet

Carpenter Homers Again as Cardinals Beat Rockies 7-0

nytimes.com

Jul 31 (yesterday)

Matt Carpenter homered for the third time in two games, Michael Wacha pitched seven crisp innings and the St. Louis Cardinals beat the Colorado Rockies 7-0 on Friday night.

Share Tweet

Bucs defeat Reds thanks to Marte's grab

Following an afternoon where they were frisky at the Trade Deadline with multiple moves, the Pirates battled back and then held on for a 5-4 victory over the Reds on Friday that snapped Cincinnati's three-game winning streak.

Share Tweet

Morse dealt to Bucs for Tabata

The Trade Deadline passed with the flipping of outfielder/first baseman Michael Morse and cash to the Pirates for Minor League outfielder Jose Tabata.

Share Tweet

Contenders Use Late Deals to Pad the Margins of Their Rosters

nytimes.com

Jul 31 (yesterday)

With many of the biggest names already traded, the flurry of deals in the final hours before the nonwaiver deadline mostly helped contenders round out their rosters.

Share Tweet

D-backs pursue Chapman, then stand pat

The D-backs made a strong play for Reds closer Aroldis Chapman, but in the end felt the price was too high and stood pat as the non-waiver Trade Deadline passed Friday afternoon.

Share Tweet

Brewers continue recent restocking at Deadline

Two more trades in the hours before Friday's non-waiver Trade Deadline reinforced the Brewers' entry to a rebuilding phase and forced more changes to the list of the team's Top 30 prospects, more than a third of whom were not in the organization on the …

Share Tweet

There was much rejoicing in Metsville on Friday as general manager Sandy Alderson finally landed the big bat he's been seeking. After a proposed deal for Milwaukee Brewers outfielder Carlos Gomez fell apart on Wednesday, Alderson took things down to the…

Share Tweet

ESPN.com nytimes.com MLB.com

Jul 31 (yesterday)

Cubs grab needed starter, reliever at trade deadline

Share Tweet

This Is The Refusal Roberto Clemente Got When He Asked For A Raise

deadspin.com

Jul 31 (yesterday)

Following his 1959 season—his fifth full year in the bigs—Hall-of-Fame outfielder Roberto Clemente asked for a raise, to $23,000. GM Joe L. Brown, architect of those great Pirates teams of the '60s and '70s, replied with a letter politely but firmly tel…

Share Tweet

The Cardinals' Charity Really Doesn't Want To Answer Our Questions

deadspin.com

Jul 31 (yesterday)

Here is a mystery: Cardinals Care, the official charity of the St. Louis Cardinals, is making hundreds of thousands of dollars in unusual payments to the St. Louis Cardinals every year. Presumably there's some straightforward explanation for this, but w…

Share Tweet

Cardinals add to bullpen depth, acquire Jonathan Broxton from Brewers

The St. Louis Cardinals certainly buy into the old baseball adage that you can never have too much pitching. Reliever Jonathan Broxton was traded from the Milwaukee Brewers to the Cardinals on Friday, just a week after the Cards made a deal with the Mia…

Share Tweet

The Baltimore Orioles continue to hang around the playoff picture in the American League and they believe they're good enough to stay in the mix that they've made a move on trade deadline day. Outfielder Gerardo Parra is heading to Baltimore, with the O…

Share Tweet

nytimes.com MLB.com yahoo.com

Jul 31 (2 days ago)

The San Francisco Giants made a deal for one of the hottest pitchers in baseball on Thursday by acquiring right-handed starter Mike Leake in a trade with the Cincinnati Reds.

Share Tweet

The Art Of Pitch-Framing

Mar 21

Brewers catcher Jonathan Lucroy explains the finer points of pitch-framing

Miguel Montero Excited For New Rotation

Mar 20

Cubs catcher Miguel Montero is ready to work with the new rotation for the team and explains what needs to be worked on in spring training.

Epstein's 'Mission Impossible'

Mar 8

William Rhoden explains how Theo Epstein went from the Boston Red Sox's "boy wonder" to undertaking an impossible mission as the president of baseball operations for the Chicago Cubs.

Lester Impressive In First Cubs Outing

Mar 6

Jon Lester got his Cubs career underway with his first appearance on the mound in a spring training game.