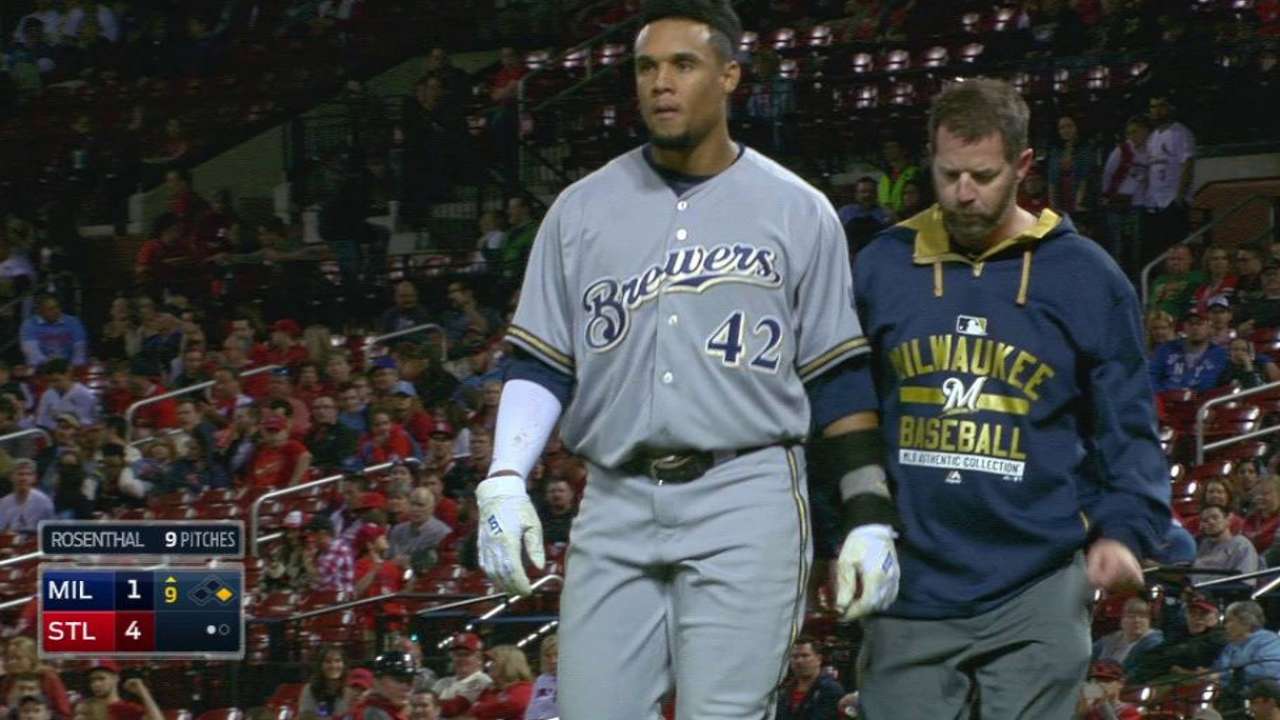 Gomez speeding, literally, toward return from DL
MLB.com
Updated 1 hour ago
Brewers center fielder Carlos Gomez is making major progress in his comeback from a right hamstring strain, said manager Ron Roenicke, who told reporters that Gomez ran the treadmill at Miller Park this week on its maximum speed.
Share
Tweet
MLB.com

2 hours ago

Choosing to stick with an eight-man bullpen for at least a while longer, the Cardinals optioned infielder Dean Anna to Triple-A on Friday to create roster room for outfielder Peter Bourjos, who is returning from paternity leave.

Share Tweet

Wacha outduels Scherzer to give Cards series

MLB.com

Apr 23 (yesterday)

Cardinals righty Michael Wacha improved to 3-0 on the season as he outlasted and outdueled Max Scherzer in St. Louis' 4-1 win at Nationals Park on Thursday.

Share Tweet

MLB.com nytimes.com

Apr 23 (yesterday)

Gregory Polanco hit an RBI double in a three-run sixth inning and a tie-breaking RBI single in the seventh to lift the Pirates to a 5-4 victory over the Cubs on Thursday, and split the four-game series.

Share Tweet

Lohse, Brewers Snap 8-Game Losing Streak, Beat Reds 4-2

nytimes.com

Apr 23 (yesterday)

Kyle Lohse bounced back from a poor start this season and the Milwaukee Brewers snapped an eight-game losing streak, beating the Cincinnati Reds 4-2 Thursday.

Share Tweet

yahoo.com

Apr 23 (yesterday)

We knew that Pete Rose would likely be a part of the MLB All-Star game this July in Cincinnati. Reds owner Bob Castellini said so in January. But on Thursday, we heard that come directly from the mouth of MLB commissioner Rob Manfred. [Still not too lat…

Share Tweet

MLB.com nytimes.com

Apr 23 (yesterday)

A pitching duel between the Reds' Johnny Cueto and the Brewers' Jimmy Nelson turned in the ninth inning Wednesday night when Billy Hamilton scampered home on a wild pitch from Francisco Rodriguez for a 2-1 Reds victory at Miller Park.

Share Tweet

Nelson a singular bright spot during Brewers' slide

MLB.com

Apr 23 (yesterday)

Jimmy Nelson dueled Johnny Cueto to an eight-inning standstill on Wednesday at Miller Park, once again showing the Brewers the type of talent he carries in his right arm.

Share Tweet

MLB.com nytimes.com

Apr 22 (yesterday)

Kolten Wong homered and drove in three runs, including the go-ahead double in the eighth, and made a pair of defensive gems to lead the Cardinals to a 7-5 win over the Nationals on Wednesday.

Share Tweet

Cubs center fielder Dexter Fowler had to leave Wednesday's game after two innings because of tightness in his right groin.

Share Tweet

Selectivity in stealing helping Reds achieve greater success

With two stolen bases Tuesday night, the Reds improved to 16-for-16 in swipes, a franchise record to begin a season since the caught-stealing stat has been continuously recorded, beginning in 1951.

Share Tweet

Brewers owner: Accountability starts with players

With his club off to its worst start in franchise history, Brewers owner Mark Attanasio said definitively that general manager Doug Melvin and manager Ron Roenicke are not in imminent danger of losing their jobs.

Share Tweet

Cardinals alerting players of pace-of-play violations

With the ease-in period of MLB's pace of play rules winding down, the Cardinals are alerting players in violation to be aware so they will not be subject to fines next month.

Share Tweet

Mesoraco not ready to join lineup

Reds catcher Devin Mesoraco remained out of the starting lineup Wednesday in Milwaukee because of a left-hip ailment.

Share Tweet

Gonzales placed on Triple-A DL with left shoulder tightness

Cardinals left-hander Marco Gonzales will miss his next start due to tightness in his left shoulder, and was placed on the seven-day Triple-A DL.

Share Tweet

Rehabbing Morton set for simulated game

Right-hander Charlie Morton, recovering from right hip surgery, is on track to make a 65-pitch start in an extended spring training game, which is tentatively scheduled for Thursday. If that goes well, he will join one of the Pirates' Minor League clubs…

Share Tweet

Hurdle not fretting Melancon's early woes

Pirates closer Mark Melancon suffered his first blown save of the year in Tuesday's 9-8 loss to the Cubs, giving up three hits, two walks and three runs in a messy ninth inning. It's the second three-run inning of the season for Melancon, who now has an…

Share Tweet

Jackson earning Maddon's trust out of bullpen

Edwin Jackson, moved from the rotation to the bullpen this season, has done well enough that he will be used in tougher situations in games, Cubs manager Joe Maddon said Wednesday.

Share Tweet

MLB.com

Apr 22 (3 days ago)

A night after matching their season high with six runs in a series-opening victory, the Reds more than doubled that total by the sixth inning of a 16-10 win over the reeling Brewers on Tuesday. The Reds hit five home runs, starting with two-out grand sl…

Share Tweet

MLB.com

Apr 22 (3 days ago)

Tuning into MLB Network on Tuesday night was a given based on the fact that the Washington Nationals and St. Louis Cardinals opened a series in the nation's capital and offered a possible preview of an intense postseason matchup that was capped with Yun…

Share Tweet

The Art Of Pitch-Framing

Mar 21

Brewers catcher Jonathan Lucroy explains the finer points of pitch-framing

Miguel Montero Excited For New Rotation

Mar 20

Cubs catcher Miguel Montero is ready to work with the new rotation for the team and explains what needs to be worked on in spring training.

Epstein's 'Mission Impossible'

Mar 8

William Rhoden explains how Theo Epstein went from the Boston Red Sox's "boy wonder" to undertaking an impossible mission as the president of baseball operations for the Chicago Cubs.

Lester Impressive In First Cubs Outing

Mar 6

Jon Lester got his Cubs career underway with his first appearance on the mound in a spring training game.