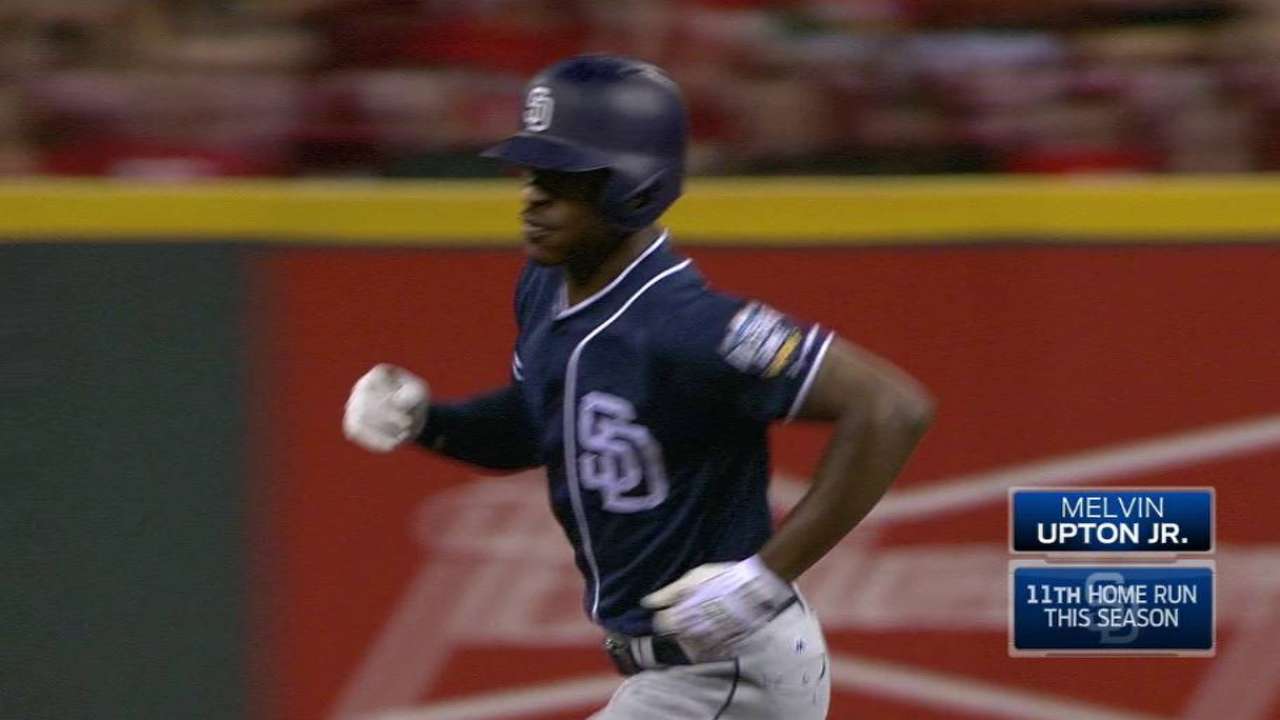 Padres score in first 8 frames in win over Reds
MLB.com
Updated 34 minutes ago
As Cincinnati celebrated the 40th anniversary of the 1976 World Series-winning Reds, the Padres dealt the current edition of the club four homers -- including two by Melvin Upton Jr. -- and scored in nearly every inning en route to a 13-4 win on Friday …
Share
Tweet
Joyce Helps Pirates Snap Dodgers' 6-Game Win Streak, 8-6

nytimes.com

21 minutes ago

Matt Joyce homered and doubled among his three hits as Pittsburgh beat Los Angeles 8-6 on Friday night, ending the Dodgers' six-game winning streak and giving Pirates manager Clint Hurdle his 1,000th career victory.

Share Tweet

Bucs outlast Dodgers in battle of bullpens

MLB.com

42 minutes ago

Asked to protect the Pirates' most productive offensive performance in nearly three weeks, the back end of the Bucs' bullpen delivered in an 8-6 win over the Dodgers on Friday night at PNC Park.

Share Tweet

Adams scratched with lower back tightness

MLB.com

58 minutes ago

Matt Adams was a game-time scratch by the Cardinals on Friday due to lower back tightness. He was replaced at first base by Jedd Gyorko, whose only previous start at that position came a week ago.

Share Tweet

Javier Baez is doing everything he can to carve out a regular role on an incredibly deep Chicago Cubs roster. He went a long way toward accomplishing that during Friday's 5-4 win in Miami, diving into the stands to make arguably the best defensive play …

Share Tweet

'Last Cubs Dynasty' revisits 1907-08 champs

MLB.com

2 hours ago

Timing can be everything. So the arrival of "The Last Chicago Cubs Dynasty: Before the Curse" book is right on schedule.

Share Tweet

LeBlanc tops flurry of roster moves by Mariners

MLB.com

3 hours ago

It was a busy day of transactions for the Mariners, who added lefty Wade LeBlanc and gave him a start Friday against the Cardinals. Outfielder Nori Aoki was also optioned to Triple-A Tacoma.

Share Tweet

ESPN.com nytimes.com

3 hours ago

Rose: Reds' Hall of Fame induction 'ultimate thing'

Share Tweet

Strasburg likely to return Sunday vs. Brewers

MLB.com

4 hours ago

Nationals right-hander Stephen Strasburg, who was scratched from Monday's start against the Dodgers because of an upper back strain, had a light bullpen session Friday at Miller Park without any problems. Strasburg is confident that he can pitch against…

Share Tweet

Pirates reinstate Nicasio to bullpen; Polanco sits

ESPN.com

6 hours ago

Pirates reinstate Nicasio to bullpen; Polanco sits

Share Tweet

Five things we learned Thursday: Even the Titanic was vulnerable

ESPN.com

23 hours ago

Five things we learned Thursday: Even the Titanic was vulnerable

Share Tweet

Norris' 3-Run Homer Rallies Hot-Hitting Padres Over Reds 7-4

nytimes.com

Jun 23 (yesterday)

It's been quite the month for Derek Norris and the Padres' offense.

Share Tweet

Team effort has Giants rolling

To verify the Giants' excellence, which continued with Thursday's 5-3 victory over the Pirates, consult a list. Any list.

Share Tweet

MLB.com nytimes.com

Jun 23 (yesterday)

Giancarlo Stanton finally had reason to display some positive emotion. The slugger, who has slumped most of the season, broke out on Thursday night with a home run, but his greatest satisfaction was a two-out, full-count, RBI single to right field in th…

Share Tweet

Anthony Rizzo sat out Thursday's 4-2 series-opening loss to the Marlins with tightness in his lower back that the Cubs first baseman said was different from the discomfort he experienced earlier this month.

Share Tweet

Reds set to send Bailey on rehab assignment

Reds right-hander Homer Bailey is ready to start another rehab assignment, with the hope that the sequel has a better outcome than the original.

Share Tweet

Panik mode: 3B, Mac HR power win vs. Bucs

The Giants strolled into PNC Park on Monday afternoon as the National League's hottest team. They left Pittsburgh's North Shore on Thursday afternoon with a 5-3 win over the Pirates, a four-game series victory and a trail of smoke still flowing behind t…

Share Tweet

nytimes.com MLB.com

Jun 23 (yesterday)

A makeshift lineup was more than enough for the San Francisco Giants.

Share Tweet

Bucs, Cutch searching for solutions to slump

Andrew McCutchen's sluggish start at the plate has stretched for nearly half of the season, and the Pirates are still looking for solutions.

Share Tweet

Pierogi Race Ends With Scott Steiner Slamming Contestant

deadspin.com

Jun 23 (yesterday)

Wednesday's pierogi race at the Pittsburgh Pirates game featured one Slavic dumpling delivering a Stone Cold Stunner to another, and subsequently getting clotheslined by Scott Steiner.Read more...

Share Tweet

Pipeline preview: Vlad Jr. to debut with dad in stands

Top Cardinals prospect Alex Reyes starts for Triple-A Memphis against Colorado Springs at 7:05 p.m. ET on MiLB.TV.

Share Tweet

yahoo.com

Jun 23 (yesterday)

Welcome to The Walk Off, the nightly MLB recap from Big League Stew. Here we'll look at the top performers of the night, show you a must-see highlight and rundown the scoreboard. First, we start with a game you need to know about. After pulling off two …

Share Tweet

MLB.com nytimes.com

Jun 23 (yesterday)

Backed by a four-run fourth inning, Cole Hamels struck out eight and allowed one run in six innings as the Rangers defeated the Reds, 6-4, to split the two-game series Wednesday night at Globe Life Park.

Share Tweet

The Art Of Pitch-Framing

Mar 21

Brewers catcher Jonathan Lucroy explains the finer points of pitch-framing

Miguel Montero Excited For New Rotation

Mar 20

Cubs catcher Miguel Montero is ready to work with the new rotation for the team and explains what needs to be worked on in spring training.

Epstein's 'Mission Impossible'

Mar 8

William Rhoden explains how Theo Epstein went from the Boston Red Sox's "boy wonder" to undertaking an impossible mission as the president of baseball operations for the Chicago Cubs.

Lester Impressive In First Cubs Outing

Mar 6

Jon Lester got his Cubs career underway with his first appearance on the mound in a spring training game.