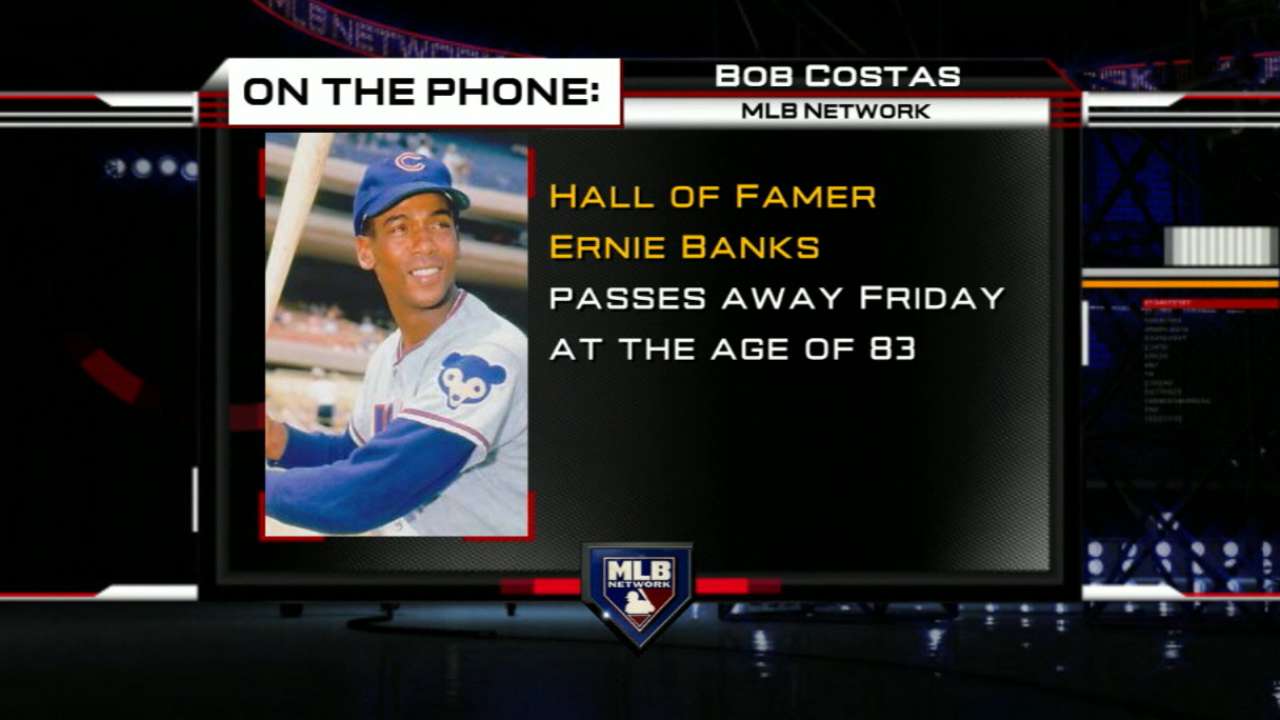 Banks, Wrigley formed relationship to remember

MLB.com

15 hours ago

At a time when the reserve clause allowed baseball owners to hold onto players and limit salaries, Ernie Banks landed in the lap of Cubs' owner Philip Knight Wrigley, and the two created a lasting relationship that benefited both men.

Upvote Share Tweet

Apprehensive at first, Morneau finds home with Rockies

MLB.com

16 hours ago

First baseman Justin Morneau wasn't sure how he'd fit with the Rockies when he signed with them before last season. He was a Twins mainstay from his Major League debut in 2003 until August 2013, when he was dealt to the Pirates -- where he helped during…

Upvote Share Tweet

All-Star catcher Devin Mesoraco agreed to a $28 million, four-year contract on Monday, leaving Cincinnati Reds with two players in salary arbitration.

Upvote Share Tweet

Maddon watches Baez play in Puerto Rico

MLB.com

Jan 26 (yesterday)

Cubs manager Joe Maddon was in Puerto Rico this weekend to watch Javier Baez play in the championship series with Santurce. What was he looking for? Maddon told the young infielder he wanted to "see him smile."

Upvote Share Tweet

nytimes.com ESPN.com yahoo.com

Jan 26 (yesterday)

An attorney representing the family of the Chicago Cubs great Ernie Banks said the Hall of Famer died after suffering a heart attack.

Upvote Share Tweet

Fatherhood has given Ryan Braun a different perspective on baseball and life in general.

Upvote Share Tweet

Winning T-shirt designs unveiled

The Brewers on Sunday unveiled seven winning T-shirt designs to be distributed during all-fan giveaways at 2015 home games. For the first time, fans decided the winners in an online vote.

Upvote Share Tweet

Henderson, Thornburg aiming for Opening Day

Brewers relievers Jim Henderson and Tyler Thornburg, who missed most of last season with arm injuries, each expressed optimism during Sunday's "Brewers On Deck" about being healthy in time for Opening Day.

Upvote Share Tweet

At 'On Deck' event, Brewers owner says roster's not set

A year after using the event to announce a record-setting contract for Matt Garza, Brewers principal owner Mark Attanasio told fans at Sunday's "On Deck" event that the team's 2015 edition is still under construction.

Upvote Share Tweet

yahoo.com

Jan 25 (yesterday)

Before Tanner Griggs embarks on his first full season in professional baseball, the 20-year-old Chicago Cubs pitching prospect reunited with teammates of a different kind. On Thursday, Griggs met with the medical staff at Clear Lake Regional Medical Cen…

Upvote Share Tweet

Phillies trade talks with Crew over Papelbon lose steam

MLB.com

Jan 24 (2 days ago)

Trade talks between the Phillies and Brewers regarding closer Jonathan Papelbon have "dissipated," Brewers general manager Doug Melvin told the Milwaukee Journal Sentinel on Saturday.

Upvote Share Tweet

Price enjoys give-and-take with passionate fans

One of the benefits of events like Reds Caravan is the direct dialogue between fans and team members.

Upvote Share Tweet

Frazier flies jet simulator, sings at caravan stop

Reds Caravan made a stop Saturday at the National Museum of the United States Air Force at Wright-Patterson Air Force base.

Upvote Share Tweet

'Nobody Laughed Like Ernie Banks'

Jan 24

Tim Kurkjian looks back fondly on his experiences with Hall of Famer Ernie Banks, who died Friday at the age of 83.

Phillies Looking To Trade Papelbon To Brewers

Jan 23

ESPN senior baseball writer Jerry Crasnick discusses the Phillies' talks with the Brewers about a possible Jonathan Papelbon trade.

Michael Wilbon Remembers Ernie Banks

Jan 23

Michael Wilbon discusses the life and career of Chicago Cubs great Ernie Banks.

Sarah Spain Remembers Ernie Banks

Jan 23

Sarah Spain of espnW talks about her memories of beloved Hall of Famer "Mr. Cub" Ernie Banks, who died at age 83 in Chicago.