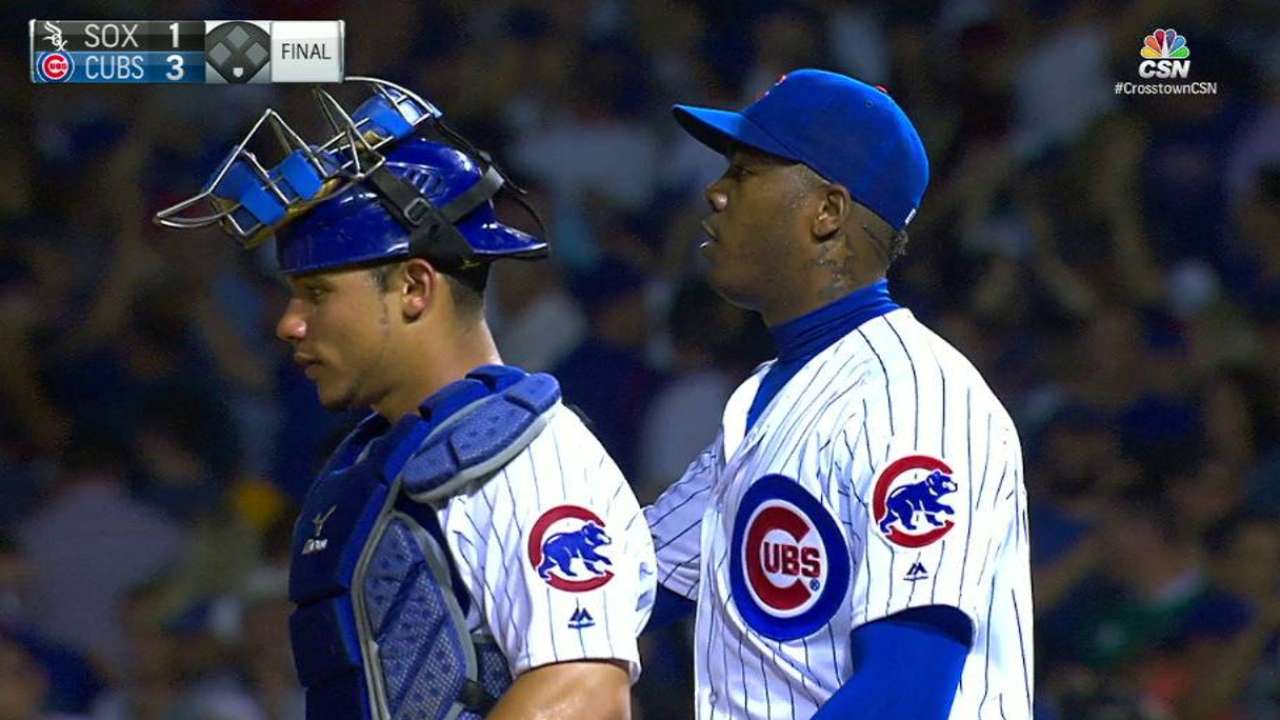 4 outs, far out: Chapmania at Wrigley!
MLB.com
Updated 32 minutes ago
Aroldis Chapman got the final four outs for his first save with the Cubs, and John Lackey outdueled Chris Sale on Thursday night to end the intracity series in a split decision, with each team able to brag that they defended home turf.
Share
Tweet
Sale Loses in White Sox Return, Chapman Saves Cubs' 3-1 Win

nytimes.com

51 minutes ago

Chris Sale returned from his jersey-trashing suspension and threw six effective innings, but John Lackey outpitched him and Aroldis Chapman got the final four outs to save the Cubs' 3-1 victory over the White Sox in Chicago's rivalry series Thursday nig…

Share Tweet

Who's in and who's out as Cubs roster gets healthy

ESPN.com

1 hour ago

Who's in and who's out as Cubs roster gets healthy

Share Tweet

MLB.com nytimes.com

2 hours ago

Home runs by Aledmys Diaz and Matt Holliday led to a quick exit for Jose Fernandez. The Marlins rallied late behind Martin Prado's two-run shot. But in crunch time, reliever Kevin Siegrist got Christian Yelich to tap into a double play in the eighth tha…

Share Tweet

Cubs manager Joe Maddon said he knew Aroldis Chapman would be fine as soon as he threw his first pitch. Now, Maddon just needs to get to know his new closer.

Share Tweet

Cards to start Garcia on short rest Saturday

MLB.com

5 hours ago

After indicating that they had three candidates -- Tyler Lyons, Jerome Williams and Alex Reyes -- being considered for the start on Saturday, the Cardinals unexpectedly pivoted to a fourth.

Share Tweet

Brewers' bats outlast Ray's K's in finale win

MLB.com

7 hours ago

D-backs left-hander Robbie Ray may have set a career high with 11 strikeouts, but it was the Brewers who came away with a 6-4 win on Thursday afternoon as they took three out of four games in the series at Miller Park.

Share Tweet

nytimes.com MLB.com

10 hours ago

The White Sox have activated ace Chris Sale from the suspended list following his jersey-tearing incident ahead of his start against the Cubs in Chicago's crosstown rivalry.

Share Tweet

Jonathan Lucroy Has A Quirk When He Bats

deadspin.com

11 hours ago

Many MLB players have odd routines at the plate. Ichiro draws his bat out in front of himself like a bow. David Ortiz takes approximately five hours to adjust his gloves. Jonathan Lucroy touches his shoulders. The Brewers catcher's habit isn't as elabor…

Share Tweet

yahoo.com

14 hours ago

Tragic is really the only way to describe what happened to the Milwaukee Brewers in the first two innings of Wednesday night's game against the Arizona Diamondbacks. Two players, right fielder Kirk Nieuwenhuis and shortstop Jonathan Villar, committed a …

Share Tweet

MLB.com

22 hours ago

Kris Bryant hit a solo homer in the sixth, Javier Baez smacked a tiebreaking two-run blast in the seventh and Addison Russell added his first career grand slam in the eighth to lift the Cubs to an 8-1 victory over the White Sox on Wednesday in the third…

Share Tweet

nytimes.com

23 hours ago

Hernan Perez hit a two-run homer, singled and scored the go-ahead run in the sixth, Zach Davies pitched 6 1/3 innings and the Milwaukee Brewers beat the Arizona Diamondbacks 6-4 on Thursday.

Share Tweet

The Art Of Pitch-Framing

Mar 21

Brewers catcher Jonathan Lucroy explains the finer points of pitch-framing

Miguel Montero Excited For New Rotation

Mar 20

Cubs catcher Miguel Montero is ready to work with the new rotation for the team and explains what needs to be worked on in spring training.

Epstein's 'Mission Impossible'

Mar 8

William Rhoden explains how Theo Epstein went from the Boston Red Sox's "boy wonder" to undertaking an impossible mission as the president of baseball operations for the Chicago Cubs.

Lester Impressive In First Cubs Outing

Mar 6

Jon Lester got his Cubs career underway with his first appearance on the mound in a spring training game.