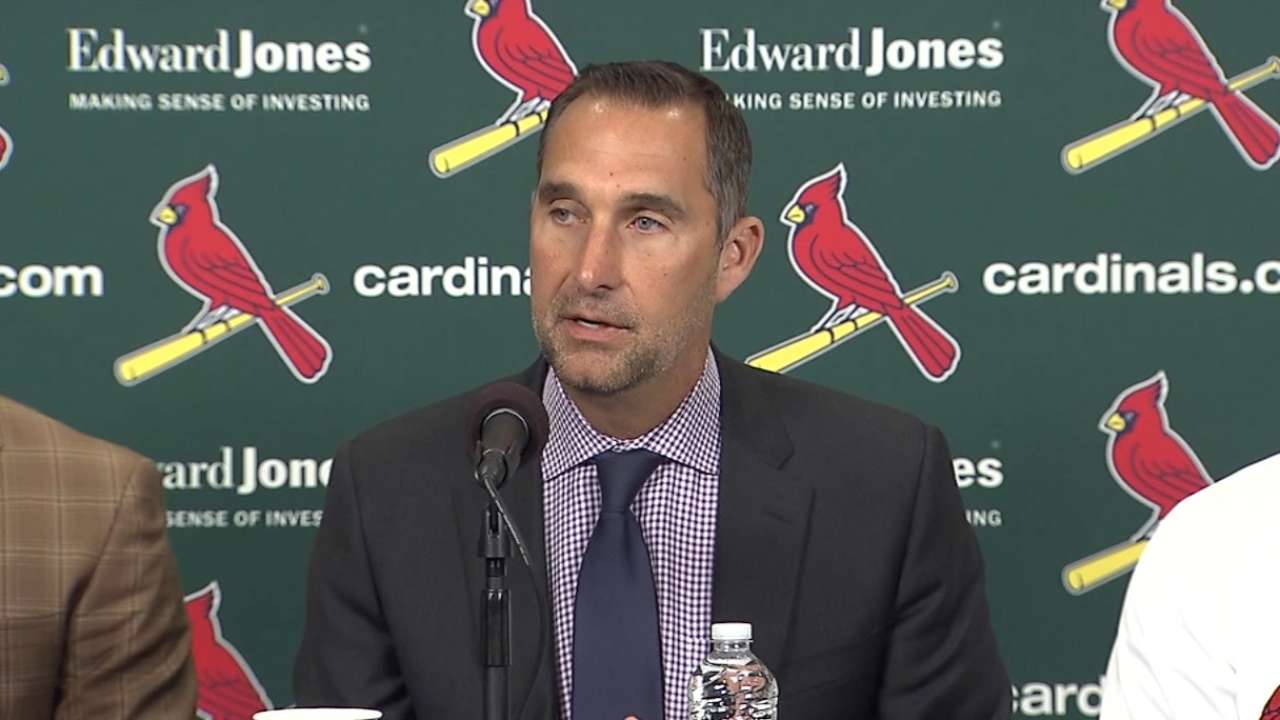 Cardinals in Asia: Oh just first step
MLB.com
Updated 20 hours ago
On the heels of South Korean reliever Seung Hwan Oh signing with the Cardinals, MLB.com began an examination of the organization's decade-long journey back into the Asian market. In this final installment, MLB.com will trace the road to signing Oh and e…
Share
Tweet
yahoo.com

Feb 6 (yesterday)

Welcome to The Stew's Hot Stove Digest, our daily rundown of MLB news, rumors and gossip for Hot Stove season. Here you'll find a recap of all the day's action and other fun stuff from around the Internet. INQUIRING: Up to ten teams have asked the Rays …

Share Tweet

yahoo.com nytimes.com MLB.com

Feb 6 (2 days ago)

The Chicago Cubs and defending NL CY Young award winner Jake Arrieta avoided arbitration late Friday night, agreeing to a $10.7 million salary for the 2016 season. The Associated Press first reported the agreement, also noting it to be the largest one-y…

Share Tweet

nytimes.com MLB.com

Feb 6 (2 days ago)

Juan Duran, an outfield prospect for the Cincinnati Reds, has been suspended for the first 80 games of the season after testing positive for three performance-enhancing substances.

Share Tweet

When you're a young franchise cornerstone player, the type who can lead a team to the World Series and contend for the MVP award on a yearly basis, fans would prefer you spend your offseason encased in bubblewrap. The last thing they want to see you do …

Share Tweet

Piniella returning to Reds as senior adviser

MLB.com

Feb 5 (3 days ago)

The last manager to win a World Series with the Reds is back with the club in a consulting role. It was announced Friday that Lou Piniella will be a senior adviser to baseball operations, and he is expected to spend some time with the team during Spring…

Share Tweet

nytimes.com MLB.com

Feb 5 (3 days ago)

Reliever J.J. Hoover has won his salary arbitration case against the Cincinnati Reds, improving players to 2-0 against teams this year.

Share Tweet

Don't credit tanking for the success of Cubs and Astros

ESPN.com

Feb 5 (3 days ago)

Don't credit tanking for the success of Cubs and Astros

Share Tweet

Exciting reunion could be in store for Murton, Cubs

MLB.com

Feb 4 (4 days ago)

Matt Murton? Did you say Matt Murton? That Matt Murton? Sure enough, it looks like the Cubs are about to bring back the international sensation who got away, the friendly red-headed outfielder who has piled up line drives on both sides of the Pacific Oc…

Share Tweet

yahoo.com

Feb 3 (5 days ago)

In our Homer History series, writers re-tell the stories of memorable home runs from their perspective. In this installment, Yahoo Sports MLB columnist Tim Brown remembers the game in which little Shane Robinson came up big for the Cardinals against the…

Share Tweet

Improved changeup could accelerate Johnson's path

Pierce Johnson could have been accused of stalking Jake Arrieta or Jon Lester last spring. The way the Cubs prospect saw it, he was simply taking advantage of the veteran pitchers in big league camp, and he'll likely be shadowing them again when they ga…

Share Tweet

Reds run 'pitching summit' to prepare prospects

No matter who makes up the Reds' pitching staff this season, it will be comprised of many young pitchers with high ceilings and unfinished development. Reds manager Bryan Price, his pitching coaches and the front office wanted the team's young pitchers …

Share Tweet

If Jesse Biddle achieves his big league dreams, it won't be with his hometown team. The Phillies on Wednesday traded Biddle to the Pirates for right-hander Yoervis Medina.

Share Tweet

South Africa adds Ngoepe to Classic roster

Gift Ngoepe hopes to proudly represent his home country of South Africa in the Majors soon. In the meantime, the Pirates' shortstop will continue to do so in the World Baseball Classic.

Share Tweet

Risky to count out Cards in NL Central

The St. Louis Cardinals must be absolutely thrilled that some of us have already conceded the National League Central to the Chicago Cubs. The Cardinals? They're playing for second place -- or third. You can look it up.

Share Tweet

Around the Horn: Holliday anchors the OF

This is the fourth installment in a six-part Around the Horn series that will take a position-by-position look at the Cardinals' projected starters and backup options heading into Spring Training. After previously looking at the club's catching depth, c…

Share Tweet

Braun hoping he'll be ready by Opening Day

Ryan Braun is behind schedule in his recovery from offseason back surgery, but he said Sunday during "Brewers On Deck" that he remains hopeful about playing on Opening Day.

Share Tweet

Hamilton accepts young Reds fan's challenge

Throughout Reds Caravan this week, little kids have wanted a piece of center fielder Billy Hamilton. During the question-and-answer sessions at each stop, youngsters have often asked Hamilton how fast he really is, or how many bases he thinks he can ste…

Share Tweet

Price: Phillips a Reds starter after trades vetoed

ESPN.com

Jan 31

Price: Phillips a Reds starter after trades vetoed

Share Tweet

Garza intent on rebounding after 'anomaly'

Wearing a Brewers jersey for the first time since his heated departure in September, Matt Garza said Sunday that he was committed to the team's rebuilding process but would "pitch selfishly" in an effort to rebound from the most frustrating se…

Share Tweet

nytimes.com

Jan 31

The Arizona Diamondbacks tried to bolster their lineup, acquiring Jean Segura, a former National League All-Star shortstop, in a five-player trade with the Milwaukee Brewers.

Share Tweet

The Art Of Pitch-Framing

Mar 21

Brewers catcher Jonathan Lucroy explains the finer points of pitch-framing

Miguel Montero Excited For New Rotation

Mar 20

Cubs catcher Miguel Montero is ready to work with the new rotation for the team and explains what needs to be worked on in spring training.

Epstein's 'Mission Impossible'

Mar 8

William Rhoden explains how Theo Epstein went from the Boston Red Sox's "boy wonder" to undertaking an impossible mission as the president of baseball operations for the Chicago Cubs.

Lester Impressive In First Cubs Outing

Mar 6

Jon Lester got his Cubs career underway with his first appearance on the mound in a spring training game.