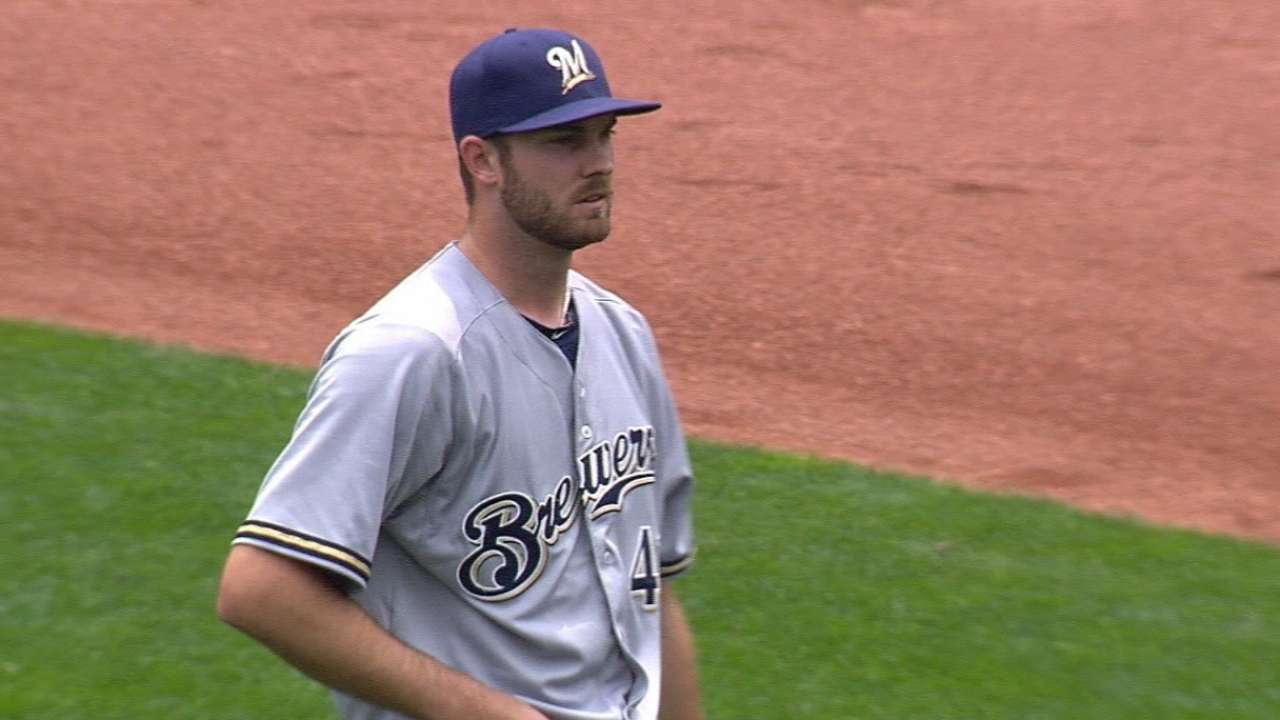 MLB.com
nytimes.com
Updated 1 hour ago
A better seven-game road trip was simply not possible for the Brewers. How can you top perfection? Milwaukee completed a three-game series sweep of the Reds on Sunday with a 6-1 victory at Great American Ball Park. The club went 7-0 on its trip through …
Share
Tweet
Coghlan, Hendricks Lead Cubs to 2-0 Win Over Marlins

nytimes.com

1 hour ago

Kyle Hendricks threw 7 1-3 strong innings, Chris Coghlan added an RBI single and the Chicago Cubs earned a 2-0 win over the Miami Marlins on Sunday.

Share Tweet

nytimes.com MLB.com

2 hours ago

Rookie outfielder Tommy Pham homered, doubled and drove in three runs, leading Lance Lynn and the St. Louis Cardinals over the San Diego Padres 3-1 Sunday.

Share Tweet

nytimes.com

3 hours ago

Gerrit Cole overcame a rocky start for his major league-best 12th win and Andrew McCutchen's two-run double capped a five-run fifth inning as the Pittsburgh Pirates rallied past the Cleveland Indians 5-3 Sunday.

Share Tweet

yahoo.com

4 hours ago

The Altoona Curve — Double-A affiliate of the Pittsburgh Pirates — are hoping Sunday will be a beautiful day in their neighborhood. For this evening's game against the Harrisburg Senators, Altoona will join WPSU Penn State and The Fred Rogers Company in…

Share Tweet

This time, Bryant obtains grand slam baseball

MLB.com

5 hours ago

Kris Bryant wasn't able to get the ball from his first grand slam on June 17, which came off Indians outfielder-turned-pitcher David Murphy in the ninth inning of the Cubs' 17-0 win. The fan who retrieved that ball apparently wanted too much in exchange…

Share Tweet

Cardinals place Garcia on 15-day DL

MLB.com

5 hours ago

Cardinals lefty Jaime Garcia has been scratched from his scheduled start on Tuesday and placed on the 15-day disabled list after feeling renewed discomfort around his left groin following a bullpen session on Saturday.

Share Tweet

yahoo.com nytimes.com MLB.com

18 hours ago

Take a look around the league with Big League Stew's daily wrap up. We'll hit on all of the biggest moments from the day that you may have missed, while providing highlights, photos and interesting stats. After a quiet June, it seems Kris Bryant may be …

Share Tweet

Gomez day to day with left wrist contusion

MLB.com

19 hours ago

Brewers center fielder Carlos Gomez was taken out of the game in Saturday's 7-3 Brewers win with a left wrist contusion after being hit by a Josh Smith pitch in the fifth inning -- the fourth Smith plunking victim of the game. X-rays came up negative an…

Share Tweet

Bryant's 6 RBIs fuel Richard's victorious return

MLB.com

21 hours ago

Rookie Kris Bryant celebrated the Fourth of July with a pair of home runs, including his second career grand slam, to back Clayton Richard's Chicago debut and power the Cubs to a 7-2 victory over the Marlins on Saturday night.

Share Tweet

MLB.com

23 hours ago

Before taking the field on Saturday night against the Cubs at Wrigley Field, a couple of members of the Marlins reflected on what playing on the Fourth of July truly means. Over the past year and a half, manager Dan Jennings and first baseman Justin Bou…

Share Tweet

nytimes.com

24 hours ago

Jhonny Peralta's sacrifice fly in the eighth inning broke a 1-1 tie, and Carlos Martinez threw six and two-thirds innings for St. Louis.

Share Tweet

nytimes.com

Jul 4 (yesterday)

Jeff Locke pitched eight innings of two-hit ball, retiring his last 19 batters, and Neil Walker had an RBI single to lift the Pittsburgh Pirates over the Cleveland Indians 1-0 on Saturday.

Share Tweet

yahoo.com

Jul 4 (yesterday)

If you like your baseball a little weird, then Friday night was an especially good night for you. Between Trevor Bauer's changing batting stances, the St. Louis Cardinals losing their fourth straight home game, and Tampa Bay's Kevin Kiermaier dodging a …

Share Tweet

Cards recall Navy vet Harris, option G. Garcia

MLB.com

Jul 4 (yesterday)

The Cardinals added an extra arm to the bullpen on Saturday, summoning reliever Mitch Harris from Triple-A and clearing a roster spot for him by optioning infielder Greg Garcia to Memphis.

Share Tweet

The Art Of Pitch-Framing

Mar 21

Brewers catcher Jonathan Lucroy explains the finer points of pitch-framing

Miguel Montero Excited For New Rotation

Mar 20

Cubs catcher Miguel Montero is ready to work with the new rotation for the team and explains what needs to be worked on in spring training.

Epstein's 'Mission Impossible'

Mar 8

William Rhoden explains how Theo Epstein went from the Boston Red Sox's "boy wonder" to undertaking an impossible mission as the president of baseball operations for the Chicago Cubs.

Lester Impressive In First Cubs Outing

Mar 6

Jon Lester got his Cubs career underway with his first appearance on the mound in a spring training game.