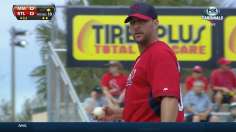 nytimes.com
MLB.com
Updated 1 hour ago
Henderson Alvarez retired all nine batters he faced in his first start since pitching a no-hitter on the final day last season, leading the Miami Marlins to a 7-3 victory over a Cardinals split-squad Friday.
Upvote
Share
Tweet
Wright, Taveras Make Spring Debuts for Mets, Cards

nytimes.com

Updated 38 minutes ago

New York Mets captain David Wright was 0 for 3 in his spring training debut and St. Louis Cardinals prospect Oscar Taveras went 1 for 3 with a run in his first appearance of the exhibition season, a 5-5 tie Friday.

Upvote Share Tweet

McCutchen Gets HR, 3 Hits, Pirates Lose to Twins

nytimes.com

Updated 1 hour ago

Andrew McCutchen homered, doubled and singled Friday for the Pittsburgh Pirates in a 6-5 loss to the Minnesota Twins.

Upvote Share Tweet

Transition to Cubs like night and day for Ruggiano

MLB.com

Updated 3 hours ago

There have been some free agents in the past who sign with the Cubs and relish the idea of playing at Wrigley Field, but have a tough time adjusting to day games. That won't be a problem for Justin Ruggiano.

Upvote Share Tweet

With renowned speed, Hamilton buffing up bunting

MLB.com

Updated 3 hours ago

Reds center fielder Billy Hamilton agreed to the interview with MLB.com but then suddenly realized the time. It was 7:53 a.m. Two minutes before early bunting work.

Upvote Share Tweet

Herrera Homers, Brewers Beat Rockies 5-3

Elian Herrera hit a solo home run in the seventh inning off the glove of leaping right fielder Ryan Wheeler and the Milwaukee Brewers beat the mistake-prone Colorado Rockies 5-3 Thursday.

Upvote Share Tweet

Hudson Scoreless Again as Giants Beat Reds 3-2

Tim Hudson extended his spring training scoreless streak to five innings, Pablo Sandoval homered to lead off a three-run fifth and the San Francisco Giants defeated the Cincinnati Reds 3-2 Thursday.

Upvote Share Tweet

Wood Goes 3 Shutout Innings, Cubs Fall to Indians

Travis Wood could be in position to pitch for the Chicago Cubs on opening day and if his first start at spring training is any indication, he's going to make it a tough decision for manager Rick Renteria.

Upvote Share Tweet

Cardinals-Twins Ccd; Nolasco Pitches Sim Game

While most of his Minnesota Twins teammates headed home for the day, right-hander Ricky Nolasco stayed at Hammond Stadium after Thursday's game against the St. Louis Cardinals was rained out and threw a simulated game.

Upvote Share Tweet

Toronto Blue Jays, Pittsburgh Pirates Rained Out

The Toronto Blue Jays' spring training game at the Pittsburgh Pirates was rained out Thursday.

Upvote Share Tweet

Report: Carpenter close to multi-year extension

MLB.com

Updated Mar 6 (yesterday)

The Cardinals are nearing a significant contract extension with infielder Matt Carpenter, according to multiple reports on Thursday. The club has not commented on the reports.

Upvote Share Tweet

deadspin.com

Updated Mar 6 (yesterday)

A contestant on last night's episode of Wheel Of Fortune professed her love for Chicago sports, namely the Bulls and Bears. She is, to a lesser extent, also a fan of the White Sox rather than the Cubs. This pleases Pat Sajak, who is just as confused by …

Upvote Share Tweet

Alex Guerrero hit a grand slam and Adrian Gonzalez added a solo home run as the Los Angeles Dodgers rallied for 10-3 win over the Cincinnati Reds on Wednesday night.

Upvote Share Tweet

Baseball Tonight Tour: Reds

Feb 28

Karl Ravech, John Kruk and Tim Kurkjian report from the Reds' spring training camp, where Billy Hamilton looks to make an impact.

Reds Injury Update

Feb 28

Tim Kurkjian and Stephania Bell discuss the latest on key names in the Reds' pitching staff.

Brandon Phillips Talks Reds' Baseball

Feb 28

Brandon Phillips sits down with the Baseball Tonight crew to talk about the Reds' upcoming season.

Kris Bryant On His First Home Run

Feb 28

Cubs prospect Kris Bryant discusses hitting a home run in his first spring at-bat as a professional.