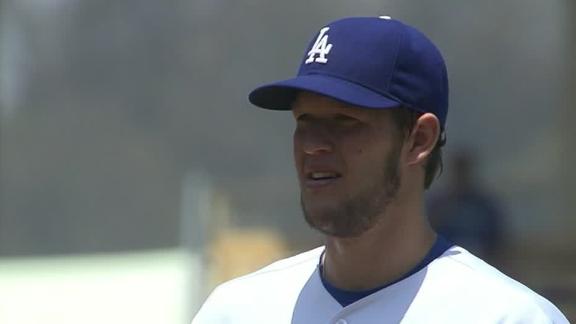 Clayton Kershaw tossed eight shutout innings, and Carl Crawford homered twice to lead the Dodgers past the Brewers, 2-0, at Dodger Stadium. It was the first time the Dodgers won a series at home since sweeping the Pirates in the first week of the season…
Share
Tweet
Jeff Locke allowed just three hits in seven shutout innings and the Pirates belted four home runs en route to a 9-0 win over the Cardinals on Sunday at Busch Stadium.

Share Tweet

John Lackey tossed six innings of one-run ball, allowing five hits and two walks, while striking out four as the Red Sox cruised to a 6-1 win, completing a four-game sweep over Houston.

Share Tweet

Tony Campana steals second, third and home in succession for Triple-A Reno

The Arizona Diamondbacks acquired speedy outfielder Tony Campana from the Chicago Cubs during their winter long compilation of grit and determination. No one fits that profile better than Campana, either, because at 5-foot-8, 165 pounds (generously list…

Share Tweet

Giancarlo Stanton blasted a pair of homers and collected four RBIs as the Marlins avoided the four-game series sweep in a 6-4 comeback victory over the Cubs on Sunday afternoon in front of 19,817 at Marlins Park.

Share Tweet

Tony Cingrani became the fifth Reds pitcher to strike out four batters in an inning when he shut down Denard Span, Bryce Harper, Ian Desmond and Adam LaRoche in the fourth inning on Sunday.

Share Tweet

Five years in the big leagues and 174 career appearances haven't made it any easier to spell (or in some cases pronounce) the name of St. Louis Cardinals left-hander Marc Rzepczynski. Honestly, it's one of those names that makes you thankful for the &qu…

Share Tweet

ESPN.com

Apr 28, 2013

Cardinals closer Jason Motte threw for the second straight day as a deadline neared for determining whether he could pitch with a partially torn ligament in his elbow.

Share Tweet

A.J. Burnett inexplicably intercepts throw intended to catch base stealer Jon Jay (video)

A,J. Burnett had one of those interesting moments on Saturday night. It wasn't big enough to overshadow his six innings of two-run ball, or the fact he won his second start in 10 ten days against the St. Louis Cardinals, but we saw it, we scratched our …

Share Tweet

Gregg emerges as stabilizing force for Cubs 'pen

Cubs manager Dale Sveum has had three pitchers record multiple saves. Kyuji Fujikawa, currently on the 15-day disabled list, and Carlos Marmol have registered two, and Kevin Gregg has saved three games, including the last two in wins against the Marlins…

Share Tweet

Shake it up: Doubront rebounds to stymie Astros

After a first inning that was beyond shaky, Felix Doubront picked himself up, leading the Red Sox to an 8-4 victory over the Astros at Fenway Park.

Share Tweet

Web Gems

Apr 28

Does Daniel Nava's diving catch top Starlin Castro's diving stop and backhanded flip to second?

Pirates Crush Cardinals To Take Series

Apr 28

Russell Martin hit two home runs in Pittsburgh's 9-0 win against St. Louis.

Kershaw, Crawford Power Dodgers

Apr 28

Clayton Kershaw strikes out 12 over eight scoreless innings and Carl Crawford hits two home runs to lead the Dodgers to a 2-0 win over the Brewers.

Rookie Pitcher Lifts Reds Past Nationals

Apr 28

Tony Cingrani struck out 11 batters in six innings as the Reds beat the Nationals 5-2.