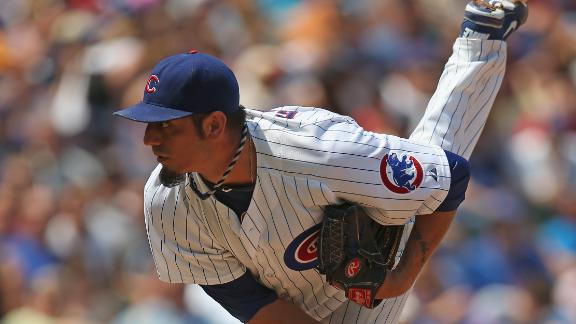 ESPN.com
Updated Feb 17, 2013
Chicago Cubs pitcher Matt Garza left the practice field with a mild lat strain in his left side Sunday, but the injury isn't expected to be serious
Share
Tweet
CNNSI.com

Feb 17, 2013

Chipper Jones was lingering beyond the left-field wall, signing as many autographs as he could, when someone asked the obvious question.

Share Tweet

Team pokes fun at Sveum's hunting accident

About halfway through Cubs manager Dale Sveum's speech prior to the first full squad workout on Sunday, the players started to take off their jackets to reveal bright orange hunting gear tops. Then, they put on the orange caps.

Share Tweet

Weeks' comeback in 2013 a family affair

Both Weeks brothers are back for 2013, Rickie having further cemented his role as the Brewers' starting second baseman with a strong finish to 2012, and Jemile back in A's camp trying to win back his old job.

Share Tweet

HOUSTON (AP) -- Roger Clemens shrugged off Mike Piazza's comments in his autobiography that he took karate lessons after he was beaned by the pitcher, just in case they had another confrontation.

Share Tweet

Astros owner Jim Crane was thrilled Sunday to have an opportunity to play golf with President Barack Obama and golf legend Tiger Woods, both of whom were guests of Crane at his Floridian National Golf Club in Palm City.

Share Tweet

Cardinals' Garcia cites focus, healthy shoulder

ESPN.com

Feb 17, 2013

With ace Chris Carpenter sidelined, possibly for the season, the Cardinals are hoping for more wins and innings from Jaime Garcia.

Share Tweet

Amaro says Phillies set with rotation

Right-hander Kyle Lohse remains a free agent, despite pitching effectively the previous two seasons with the Cardinals. The Phillies' rotation includes Roy Halladay, Cliff Lee and Cole Hamels, but a pitcher like Lohse certainly would make their pitching…

Share Tweet

Key to Bucs' chemistry: Location, location, location

If there truly is such a thing as clubhouse chemistry, the Pirates' master chemist is Scott Bonnett. He is the one who mixes and matches team elements, and affects whether the final blend flows smoothly or perhaps blows up into a mess.

Share Tweet

Ricketts On Cubs, Wrigley Renovations

Feb 17

Cubs owner Tom Ricketts discusses his message to the team and updates on Wrigley Field renovation.

Sports Columnists

Los Angeles Clippers, utah Jazz to talk Eric Bledsoe for Paul Millsap, sou…

Feb 17

There is a level of mutual interest between the Clippers and Utah Jazz in exploring a deal that would feature Eric Bledsoe as the headliner in a trade package for Jazz forward Paul Millsap, sources with knowledge of the situation told ESPN.com.