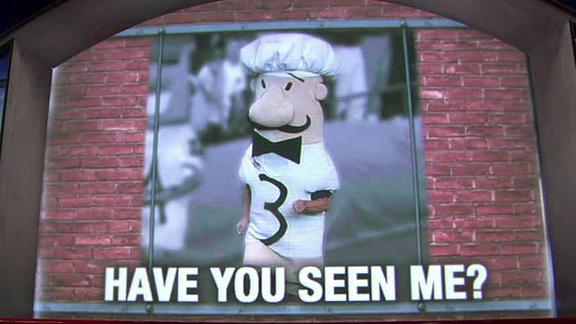 Updated Feb 27
Share
Tweet
The $3,000 Italian Sausage costume that is used in the sausage races at Miller Park has been found, according to FOX6 News.
Sources:
ESPN.com
deadspin.com
yahoo.com
nytimes.com
As 'tradition' ends, a list of Wrigley Field's worst seventh inning stretch conductors

Updated Feb 27

Share Tweet

After 15 eardrum-assaulting seasons, the Chicago Cubs have mercifully decided to euthanize the practice of having random celebrities sing "Take Me Out To The Ballgame" during the seventh inning stretch at Wrigley Field. As detailed on the Hall…

Source:

yahoo.com

Hensley working hard to impress in Reds' camp

Updated Feb 27

Share Tweet

Appearing in 60 games for the World Series champion Giants last season, new Reds reliever Clay Hensley will get a ring when they're handed out at the beginning of the regular season. Now, he is in camp with the Reds, hoping to make the 2013 roster.

Wright ready to set example for younger teammates

Updated Feb 27

Share Tweet

It wasn't that long ago that Astros relief pitcher Wesley Wright was one of the young guys, just another name in a row of lockers.

Lessons learned in Cole's first game action

Updated Feb 27

Share Tweet

Gerrit Cole, the Pirates' top pitching prospect, saw his first game action on Wednesday, learning some valuable lessons about life in the big leagues.

Castro exits Cubs game with hamstring tightness

Updated Feb 27

Share Tweet

Cubs shortstop Starlin Castro had to leave Wednesday's game and is day to day because of tightness in his left hamstring.

Niemann, Hellickson have solid outings

Updated Feb 27

Share Tweet

Jeff Niemann and Jeremy Hellickson combined for 2 2/3 scoreless innings in the Rays' 8-2 victory over the Pirates on Wednesday.

Russell Martin Leaves Canada's WBC Team Because They Won't Let Him Play Shortstop

Updated Feb 27

Share Tweet

Pirates backstop Russell Martin doesn't want to be a catcher. It's boring. You have to crouch all game. You never get to run around. You rarely get to throw the ball beyond returning it to the pitcher. Rather than getting to enjoy a sunny afternoon on t…

Source:

deadspin.com

Cubs to adjust policy for 'Ball Game' singers

Updated Feb 27

Share Tweet

(Eds: Clarifies Fenway is eighth inning tradition. Restores writethru sequence. With AP Photos.)

Source:

ESPN.com

Chapman experiment risky but worth trying

Updated Feb 27

Share Tweet

For the second straight year, the Reds are attempting to convert Aroldis Chapman into a starting pitcher. It's a risky move, but one that is definitely worth trying, writes Jay Jaffe.

Source:

CNNSI.com

Updated Feb 27

Share Tweet

Russell Martin walked out of the Pirates' training room on Wednesday morning wearing a wide smile and an electronic heating gadget strapped to his right shoulder and said he "feels much better today."

Brewers' Italian Sausage Went Missing

Feb 27

Milwaukee Brewers Italian sausage that went missing earlier this month has been found at a bar in Wisconsin.

Cardinals Poised For The Future

Feb 27

Keith Law discusses the Cardinals and Cubs and how they are positioned for the future.

Brandon McCarthy Makes Return To The Mound

Feb 27

After taking a line drive off the head while playing for the Athletics in 2012, Brandon McCarthy returned to the mound Wednesday to strike out four over two innings pitching for the Diamondbacks.