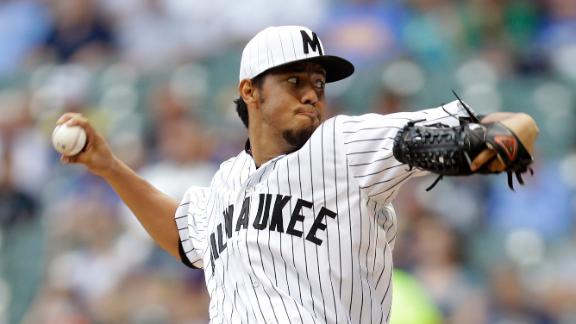 Updated Jul 20
Share
Tweet
Yovani Gallardo pitched a shutout into the seventh inning and Jonathan Lucroy and Rickie Weeks belted home runs, leading the Milwaukee Brewers to a 6-0 win over the Miami Marlins on Saturday night.
Padres ride early scoring burst to victory in St. Louis

Updated Jul 20

Share Tweet

The Padres scored four runs in the first three innings, and the bullpen held on for Edinson Volquez in a 5-3 win over the Cardinals on Saturday.

Updated Jul 20

Share Tweet

Devin Mesoraco couldn't help being pumped up as the Reds catcher stood up following the 27th out on a 102-mph heater for a strikeout from closer Aroldis Chapman. Not only did the Reds get another big victory over the Pirates by a 5-4 score on a long Sat…

Updated Jul 20

Share Tweet

Rafael Betancourt was sick Thursday night, but figured he could tough it out and show up for Friday's game against the Cubs. Fortunately for him, his 10-year-old son told on him to the Rockies' medical staff. Not long thereafter, Betancourt underwent an…

Welcome to Milwakuee: Ron Roenicke's throwback uniform features spelling error

Updated Jul 20

Share Tweet

As we noted on Saturday, the Milwaukee Brewers paid tribute to the Negro Leagues when they hosted the Miami Marlins at Miller Park. As a part of the tribute, both teams wore throwback uniforms with the Brewers honoring the 1923 Milwaukee Bears and the M…

Miami Marlins will wear patch honoring Satchel Paige for Negro Leagues tribute in Milwaukee

Updated Jul 20

Share Tweet

The Milwaukee Brewers will be holding their annual Negro Leagues tribute when they host the Miami Marlins at Miller Park on Saturday night. According to Tom Haudricourt's Brewers Blog, the hometown squad will be honoring former Negro League players Geor…

Updated Jul 20

Share Tweet

As the July 31 non-waiver Trade Deadline approaches, manager Clint Hurdle knows what type of piece he would like the Pirates to add. He knows what his team needs and what would give it a better chance of finishing the season with a winning record for th…

Updated Jul 20

Share Tweet

The St. Louis Cardinals are making the best of the All-Star break with outfielder Matt Holliday, who they believe just needs a little more time to recover from a strained hamstring.

Cubs demand unauthorized mascot 'Billy Cub' stay away from Wrigley Field

Updated Jul 20

Share Tweet

While the Arizona Diamondbacks were accepting a new mascot into their family this week, the Chicago Cubs and Major League Baseball have ordered Jon Paul Weier — aka "Billy Cub," an unauthorized mascot who wanders the sidewalks outside of Wrigley Field g…

Updated Jul 20

Share Tweet

The Juice returns for season No. 6! It's almost eligible for free-agency! Stop by daily for news from the action, along with great photos, stats, video highlights and more. The Cincinnati Reds emerged victorious in the opener of a big weekend series wit…

Samardzija recovers to lead Cubs over Rockies

Updated Jul 20

Share Tweet

Nine days after he surrendered nine runs in 4 2/3 innings in an ugly loss to the Angels, Jeff Samardzija led the Cubs to a 3-1 against a Rockies team he dominated earlier this year.

Updated Jul 20

Share Tweet

As of midnight ET, Matt Garza was still a Cub. MLB.com's T.R. Sullivan reports that the Rangers are still working diligently to acquire the Cubs right-hander, but it looks like any move won't happen before Saturday.