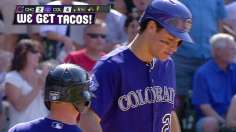 Miami Marlins haven't scored in 37 innings, longest MLB streak in 28 years

yahoo.com

Jul 21, 2013

Thanks in part to the recent All-Star break, nobody from the Miami Marlins has crossed home plate in eight days. The Flounderng Fish fell 1-0 in 13 innings to the Milwaukee Brewers on Sunday, capping a scoreless weekend at Miller Park and extending thei…

Share Tweet

Wily Peralta continued his stellar string of pitching Sunday, and Caleb Gindl awoke a dormant Brewers offense with a walk-off, 13th-inning home run for a 1-0 Milwaukee win and a three-game series sweep over the Marlins to open the second half of the sea…

Share Tweet

Adam Wainwright worked eight sharp innings for his National League-leading 13th win and Allen Craig made a game-ending leaping catch at the left field wall as the St. Louis Cardinals beat the San Diego Padres 3-2 on Sunday.

Share Tweet

Jeff Locke allowed only an infield single through six innings and the Pittsburgh Pirates beat Homer Bailey to salvage the final game of their series with the Cincinnati Reds, 3-2 on Sunday.

Share Tweet

MLB.com

Jul 21, 2013

On Friday it looked like Matt Garza would be pitching in a new uniform by the time his next scheduled start rolled around. But Cubs manager Dale Sveum said he remains confident that Garza will be on the mound for Chicago on Monday.

Share Tweet

Ludwick set to begin rehab assignment

MLB.com

Jul 21, 2013

Reds left fielder Ryan Ludwick will begin a Minor League rehab assignment with Class A Dayton on Wednesday.

Share Tweet

Ernie Banks Joined Pearl Jam On Stage At Wrigley

deadspin.com

Jul 21, 2013

Pearl Jam played a rain-delayed show at Wrigley Field Friday night and before Eddie Vedder began singing the Cubs tribute song "All The Way," he introduced Ernie Banks, to the delight of the Chicago crowd.Read more...

Share Tweet

Auction House Offering $1 Million For Signed Black Sox Confessions

deadspin.com

Jul 21, 2013

The sports auction house Leland's announced on Thursday that it was willing to pay $1 million for the signed confessions of the eight Chicago White Sox accused of throwing the 1919 World Series, which the heavily-favored Sox lost to the Cincinnati Reds.…

Share Tweet

Pirates Edge Reds To Avoid Sweep

Jul 21

Homer Bailey struck out 12 batters, but it was not enough as the Pirates defeated the Reds 3-2.

Brewers Walk Off On Gindl's First Career HR

Jul 21

Rookie Caleb Gindl's home run in the 13th pushed the Brewers to a sweep of the Marlins.

Wainwright, Cardinals Edge Padres

Jul 21

Adam Wainwright picked up his 13th win of the season as the Cardinals topped the Padres 3-2.