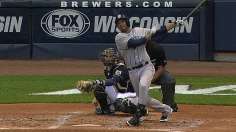 Ryan Braun: 10 damning 'I am innocent' quotes

yahoo.com

Jul 22, 2013

Before Ryan Braun was suspended for 65 games on Monday for violating MLB's drug policy, the Milwaukee Brewers star had a history of adamant denials about the performance-enhancing drug accusations that have followed him since his 2011 MVP season.Braun w…

Share Tweet

Now that the Matt Garza deal has been sealed between the Rangers and Cubs, activity on the trade market may begin to pick up.

Share Tweet

Pittsburgh Fan With Sign Sculpted Into His Body Hair Invades D.C.

deadspin.com

Jul 22, 2013

This just in to Yinzerspin. Mark Zuckerman of CSN Washington spotted this guy a few minutes ago at Nationals Park, where the Pirates are getting set to play the Nats in about 30 minutes. Is this the same jagoff who shaved something similar into his body…

Share Tweet

Brewers left fielder Ryan Braun has been suspended without pay for the remainder of 2013 and came clean Monday about violating Major League Baseball's Joint Drug Prevention and Treatment Program.

Share Tweet

Cardinals' scouts find another hidden-gem prospect

MLB.com

Jul 22, 2013

Small-school pitcher Zack Petrick went undrafted in 2012. A year later, the right-handed pitcher is one of the most intriguing arms in the Cardinals' farm system.

Share Tweet

Once again, Bucs facing Deadline quandary

MLB.com

Jul 22, 2013

With nine days to go to the Trade Deadline, this is a fascinating quandary for the Pirates and their lead baseball executive. GM Neal Huntington has the chips to go all-in, but doing so comes with the risk of still falling short while weakening the futu…

Share Tweet

Roundup: What You Missed The Weekend We Saw Breasts At A Baseball Game

deadspin.com

Jul 22, 2013

Topless Brewers Fan Jiggles Breasts Behind Home PlateThis Steve Nash Interview Got Off To A Pretty Horrible StartRef Won't Let Landon Donovan Wear SunglassesJose Reyes Takes A Pick-Off Attempt Right In The DickTaste Test: The Ruffles Ultimate Line, Whic…

Share Tweet

What's Next For MLB Following Braun's Suspension

Jul 22

T.J. Quinn looks at what is next for MLB now that Ryan Braun has been suspended.

Source: Rangers To Acquire Garza

Jul 22

Tim Kurkjian breaks down the reported move that will send Matt Garza to the Rangers.

Braun Suspended For Remainder Of Season

Jul 22

Jayson Stark reacts to Ryan Braun's suspension from MLB.

Braun Suspended

Jul 22

T.J. Quinn on Ryan Braun's suspension from MLB.