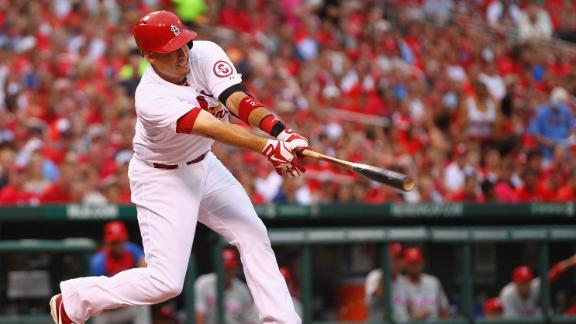 Updated Jul 23
Share
Tweet
Shelby Miller threw six shutout innings and Allen Craig drove in a pair of runs to lead the St. Louis Cardinals to a 4-1 win over the Philadelphia Phillies on Tuesday night.
Ross twirls gem to give Padres rare win streak

Updated Jul 23

Share Tweet

Tyson Ross allowed two hits in six innings as the Padres defeated the Brewers, 6-2, on Tuesday at Miller Park. San Diego won consecutive games for the first time since June 20-21.

Updated Jul 23

Share Tweet

Cubs officials have told Alfonso Soriano's agent the New York Yankees are interested in trading for him, the outfielder said Tuesday.

Updated Jul 23

Share Tweet

The Brewers made their first move prior to the July 31 non-waiver Trade Deadline on Tuesday, sending reliever Francisco Rodriguez to the Orioles for third base prospect Nick Delmonico.

Given early cushion, Cole cruises in nation's capital

Updated Jul 23

Share Tweet

In Tuesday night's 5-1 Pirates triumph over the Nationals at Nationals Park, Gerrit Cole twirled two-hit ball for seven innings in the most imposing of his seven big league starts. He allowed just one run, on a solo shot by Wilson Ramos, as he outpitche…

Updated Jul 23

Share Tweet

Ryan Braun is gone for the year. The Milwaukee Brewers know that much, and they also know they have to move on without him.

Sources:

ESPN.com CNNSI.com deadspin.com MLB.com

Updated Jul 23

Share Tweet

The Pittsburgh Pirates have placed National League saves leader Jason Grilli on the 15-day disabled list with a strained right forearm.

Bored Baseball Fans Find Solitaire Less Boring Than Baseball

Updated Jul 23

Share Tweet

The above photo comes from reader Brando, who spotted this gentlemen escaping the boredom of a Reds-Braves game with a few rounds of Solitaire. Read more...

Source:

deadspin.com

Deadline Chatter: Yanks eye power boost

Updated Jul 23

Share Tweet

With their lineup struggling and the status of Derek Jeter and Alex Rodriguez up in the air, reports that the Yankees have targeted Cubs left fielder Alfonso Soriano, 37, could return to his first Major League team make sense.

Idiot On The Field Gets A Knee To The Neck And A Face Full Of Dirt

Updated Jul 23

Share Tweet

I'm not sure if these San Francisco bros had a clear plan in mind when they rushed the field at last night's Reds-Giants game, but if they did I don't think it involved eating the warning track.Read more...

Source:

deadspin.com

Updated Jul 23

Share Tweet

The Cubs traded ace and scheduled starter Matt Garza to the Rangers hours before Monday night's series opener at Chase Field, but fill-in Chris Rusin outshined D-backs lefty Tyler Skaggs in a 4-2 loss to put Arizona in second place for the first time si…

Reds rack up runs behind Arroyo's shutout

Updated Jul 23

Share Tweet

With Monday's 11-0 drubbing of the Giants, Cincinnati has won five of its last six contests in San Francisco, including the first pair of games of the 2012 National League Division Series.

Reds coach Berry back after cancer treatments

Updated Jul 23

Share Tweet

Cincinnati Reds third-base coach Mark Berry is back in his familiar spot for the first time all season after undergoing treatment for throat cancer.

Source:

ESPN.com

Updated Jul 23

Share Tweet

The Texas Rangers struck the first major deal before the trade deadline, shipping four players to the Chicago Cubs for veteran right-handed starter Ma...

Source:

grantland.com

Pirates Cruise Past Nationals

Jul 23

The Pirates beat the Nationals 5-1 for their third straight win.

Kemp: Braun's MVP Should Be Stripped

Jul 23

Matt Kemp, who finished second to Ryan Braun in the 2011 MVP voting, says he thinks Braun should be stripped of the award.

Difference Of Treatment

Jul 23

Stephen A. Smith and Skip Bayless debate why positive tests for banned substances are treated differently in MLB and the NFL.

Reds Power Past Giants In Game 1

Jul 23

Devin Mesoraco, Joey Votto and Zack Cozart each homered in the Reds' 9-3 win against the Giants.