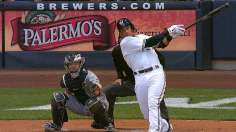 Pirates left-hander Francisco Liriano did not allow a hit until the sixth inning against a struggling and depleted Nationals lineup, and Pedro Alvarez homered off an otherwise-dominant Stephen Strasburg, leading Pittsburgh past Washington 4-2.

Share Tweet

Cubs president of baseball operations Theo Epstein said the club has asked Alfonso Soriano to take a few days to weigh his trade options, and the veteran outfielder said Wednesday one possibility would be the Yankees.

Share Tweet

Cubs' DeJesus returns after missing 33 games

ESPN.com

Jul 24, 2013

The Chicago Cubs activated David DeJesus off the disabled list Wednesday after the outfielder missed 33 games with a right shoulder sprain and optioned outfielder Dave Sappelt to Triple-A Iowa.

Share Tweet

Milwaukee Journal Sentinel editorial board argues that Brewers should "get rid of Ryan Braun," displ

deadspin.com

Jul 24, 2013

Milwaukee Journal Sentinel editorial board argues that Brewers should "get rid of Ryan Braun," displays fundamental misunderstanding of how MLB contracts work. [JS]Read more...

Share Tweet

San Francisco Giants play as visitors in home ballpark

yahoo.com

Jul 24, 2013

It was opposite day at AT&T Park on Tuesday night. The San Francisco Giants and Cincinnati Reds switched places in the second game of a doubleheader because of issues rescheduling a rained-out game from earlier this season at Great American Ball Par…

Share Tweet

Liriano Outduels Strasburg

Jul 24

Francisco Liriano tossed 7 2/3 scoreless innings with eight strikeouts as the Pirates handed the Nationals their sixth straight loss.

The GM's Office: Mark Of A Master

Jul 24

Orioles GM Dan Duquette stops by the GM's Office to talk about how the deal went down for Francisco Rodriguez, Manny Machado's rise to stardom, and Ryan Braun's suspension.

Soriano Would Return To Yankees

Jul 24

ESPN Chicago's Bruce Levine breaks down Alfonso Soriano informing the Cubs he would accept a trade to the Yankees.

Brady Moving On From Hernandez

Jul 24

Skip Bayless and Stephen A. Smith react to Tom Brady's comments that he has moved on from Aaron Hernandez.