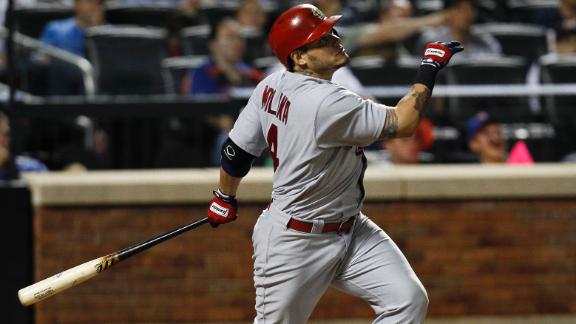 Updated Jun 11

Share Tweet

Gerrit Cole took a shutout into the seventh inning of his major league debut and hit a two-run single in his first at-bat Tuesday night, leading the Pittsburgh Pirates to an 8-2 victory in front of a festive crowd.

Updated Jun 11

Share Tweet

Giancarlo Stanton hit his first homer since coming off the disabled list, a two-run drive with two outs in the eighth inning that lifted the Miami Marlins to a 5-4 victory over the Milwaukee Brewers on Tuesday night.

Source:

ESPN.com

Updated Jun 11

Share Tweet

The customary teammate beer shower awaited Michael Wacha as the Cardinals filed into the visitor's clubhouse following a 9-2 victory over the Mets at Citi Field on Tuesday night.

Morales scratched from lineup with back soreness

Updated Jun 11

Share Tweet

First baseman Kendrys Morales was scratched from the Mariners' starting lineup about 90 minutes before Tuesday night's game with the Astros due to lower back soreness.

Rodriguez optioned to make room for Cingrani

Updated Jun 11

Share Tweet

With the recall of left-hander Tony Cingrani from Triple-A Louisville in order to start Tuesday's game, the Reds optioned infielder Henry Rodriguez to Triple-A in a corresponding move.

Pitching headlines Reds' prospect pipeline

Updated Jun 11

Share Tweet

Once the Draft ends and the players who want to sign eventually do, Reds director of player development Jeff Graupe, along with his staff and scouts, is in charge of guiding and evaluating the club's Minor League talent. And according to Graupe, there's…

Updated Jun 11

Share Tweet

The Chicago Cubs and Ian Stewart will try to find some common ground in ending their relationship, but in the meantime Stewart will be suspended without pay for his critical tweets of the organization.

Back from injury, Westbrook ready for Friday start

Updated Jun 11

Share Tweet

Jake Westbrook rejoined the Cardinals on Tuesday and is scheduled to make his return to the mound on Friday, when the Cardinals open a series in Miami.

Pirates manager Clint Hurdle: 'I'm not paying attention to the number of pitches anymore'

Updated Jun 11

Share Tweet

Count Pittsburgh Pirates manager Clint Hurdle as the latest manager to thumb his nose at baseball's obsession with numbers. Hurdle told reporters on Tuesday that he's done watching pitch-count to determine when to remove his starting pitchers.This, of c…

Source:

yahoo.com

With Molina as backbone, Cardinals off to super start

Updated Jun 11

Share Tweet

The loaded Cardinals are off to such a soaring start that they're raising the possibility of reaching heights rarely seen in baseball for over 30 years, writes Tom Verducci.

Source:

CNNSI.com

Cubs prospect Javier Baez hits four home runs, thanks fans at least 128 times on Twitter

Updated Jun 11

Share Tweet

Don't look for flying saucers in the shaky video, though you might find what looks like a UFO. It's probably the fourth home run of the game hit for Daytona on Monday night by Chicago Cubs top prospect Javier Baez, who tied a Class A Florida State recor…

Source:

yahoo.com

Errors Cost Mets

Jun 11

The Cardinals scored seven unearned runs in a 9-2 win over the Mets.

Wainwright Joins "Baseball Tonight"

Jun 11

Adam Wainwright sat down with BBTN's Karl Ravech to discuss his recovery from Tommy John surgery and how the young arms on the staff keep pushing him.

SweetSpot TV: Powering The Pirates

Jun 11

David Schoenfield and Tristan Cockcroft take a look at Gerrit Cole, who is projected to make his MLB debut with the Pirates.

Share The Passion: Brandon Phillips

Jun 11

Reds second baseman Brandon Phillips talks about his passion for Twitter and reaching out to his fans.