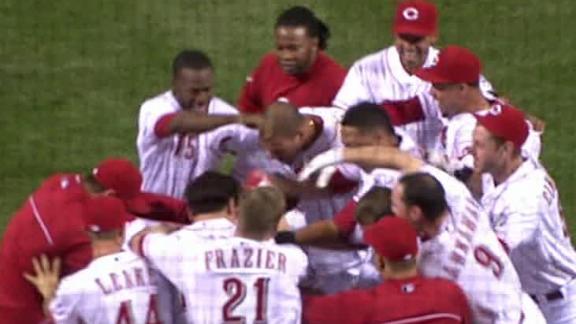 Jay Bruce homered off Burke Badenhop with one out in the 10th inning on Friday night, rallying the Cincinnati Reds to a 4-3 victory over the Milwaukee Brewers in a game full of errors and wasted chances.
Share
Tweet
Sale strikes out 14 in CG, but White Sox lose to Astros

Share Tweet

Jeff Locke allowed just two hits over seven innings and the Pittsburgh Pirates edged the Los Angeles Dodgers 3-0 on Friday night.

Share Tweet

The Cubs scored five early runs, highlighted by a bases-clearing triple off the bat of David DeJesus in the second inning, and Edwin Jackson hurled six quality frames in a 6-3 win over the Mets on Friday night at Citi Field.

Share Tweet

Fernandez's career night contains Cardinals

Jose Fernandez tossed a career-high 107 pitches and fanned a career-high 10 batters in a 5-4 win against the Cardinals in front of 15,403 at Marlins Park on Friday night.

Share Tweet

ESPN.com

Jun 14, 2013

Reds reliever Jonathan Broxton has swelling in his right elbow, leaving his status uncertain for a weekend series against the Milwaukee Brewers.

Share Tweet

Hanley returns to starting lineup vs. Pirates

Hanley Ramirez made his return to the Dodgers lineup on Friday, batting cleanup and playing shortstop.

Share Tweet

MIAMI (AP) ? Rookie left-hander Tyler Lyons will remain in the St. Louis Cardinals rotation, edging out rookie right-hander Michael Wacha, who was optioned Friday to Triple-A Memphis.

Share Tweet

Pirates' A.J. Burnett has Grade 1 tear in right calf

Share Tweet

Aces riding high for Cardinals, Tigers

The Cardinals and Tigers have built deep staffs around their big-name stoppers in 2013, and it's led to plenty of success. Both clubs feature several arms pitching like aces -- not to mention a couple of the league's most consistently dominant pitchers …

Share Tweet

Marlins Hold Off Cardinals

Jun 14

Jose Fernandez struck out 10 batters over seven innings to lead the Marlins past the Cardinals 5-4.

Bruce's Walk-Off Blast Lifts Reds

Jun 14

Jay Bruce's 10th-inning walk-off home run gave the Reds the 4-3 victory over the Brewers.

Pirates Hold Off Struggling Dodgers

Jun 14

Andrew McCutchen drove in two runs to lead the Pirates past the Dodgers 3-0.

Bruce's Walk-Off Blast Lifts Reds

Jun 14

Baseball Tonight Spotlight: Jay Bruce's 10th-inning walk-off home run gave the Reds the 4-3 victory over the Brewers.

Sports Columnists

2013 NBA playoffs -- San Antonio Spurs and Miami Heat think through the NB…

Jun 14

LeBron must get fired up to be his best. The Spurs rely on an even keel. J.A. Adande explores the two approaches of the NBA Fnalists.

2013 NBA Finals: Manu Ginobili 'surprised' by struggles

Jun 14

The Spurs' swingman is struggling in the Finals and searching for answers.