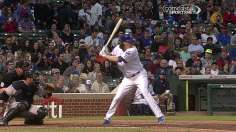 Updated May 15
Share
Tweet
Jeff Samardzija hadn't won a game since Opening Day and he took matters into his own hands on Wednesday. Samardzija smacked a two-run home run and struck out seven over eight innings to pick up his first win since April 1, leading the Cubs to a 6-3 vict…
Wandy outlasts Gallardo as Bucs top Brewers

Updated May 15

Share Tweet

Wandy Rodriguez stuck to Yovani Gallardo long enough for the Bucs to get enough of an upper hand for a 3-1 victory over Milwaukee at PNC Park.

Choo homers twice; Leake, Reds blank Fish

Updated May 15

Share Tweet

Shin-Soo Choo's second multi-homer game of the season helped power the Reds to their fifth straight win and a series victory over the Marlins. Choo went 4-for-5 with two home runs to push the Reds past the Marlins, 4-0, before 14,866 at Marlins Park on …

Updated May 15

Share Tweet

It was another two-for-one night for Michael Ray, who extended his Beat the Streak run to 43 on Wednesday night courtesy of sluggers Joey Votto and Alex Gordon. Using the "Double Down" feature, the 28-year-old Astros fan from Brenham, Texas, j…

Cueto set to return from DL for Reds next week

Updated May 15

Share Tweet

MIAMI (AP) Cincinnati Reds ace Johnny Cueto is on target to rejoin the rotation next week after making his second injury rehabilitation start.

Source:

CNNSI.com

Updated May 15

Share Tweet

Astros get win over Tigers in last chance for 2013

Veteran reliever K-Rod set to rejoin Brewers

Updated May 15

Share Tweet

Milwaukee has promoted Francisco Rodriguez to its big league club.

Winning's still main thing for Cards, Rangers

Updated May 15

Share Tweet

Since the Rangers and Cardinals went toe-to-toe for seven tense, wonderful games in the 2011 World Series, plenty has happened to both franchises. Yet, in a lot of ways, nothing at all has happened. In many respects, these two organizations that exchang…

Updated May 15

Share Tweet

Houston manager Bo Porter wanted to make a couple main points in a pregame meeting with right-hander Lucas Harrell.

Source:

ESPN.com

Updated May 15

Share Tweet

Andrew McCutchen was a blur running around the bases after driving Mike Fiers' 2-2 pitch into PNC Park's right-field bleachers leading off the 12th inning on Tuesday to give the Pirates a 4-3 walk-off over the dreaded Milwaukee Brewers.

CarGo homers twice, gets five hits in Rox win

Updated May 15

Share Tweet

Carlos Gonzalez homered twice among his career-high five hits to back Rockies lefty Jeff Francis, who allowed one run on three hits over six innings in a 9-4 win over the Cubs at Wrigley Field on Tuesday night.

Miller Solid In Win Over Mets

May 15

Rookie Shelby Miller followed up his nearly perfect one-hitter with 5 2/3 scoreless innings.

Choo Homers Twice In Reds' Win

May 15

Shin-Soo Choo collected four hits, including two homers, in the Reds' 4-0 win over the Marlins.