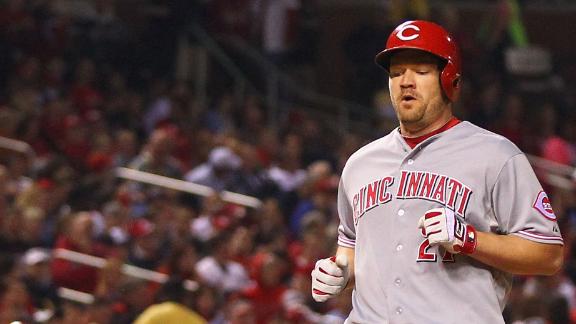 MILWAUKEE (AP) The entire Milwaukee Brewers coaching staff will return in 2013, manager Ron Roenicke said Tuesday.

Upvote Share Tweet

Minute Maid unlikely to move in center-field wall

With the Seattle Mariners announcing Tuesday they were bringing in the fences at Safeco Field, the American League West -- the Astros' new home next year -- has become a little more hitter friendly. But could the Astros follow suit and bring in their fe…

Upvote Share Tweet

Matheny recognizes importance of celebrating

Over the past week, differing opinions emerged from the Cardinals' clubhouse about whether or not clinching a spot in the Wild Card game warranted a champagne-popping, raucous celebration -- much like the one the Braves partook in last week, when they s…

Upvote Share Tweet

Cueto, Arroyo, Latos to start first three of NLDS

The Reds don't yet have an opponent for the National League Division Series, but they have a rotation set. Not surprising is that Johnny Cueto will start Game 1, followed by Bronson Arroyo in Game 2 and Mat Latos in Game 3.

Upvote Share Tweet

deadspin.com MLB.com

Updated Oct 2, 2012

Today, Ben Sheets announced that he will start for the Braves tomorrow against the Pirates, and then retire. Tomorrow will mark Sheets's fifth start for the Braves this season after missing nearly two calendar years with a torn flexor in his pitching el…

Upvote Share Tweet

Adam Greenberg's at-bat recalls memories of Minnie Minoso and Bill Veeck

Former Cubs outfielder Adam Greenberg getting his one at-bat for the Miami Marlins on Tuesday night reminds me of Minnie Minoso and the Chicago White Sox. My mom and I were there the last weekend of the regular season in 1980 when Chicago White Sox lege…

Upvote Share Tweet

Cardinals fans seem happy that Albert Pujols won't be appearing in the playoffs

With one more victory or a Los Angeles Dodgers loss, the St. Louis Cardinals will clinch their second trip to the postseason in as many years. Now, is there a chance their journey might only last one day with a loss to the Atlanta Braves in Friday's wil…

Upvote Share Tweet

The Playoff Picture: How Did the Pundits Do?

nytimes.com

Updated Oct 2, 2012

An analysis of preseason picks from 133 baseball writers at 19 publications and sites reveals that not a single writer predicted the A's or the Orioles to make the playoffs.

Upvote Share Tweet

How A Career Ends: Jay Bell Homered Off A Hall Of Famer In His First At-Bat, Flied Out In His Last

deadspin.com

Updated Oct 2, 2012

Tell Me When It's Over is an interview series in which we ask former athletes about the moment they knew their playing days were over. Today: former major-league infielder Jay Bell, who scored the winning run in Game 7 of the 2001 World Series.

Upvote Share Tweet

Dodgers ballboy takes funny tumble into stands after trying to snag foul ball (Video)

The elimination number of the Los Angeles Dodgers is down to one, but they're not going quietly just yet. A 3-2 walkoff win over the San Francisco Giants on Monday night kept the team's hopes of forcing a Thursday tiebreaker with the St. Louis Cardinals…

Upvote Share Tweet

Cubs lose 100 games for first time in 46 years

For a team that owns the biggest reputation in sports for futility, the Chicago Cubs have been adept in avoiding 100 losses through the years. Not this season, though. The lowly Houston Astros came to Wrigley Field on Monday night and helped the Cubs re…

Upvote Share Tweet

If the Nats end up with the best record in baseball, they could start on Sunday against the Wild Card team -- either the Braves or Cardinals. If they have the second-best record, behind the Reds, they'll start on Saturday, against the Giants.

Upvote Share Tweet

Reds Hold Off Cardinals

Oct 2

Scott Rolen homered off Chris Carpenter, helping the Reds keep the Cardinals' postseason plans on hold.