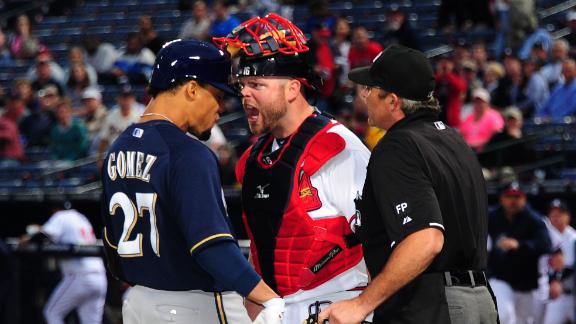 Milwaukee Brewers center fielder Carlos Gomez and Atlanta Braves first baseman Freddie Freeman were ejected in the first inning Wednesday night after both benches cleared during an argument.
Share
Tweet
Pirates' Pedro Alvarez reaches third base on line drive to shortstop in most 'Cubs' play ever

yahoo.com

Sep 25, 2013

Only the Chicago Cubs would allow a guy to reach third base on a line drive hit to the shortstop. It happened at Wrigley Field in the seventh inning Wednesday afternoon, when Pittsburgh Pirates slugger Pedro Alvarez led off with a screaming line drive, …

Share Tweet

Braves fall half-game behind Cards for NL best record

A benches-clearing confrontation that developed after Carlos Gomez crushed a first-inning home run off Paul Maholm will stand as most memorable moment created during Wednesday night's 4-0 loss to the Brewers that dropped the Braves a half-game behind St…

Share Tweet

The Pirates may be headed to the postseason, but the Cubs were able to celebrate one more win at home Wednesday afternoon. Darnell McDonald hit a pair of doubles and a tiebreaking three-run homer to lift the Cubs to a 4-2 victory over the Pirates to clo…

Share Tweet

A win Wednesday afternoon, when their best pitcher faced the division's worst team, would have made it easy for the Pirates. But Francisco Liriano and the Bucs lost to the Cubs, 4-2, at Wrigley Field. Three games back of the first-place Cardinals, the B…

Share Tweet

Rookie Shelby Miller won his 15th game, and Yadier Molina had the go-ahead hit for the St. Louis Cardinals, who wrapped up a three-game sweep of the Washington Nationals and moved another step closer to the NL Central title with a 4-1 victory on Wednesd…

Share Tweet

Routine Line Drive Avoids Starlin Castro's Glove

deadspin.com

Sep 25, 2013

Just your garden-variety three-base error for Cubs shortstop Starlin Castro in this afternoon's fourth inning. He would later boot a grounder in the ninth, too, but the Cubs did manage to win. Read more...

Share Tweet

What do St. Louis Cardinals pitcher Michael Wacha and Vanilla Ice have in common? Well, they both know what it's like to be on top of the world, then have that moment snatched away. For Wacha, that was the ninth inning of Tuesday night's game against th…

Share Tweet

Dice-K helps Mets win 2 of 3 vs. sliding Reds

ESPN.com

Sep 25, 2013

Daisuke Matsuzaka scattered four hits in 7 2/3 shutout innings to win his third consecutive start, outdueling Cincinnati's Mat Latos in the New York Mets' 1-0 victory over the Reds on Wednesday.

Share Tweet

Facing a potential elimination from the division race, the Reds fell to the Mets, 1-0, on Wednesday despite seven innings of one-run ball from Mat Latos.

Share Tweet

The man who could steal a title

CNNSI.com

Sep 25, 2013

The stolen base is an audacious thing. Baseball claims any number of wink-and-nod transgressions: Stealing signs, corking bats, scuffing balls. None is as brazen as taking bases without permission. It's OK to steal. It's within the agreed-upon rules.

Share Tweet

Reds pitcher Tony Cingrani threw his second successful bullpen session in the last three days on Wednesday, and the 24-year-old left-hander could soon be back on the mound pitching in an actual game.

Share Tweet

ESPN.com

Sep 25, 2013

Gerrit Cole threw six strong innings and the Pittsburgh Pirates took over the NL wild-card lead, beating the Chicago Cubs 8-2 Tuesday night.

Share Tweet

Brewers, Braves Scuffle

Sep 25

Carlos Gomez's antics following a solo home run in the first led to benches clearing and Gomez, along with two Braves, getting ejected in the Brewers' 4-0 win.

Cardinals Complete Sweep Of Nationals

Sep 25

Matt Adams homered and Yadier Molina drove in two runs to lead the Cardinals to a 4-1 win over the Nationals.

Dice-K, Mets Blank Reds

Sep 25

Daisuke Matsuzaka pitched 7 2/3 shutout innings to help the Mets beat the Reds 1-0.

Rizzo Reflects On Cubs' Season

Sep 25

Anthony Rizzo discusses the Cubs season following their final home game.