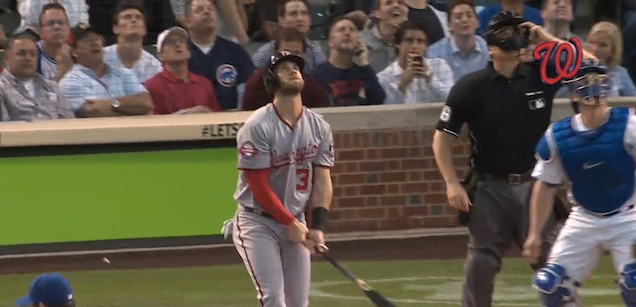 Bryce Harper Mad He Flied Out, Actually Hits Home Run
deadspin.com
Updated 1 hour ago
Bryce Harper is on such a tear right now—with a .467 on-base percentage and .734 slugging percentage—that the Nationals outfielder's flyouts turn into home runs, like the one he hit Tuesday night against the Cubs. Or, maybe Harper was angry that he didn…
Share
Tweet
yahoo.com MLB.com nytimes.com

9 hours ago

Take a look around the league with Big League Stew's daily wrap up. We'll hit on all of the biggest moments from the day that you may have missed, while providing highlights, photos and interesting stats. It's been a long day for Los Angeles Dodgers inf…

Share Tweet

MLB.com nytimes.com

9 hours ago

or everyone saying there's something wrong with Clayton Kershaw, the reigning NL MVP and Cy Young Award winner proved he can still be dominant in Tuesday night's 8-0 win over the Braves.

Share Tweet

MLB.com

10 hours ago

Josh Donaldson's game-ending homer capped a monster evening for the Blue Jays and highlighted a wild Tuesday night of walk-offs in baseball, with the Cubs' Addison Russell, the Mets' Wilmer Flores and the Reds' Skip Schumaker making it a season-high fou…

Share Tweet

MLB.com

10 hours ago

Jon Lester and Max Scherzer were the top two free-agent pitching acquisitions this past offseason, and they will meet on the mound on Wednesday afternoon as the Cubs and Nationals complete a three-game series at Wrigley Field.

Share Tweet

Mets 5, Phillies 4: Mets Bounce Back After Bullpen Mars Jacob deGrom's Strong Start

nytimes.com

12 hours ago

The Mets squandered a three-run lead in the eighth but tied the score again in the bottom of the inning, and Wilmer Flores delivered a game-ending single in the 10th.

Share Tweet

Flores Delivers Again, Mets Beat Phillies 5-4 in 10 Innings

nytimes.com

13 hours ago

Wilmer Flores singled home the winning run with two outs in the 10th inning for his second huge hit in two days, giving the New York Mets a 5-4 victory over the Philadelphia Phillies on Tuesday night.

Share Tweet

Russell Double Gives Cubs 3-2 Win Over Nationals

nytimes.com

14 hours ago

Addison Russell hit a game-ending RBI double in the ninth inning, and the Chicago Cubs beat the surging Washington Nationals 3-2 on Tuesday night.

Share Tweet

Russell delivers game-winner to beat Nats

MLB.com

14 hours ago

Addison Russell's walk-off hit in the bottom of the ninth lifted the Cubs to a 2-1 win over the Nationals on Tuesday night.

Share Tweet

nytimes.com MLB.com

14 hours ago

Jeff Locke worked into the sixth inning in his first win in more than a month, and the Pittsburgh Pirates dropped the reeling Miami Marlins 5-1 on Tuesday night.

Share Tweet

nytimes.com yahoo.com

16 hours ago

Embattled general manager Ruben Amaro Jr. apologized Tuesday to Philadelphia Phillies fans for saying they "don't understand the game" and the "process" that goes into constructing a team.

Share Tweet

Marlins tweak staff; Harris new 3B coach

MLB.com

17 hours ago

The Marlins announced before Tuesday's game against the Pirates that former third-base coach Brett Butler has been reassigned, with Lenny Harris taking over in that role.

Share Tweet

Fish fried: Marlins continue shake-up as third base coach gets reassigned

yahoo.com

17 hours ago

It's been quite the month for the Miami Marlins. After firing manager Mike Redmond in order to hire general manager Dan Jennings in that role, things have started to spiral out of control. The club hasn't played particularly well under its new leader, a…

Share Tweet

The Phillies' GM Is Sick Of All These Fans Who Just "Bitch And Complain"

deadspin.com

21 hours ago

Phillies GM Ruben Amaro has constructed a team that has put together back-to-back 73-win seasons, and with the club's current record sitting at 19-28, it doesn't look like things are going to get better this year. And yet, Amaro would really like for al…

Share Tweet

Storytime With Vin Scully: Jonny Gomes Vs. A Wolf

deadspin.com

22 hours ago

Please enjoy this video from yesterday's Braves-Dodgers game: Vin Scully, the official narrator of summer, tells the tale of the time a young Jonny Gomes saw his life flash before his eyes when he was tackled by a wolf. I don't want to ruin the ending, …

Share Tweet

With Just One Retweet, You'll Help A Pathetic Team Give Something Away

deadspin.com

22 hours ago

The Mets have approximately 356,000 followers on Twitter. Today, they asked 5,000 accounts—who, according to the fine print, must follow them—to retweet their tweet in order for them to give away an autographed Bartolo Colon jersey.Read more...

Share Tweet

In Nats, Cubs catch glimpse of own future

MLB.com

May 26 (yesterday)

Monday was a special day for baseball fans, especially those in Chicago. Despite a 2-1 loss to the Nationals, it marked the first Memorial Day game at Wrigley Field since 2009 that the ballpark was a gathering place for fans looking toward the summer wi…

Share Tweet

Mets, David Wright, seeking help for back injury in California

nydailynews.com

May 26 (yesterday)

So David Wright flew to California with a bad back not so much to get a another medical opinion as get physical therapy?

Share Tweet

Giancarlo Stanton: Face Of The National League

Mar 17

Marlins right fielder Giancarlo Stanton's season was cut short after taking a pitch to the side of the face in September. Stanton steps back to the plate, unfazed -- with a new $325 million contract and a specially designed face shield.

Gee, Wheeler React To TJ Surgery News

Mar 17

placeholder

Mets Fall To Red Sox

Mar 16

Matt Harvey allowed three hits over four scoreless innings for his second strong start following elbow surgery, but the Mets lost to the Red Sox 4-3.

Matt Harvey Day, Part 2

Mar 11

Adam Rubin delivers Wednesday news from Mets camp, including Matt Harvey's second Grapefruit League outing and Dillon Gee getting acclimated to a relief role.