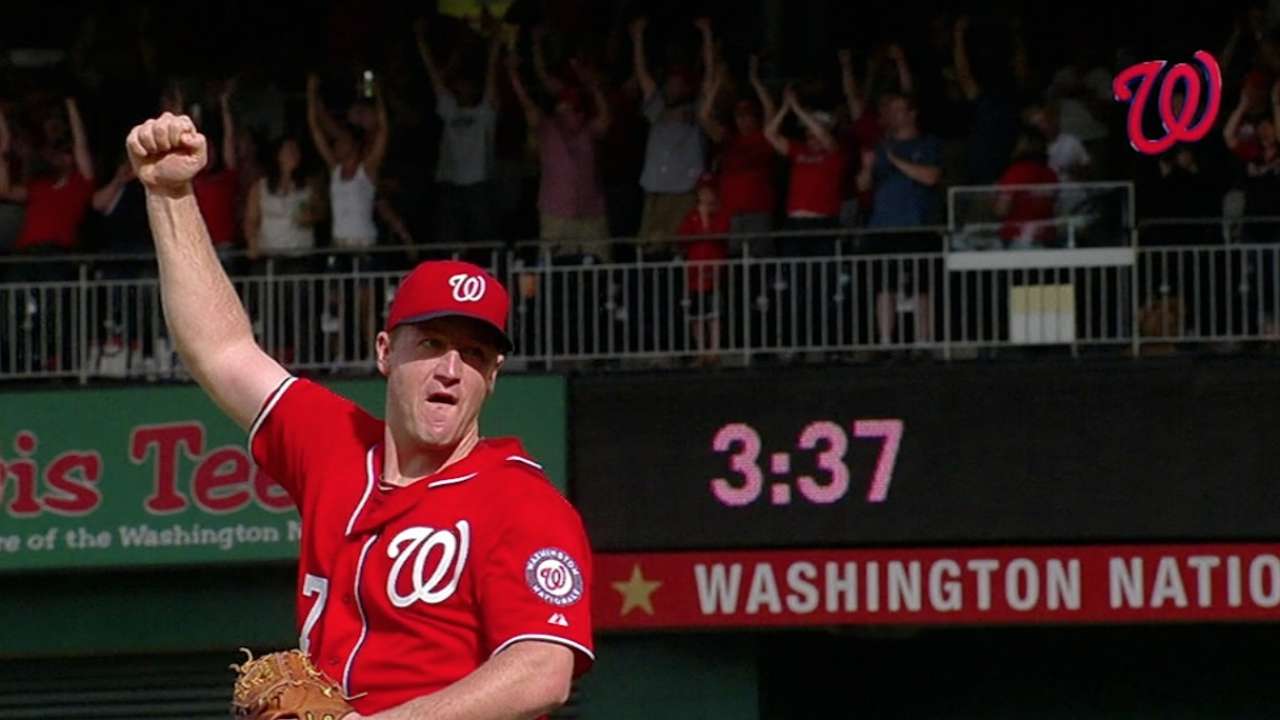 Nats could have options with Zimmermann, Fister
MLB.com
Updated 6 hours ago
According to USA Today, the Nationals have told opposing teams they would listen to possible deals involving right-handers Jordan Zimmermann and Doug Fister. Fister and Zimmermann are free agents after the 2015 season and general manager Mike Rizzo woul…
Upvote
Share
Tweet
Mike Schmidt: Marlins' Stanton Too Rich Too Early?

nytimes.com

4 hours ago

In the 1970s and again in '80s, I signed that era's version of the Giancarlo Stanton deal.

Upvote Share Tweet

MLB.com

9 hours ago

Though they are not currently positioned to provide the financial riches Jon Lester and Cuban sensation Yasmany Tomas will soon receive, the Braves have not ruled out the possibility of signing at least one of these top-tier free agents.

Upvote Share Tweet

MLB.com nytimes.com ESPN.com

Nov 20 (yesterday)

Giancarlo Stanton has made a long-term commitment to the Marlins and the city of Miami, and the slugger hopes to eventually see the market embrace the organization that has ranked low in the standings and at the gate since he made his debut in 2010.

Upvote Share Tweet

Harmon becomes part of Hall of Fame after visit

MLB.com

Nov 20 (yesterday)

Terry Harmon played 10 seasons in the big leagues as a utility infielder for the Phillies, retiring after the 1977 season. Last year, he and his wife, Kay, decided to do something they'd never done before: visit the National Baseball Hall of Fame and Mu…

Upvote Share Tweet

nytimes.com MLB.com

Nov 20 (yesterday)

The team is hoping that Kevin Long, who throws batting practice left-handed to lefty hitters, will help Curtis Granderson and Lucas Duda.

Upvote Share Tweet

Top prospect Peraza among Braves' roster additions

The Braves bid adieu to the longest-tenured member of their organization to create 40-man roster space for top prospect Jose Peraza and six other Minor Leaguers who will have an opportunity to experience their first Major League Spring Training.

Upvote Share Tweet

Marlins reportedly make offer to LaRoche

The Marlins may not have to look outside of their own division to find a middle-of-the-order hitter. Miami reportedly has a two-year, $20 million offer on the table to free agent Adam LaRoche, according to the Miami Herald.

Upvote Share Tweet

Big Deals on Minds of Owners During MLB Meetings

nytimes.com

Nov 19 (2 days ago)

Yankees President Randy Levine offered a succinct response when asked what he thought about the Marlins and outfielder Giancarlo Stanton breaking the record for richest contract that had been held by Alex Rodriguez for more than 13 years until last spri…

Upvote Share Tweet

The Marlins introduced their $325 million man at a news conference Wednesday, ushering in a new era in Miami with slugger Giancarlo Stanton as the centerpiece and building block of their team.

Upvote Share Tweet

Another Marlins Scam

Nov 19

Giancarlo Stanton's contract is another Marlins scam, and it's going to end in a firesale. Keith Olbermann explains.

Stanton Ready To Bring Consistency To Miami

Nov 19

Marlins OF Giancarlo Stanton joins "SportsCenter" to talk about his record $325 million, 13-year contract and his recovery since being hit in the face with a pitch.

Heyward Addition Big Plus For Cardinals

Nov 17

Eric Karabell and David Schoenfield discuss the Cardinals' trade for outfielder Jason Heyward.

Braves Trade Heyward To Cardinals

Nov 17

Buster Olney breaks down the Braves' decision to trade Jason Heyward and Jordan Walden to the Cardinals for Shelby Miller and Tyrell Jenkins.