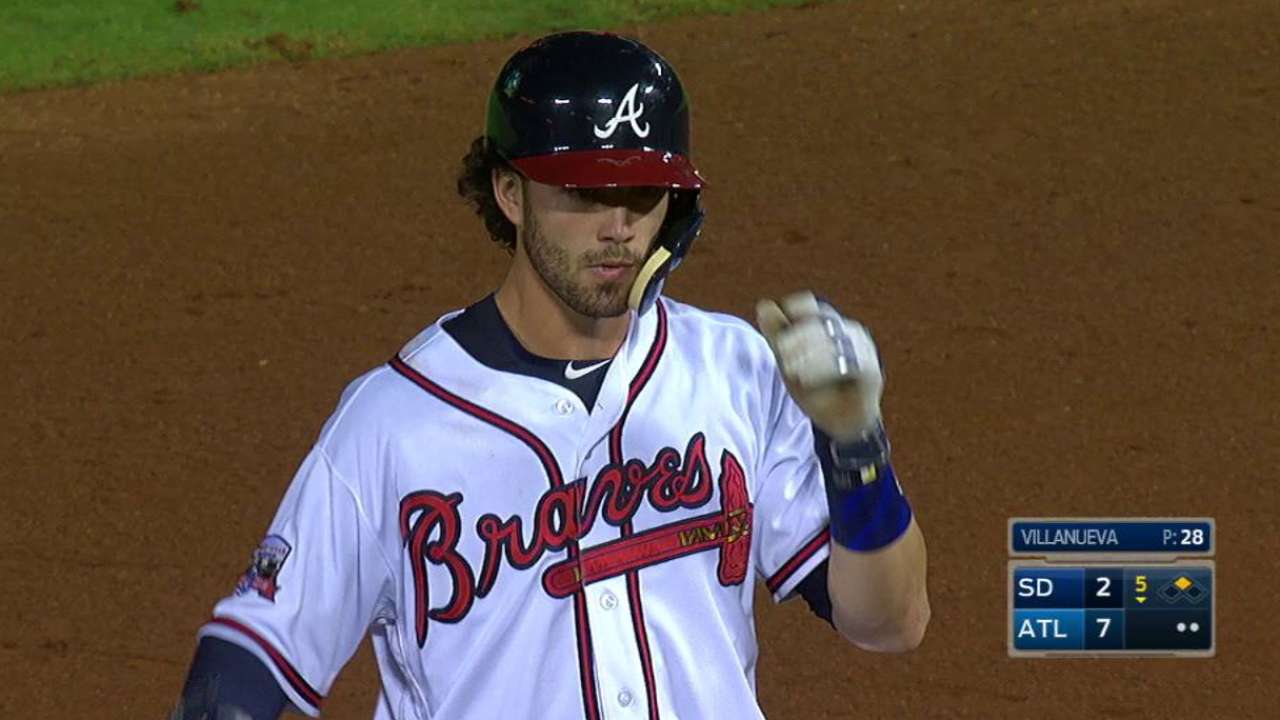 MLB.com
nytimes.com
Updated 1 hour ago
Along with distancing himself from the nagging ailments that hampered him over the past two months, Julio Teheran fueled the five-run third inning that soured Edwin Jackson's homecoming and propelled the Braves to a 7-3 win over the Padres on Tuesday ni…
Share
Tweet
ESPN.com nytimes.com

3 hours ago

Injuries aside, things continue to look up for Mets

Share Tweet

Grandy homers twice as Lugo, Mets cruise over Marlins

MLB.com

4 hours ago

For most of the season's second half, the Mets' trademark starting pitching has flagged and, in some cases, faltered. Matt Harvey is done for the season. Steven Matz may be, as well. Jacob deGrom recently skipped a start due to poor performance. Noah Sy…

Share Tweet

MLB.com nytimes.com

4 hours ago

Max Scherzer overmatched the Phillies for eight dominant innings, striking out 11 to lead the Nationals to a 3-2 victory. It was Washington's eighth consecutive victory over Philadelphia; the Nationals have won 13 of their last 15 games at Citizens Bank…

Share Tweet

Pence returns after hamstring flareup

MLB.com

5 hours ago

Hunter Pence's right hamstring continued to tighten during the Giants' 4-0 win against the Dodgers last Thursday. No stranger to issues involving that muscle, Pence wisely exited the game, missed San Francisco's three-game series against the Braves and …

Share Tweet

nytimes.com yahoo.com deadspin.com

5 hours ago

The slugging Mets outfielder received a stuffed toy dragon from a fan when he returned from the disabled list. Since then, he's been on a tear.

Share Tweet

MLB.com ESPN.com nytimes.com

7 hours ago

The Mets have scratched Steven Matz from his scheduled start Thursday against the Marlins, manager Terry Collins said. Matz experienced irritation in his shoulder throwing over the weekend, and does not feel well enough to pitch.

Share Tweet

One of the last healthy players standing from the Mets' Opening Day lineup, Neil Walker has officially joined the ranks of the seriously injured. Walker continues to deal with back stiffness that, on Tuesday, Mets manager Terry Collins called symptomati…

Share Tweet

Vizcaino lands on DL with shoulder inflammation

Less than two weeks after returning to the Braves' bullpen from an oblique strain, Arodys Vizcaino landed on the disabled list again on Tuesday, this time with right shoulder inflammation.

Share Tweet

Conley could return from DL in three weeks

After seeing a specialist in New York on Monday, Adam Conley was cleared to start his throwing program. On Tuesday in Miami, the Marlins' left-hander played catch for the first time since he went on the disabled list with a bruised hand on Aug. 14.

Share Tweet

nytimes.com MLB.com

Aug 29 (yesterday)

Tanner Roark won't fly under the radar the way he's pitching.

Share Tweet

Mets Enter a Crucial Homestand Hobbled, if Still Hopeful

nytimes.com

Aug 29 (yesterday)

The Mets are two and a half games shy of a wild-card spot, but persistent injuries and a slumping new acquisition are making the hunt more difficult.

Share Tweet

Ichiro passes Boggs on all-time hits list

A couple of hits on Monday night moved Marlins outfielder Ichiro Suzuki up MLB's all-time hits list. Ichiro had a single and double against the Mets at Citi Field, giving him 3,011 in his career to pass Wade Boggs for 27th place all time.

Share Tweet

All signs positive for Stras after bullpen session

Stephen Strasburg threw a bullpen session at Citizens Bank Park prior to Monday night's game against the Phillies, one week after he was placed on the disabled list with soreness in his right elbow.

Share Tweet

Former player Carone fighting cancer with BP

Shortly after Rick Carone was diagnosed with Stage IV pancreatic cancer in 2013, Adam LaRoche, then a member of the Nationals, knew his friend needed some sort of inspiration.

Share Tweet

Nationals promote Taylor, option Giolito

Washington recalled speedster Michael Taylor from Triple-A on Monday, giving them another blazing outfield option to go along with Trea Turner and Ben Revere.

Share Tweet

Latos reportedly will be called up by Nats this week

Mat Latos is staying in the Nationals organization and will be back in the Majors in September. The veteran right-hander, who signed a Minor League deal in June that included an opt-out clause if he was not in the Majors by Monday, will not exercise tha…

Share Tweet

Giancarlo Stanton: Face Of The National League

Mar 17

Marlins right fielder Giancarlo Stanton's season was cut short after taking a pitch to the side of the face in September. Stanton steps back to the plate, unfazed -- with a new $325 million contract and a specially designed face shield.

Gee, Wheeler React To TJ Surgery News

Mar 17

placeholder

Mets Fall To Red Sox

Mar 16

Matt Harvey allowed three hits over four scoreless innings for his second strong start following elbow surgery, but the Mets lost to the Red Sox 4-3.

Matt Harvey Day, Part 2

Mar 11

Adam Rubin delivers Wednesday news from Mets camp, including Matt Harvey's second Grapefruit League outing and Dillon Gee getting acclimated to a relief role.