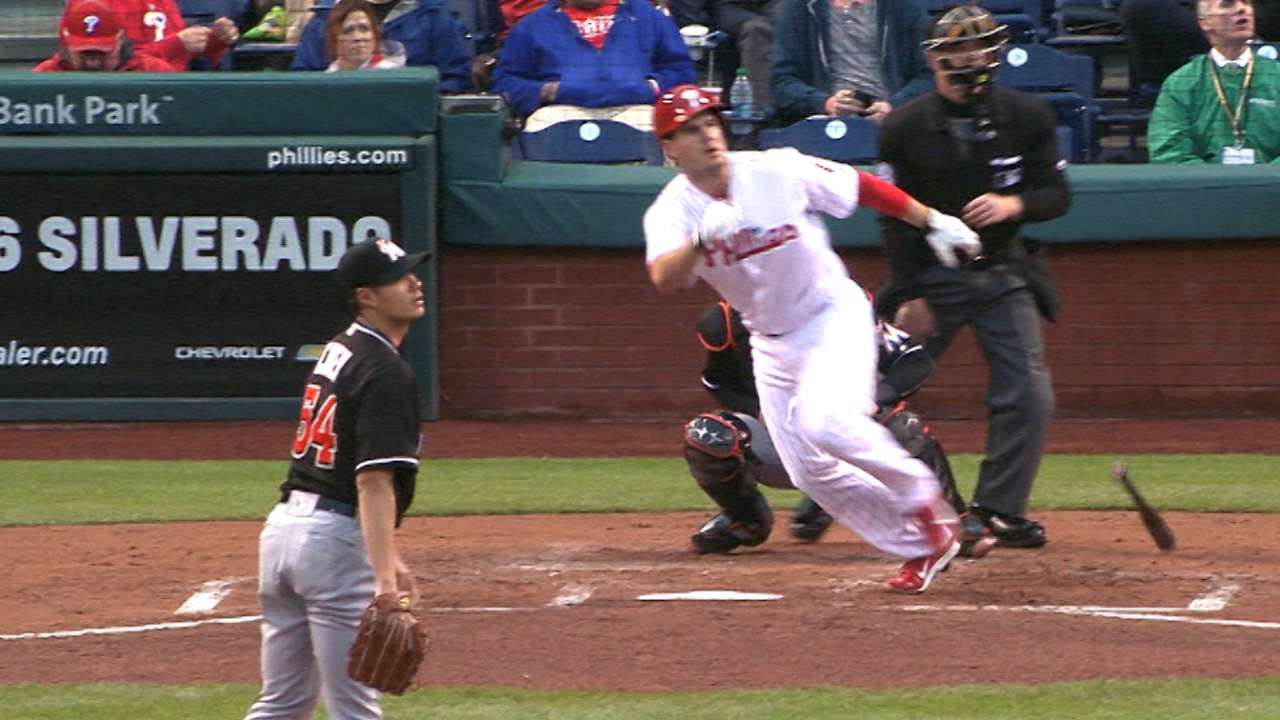 Jose Fernandez's mother pens thank-you note to Marlins fans

ESPN.com

Oct 21 (4 days ago)

Jose Fernandez's mother pens thank-you note to Marlins fans

Share Tweet

10 Years Ago Today, Carlos Beltran Didn't Swing

deadspin.com

Oct 19 (6 days ago)

It's got to be the single most famous baseball play in which a hitter didn't take the bat off his shoulder. Oct. 19, 2006, bottom of the ninth, two outs, bases loaded, the Cardinals clinging to a two-run lead in Game 7 of the NLCS, and the Mets' most fe…

Share Tweet

5 Marlins relievers who could step up in 2017

MLB.com

Oct 19 (6 days ago)

There aren't many relievers as dominant as Andrew Miller, but Miami does have several candidates who can assume multiple relief roles. Here's a breakdown of five who could do for the Marlins what Miller is doing for the Tribe.

Share Tweet

And during the 14th at-bat, he singled. It may have taken a little while, but former quarterback turned New York Mets outfielder Tim Tebow finally picked up his first hit in the Arizona Fall League. The base hit came during Tebow's second at-bat during …

Share Tweet

yahoo.com

Oct 18 (7 days ago)

Let's face it: jury duty, despite being a vital part of our justice system, isn't a lot of fun. But you know what would make it a lot more fun? The mascot of the Philadelphia Phillies, the fuzzy green Phillie Phanatic. This isn't a thought exercise — th…

Share Tweet

Nats nearly triumph in 2016 behind vets' energy

MLB.com

Oct 18 (7 days ago)

The Nationals had the talent to go far into the postseason this year, but for the third time in five years, they were bounced in the National League Division Series, this time by the Dodgers.

Share Tweet

Hall of Famer Dawson throws Game 2 first pitch

MLB.com

Oct 16

Andre Dawson may very well spend the remainder of his post-playing career as a member of the Miami Marlins organization, but he will always be a welcomed guest to Wrigley Field -- especially this time of year.

Share Tweet

yahoo.com

Oct 15

Clayton Kershaw will start Sunday's Game 2 for the Dodgers. (AP) CHICAGO — The baseball world's suspicions that Clayton Kershaw would start Sunday's Game 2 of the NLCS started to gel around 2:45 p.m. on Saturday. That's when the Los Angeles Dodgers ace …

Share Tweet

Keeping Score: Time (It Takes to Complete a Game) Isn't on M.L.B.'s Side

nytimes.com

Oct 15

Even in a season where the length of games ticked up, Game 5 between the Dodgers and the Nationals stands out, taking 4 hours 32 minutes to complete.

Share Tweet

nytimes.com

Oct 15

Lindor's home run won Game 1 of the American League Championship Series, and many see him as a foundation player for the franchise.

Share Tweet

Giancarlo Stanton: Face Of The National League

Mar 17

Marlins right fielder Giancarlo Stanton's season was cut short after taking a pitch to the side of the face in September. Stanton steps back to the plate, unfazed -- with a new $325 million contract and a specially designed face shield.

Gee, Wheeler React To TJ Surgery News

Mar 17

placeholder

Mets Fall To Red Sox

Mar 16

Matt Harvey allowed three hits over four scoreless innings for his second strong start following elbow surgery, but the Mets lost to the Red Sox 4-3.

Matt Harvey Day, Part 2

Mar 11

Adam Rubin delivers Wednesday news from Mets camp, including Matt Harvey's second Grapefruit League outing and Dillon Gee getting acclimated to a relief role.