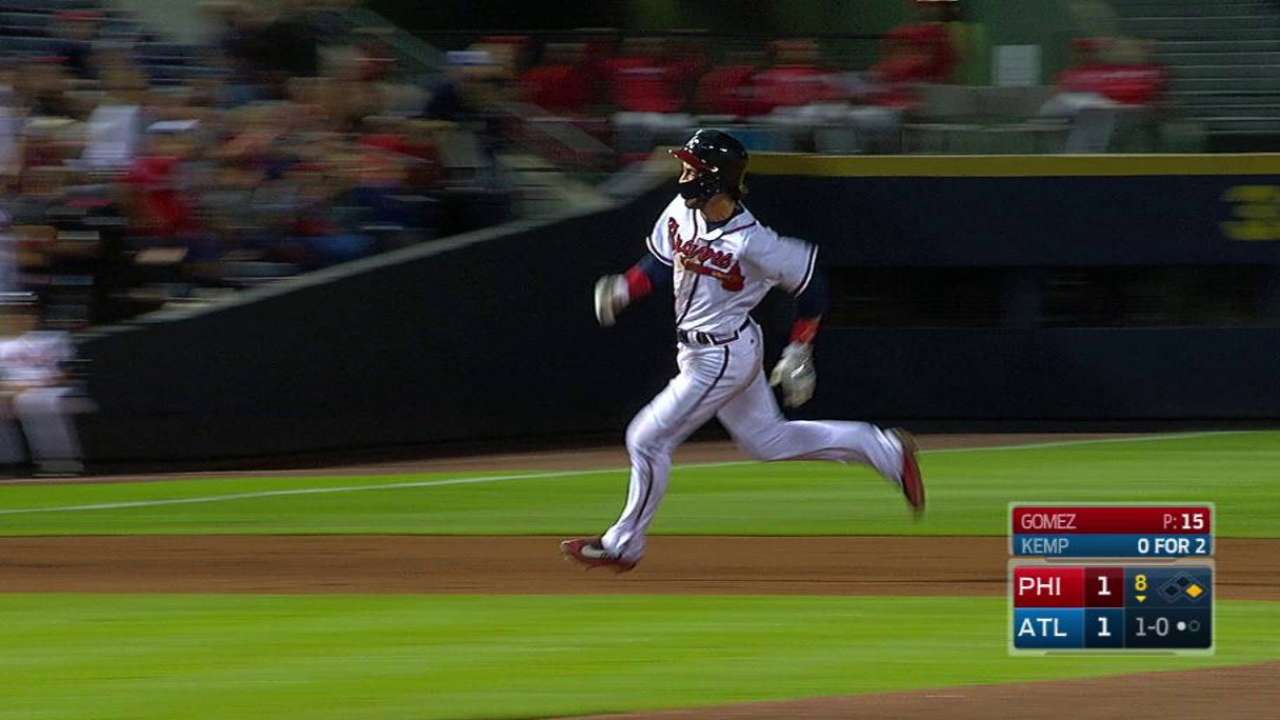 MLB.com
nytimes.com
Updated 4 hours ago
Dansby Swanson homered for the first time at Turner Field and Matt Kemp delivered a go-ahead, RBI double in the eighth inning, as the Braves extended their winning streak against the Phillies to seven games in Thursday night's 5-2 win.
Share
Tweet
Klentak: Starting pitching best success story

MLB.com

4 hours ago

Phillies general manager Matt Klentak marks his one-year anniversary with the organization late next month. He likes what he has seen in his first 11.

Share Tweet

yahoo.com

5 hours ago

The sun is setting on Turner Field. (AP) ATLANTA, Ga.–There's a strange vibe at Turner Field these days that has nothing to do with the baseball-like product that the Braves are playing. The team's touting a countdown of the final days at its perfectly …

Share Tweet

Hellickson exits with right knee sprain

MLB.com

6 hours ago

Jeremy Hellickson's first and possibly only season with the Phillies had to be considered a success.

Share Tweet

nytimes.com yahoo.com

6 hours ago

Two more wins would assure the Mets a home game to start the playoffs on Wednesday.

Share Tweet

Inciarte solidifying role as leadoff hitter

MLB.com

7 hours ago

Over the past three seasons, 19 players have batted leadoff for the Braves. And although eight have filled that spot this year, Ender Inciarte has cemented his status atop the order over the past two months.

Share Tweet

Nats take finale, move closer to home field

MLB.com

9 hours ago

The Nationals' lineup Thursday was once again missing many of its usual stars, with Wilson Ramos out for the season and Daniel Murphy and Bryce Harper nursing injuries. But that didn't stop Dusty Baker's squad, which rode big games from several replacem…

Share Tweet

Bartolo Colon's Secret: It's the Wrist, Not the Waist

nytimes.com

10 hours ago

At age 43 and 285 pounds, the Mets pitcher thrives with one pitch by making it move three ways.

Share Tweet

Ross Throws 90 Pitches in 4 Innings; Nats Top Arizona 5-3

nytimes.com

11 hours ago

Sure, the Washington Nationals would love to lock up home-field advantage in the NL Division Series against the Los Angeles Dodgers. What Dusty Baker is more concerned about is getting ready for the playoffs, and that includes having pitcher Joe Ross re…

Share Tweet

Murphy unlikely to play until postseason

MLB.com

13 hours ago

Nationals second baseman Daniel Murphy is unlikely to play again during the regular season, aside from maybe a pinch-hit opportunity, manager Dusty Baker said Thursday.

Share Tweet

MLB.com

Sep 29 (yesterday)

The Nationals left the door wide open for the Dodgers to gain some ground Wednesday night in the race for home-field advantage in their upcoming Division Series. A pair of Padres rookies helped slam it shut. Hunter Renfroe and Manuel Margot had two hits…

Share Tweet

Giancarlo Stanton: Face Of The National League

Mar 17

Marlins right fielder Giancarlo Stanton's season was cut short after taking a pitch to the side of the face in September. Stanton steps back to the plate, unfazed -- with a new $325 million contract and a specially designed face shield.

Gee, Wheeler React To TJ Surgery News

Mar 17

placeholder

Mets Fall To Red Sox

Mar 16

Matt Harvey allowed three hits over four scoreless innings for his second strong start following elbow surgery, but the Mets lost to the Red Sox 4-3.

Matt Harvey Day, Part 2

Mar 11

Adam Rubin delivers Wednesday news from Mets camp, including Matt Harvey's second Grapefruit League outing and Dillon Gee getting acclimated to a relief role.