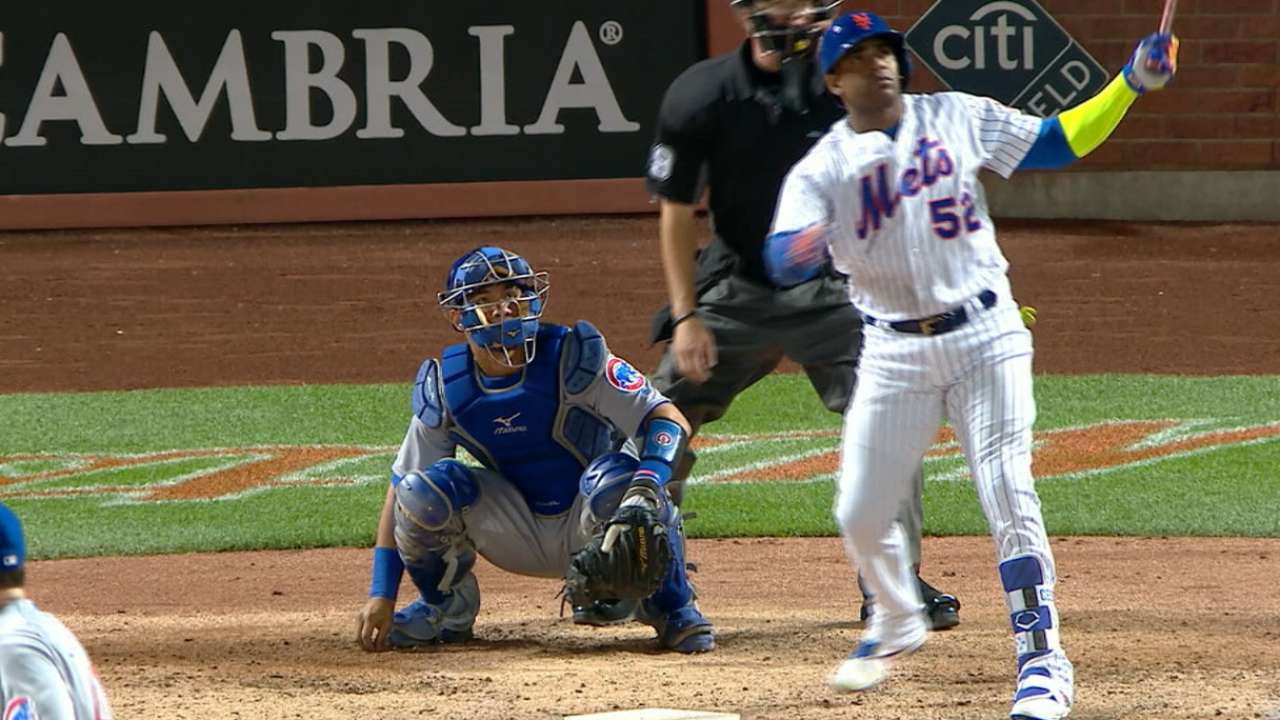 Upper Cespedeck: Yo belts amazin' HR
MLB.com
Updated 1 hour ago
The Mets rallied for a sorely needed 4-3 win over the Cubs at Citi Field on Thursday, parlaying a Javier Baez error into a go-ahead three-run rally in the seventh. Yoenis Cespedes hit the longest home run by a Mets player this season, and Steven Matz mu…
Share
Tweet
ESPN.com nytimes.com

3 hours ago

Lack of contact, bullpen failings roar to forefront in (another) Cubs loss to Mets

Share Tweet

MLB.com nytimes.com

4 hours ago

Pinch-hitter Brandon Snyder's two-run triple off Mike Dunn highlighted a four-run sixth inning that enabled the Braves to further frustrate the Marlins in claiming an 8-5 win on Thursday night at Turner Field.

Share Tweet

MLB.com nytimes.com

5 hours ago

Danny Espinosa launched a pair of home runs, including a grand slam, and drove in seven runs to help pace an offensive outburst for the Nationals in a 13-4 victory against the Reds on Thursday night at Nationals Park. The 13 runs for Washington matched …

Share Tweet

Maddon being cautious with Heyward

MLB.com

7 hours ago

Jason Heyward did not start on Thursday for the second straight game because of some soreness on his left side, which he felt during a throw in the Cubs' last game in Miami on Sunday. Heyward grounded out as a pinch-hitter in the eighth inning against t…

Share Tweet

Hamilton passes concussion protocol

MLB.com

8 hours ago

Reds center fielder Billy Hamilton received clearance to be in the starting lineup for Thursday's series opener vs. the Nationals after passing concussion protocol testing.

Share Tweet

Bryant's tear continues with homer off Matz

MLB.com

8 hours ago

Kris Bryant didn't waste any time on Thursday getting the Cubs on the board against the Mets in their first meeting since the National League Championship Series. Bryant belted his team-leading 22nd home run of the season on the sixth pitch of the game …

Share Tweet

Marlins add needed pitching depth in Fernando Rodney

Share Tweet

Fort Bragg: Baseball's best neutral sites

MLB.com

11 hours ago

The Braves and Marlins will cast aside home-field advantage to pay tribute to the nation's armed forces during Independence Day Weekend. The National League East clubs will add to Major League Baseball's history of neutral-site games on Sunday night at …

Share Tweet

Phillies Prospect Loses Eye In Freak Injury

deadspin.com

12 hours ago

Last Friday, Phillies minor-league pitcher Matt Imhof suffered a serious eye injury in an absolutely freakish accident. He was stretching using a rubber resistance band anchored to a wall when the metal base broke, and a piece struck him in the eye. Doc…

Share Tweet

MLB.com

13 hours ago

The Dodgers addressed their starting-pitching situation on Thursday by acquiring Bud Norris from the Braves, according to a baseball source. The club has not confirmed.

Share Tweet

Giancarlo Stanton: Face Of The National League

Mar 17

Marlins right fielder Giancarlo Stanton's season was cut short after taking a pitch to the side of the face in September. Stanton steps back to the plate, unfazed -- with a new $325 million contract and a specially designed face shield.

Gee, Wheeler React To TJ Surgery News

Mar 17

placeholder

Mets Fall To Red Sox

Mar 16

Matt Harvey allowed three hits over four scoreless innings for his second strong start following elbow surgery, but the Mets lost to the Red Sox 4-3.

Matt Harvey Day, Part 2

Mar 11

Adam Rubin delivers Wednesday news from Mets camp, including Matt Harvey's second Grapefruit League outing and Dillon Gee getting acclimated to a relief role.