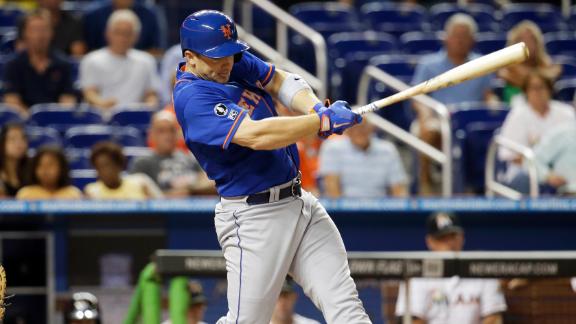 ESPN.com
nytimes.com
yahoo.com
Updated 21 minutes ago
David Wright broke out of his offensive woes with three hits and three RBIs and powered the New York Mets to an 8-6 win over the Miami Marlins on Tuesday night.
Upvote
Share
Tweet
Left fielder Justin Upton has left Atlanta's game against Philadelphia with bruised left triceps.

Upvote Share Tweet

Roundup: Wright and Lagares Lead Mets' Offensive Onslaught

nytimes.com

3 hours ago

Third baseman David Wright had three hits and three runs batted in and center fielder Juan Lagares added a career-high four hits, with two R.B.I., as the Mets tallied 16 hits, two shy of their season high, in beating the Marlins.

Upvote Share Tweet

Lagares, Wright break out in Mets' win

MLB.com

2 hours ago

Juan Lagares had the type of night he needed to continue establishing himself with a month left in the season. And it was the type of night the Mets were all too happy to accept, combining it with David Wright's breakout in an 8-6 win over the Marlins.

Upvote Share Tweet

Phils follow Kendrick to another dominating victory

MLB.com

2 hours ago

Kyle Kendrick had his finest performance of the season Tuesday night in a 4-0 victory over the Braves at Turner Field, allowing three hits in seven innings.

Upvote Share Tweet

MLB.com

3 hours ago

Nationals first baseman Adam LaRoche was given the day off Tuesday because of lower back tightness, and manager Matt Williams didn't rule out LaRoche having the day off Wednesday afternoon.

Upvote Share Tweet

Giancarlo Stanton got the best of a Jon Niese four-seam fastball in the third inning against the Mets on Tuesday to eclipse the 100-RBI mark.

Upvote Share Tweet

Pat Gillick never left the Phillies, but he is back on a full-time basis after ownership asked him last week to be the organization's interim president while David Montgomery takes a medical leave of absence.

Upvote Share Tweet

Top prospect Heaney could fill in for Alvarez

MLB.com

5 hours ago

Don't count out Henderson Alvarez returning to the Marlins' rotation this month. It's just a matter of exactly when. If Alvarez is not ready, an option to fill in is Miami's No. 1 prospect, Andrew Heaney.

Upvote Share Tweet

Yankees make flurry of moves, recall four

MLB.com

9 hours ago

Chris Young had already made the arrangements to have the furniture taken out from his New York City apartment. He had been cut by the Mets on Aug. 15, but he suddenly decided to wait.

Upvote Share Tweet

Phillies seek to integrate prospect Franco into lineup

MLB.com

6 hours ago

The Phillies hope Maikel Franco is that young, impactful hitter they have been seeking for some time. He will get his opportunity to play this month.

Upvote Share Tweet

Bethancourt provides reliable option behind plate

MLB.com

6 hours ago

Now that he has completed a successful season with Triple-A Gwinnett, Christian Bethancourt will spend the regular season's final month attempting to help the Braves reach the postseason.

Upvote Share Tweet

deadspin.com yahoo.com

11 hours ago

Marlins outfielder Marcell Ozuna, who has previously made good throws , was attempting to throw home on David Wright's two-run single with the bases loaded yesterday. It was not good. Read more...

Upvote Share Tweet

yahoo.com

13 hours ago

Denard Span's teammates on the Washington Nationals got right to the point Monday night after he connected for his second home run of the game. Span came in with two home runs in 574 plate appearances all season, but he has been on an unholy tear for a …

Upvote Share Tweet

Many converted catchers find success at new positions

MLB.com

15 hours ago

Joe Torre started out as a catcher for the Milwaukee Braves in 1961. By the time he retired, Torre had started more games at both first and third than behind the plate. In 1971, playing third, Torre led the league in hitting and won the NL MVP Award. As…

Upvote Share Tweet

nytimes.com yahoo.com

21 hours ago

Kyle Kendrick allowed only three hits in seven scoreless innings, Carlos Ruiz homered and drove in two runs, and the Philadelphia Phillies shut out the struggling Atlanta Braves 4-0 on Tuesday night.

Upvote Share Tweet

MLB.com

23 hours ago

Roberto Hernandez allowed four home runs in 4 1/3 innings pitched as the Dodgers dropped the series opener to the Nationals, 6-4, on Monday night. L.A. is two games up on San Francisco in the NL West after the loss.

Upvote Share Tweet

Phillies Blank Braves

Sep 2

The Phillies held the Braves to three hits in their 4-0 win over Atlanta.

Stanton Homers In Marlins' Win

Sep 1

Giancarlo Stanton hit his National League-leading 34th home run in the Marlins' 9-6 win over the Mets.

Hamels On Combined No-Hitter

Sep 1

Phillies starting pitcher Cole Hamels discusses coming out of the game after six innings and the team's combined no-hitter against the Braves.

Phillies Throw Combined No-Hitter

Sep 1

Cole Hamels pitched six innings and three relievers combined to throw the first combined no-hitter in franchise history.