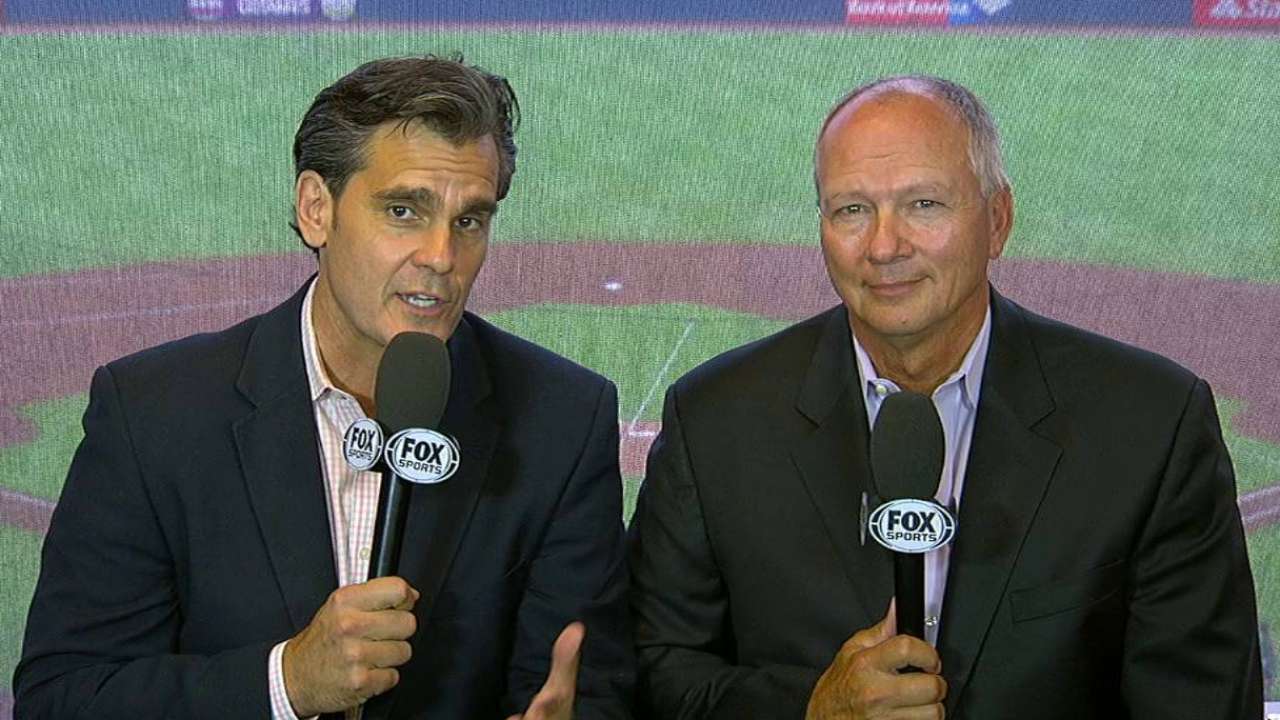 nytimes.com
MLB.com
ESPN.com
yahoo.com
Updated 7 hours ago
Braves general manager John Coppolella is sick of watching his team plummet to the bottom of the major leagues.
Share
Tweet
De La Rosa, Rockies Win 5th Straight, Mets Lose 4th in Row

Now that they've reached .500, Jorge De La Rosa and the Colorado Rockies want to see what's on deck.

Share Tweet

Hellickson Uses Arm, Bat to Help Phillies Beat Braves

The Phillies are more than happy to take advantage of Atlanta's awful season.

Share Tweet

Yelich, Mathis Lead Marlins to 11-0 Win Over Cardinals

Christian Yelich and Jeff Mathis each had three hits and drove in two runs to help lead the Miami Marlins to an 11-0 victory over the St. Louis Cardinals on Saturday night.

Share Tweet

Andrew Cashner's beard consumed by Marlins' facial hair policy

yahoo.com

8 hours ago

We're guessing Andrew Cashner didn't mind leaving San Diego for a contending baseball team in Miami. Then again, Cashner was also asked to leave behind his trademark beard, which had grown to become a legend on its own. As we learned in spring training,…

Share Tweet

Mets cautious with Cespedes' sore right quad

MLB.com

8 hours ago

Mets outfielder Yoenis Cespedes left Saturday's game against the Rockies after five innings, after he appeared to be in some discomfort running to first base on a groundout.

Share Tweet

Newcomer Nunez provides quick jolt for Giants

MLB.com

8 hours ago

Recent acquisition Eduardo Nunez quickly became a crowd favorite Saturday after hitting a two-run double in the fourth as the Giants overcame a three-run deficit to defeat the Washington Nationals, 5-3, at AT&T Park.

Share Tweet

yahoo.com

10 hours ago

The Stew's Trade Deadline Digest recaps the day in news and rumors as MLB gets closer to the non-waiver trade deadline on Aug. 1. If you missed any of Thursday's action, we're here to help you catch up with all the important links and tidbits. OFFENSE N…

Share Tweet

MLB.com nytimes.com ESPN.com

10 hours ago

Before having his No. 31 retired, former Mets star Mike Piazza stood behind a podium and said that he'd try to avoid crying during his pregame speech on Saturday. For insurance, though, the Hall of Fame catcher began his speech in front of a damp, yet e…

Share Tweet

nytimes.com MLB.com yahoo.com

10 hours ago

Keeping up with the rival Cubs, Washington bolsters the back of its bullpen. Each team acquired a pitcher who can be a free agent after the season.

Share Tweet

Small ball helps Giants overcome Nats' homer

MLB.com

10 hours ago

Though definitive, clutch hits mostly continued to elude the San Francisco Giants, they supplemented their offense Saturday with enough little ball to generate a 5-3 victory over the Washington Nationals.

Share Tweet

The Mets Are Clutchless, and Clueless Too

nytimes.com

13 hours ago

They are on pace to have the second-worst batting average with runners in scoring position in baseball history, and team officials do not know why.

Share Tweet

MLB.com

Jul 25 (6 days ago)

Many potential deals are in the works as the non-waiver Trade Deadline -- Monday at 4 p.m. ET -- approaches. Here is a look at the latest news, reports and rumors.

Share Tweet

Giancarlo Stanton: Face Of The National League

Mar 17

Marlins right fielder Giancarlo Stanton's season was cut short after taking a pitch to the side of the face in September. Stanton steps back to the plate, unfazed -- with a new $325 million contract and a specially designed face shield.

Gee, Wheeler React To TJ Surgery News

Mar 17

placeholder

Mets Fall To Red Sox

Mar 16

Matt Harvey allowed three hits over four scoreless innings for his second strong start following elbow surgery, but the Mets lost to the Red Sox 4-3.

Matt Harvey Day, Part 2

Mar 11

Adam Rubin delivers Wednesday news from Mets camp, including Matt Harvey's second Grapefruit League outing and Dillon Gee getting acclimated to a relief role.