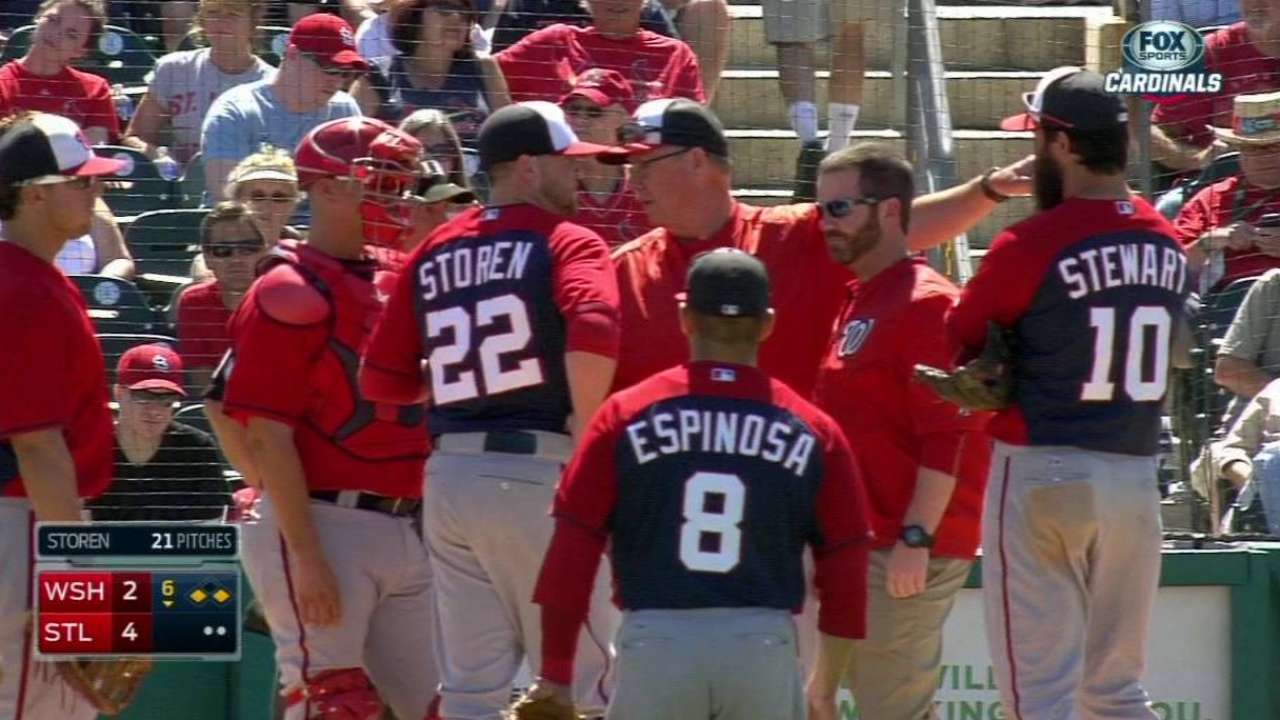 Simon Allows 1 Run in 6 Innings as Tigers Lose to Braves 4-2

nytimes.com

45 minutes ago

Despite some poor spring training outings, Alfredo Simon says he was never worried.

Share Tweet

nytimes.com yahoo.com ESPN.com MLB.com

2 hours ago

The New York Mets made two trades Monday to bolster a bullpen lacking in left-handers, acquiring Alex Torres from the San Diego Padres and Jerry Blevins from the Washington Nationals.

Share Tweet

Mets swing two trades to strengthen their bullpen

yahoo.com

2 hours ago

With a week between them and opening day, the New York Mets pulled off two trades Monday that should strengthen their bullpen. The club acquired Alex Torres from the San Diego Padres earlier in the day, then swung a deal to get Jerry Blevins from the Wa…

Share Tweet

Benches Clear, Pirates Hit 6 Homers in Win Over Phillies

nytimes.com

3 hours ago

A shouting match between coaches cleared the benches in a rare testy spring training game, and Pedro Alvarez homered twice, including a grand slam, as the Pittsburgh Pirates teed off on the Philadelphia Phillies for an 18-4 victory Monday.

Share Tweet

Cuddyer Hits 6th HR, Duda Drives in 5 as Mets Beat Marlins

nytimes.com

3 hours ago

Michael Cuddyer hit his sixth home run this spring and Lucas Duda homered, doubled and drove in five runs as the New York Mets beat the Miami Marlins 7-1 on Monday.

Share Tweet

The Red Sox have acted quickly to fill their need at catcher, acquiring strong defender Sandy Leon from the Washington Nationals for cash considerations on Monday.

Share Tweet

Owner Wilpon surprises Mets with rare speech

ESPN.com

9 hours ago

In a move that was described as rare by captain David Wright, principal owner Fred Wilpon addressed the New York Mets on Monday morning.

Share Tweet

ESPN.com nytimes.com

9 hours ago

Despite losing Zack Wheeler to a ligament tear that required Tommy John surgery, the New York Mets still may trade right-hander Dillon Gee within the month, an organization source told ESPNNewYork.com.

Share Tweet

Bronx Son of Yankees Fans Rekindles Father's Dream With the Mets

nytimes.com

21 hours ago

Johnny Monell Jr., a catcher who grew up a Yankees fan, has impressed the Mets this spring and has a chance to make the team, a dream his father once pursued as well.

Share Tweet

Herrera to start in center field, Revere in left on Opening Day

MLB.com

23 hours ago

Phillies manager Ryne Sandberg announced that Odubel Herrera will be the team's Opening Day center field and Ben Revere will start in left field.

Share Tweet

Hamels named Phillies' Opening Day starter

MLB.com

Mar 29 (yesterday)

Cole Hamels will start for the Philadelphia Phillies on Opening Day, followed by Aaron Harang.

Share Tweet

Miller Solidifies Braves' Spot in 4-2 Loss to Pirates

Shelby Miller is settling in quite nicely with his new team.

Share Tweet

Harper Hits 1 of 7 Homers as Nationals Beat Marlins 11-7

Bryce Harper homered for the second straight day and Jose Lobaton hit a three-run drive run in the eighth, one of seven home runs on a windy afternoon as the Washington Nationals beat the Miami Marlins 11-7 Sunday.

Share Tweet

Utley Homers Twice for Phillies in 4-4 Tie With Tigers

Chase Utley hit his first two home runs of spring training and drove in three runs for the Philadelphia Phillies in a 4-4 tie against the Detroit Tigers on Sunday.

Share Tweet

The Marlins announced that Henderson Alvarez, an All-Star in 2014, will be their Opening Day starter against the Braves on April 6 at Marlins Park.

Share Tweet

Astros outfielder L.J. Hoes had his right hand and wrist wrapped after being struck by pitch thrown by Marlins reliever Aaron Crow in the eighth inning of Saturday's 1-1 tie at Roger Dean Stadium.

Share Tweet

nytimes.com ESPN.com

Mar 28 (2 days ago)

Stephen Strasburg will start for the Washington Nationals in the third game of the season on April 9 in a likely showdown with the Mets' Matt Harvey.

Share Tweet

Sources: Mets, Duda discussing long-term contract extension

The Mets and Lucas Duda are discussing a long-term contract extension, according to two sources familiar with the negotiations, which would keep the first baseman in Flushing well into his 30s. The Mets have not publicly acknowledged the negotiations, a…

Share Tweet

Bautista Hits 2-Run Double for Blue Jays in Loss to Braves

Jose Bautista hit a two-run double for the split-squad Toronto Blue Jays in a 5-3 loss to the Atlanta Braves on Saturday.

Share Tweet

Joe Mauer isn't known for his pull-side power, but that could change this season.

Share Tweet

Playing Shortstop for the Mets, Wilmer Flores. Really? Yeah, Really.

The Mets have been unsettled at shortstop for two years. With a live bat but a defense that remains a work in progress, Wilmer Flores still has the confidence of the team's front office.

Share Tweet

The Braves named right-hander Julio Teheran their Opening Day starter on Friday, but they still have a few details about their rotation to iron out before Teheran takes the mound April 6 in Miami. Braves manager Fredi Gonzalez said Saturday that the fif…

Share Tweet

Giancarlo Stanton: Face Of The National League

Mar 17

Marlins right fielder Giancarlo Stanton's season was cut short after taking a pitch to the side of the face in September. Stanton steps back to the plate, unfazed -- with a new $325 million contract and a specially designed face shield.

Gee, Wheeler React To TJ Surgery News

Mar 17

placeholder

Mets Fall To Red Sox

Mar 16

Matt Harvey allowed three hits over four scoreless innings for his second strong start following elbow surgery, but the Mets lost to the Red Sox 4-3.

Matt Harvey Day, Part 2

Mar 11

Adam Rubin delivers Wednesday news from Mets camp, including Matt Harvey's second Grapefruit League outing and Dillon Gee getting acclimated to a relief role.