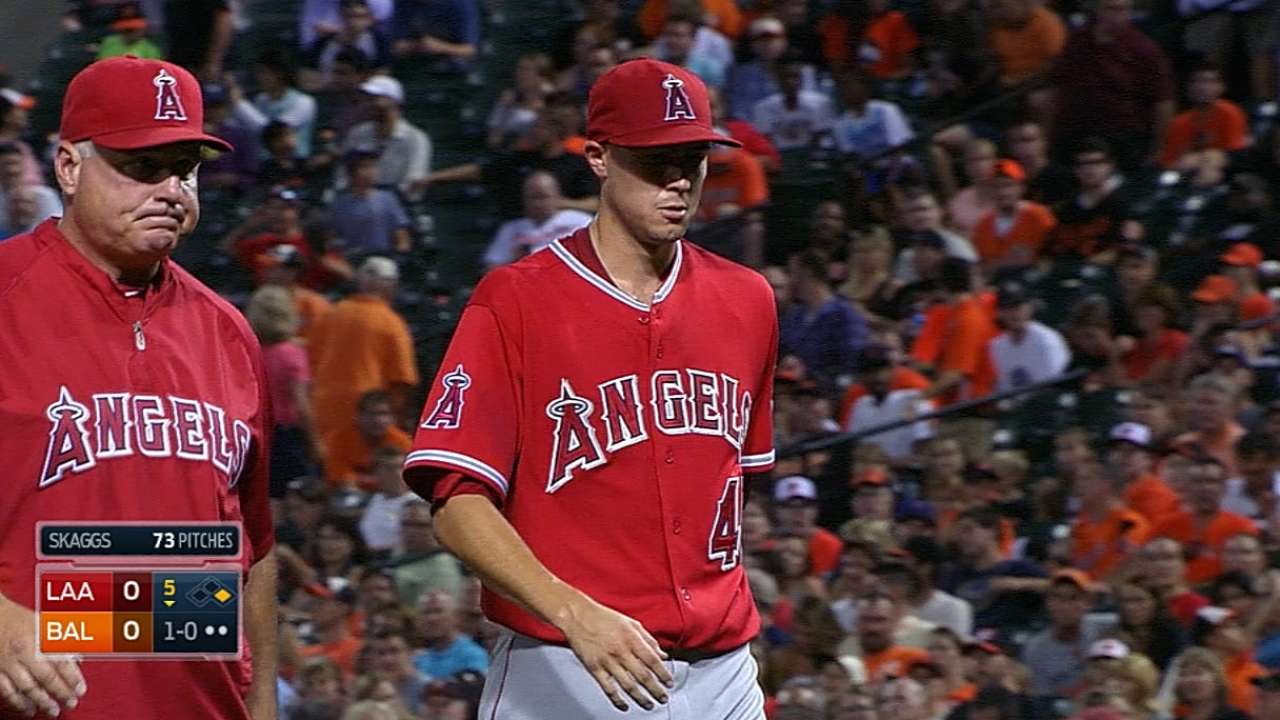 Skaggs might follow Havey's rehab schedule
MLB.com
Updated 14 hours ago
Mets ace Matt Harvey's impressive return from Tommy John surgery after 18 months of rehab, rather than the typical year, has Angels left-hander Tyler Skaggs considering the same approach and delaying his return to the mound until next spring.
Share
Tweet
Freddie Freeman, the Next Chipper Jones, Is (Shudder) Headed to Citi Field

nytimes.com

4 hours ago

Through 2014, Freeman had 13 home runs and 59 runs batted in against the Mets in 71 games, but this year, the Mets are on the rise.

Share Tweet

On Baseball: A Mets Newcomer Must Squat in the Fire

nytimes.com

14 hours ago

Mets catcher Travis d'Arnaud will miss at least three weeks with a broken finger. His replacement, Kevin Plawecki, will have to run a major league game without ever having played one.

Share Tweet

Statcast makes its 2015 debut on Tuesday's MLB Network Showcase game between the Cardinals and Nationals, and the technology is going to arm fans, scouts, executives and coaches alike with a deluge of data that helps them better understand and evaluate …

Share Tweet

MLB.com nytimes.com

17 hours ago

To this point, the Mets have performed like the 2002 Angels and last summer's Giants, using a dozen papercuts to bleed their opponents. But another downpour might undermine this team. Those with Mets memories may recall a sequence of injuries that occur…

Share Tweet

nytimes.com MLB.com yahoo.com

21 hours ago

Atlanta Braves reliever Andrew McKirahan has been suspended for 80 games after failing a drug test, Major League Baseball said on Monday.

Share Tweet

yahoo.com

Apr 19 (yesterday)

The 2015 season is just two weeks old, but one manager has already found himself on the hot seat. Miami Marlins skipper Mike Redmond's job could be in jeopardy, according to the Miami Herald's Clark Spencer. Miami had an awful weekend, dropping four str…

Share Tweet

Mets can't even go on impressive winning streak without run of bad luck

nydailynews.com

Apr 19 (yesterday)

For Met fatalists, first place and an eight-game winning streak never felt worse.

Share Tweet

Long viewed as either a valuable trade chip or much-needed insurance, Kevin Plawecki will prove to be the latter as the Mets will call up their No. 2 prospect to replace the injured Travis d'Arnaud, Sandy Alderson announced on Sunday.

Share Tweet

nytimes.com MLB.com

Apr 19 (yesterday)

Stephen Strasburg allowed a run in 7 1-3 innings and the Washington Nationals used a three-run fifth inning for a 4-1 victory over the Philadelphia Phillies on Sunday.

Share Tweet

MLB.com nytimes.com

Apr 19 (yesterday)

Right-hander Shelby Miller tossed six strong innings while outfielder Jonny Gomes had a three-run double in the Braves' 5-2 victory over the Blue Jays on Sunday afternoon at Rogers Centre.

Share Tweet

Blevins fractures forearm after being hit by liner

Mets reliever Jerry Blevins suffered a left forearm fracture after being hit with a Dee Gordon line drive during the seventh inning Sunday, the club announced.

Share Tweet

yahoo.com

Apr 19 (yesterday)

A pair of minor league baseball teams will tip their cap to legendary college basketball coach Jerry Tarkanian this afternoon in Las Vegas. The Las Vegas 51s and Fresno Grizzlies — Triple-A affiliates of the New York Mets and Houston Astros respectively…

Share Tweet

Devon Travis was forced to leave Sunday afternoon's game against the Braves in the first inning because of a bruised left rib.

Share Tweet

Nats activate Span from DL, option Taylor to Triple-A

The Nationals reinstated outfielder Denard Span from the 15-day disabled list on Sunday and optioned fellow outfielder Michael Taylor to Triple-A Syracuse in a corresponding move.

Share Tweet

yahoo.com

Apr 19 (2 days ago)

New York Mets reliever Alex Torres was a pioneer of sorts when he became the first pitcher in MLB to wear a form of protective headgear in a regular season game. That significant moment in baseball's journey to better protect its pitchers happened last …

Share Tweet

Giancarlo Stanton: Face Of The National League

Mar 17

Marlins right fielder Giancarlo Stanton's season was cut short after taking a pitch to the side of the face in September. Stanton steps back to the plate, unfazed -- with a new $325 million contract and a specially designed face shield.

Gee, Wheeler React To TJ Surgery News

Mar 17

placeholder

Mets Fall To Red Sox

Mar 16

Matt Harvey allowed three hits over four scoreless innings for his second strong start following elbow surgery, but the Mets lost to the Red Sox 4-3.

Matt Harvey Day, Part 2

Mar 11

Adam Rubin delivers Wednesday news from Mets camp, including Matt Harvey's second Grapefruit League outing and Dillon Gee getting acclimated to a relief role.