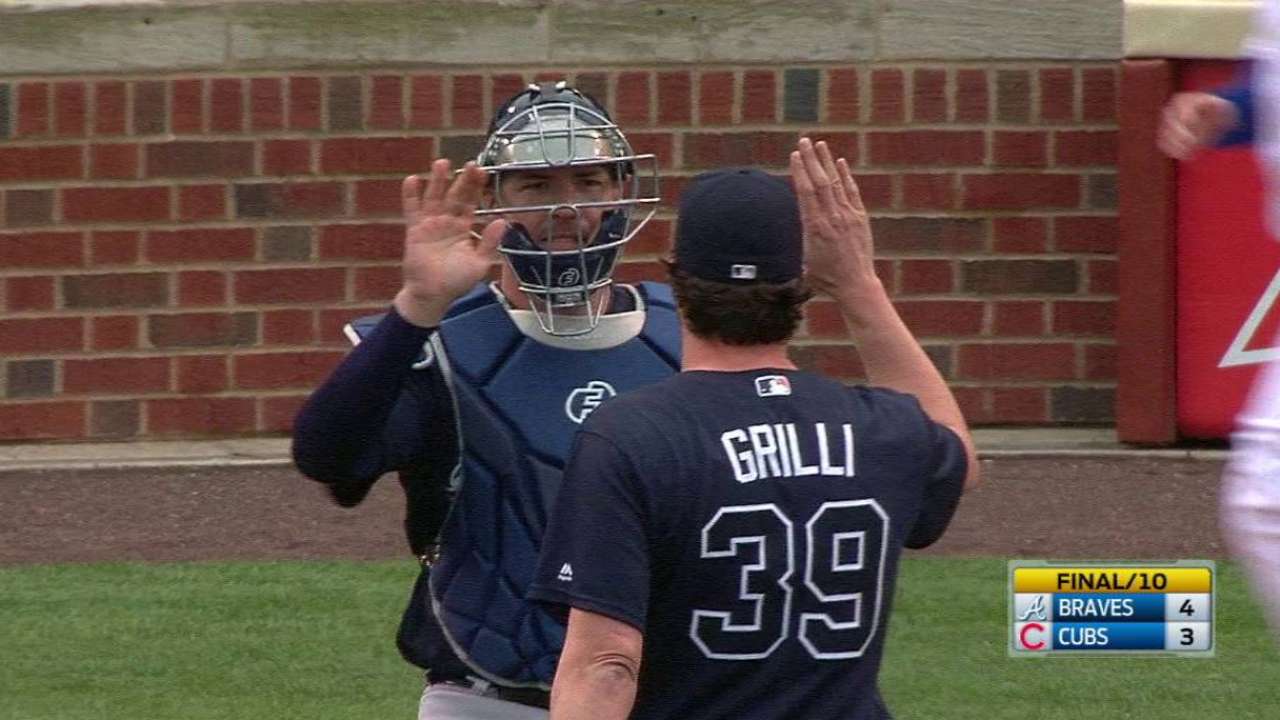 Source: Blue Jays closing in on deal for Braves' Grilli
MLB.com
Updated 47 minutes ago
A source tells MLB.com's Mark Bowman that the Blue Jays are closing in on a trade that would send a prospect to the Braves for right-handed reliever Jason Grilli. If completed, that would confirm a report from Baseball Essential's Robert Murray, who sai…
Share
Tweet
Bryce Harper is not in the Nationals lineup for Tuesday's game against the Phillies, a day after being hit in the knee by a fastball from Jeremy Hellickson that would eventually force him out of Monday's game.

Share Tweet

Dunn activated from DL; Jackson designated

MLB.com

2 hours ago

The Marlins reinstated left-handed reliever Mike Dunn from the disabled list on Tuesday, designating Edwin Jackson for assignment to make room on the roster.

Share Tweet

yahoo.com

3 hours ago

Miami Marlins second baseman Derek Dietrich was pretty fortunate to avoid a major injury after an errant foul ball hit him in the head during Sunday's game. The incident made for a scary moment, but was able to walk away unscathed. Amazingly, Dietrich w…

Share Tweet

MLB.com nytimes.com

19 hours ago

Pirates right fielder Gregory Polanco continued his breakout campaign -- and added to his video-game numbers at Marlins Park -- as he crossed another career first off his list in Monday night's 10-0 win.

Share Tweet

MLB.com nytimes.com

19 hours ago

Daniel Murphy continued his scorching-hot month of May by collecting three-hits, including the go-ahead two-run single in the eighth to lead the Nationals to a 4-3 comeback victory against the Phillies on Monday night at Citizens Bank Park.

Share Tweet

MLB.com nytimes.com yahoo.com

22 hours ago

For quite a while, Matt Harvey has searched for the answers that could reverse his uncharacteristically difficult start to the season. He seemed to find them on Monday, allowing just two hits and one walk with six strikeouts over seven shutout innings a…

Share Tweet

Smith's big hit plenty for strong Folty vs. Giants

MLB.com

23 hours ago

Mallex Smith's three-run triple blemished Jeff Samardzija's shortest start of the season and provided Mike Foltynewicz sufficient support as the Braves claimed a 5-3 win over the Giants on Monday afternoon.

Share Tweet

MLB.com

23 hours ago

Giants third baseman Matt Duffy emerged with a bruise after he was hit just above his left wrist by a pitch from Atlanta starter Mike Foltynewicz in the sixth inning of the Braves' 5-3 victory Monday.

Share Tweet

Mallex Smith's 3-Run Triple Powers Braves Past Giants, 5-3

nytimes.com

May 30 (yesterday)

Mallex Smith hit a three-run triple in the second inning, Mike Foltynewicz continued his recent upswing by allowing only three hits and one run in six-plus innings and the Atlanta Braves beat Jeff Samardzija and the San Francisco Giants 5-3 on Monday.

Share Tweet

yahoo.com

May 30 (yesterday)

The Los Angeles Dodgers just finished a contentious series with the New York Mets that included payback for Chase Utley and the reportedly Mets crying foul about the Dodgers' fancy, tech-savvy defensive alignments. Now, the Dodgers are headed to Chicago…

Share Tweet

yahoo.com

May 30 (yesterday)

It's not news that the Atlanta Braves are bad. And boy, are they bad. Their record is 14-35, and their team batting average is .232, 26th out of 30 teams. The best hitter on the Braves right now is Jeff Francoeur. Yes, that Jeff Francoeur. After a surpr…

Share Tweet

Mets closer Jeurys Familia after Sunday stumble: 'Tomorrow is a new day'

ESPN.com

May 30 (yesterday)

Mets closer Jeurys Familia after Sunday stumble: 'Tomorrow is a new day'

Share Tweet

nytimes.com

May 30 (yesterday)

Jeurys Familia gave up two runs in the top of the ninth after the Mets had come back to erase a 2-0 deficit against Kershaw, and the Mets lost the rubber match of a three-game series.

Share Tweet

Fort Bragg excited for upcoming Major League game

MLB.com

May 30 (yesterday)

As America remembers the military's sacrifices on Memorial Day, a date of celebration is on the calendar for the Fourth of July Weekend, and the venue for it is very much on track. Fort Bragg will play host to the Braves and Marlins at a new stadium on …

Share Tweet

Giancarlo Stanton: Face Of The National League

Mar 17

Marlins right fielder Giancarlo Stanton's season was cut short after taking a pitch to the side of the face in September. Stanton steps back to the plate, unfazed -- with a new $325 million contract and a specially designed face shield.

Gee, Wheeler React To TJ Surgery News

Mar 17

placeholder

Mets Fall To Red Sox

Mar 16

Matt Harvey allowed three hits over four scoreless innings for his second strong start following elbow surgery, but the Mets lost to the Red Sox 4-3.

Matt Harvey Day, Part 2

Mar 11

Adam Rubin delivers Wednesday news from Mets camp, including Matt Harvey's second Grapefruit League outing and Dillon Gee getting acclimated to a relief role.