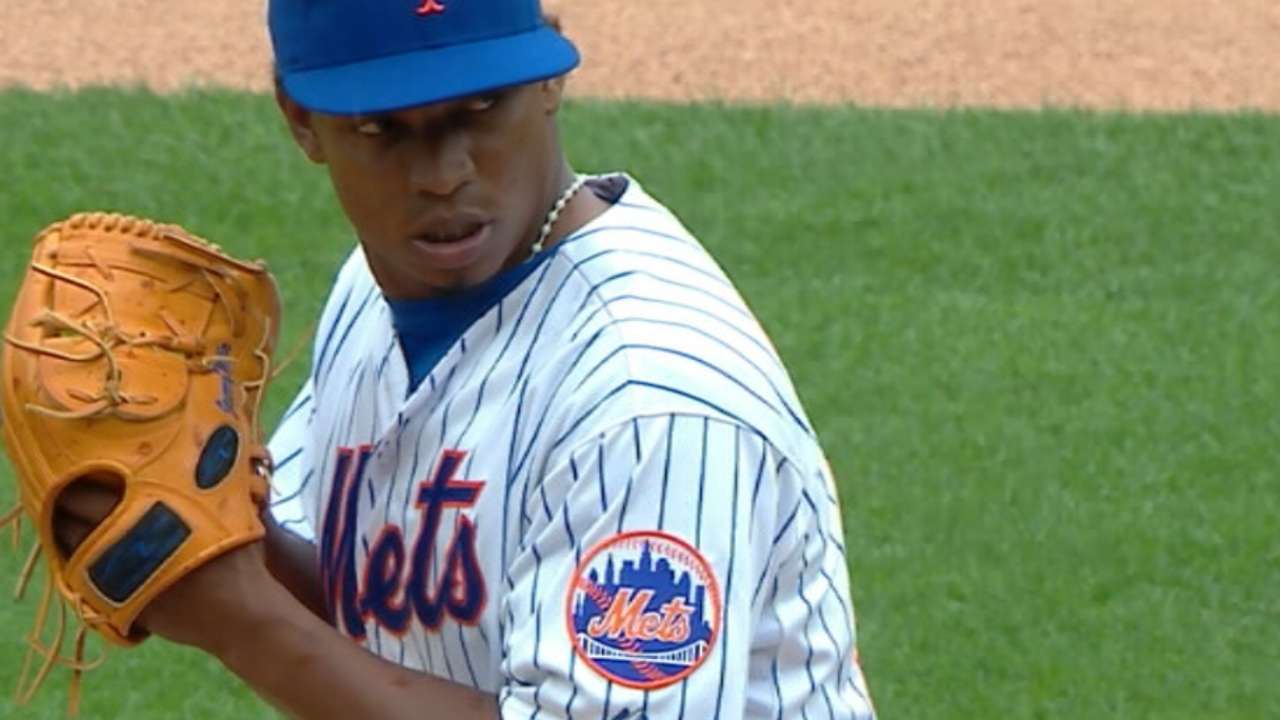 Mejia joins list of banned athletes
MLB.com
Updated 3 hours ago
Former Mets closer Jenrry Mejia was on the wrong side of baseball history Friday, becoming the first player in Major League history to receive a lifetime ban for performance-enhancing-drug use. Mejia, however, is far from the first baseball player to re…
Share
Tweet
nydailynews.com yahoo.com nytimes.com deadspin.com MLB.com

10 hours ago

The Mets had to know that Jenrry Mejia was a rockhead when he was suspended twice last season for using PEDs.

Share Tweet

yahoo.com

15 hours ago

The Atlanta Braves have announced that they are no longer contesting the Atlanta Fulton County Recreation Authority regarding the future location of the bronze Hank Aaron statue outside Turner Field. The team had hoped to bring the statue with them as t…

Share Tweet

Marlins ink Breslow to Minor League contract

MLB.com

18 hours ago

Spring Training gets underway in a week, and ideally the Marlins would like to add another pitcher or two before pitchers and catchers take the field on Feb. 19. But the signings have to make sense, and the club is willing to wait, even if it means reac…

Share Tweet

MLB.com

22 hours ago

The Phillies could pack their Spring Training truck blindfolded at this point. But they made things easier on themselves Friday morning, when they loaded the truck for its annual 1,058-mile trek from Citizens Bank Park to Bright House Field in Clearwate…

Share Tweet

Around the Horn: Outfield

MLB.com

Feb 12 (yesterday)

A year ago, Giancarlo Stanton, Christian Yelich and Marcell Ozuna were being hailed as arguably the best outfield trio in the National League, if not the Majors. In the eyes of the Marlins, they certainly were deserving of being in the conversation.

Share Tweet

Sharon Robinson shares in father's legacy

Sharon Robinson had some eye-opening experiences Thursday. The daughter of Hall of Famer Jackie Robinson went to the Library of Congress and then took a tour of the Nationals Youth Baseball Academy.

Share Tweet

Inciarte headlines list of new Braves in 2016

There will be plenty of new faces when the Braves welcome center fielder Ender Inciarte and their other newcomers to Spring Training next week. This is the latest installment of MLB.com's Spring Training preview: The new guys.

Share Tweet

Hopeful Phillies have plenty of new faces

The Phillies are in the early stages of a massive rebuild, which means there will be plenty of new faces in camp. In the second part of a seven-part series previewing Phillies' Spring Training in Clearwater, Fla., MLB.com looks at a few of the most nota…

Share Tweet

deGrom willing to talk potential long-term deal

The Mets insist they're willing to talk about long-term deals with their young starting pitchers. And Jacob deGrom, at least, says he's prepared to listen.

Share Tweet

#TBT: Mr. Smith goes to St. Louis

MLB.com

Feb 11 (2 days ago)

Prior to his stunning late-career comeback as the surprising World Series-winning manager of the 2003 Florida Marlins, Jack McKeon was known best for one thing: trading future Hall of Fame shortstop, defensive "Wizard" and baseball icon Ozzie …

Share Tweet

yahoo.com

Feb 10 (2 days ago)

Former Atlanta Braves superstar Chipper Jones made a career out of knocking around Mets' pitching. In fact, Jones enjoyed so much success against the Mets at their former home, Shea Stadium, he actually named one of his three sons Shea. That's some next…

Share Tweet

yahoo.com

Feb 10 (3 days ago)

We know for sure that the Atlanta Braves will be moving to SunTrust Park in Cobb County for the 2017 season. What we don't know for sure is whether or not the bronze statue of Hank Aaron that currently stands in front of Turner Field will be joining the…

Share Tweet

Braves add reliever Torres on Minors deal

Right-hander Carlos Torres and the Braves have agreed to a Minor League deal with an invite to Spring Training, according to multiple reports.

Share Tweet

Inbox: Will Jenkins join Atlanta's rotation in 2016?

Will Tyrell Jenkins join the Braves' rotation at some point this season? Mark Bowman answers this question and more in the latest Inbox.

Share Tweet

Phils acquire Featherston from Halos for infield depth

The Phillies added some infield depth to their system on Wednesday by acquiring Taylor Featherston from the Angels for a player to be named or cash.

Share Tweet

yahoo.com

Feb 10 (3 days ago)

We know what it looks like when Daniel Murphy is swinging a hot bat. We saw it the entire 2015 postseason as he played a huge part in getting the New York Mets to the World Series. After signing a free-agent contract with the Washington Nationals, Murph…

Share Tweet

Giancarlo Stanton: Face Of The National League

Mar 17

Marlins right fielder Giancarlo Stanton's season was cut short after taking a pitch to the side of the face in September. Stanton steps back to the plate, unfazed -- with a new $325 million contract and a specially designed face shield.

Gee, Wheeler React To TJ Surgery News

Mar 17

placeholder

Mets Fall To Red Sox

Mar 16

Matt Harvey allowed three hits over four scoreless innings for his second strong start following elbow surgery, but the Mets lost to the Red Sox 4-3.

Matt Harvey Day, Part 2

Mar 11

Adam Rubin delivers Wednesday news from Mets camp, including Matt Harvey's second Grapefruit League outing and Dillon Gee getting acclimated to a relief role.