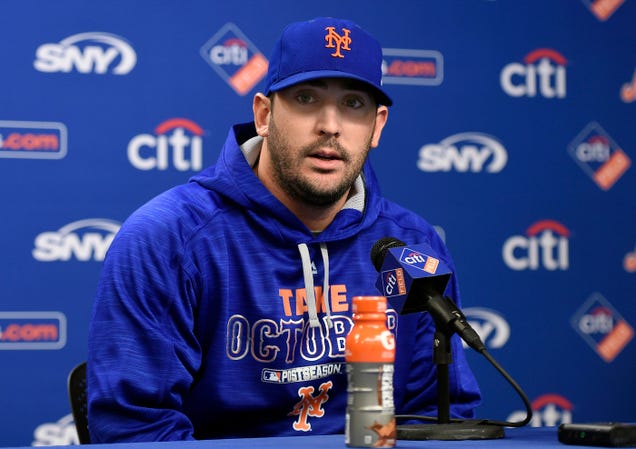 nydailynews.com
deadspin.com
nytimes.com
yahoo.com
Updated 15 hours ago
There were any number of ways that David Wright could have downplayed the latest Matt Harvey drama
Share
Tweet
yahoo.com nytimes.com

20 hours ago

Ichiro Suzuki's quest to reach 3,000 hits in Major League Baseball will continue in 2016. The future Hall of Famer, legendary hitting aficionado, and occasional relief ace, re-signed with the Miami Marlins on Tuesday. According to CBS Sports' Jon Heyman…

Share Tweet

MLB.com ESPN.com nytimes.com yahoo.com

23 hours ago

Dan Jennings has been asked return to his previous position as general manager of the Marlins, the club said during a news conference on Tuesday.

Share Tweet

Collins, Gibbons Among 4 Managers Making Playoff Debuts

nytimes.com

Oct 6 (yesterday)

Late in the season, as the New York Mets closed in on their NL East championship, one opponent after another sat in the visitors' dugout at Citi Field and commended manager Terry Collins.

Share Tweet

Bruce Bochy Was "Giddily Incredulous" With How Matt Williams Handled His Bullpen

deadspin.com

Oct 5 (yesterday)

Whenever just-fired former Nationals manager Matt Williams found himself on the receiving end of pointed questioning about a decision he made, his go-to move was to simply state one of his players' role. Read more...

Share Tweet

yahoo.com

Oct 5 (yesterday)

One of the few bright spots for the Miami Marlins this season was second baseman Dee Gordon. The 27-year-old hit .333/.359/.418, winning his first batting title. [Check out Big League Stew on Tumblr for even more baseball awesomeness.] That's the type o…

Share Tweet

nytimes.com MLB.com deadspin.com yahoo.com

Oct 5 (yesterday)

The Washington Nationals, a club that struggled all season and barely finished .500 despite a roster loaded with marquee names and assembled through a team-record $164 million payroll, fired manager Matt Williams on Monday.

Share Tweet

Giancarlo Stanton: Face Of The National League

Mar 17

Marlins right fielder Giancarlo Stanton's season was cut short after taking a pitch to the side of the face in September. Stanton steps back to the plate, unfazed -- with a new $325 million contract and a specially designed face shield.

Gee, Wheeler React To TJ Surgery News

Mar 17

placeholder

Mets Fall To Red Sox

Mar 16

Matt Harvey allowed three hits over four scoreless innings for his second strong start following elbow surgery, but the Mets lost to the Red Sox 4-3.

Matt Harvey Day, Part 2

Mar 11

Adam Rubin delivers Wednesday news from Mets camp, including Matt Harvey's second Grapefruit League outing and Dillon Gee getting acclimated to a relief role.