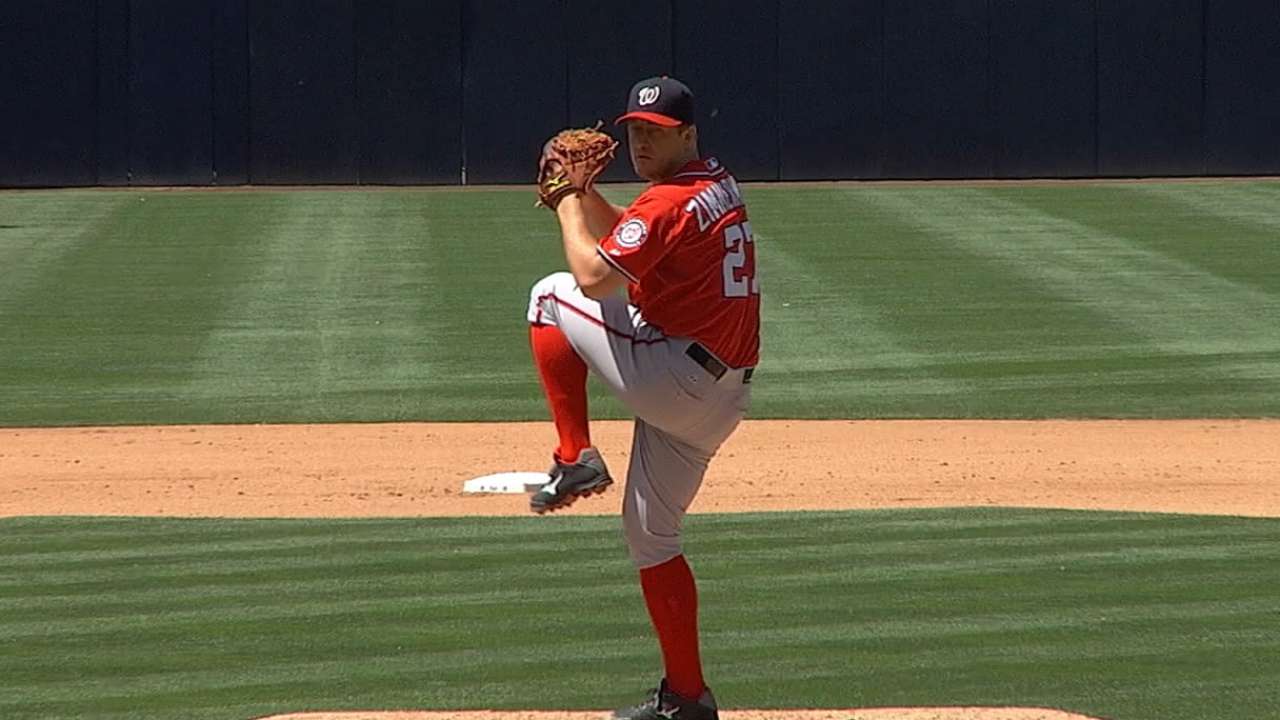 Brad Hand Helps Marlins Beat FIU 7-2

nytimes.com

2 hours ago

Brad Hand needed only nine pitches in a perfect first inning Monday for the Miami Marlins, who beat Florida International 7-2.

Upvote Share Tweet

'Eager' prospect Jenkins grabs front office's attention

MLB.com

4 hours ago

Braves president of baseball operations John Hart and manager Fredi Gonzalez were among the many members of the organization who seemingly made a point to watch Tyrell Jenkins complete his live batting practice session on Monday.

Upvote Share Tweet

MLB.com

4 hours ago

The Yankees will open the Grapefruit League schedule Tuesday with a game against the Phillies in Clearwater. Adam Warren will start against Phils right-hander Jerome Williams at Bright House Field.

Upvote Share Tweet

Sharp Harvey focuses on curve in live BP session

MLB.com

5 hours ago

Matt Harvey impressed in batting practice against his fellow Mets, showing off a curveball that he shied away from in favor of a slider early in his professional career.

Upvote Share Tweet

Courageous teenager works out with Wood, Braves

MLB.com

6 hours ago

As he has undergone multiple surgeries to remove a foot-long tumor from his spine and continued to play high school sports with titanium rods in his back, Thompson Ritter has maintained a passion for baseball that was enriched when he accepted Alex Wood…

Upvote Share Tweet

Let's Appreciate Danny Espinosa's Big, Beautiful Mustache

deadspin.com

9 hours ago

Oh, hey. I'm Nationals second baseman Danny Espinosa, and I have a ridiculous mustache now. This is how I look, on purpose.Read more...

Upvote Share Tweet

Spring may bring final chance with Phils for Aumont

MLB.com

10 hours ago

Phillippe Aumont seems to have made a few thousand adjustments to his delivery since he joined the Phillies following the Cliff Lee trade with Seattle in 2009, all of which led to what could be the righty's last chance with the team.

Upvote Share Tweet

Mets Inject Drama Into Camp, Hoping to Entertain Fans

nytimes.com

21 hours ago

Spring training is the only time when the team's production arm and its cable channel, SNY, have extended access to players, so SNY has been shooting videos to use during regular-season games.

Upvote Share Tweet

nytimes.com

Mar 1 (yesterday)

Max Scherzer was warming up in the bullpen, getting ready to head onto the field to throw his first batting practice session for the Washington Nationals.

Upvote Share Tweet

deadspin.com nytimes.com

Mar 1 (yesterday)

The Phillies lost 6-2 to the University of Tampa, who are ranked No. 1 in Division II. God, I missed meaningless baseball.Read more...

Upvote Share Tweet

Phillies second baseman Chase Utley will not be in the lineup for Tuesday's Grapefruit League opener against the Yankees at Bright House Field. Utley sprained his right ankle in January and has not fully recovered.

Upvote Share Tweet

Nationals outfielder Bryce Harper made it clear Sunday what he wants to see change this season. He wants to improve his numbers from last year. He wants to stay injury-free. He wants to get better at the plate.

Upvote Share Tweet

A-Rod's status for early games uncertain

The Yankees will play an intrasquad game on Monday at Steinbrenner Field and then open their Grapefruit League schedule on Tuesday against the Phillies in nearby Clearwater, Fla. Whether Alex Rodriguez will be in the lineup both days is still a matter o…

Upvote Share Tweet

The Nationals are the consensus favorites to win the NL East, but the Mets and Marlins think they might both have something to say about that. For the Mets, optimism begins with a rotation stacked with power arms and more of them in the Minors.

Upvote Share Tweet

Haren likely to start first Grapefruit League tilt Thursday

Marlins manager Mike Redmond said Sunday that veteran right-hander Dan Haren likely will be the starting pitcher for the Grapefruit League opener on Thursday against the Cardinals at Roger Dean Stadium.

Upvote Share Tweet

Fernandez throws first session since Tommy John surgery

Marlins ace Jose Fernandez took another step Sunday in his rehab from Tommy John surgery when the right-hander threw a short bullpen session off the mound for the first time since last May.

Upvote Share Tweet

Mets hope patience for Juan Lagares turns to leadoff payoff

nydailynews.com

Feb 28 (yesterday)

There was a time when Kevin Long made it is his mission to get Robinson Cano to stop chasing pitches out of the strike zone.

Upvote Share Tweet

yahoo.com

Feb 28 (2 days ago)

Breathe easy, Miami Marlins fans. Superstar slugger Giancarlo Stanton is doing fine and was even able to finish Saturday's intrasquad game after being hit on the left hip by a pitch from Henderson Alvarez. Henderson Alvarez plunks Giancarlo Stanton with…

Upvote Share Tweet

On Baseball: Pioneering G.M. Is Eager to Mold Another Winner in Atlanta

nytimes.com

Feb 28 (2 days ago)

John Hart, formerly a general manager with the Indians and the Rangers, is fired up about resuming his position in the front office and "restarting" the Braves.

Upvote Share Tweet

Colors of Mets Blend to Make Glove of Gold

nytimes.com

Feb 28 (2 days ago)

No matter the glove, no matter the design or its weight, or color, it is what Juan Lagares does with it in center field that has propelled him to new heights.

Upvote Share Tweet

Nats GM On Scherzer, Starting Rotation

Mar 1

Nationals GM and president of baseball operations Mike Rizzo explains the decision to sign starting pitcher Max Scherzer and how that affects Jordan Zimmermann's status with the team going forward.

Stanton Hit By Pitch In Batting Practice

Feb 28

Buster Olney and John Kruk react to Marlins slugger Giancarlo Stanton being hit by a pitch in live batting practice Saturday and explain why Stanton being hit in practice could be a good thing.

Marlins Striving For A Championship

Feb 27

Marlins outfielder Giancarlo Stanton and second baseman Dee Gordon discuss expectations for this season and Stanton talks about stepping into the batter's box after last year's season-ending beaning.

Marlins Improving, Need More Than Stanton

Feb 27

If the Marlins want to contend for the division title, Curt Schilling and Buster Olney say they need help from more than just Giancarlo Stanton.