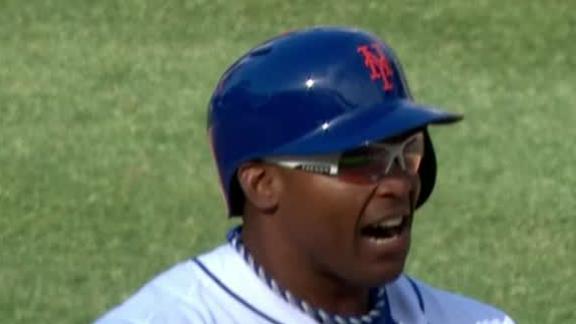 Updated Apr 7
Share
Tweet
Marlon Byrd hit a two-run, walk-off single in the ninth inning Sunday, leading the Mets to a 4-3 win over the Marlins at Citi Field.
Updated Apr 7

Share Tweet

Adam LaRoche said his back was feeling much better and that he hoped to play against the White Sox on Tuesday at Nationals Park.

Source:

MLB.com

Updated Apr 7

Share Tweet

The Phillies tapped James Shields for four early runs, but Billy Butler hit a grand slam in the fifth inning to put the Royals ahead for good in their 9-8 victory Sunday. Butler went 2-for-4 with seven RBIs, and Shields settled down after the first, str…

Updated Apr 7

Share Tweet

Thanks to a great start from Tim Hudson and timely hitting from shortstop Ramiro Pena, the Braves completed a sweep of the Cubs on Sunday with a 5-1 victory.

Updated Apr 7

Share Tweet

Using a three-run sixth inning Sunday, the Reds took a 6-3 victory against the Nationals and claimed the three-game series at Great American Ball Park.

Updated Apr 7

Share Tweet

ATLANTA (AP) Chicago Cubs manager Dale Sveum says Carlos Marmol is out as closer and rookie Kyuji Fujikawa will take over the role.

Source:

CNNSI.com

Updated Apr 7

Share Tweet

First baseman Freddie Freeman was visibly upset that the Atlanta Braves placed him on the 15-day disabled list Sunday with a strained right oblique.

Source:

ESPN.com

Jon Niese showing NY Mets he has what it takes to be leader of pitching rotation

Updated Apr 7

Share Tweet

Whether he wanted it or not, Jon Niese has been thrust into the role of Met ace. That's what happens when you get the nod as the Opening Day starter and then become the stopper after the team loses two in a row.

Source:

nydailynews.com

Early Season Pitching Impressions

Apr 7

Karl Ravech and Barry Larkin take a look at the performances of some of the top starters in the National League.

Harvey vs. Halladay

Apr 7

Mets against Phillies on Monday 7 p.m. ET on ESPN.

Royals Halt Phillies' Rally

Apr 7

Billy Butler drove in seven runs to lead the Royals past the Phillies 9-8.

Reds Rough Up Strasburg

Apr 7

The Reds tagged Stephen Strasburg for six earned runs to win the rubber match against the Nationals.