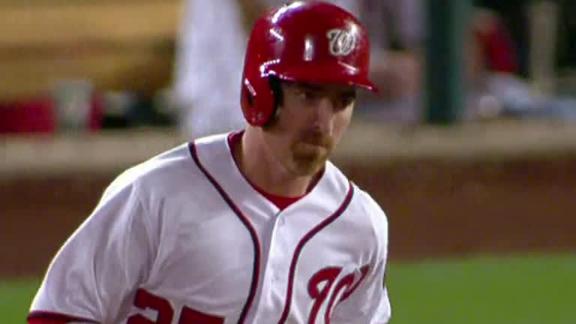 ESPN.com

Apr 9, 2013

Michael Young and Ryan Howard homered, Cliff Lee came within one out of a complete game and the Philadelphia Phillies beat the New York Mets 8-3 on Tuesday night.

Share Tweet

Howard launches first homer in Philly slugfest

Ryan Howard finally got in the home run column as part of a three-homer third, and Michael Young went 3-for-4 with a single, triple and home run in the Phillies' 8-3 win over the Mets on Wednesday. Cliff Lee struck out six in 8 2/3 innings.

Share Tweet

Heyward will relax, trust himself at plate

When Jason Heyward went to the batting cage after Monday night's win over the Marlins, he was not attempting to vent or release frustration. The Braves right fielder was simply trying to get a better feel for the comfort he had started to gain during th…

Share Tweet

Roy Halladay has a 14.73 ERA after two starts. But Philadelphia Phillies general manager Ruben Amaro Jr. said Tuesday that the ace pitcher is in no danger of running out of time to fix what ails him.

Share Tweet

deadspin.com yahoo.com

Apr 9, 2013

When a franchise is as committed to shitting on its fan base as the Miami Marlins are, receiving a little animosity from those fans is to be expected. So it's not surprising that a group of Marlins fans staged a small protest at yesterday's home opener,…

Share Tweet

Subs for sidelined stars playing key roles

Of the numerous teams, such as the Yankees, starting the season with All-Star-caliber players on the disabled list, some haven't missed a beat (think the Braves without catcher Brian McCann) over the season's opening week, while others (San Diego minus …

Share Tweet

Matt Harvey's early strikeout numbers are a big source of joy, but should they also cause concern?

yahoo.com

Apr 9, 2013

Matt Harvey's stuff was so good over 60 innings in 2012 that it caused one of his New York Mets teammates to break out an instant comparison to Stephen Strasburg. No one said Jonathon Niese was crazy then because Harvey's numbers over his extended cameo…

Share Tweet

CNNSI.com

Apr 9, 2013

I have seen enough, and I don't need for Lou Marson to wind up in a hospital to know this must stop.

Share Tweet

Love 'Em or Hate 'Em, the Marlins Continue to Develop Players

grantland.com

Apr 9, 2013

Quick, what's the first thing that pops to mind when you hear "Miami Marlins"? Odds are your mind's drifted to "Jeffrey Loria," "SEC probe," or "fire ...

Share Tweet

Lee, Phillies Topple Mets

Apr 9

The Phillies homered three times in the third inning to back Cliff Lee, who went 8 2/3 innings for his second win of the season.

Braves Hold Off Marlins

Apr 9

Evan Gattis hit an early two-run homer and Justin Upton continued his torrid pace by adding insurance with an RBI double in the eighth.

Baseball Tonight Spotlight

Apr 9

Adam LaRoche homers twice in Nationals' win.

Berkman, Rangers Down Rays

Apr 9

Lance Berkman had three hits and drove in two runs to help Nick Tepesch earn a win in his major league debut.