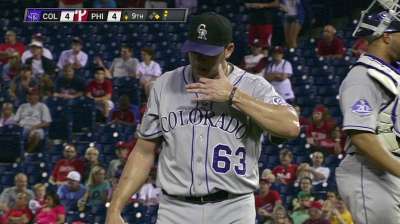 Updated Aug 22

Share Tweet

The Cardinals entered a four-game set with the Braves batting a Major League-best .299 with two outs and runners in scoring position, and when that clutch situation came around Thursday night, it showed. St. Louis strung together three consecutive two-o…

Phillies stun Rockies with second walk-off win

Updated Aug 22

Share Tweet

Right-hander Kyle Kendrick gave up a go-ahead three run homer in the sixth, but the Phillies rallied for four runs in the final two innings, including Domonic Brown's RBI single for a 5-4 walk-off win over the Rockies on Thursday night.

Updated Aug 22

Share Tweet

Having dealt with plenty of injuries this season, the Atlanta Braves vowed to move on after losing Jason Heyward.

Sources:

CNNSI.com ESPN.com deadspin.com

Span scores in 13th as Nats knock off Cubs

Updated Aug 22

Share Tweet

Denard Span scored the go-ahead run on pinch-hitter Chad Tracy's grounder in the 13th inning, and the Washington Nationals beat the Chicago Cubs 5-4 on Thursday after Stephen Strasburg blew a three-run lead in the ninth.

Source:

ESPN.com

Updated Aug 22

Share Tweet

The New York Mets are the latest team to take a chance on Daisuke Matsuzaka.

Nats win marathon game after Strasburg blows lead

Updated Aug 22

Share Tweet

Stephen Strasburg was dominant for eight innings but gave up a game-tying, two-run homer to Donnie Murphy with two outs in the ninth before the Nationals answered with a run in the 13th for a 5-4 win over the Cubs at Wrigley Field on Thursday. Denard Sp…

Ex-Giant Wilson makes debut for Dodgers

Updated Aug 22

Share Tweet

Los Angeles Dodgers reliever Brian Wilson pitched a scoreless ninth inning in the Dodgers' 6-0 win over the Miami Marlins on Thursday, his first appearance in the majors since undergoing Tommy John surgery in April 2012.

Source:

ESPN.com

Updated Aug 22

Share Tweet

Clayton Kershaw allowed five hits in eight innings to lower his ERA to 1.72, best in the majors, and the Los Angeles Dodgers won their third game in a row by beating the Miami Marlins 6-0.

Updated Aug 22

Share Tweet

Released recently by the Phillies, Delmon Young has signed a Minor League deal with the Rays and will report to Double-A Montgomery, according to Ken Rosenthal of FOX Sports and MLB Network.

Jayson Werth Reacts To Super-Slow Pitch As If He Saw A Ghost

Updated Aug 22

Share Tweet

Your browser does not support iframes. By the time Jayson Werth came to the plate in the fifth, he had already homered, and the Nationals had already chased Cubs starter Jake Arrieta. And that's when Carlos Villanueva snapped off a breaking pitch that w…

Source:

deadspin.com

Philadelphia Phillies and NFL's Eagles shared 'blue chest of pornography' at Veterans Stadium in '90s

Updated Aug 22

Share Tweet

Even considering exaggerations and legend, it's likely that Veterans Stadium in Philadelphia is the most notorious sports venue in U.S. history. And we're not talking about booing Santa Claus and throwing snowballs at him, which happened one time and th…

Source:

yahoo.com

The Eagles And Phillies Shared A Porn Collection At The Vet

Updated Aug 22

Share Tweet

Venerable old Veterans Stadium had its share of legends. The in-stadium courthouse. The holes in the walls of the cheerleaders' dressing room. But until today, we hadn't heard the one about the Blue Chest.Read more...

Source:

deadspin.com

Hairston's pinch-hit poke propels Nats to victory

Updated Aug 22

Share Tweet

Scott Hairston came through in a pinch for the Nationals on Wednesday night. Washington blew a five-run fifth-inning lead, but Hairston's pinch-hit three-run homer with two outs in the seventh propelled the Nationals to an 11-6 victory over the Cubs at …

Kershaw Shuts Down Marlins

Aug 22

Clayton Kershaw pitched eight scoreless innings to lead the Dodgers past the Marlins 6-0.

Buster Blog: Breaking Down Heyward

Aug 22

Buster Olney discusses the impact of Jason Heyward's jaw injury on the Braves.

Nats Top Cubs In 13

Aug 22

Baseball Tonight Spotlight: Despite Stephen Strasburg blowing a three-run lead in the ninth, the Nationals held on to defeat the Cubs 5-4 in 13 innings

Phillies Walk Off Again

Aug 22

Phillies walked off for the second straight night, defeating the Rockies 5-4.