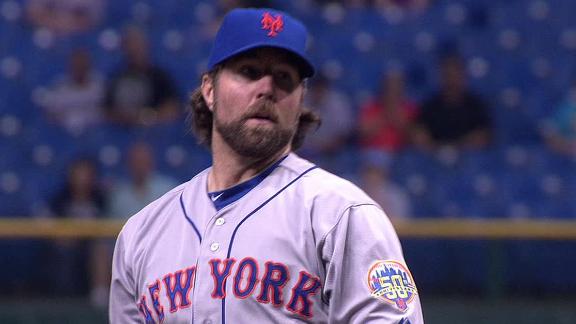 nydailynews.com
nytimes.com
CNNSI.com
ESPN.com
Updated Dec 4, 2012
Sandy Alderson set the bar high on Monday, saying he would have to get a "difference-maker'' in any trade for R.A. Dickey. And while offers so far seem to fall below that level, plenty of people at these Winter Meetings seem to believe Dickey indeed
Share
Tweet
Braves on the lookout for outfielder, bat off bench

MLB.com

Dec 4, 2012

While the baseball world continues to wonder where free-agent outfielders Josh Hamilton and Michael Bourn might land, the Braves feel even better about the fact that they signed their new center fielder, B.J. Upton, before arriving for this year's Winte…

Share Tweet

MLB.com

Dec 4, 2012

Less than a week after the Astros nearly dealt Wilton Lopez to the Phillies, Houston traded the reliever to the Rockies on Tuesday for right-handers Alex White and Alex Gillingham.

Share Tweet

CNNSI.com

Dec 4, 2012

NASHVILLE, Tenn. (AP) -- Free agent outfielder Shane Victorino and the Boston Red Sox are close to completing a three-year deal worth $39 million, a person familiar with the talks told The Associated Press on Tuesday

Share Tweet

We begin this analysis of the Washington Nationals with a few words from the manager. "World Series or bust," Davey Johnson said on Tuesday at the Winter Meetings.

Share Tweet

Ryan Howard plays 'trash the dress' with his bride

yahoo.com

Dec 4, 2012

Ryan Howard married  longtime girlfriend Krystle Campbell in Hawaii on Saturday and the newlyweds celebrated by taking part in the newish "trash the dress" fad. The Philadelphia Phillies first baseman and the former Philadelphia Eagles cheerle…

Share Tweet

MLB.com ESPN.com grantland.com

Dec 4, 2012

The Nationals seem to be betting that Dan Haren's down year resulted from a two-month slump, rather than the beginning of a decline phase. If they're right, they got quite a bargain on Tuesday.

Share Tweet

NASHVILLE, Tenn. (AP) -- David Wright and the New York Mets finalized a $138 million, eight-year contract Tuesday, the largest deal in the team's history.

Share Tweet

Mr. Met look-alike spotted at meetings (Video)

yahoo.com

Dec 4, 2012

NASHVILLE, Tenn. - With good reason, I thought this guy was Mr. Met, the New York Mets' longtime ball-headed mascot. But no, (s)he is Homer, the mascot for the Miracle League of North Alabama, an organization that builds playgrounds enabling kids and y

Share Tweet

Done Deals: Ben Revere trade to Philly caps winter meetings activity

yahoo.com

Dec 3, 2012

We kept a running list of trades and signings that went down during the winter meetings. Thanks for reading and come back for more signings and trades as the offseason continues! Thursday Twins send Ben Revere to Phillies for Vance Worley, Trevor May Fo…

Share Tweet

deadspin.com

Dec 4, 2012

When Jeffrey Loria decided to once again blow up his Marlins, it sparked a brief outrage over the $500 million in public money that had been spent on the team's brand new stadium. These outrages happen every couple years or so and are forgotten in time …

Share Tweet

Winter Meetings: Trade Buzz

Dec 4

Buster Olney discusses the trade market surrounding R.A. Dickey and Jason Kubel, and whether Curtis Granderson could be moved to create payroll flexibility.

Mets Moves From Winter Meetings

Dec 4

ESPNNewYork.com's Adam Rubin with the latest on R.A. Dickey and David Wright.

Winter Meetings Afternoon Report

Dec 4

Jerry Crasnick and Keith Law discuss the teams interested in OF Shane Victorino and what the Marlins should do with disgruntled OF Giancarlo Stanton.