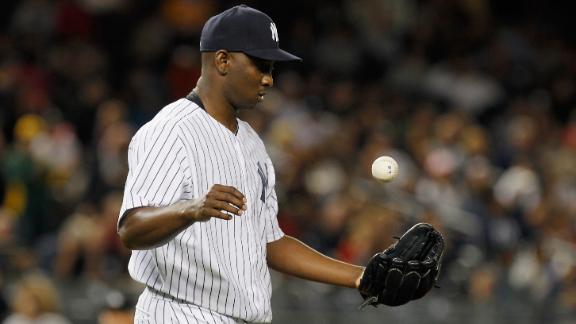 After giving Rafael Soriano a $28 million, two-year contract filled with deferred payments to be their go-to guy in the ninth inning, the Washington Nationals figure they have three closers now.
Share
Tweet
Relief pitcher Drew Storen has agreed to a $2.5 million, one-year contract with the Washington Nationals, avoiding arbitration.

Share Tweet

Rizzo pleased with Nats' return in Morse deal

On Thursday, Nationals general manager Mike Rizzo discussed the players his club received in exchange for Michael Morse as part of a three-team deal.

Share Tweet

Reliever Joba Chamberlain and the New York Yankees have agreed to a one-year contract worth $1,875,000, avoiding salary arbitration.

Share Tweet

Right-hander Bobby Parnell, 28, appeared in a career-high 74 games with the Mets last season.

Share Tweet

Future promising for prospects Joseph, Martin

Tommy Joseph and Ethan Martin have gone from being virtual strangers to batterymates and roommates, and the Phillies hope they'll spend a lot of time together in Philadelphia in the future.

Share Tweet

Team USA roster out: NEW YORK (AP) -- Toronto's R.A. Dickey heads a st…

NEW YORK (AP) -- Toronto's R.A. Dickey heads a starting pitching staff missing David Price, Justin Verlander, Jered Weaver, Clayton Kershaw and Matt Cain on the preliminary U.S. roster for the World Baseball Classic.

Share Tweet

Braves announce Minor League coaching staffs

There will be a sense of familiarity this season, as five of the Braves' six Minor League affiliates will have the same manager as last year. The one newcomer is Randy Ready, who was announced as Triple-A Gwinnett's manager in November.

Share Tweet

ARLINGTON, Texas (AP) -- The Texas Rangers have finalized a $55 million, five-year contract with All-Star left-hander Matt Harrison.

Share Tweet

grantland.com

Jan 17, 2013

The Mariners, A's, and Nationals pulled off a three-way trade, one that likely improves just one of the three teams this year, and potentially makes o...

Share Tweet

USA Announces WBC Roster

Jan 17

Jim Bowden breaks down Team USA's roster for the World Baseball Classic.