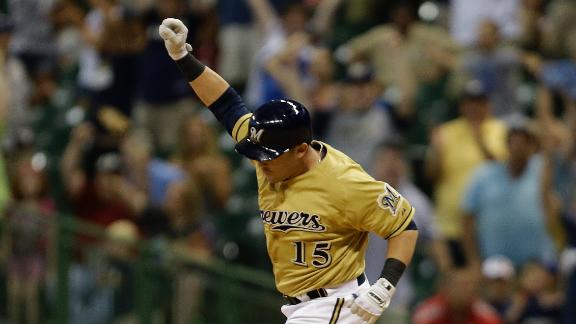 Wily Peralta continued his stellar string of pitching Sunday, and Caleb Gindl awoke a dormant Brewers offense with a walk-off, 13th-inning home run for a 1-0 Milwaukee win and a three-game series sweep over the Marlins to open the second half of the sea…
Share
Tweet
Miami Marlins haven't scored in 37 innings, longest MLB streak in 28 years

Thanks in part to the recent All-Star break, nobody from the Miami Marlins has crossed home plate in eight days. The Flounderng Fish fell 1-0 in 13 innings to the Milwaukee Brewers on Sunday, capping a scoreless weekend at Miller Park and extending thei…

Share Tweet

Wells robs game-tying HR as White Sox win

ESPN.com

Jul 21, 2013

Left fielder Casper Wells robbed Reed Johnson of a home run in the eighth inning to help the Chicago White Sox beat the Atlanta Braves 3-1 on Sunday.

Share Tweet

The Mets displayed power in the form of three homers, and behind Matt Harvey's overpowering performance, defeated the Phillies, 5-0, on Sunday at Citi Field.

Share Tweet

Rox recalling Pomeranz for opener with Marlins

In the three starts for the Rockies this year, Drew Pomeranz has repeatedly fallen behind hitters -- something he'll have to correct to stay in the Majors.

Share Tweet

Hollywood Nights: With incredibly hot hitting from Hanley Ramirez, …

CNNSI.com

Jul 21, 2013

With incredibly hot hitting from Hanley Ramirez, strong pitching from Clayton Kershaw, and the return of a Matt Kemp, the Dodgers finished their sweep of the reeling Nationals.

Share Tweet

ESPN.com

Jul 21, 2013

Matt Kemp returned to the lineup with a home run and a double in the same inning Sunday, and the Dodgers completed a sweep of the Nationals with a 9-2 win that moved them into a tie for first place -- at least temporarily -- in the NL West.

Share Tweet

Little help: Giancarlo Stanton assists Jonathan Lucroy's homer over the fence

Your browser does not support iframes. Putting baseballs over the fence isn't usually a problem for Giancarlo Stanton. However, the way he went about putting one over the fence on Saturday night at Miller Park actually proved to be quite a problem for t…

Share Tweet

CNNSI.com

Jul 21, 2013

HOUSTON (AP) -- Houston manager Bo Porter is defending Erik Bedard's decision to remove himself from Saturday night's game against Seattle with a no-hitter in the seventh inning because of a high pitch count and says he wouldn't have let the left-hander…

Share Tweet

Jason Heyward didn't start for the sixth straight game Sunday while recovering from a strain of his right hamstring, but Braves manager Fredi Gonzalez expects to put his name in the lineup Monday in New York.

Share Tweet

The Braves are headed to New York for a four-game series against the Mets that starts Monday, but starter Paul Maholm went back to Atlanta on Sunday to get his sprained left wrist checked out.

Share Tweet

The Juice returns for season No. 6! It's almost eligible for free-agency! Stop by daily for news from the action, along with great photos, stats, video highlights and more. Alex Rios wasn't exactly pleased after Robin Ventura benched him for what the ma…

Share Tweet

Foul ball rips through net behind plate, hits woman at Nationals game

Barely a month ago, The Stew posted about a man who spilled beer on himself and others at a Philadelphia Phillies game after he flinched when a ball was fouled back to the screen behind home plate.The post made fun of him. Perhaps he's owed an apology.A…

Share Tweet

Brewers Walk Off On Gindl's First Career HR

Jul 21

Rookie Caleb Gindl's home run in the 13th pushed the Brewers to a sweep of the Marlins.

White Sox Stop Braves With Defense

Jul 21

Casper Wells robbed Reed Johnson of a two-run homer as the White Sox topped the Braves 3-1.

Kemp Homers In Return

Jul 21

Matt Kemp drove in three runs and Clayton Kershaw struck out nine batters over seven innings to lead the Dodgers past the Nationals 9-2.

Harvey, Mets Blank Phillies

Jul 21

Matt Harvey struck out 10 batters over seven innings to lead the Mets past the Phillies 5-0.