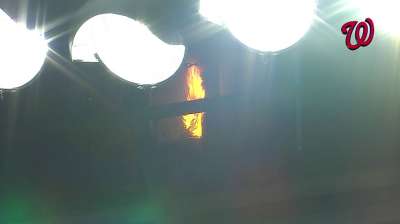 ESPN.com

Jun 27, 2013

Nationals outfielder Bryce Harper was to move up a level Thursday night in his injury rehabilitation assignment, joining Double-A Harrisburg for a game at Bowie, Md.

Share Tweet

Adams opts against surgery for now

Phillies right-hander Mike Adams will try to rehab his injured right shoulder rather than have surgery, although it remains unlikely he pitches again this season.

Share Tweet

D-backs top Nationals on bunt in 11th inning

ESPN.com

Jun 27, 2013

Didi Gregorius drove in the go-ahead run with a bunt single in the 11th inning and Aaron Hill homered as the Arizona Diamondbacks beat the Washington Nationals 3-2 Thursday night to salvage the finale of a three-game series.

Share Tweet

Mets edge Rockies at Coors on late blast from Byrd

Marlon Byrd hit a two-run homer in the eighth inning to give the Mets a 3-2 win against the Rockies on Thursday night at Coors Field.

Share Tweet

D-backs manufacture win over Nats in 11

Patrick Corbin and Stephen Strasburg battled to a draw Thursday afternoon, but it was the D-backs who eventually came out on top, 3-2, in 11 innings on Thursday at Nationals Park. Didi Gregorius' RBI bunt single in the 11th was the difference.

Share Tweet

Draft pick Krook failed recent physical

A source confirmed reports that lefty Matt Krook, who opted to attend college instead of sign with the Marlins, recently failed his physical.

Share Tweet

Wright out of Mets lineup for second time in '13

At least one element was missing from Thursday's makeup game in Colorado, and that was Mets third baseman David Wright, who missed just his second start of the season.

Share Tweet

CNNSI.com

Jun 27, 2013

Colorado Rockies outfielder Michael Cuddyer has lined a single to center in the second inning against the New York Mets, extending his hitting streak to a franchise-record 24 games.

Share Tweet

Foul Ball Scares The Shit Out Of Two Women In Front Row

deadspin.com

Jun 27, 2013

From last night's Mets-White Sox game in Chicago, OMGWHATWASTHAT!?!!?Read more...

Share Tweet

CNNSI.com MLB.com deadspin.com

Jun 27, 2013

PHILADELPHIA (AP) -- Former All-Star catcher Darren Daulton has been diagnosed with two brain tumors and will undergo surgery next week.

Share Tweet

Phillies acquire infielder McDonald from Tribe

The Indians traded veteran infielder John McDonald to the Phillies on Thursday in exchange for a player to be named later or cash considerations.

Share Tweet

Adam LaRoche And His Son Would Like To Show You Their Very Large Guns

deadspin.com

Jun 27, 2013

No big deal, just the Washington Nationals first baseman and his son enjoying a summer day with their guns. Someone should introduce these two to Brek Shea. I bet they could team up for a kick-ass Fourth of July party. Read more...

Share Tweet

yahoo.com

Jun 27, 2013

As most people realize by know, individual won-loss records for pitchers are misleading at best, and slanderous at worst. As if they're the only ones on the field when a game is won or lost! Shaun Marcum of the New York Mets hasn't pitched like it, but …

Share Tweet

Lehigh Valley IronPigs to give away free funeral on 'Celebration of Life' night

yahoo.com

Jun 27, 2013

Figuratively speaking, the most intense sports fans are known to live and die with the successes and failures of their respective favorite teams. However, the Lehigh Valley IronPigs — Triple-A affiliate of the Philadelphia Phillies — would like to give …

Share Tweet

Phillies take advantage of miscues to win in 13

A team desperately in need of victories enjoyed an unusual 7-5 victory Wednesday over the Padres in 13 innings at Petco Park. The Phillies scored the game-winning runs thanks to Logan Forsythe's errors on a Ben Revere grounder.

Share Tweet

Mets Rally Past Rockies

Jun 27

Marlon Byrd's home run completed the Mets' comeback against the Rockies.

Dodgers Win Sixth Straight

Jun 27

Yasiel Puig's clutch hit lifted the Dodgers past the Phillies 6-4.

D-backs Win On Bunt

Jun 27

Baseball Tonight Spotlight: Didi Gregorius' bunt single in the 11th lifted the Diamondbacks to a 3-2 win over the Nationals.