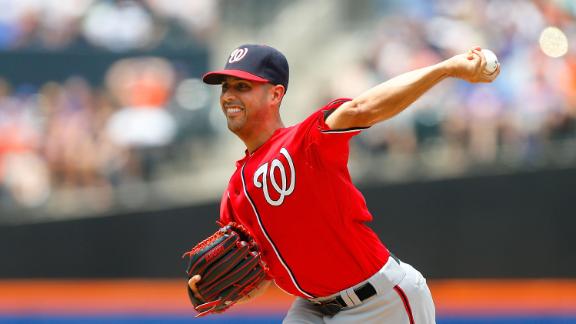 Updated Jun 30
Share
Tweet
This is why you never know how even the most dazzling of phenoms will translate at the highest level. Fastballs that blow away minor-league hitters need to be located better in the big leagues or, as Zack Wheeler found out on Sunday, they wind up in the…
Sources:
nydailynews.com
ESPN.com
Puig's four-hit game lifts Dodgers over Phillies

Updated Jun 30

Share Tweet

Yasiel Puig ended his sensational first month in the major leagues with his first four-hit game, Stephen Fife scattered four hits over seven scoreless innings and the Los Angeles Dodgers beat the Philadelphia Phillies 6-1 Sunday.

Source:

ESPN.com

Updated Jun 30

Share Tweet

Bryce Harper, who missed the entire month of June because of a left knee injury, is expected to be activated from the disabled list on Monday and hit third against the Brewers at Nationals Park.

Source:

MLB.com

Freeman leads Braves to sweep of D-backs

Updated Jun 30

Share Tweet

Freddie Freeman, Dan Uggla and Brian McCann homered, powering the Atlanta Braves past the Arizona Diamondbacks 6-2 Sunday for a three-game sweep in the matchup of division leaders.

Source:

ESPN.com

592 Of The 15,929 Attendees At Marlins Park Were Dogs

Updated Jun 30

Share Tweet

That 1,652 figure likely refers only to those who participated in the Bark at the Park promotion today because the announced attendance was a much more robust 15,929. Sunday's attendance was still more than 1,000 short of the average, however. Read more…

Source:

deadspin.com

Updated Jun 30

Share Tweet

Jeff Mathis hit a grand slam with one out in the ninth inning Sunday, lifting the Miami Marlins over the San Diego Padres 6-2.

Werth: Nats can 'kick it in gear,' live up to hype

Updated Jun 30

Share Tweet

Though Washington has struggled for the first half of the season, Jayson Werth believes the Nationals can still win their second straight division title.

Source:

MLB.com

Player Who Was Not Born When Chipper Jones Was Drafted Pays Tribute

Updated Jun 30

Share Tweet

#Braves Teheran: "The last inning, I was trying to get 10 K's – Chipper Jones' number." (He struck out the side in his last inning for 10) — David O'Brien (@ajcbraves) June 29, 2013Read more...

Source:

deadspin.com

Puig Continues Tear

Jun 30

Yaisel Puig collected four hits as the Dodgers topped the Phillies for their eighth win in nine games.

Nationals Crush Mets

Jun 30

Gio Gonzalez pitched seven strong innings and the Nationals hit four home runs in a 13-2 win against the Mets.

Braves Finish Sweep Of Diamondbacks

Jun 30

The Braves hit three home runs off of Trevor Cahill en route to a 6-2 win against the Diamondbacks.

Marlins Win On Walk-Off Grand Slam

Jun 30

Jeff Mathis hit a walk-off grand slam in the bottom of the ninth to lift the Marlins past the Padres 6-2.