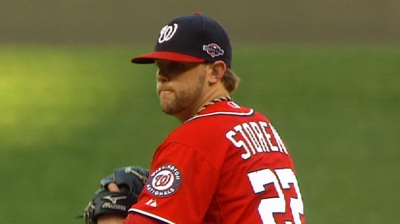 Nationals right-hander Stephen Strasburg was dominant on the mound during a 4-2 loss to the Astros at Space Coast Stadium on Saturday evening.

Share Tweet

Andruw, Profar provide treat for Dutch

Jurickson Profar is sharing the World Baseball Classic attention with Andruw Jones, a fellow Dutch countryman who was slightly younger -- 19 -- when he broke into the big leagues with the Braves in 1996.

Share Tweet

nytimes.com CNNSI.com

Mar 16, 2013

Justin Turner, the primary candidate to replace David Wright while he is out with a muscle strain, picked up his own injury Saturday during the Mets' 4-2 loss to the Miami Marlins.

Share Tweet

After the Dominican Republic's 2-0 victory over Puerto Rico this afternoon at Marlins Ballpark in Miami, we can now officially set up the semifinal matchups in the 2013 World Baseball Classic that will take place at AT&T Park in San Francisco. They …

Share Tweet

Aybar's heads-up play keeps PR from first strike

Two days after driving in the go-ahead run in the Dominican Republic's 3-1 victory over Team USA, Dominican shortstop Erick Aybar made another big-time play in Saturday's World Baseball Classic second-round game against Puerto Rico at Marlins Park.

Share Tweet

Hamels calls first Opening Day nod an 'honor'

ESPN.com

Mar 16, 2013

That scruffy beard Cole Hamels has been sporting this spring training will be gone by the time the Philadelphia Phillies open the regular season.

Share Tweet

Although the United States was knocked out in the second round, Braves closer Craig Kimbrel called his first classic a "great experience" and enjoyed working with Joe Torre and Greg Maddux.

Share Tweet

Carlos Santana homered to lead off the fifth and left-hander Wandy Rodriguez pitched six innings of two-hit ball to earn the win as the Dominican Republic topped Puerto Rico, 2-0, on Saturday.

Share Tweet

Stanton, Cishek take day off before return

Marlins stars Giancarlo Stanton and Steve Cishek returned from the World Baseball Classic healthy and some big-game experience under their belts, ready to rejoin their Major League club this weekend.

Share Tweet

CNNSI.com

Mar 16, 2013

Once again, Team USA has come up short at the WBC, this time falling to Puerto Rico, 4-3. Tom Verducci explains why the U.S. can't seem to get over the hump at the tournament.

Share Tweet

Dominican Republic Blanks Puerto Rico

Mar 16

Carlos Santana homers in the Dominican Republic's 2-0 win over Puerto Rico.