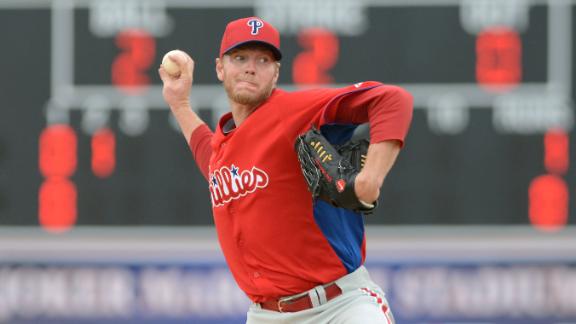 Updated Mar 17
Share
Tweet
The Phillies were hoping that ace right-hander Roy Halladay would pitch well enough against the Orioles on Sunday to prove that his previous start, in which he gave up six runs in 2 2/3 innings, was nothing to worry about. He never had a chance. Hallada…
Updated Mar 17

Share Tweet

The inspiration -- namely, the woman who shot a Major Leaguer in her hotel room -- behind the movie, "The Natural," has died. Ruth Ann Steinhagen, a crazed Cubs fan who baited Phillies first baseman Eddie Waitkus into meeting with her in 1949,…

Source:

MLB.com

Priceless! Philadelphia Phillies trade pitcher Mike Cisco to Los Angeles Angels for 'no compensation'

Updated Mar 17

Share Tweet

When it came down to dealing right-hander Mike Cisco, no price seemed fair to Philadelphia Phillies GM Ruben Amaro. So he literally traded Cisco to the Los Angeles Angels for nothing. Minor League RHP Mike Cisco traded to Angels for no compensation, Phi…

Source:

yahoo.com

Updated Mar 17

Share Tweet

David Wright spoke to reporters on Sunday and said he hopes to be ready for Opening Day, but also said he does not want to rush back and cause a more serious injury.

Sources:

nytimes.com ESPN.com MLB.com

Updated Mar 17

Share Tweet

If the regular season started tomorrow we don't think that would be seen enough for Stephen Strasburg. The Washington Nationals ace was in mid-season form on Saturday striking out eight Houston Astros over five and one-third fantastic innings. Or maybe …

Source:

yahoo.com

Updated Mar 17

Share Tweet

It was like this with Pedro Martinez once, when the Mets went all-in with him as a way of trying to make it all the way back: You bought the talent, you bought all the wonder in his game, but you bought the drama, too.

Source:

nydailynews.com

Halladay's Struggles Continue

Mar 17

ESPN.com senior writer Jerry Crasnick on Roy Halladay being pulled after one inning in Sunday's spring training game against the Orioles.