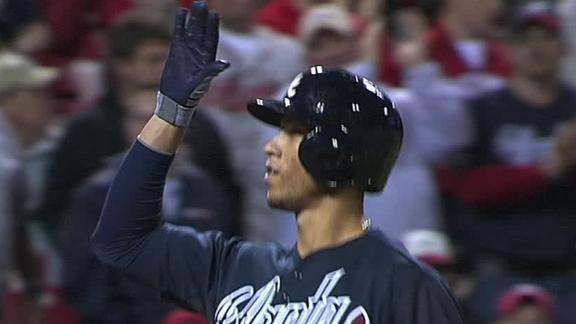 Updated May 6
Share
Tweet
Andrelton Simmons homered twice and drove in a career-high four runs on Monday night, leading the Atlanta Braves to a 7-4 victory that ended the Cincinnati Reds' winning streak at three games.
Doggelganger?! Cubs pitcher Jeff Samardzija looks like this Braves-loving dog

Updated May 6

Share Tweet

One of these pictures is Jeff Samardzija, starting pitcher for the Chicago Cubs who strikes out a lot of hitters. The other is a dog whose owner brought it to the Atlanta Braves' Bark at the Park event Sunday. Which is which? Maybe if they were both thr…

Updated May 6

Share Tweet

Former Atlanta Braves star Otis Nixon - who has battled drug problems in the past, but in recent years started his own ministry - was arrested over the weekend in Georgia after officers allegedly found a crack pipe in his pocket and crack cocaine in h

Updated May 6

Share Tweet

KANSAS CITY, Mo. (AP) -- Chicago White Sox starter Gavin Floyd needs elbow surgery and will miss the rest of the season.

Source:

CNNSI.com

Updated May 6

Share Tweet

Roy Halladay will visit the office of noted orthopedist Lewis Yocum on Tuesday in Los Angeles, where he expects to learn more about his injured right shoulder. The Phillies placed Halladay on the 15-day disabled list Monday with what they called inflamm…

Updated May 6

Share Tweet

Jake Peavy said Monday he expects to be able to pitch Wednesday against the New York Mets at Citi Field.

Zimmermann, not Strasburg, leading Nats' rotation

Updated May 6

Share Tweet

Right-hander Stephen Strasburg gets most of the publicity, but his teammate Jordan Zimmermann has been the Nationals' best pitcher this year, with the stats to back it up.

For Revere, it has never been high, far and gone

Updated May 6

Share Tweet

Phillies outfielder Ben Revere has logged 1,172 plate appearances at the Major League level, but has never deposited a pitch beyond the outfield fence.

MLB Notebook: Hechavarria racks up the RBIs

Updated May 6

Share Tweet

Batting eighth and playing shortstop on Sunday, Adeiny Hechavarria became the 12th National League No. 8 hitter to have at least seven RBIs in a game in the Marlins' 14-2 win over the Phillies.

Updated May 6

Share Tweet

An umpire ejected Bryce Harper of the Washington Nationals for the second time in his career Sunday afternoon after he argued a check-swing call for strike three in the first inning. At first glance, third-base umpire John Hirschbeck seemed to be the ag…

Simmons Powers Braves Past Reds

May 6

Andrelton Simmons hits two home runs and drives in four runs in the Braves' 7-4 win over the Reds.

Web Gems

May 6

Does Andrelton Simmons applying the tag through his legs after the pickoff move top Miguel Cabrera's diving stop and throw from the ground?

Simmons After Braves' Win

May 6

Andrelton Simmons talks to Tim Kurkjian after hitting two home runs and driving in a career-high four runs in the Braves' win Monday.

Pitching Key For Braves

May 6

Rick Sutcliffe, Aaron Boone and Dave O'Brien break down the Braves' win over the Reds.