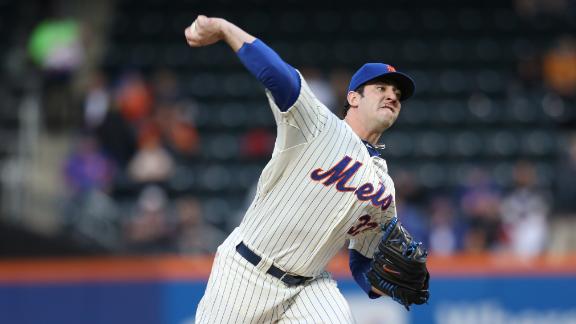 Mesoraco, Choo go back-to-back for wild win

Updated May 7

Share Tweet

In a thrilling conclusion, Devin Mesoraco and Shin-Soo Choo hit back-to-back home runs off Craig Kimbrel in the bottom of the ninth inning to propel the Reds to a 5-4 walk-off victory over the Braves on Tuesday.

For Ventura, return to Queens a 'homecoming'

Updated May 7

Share Tweet

For the White Sox, it's their first trip to Queens. But manager Robin Ventura and two of his coaches, Joe McEwing and Daryl Boston, are quite familiar with this borough of New York City, having played for the Mets. This series is "something like a …

Harper won't be penalized by MLB for ejection

Updated May 7

Share Tweet

On a day when rain postponed the start of a much-anticipated series against the Detroit Tigers, the Washington Nationals got some good news.

Source:

ESPN.com

Updated May 7

Share Tweet

Jason Heyward, who is still recovering from an emergency appendectomy, took batting practice on Tuesday. Braves manager Fredi Gonzalez said that Heyward spent about 30 minutes swinging with B.J. Upton and Ramiro Pena. Heyward also took BP on Monday.

'Thankful' Peavy displays talents in the Fan Cave

Updated May 7

Share Tweet

On the same day that Gavin Floyd was undergoing Tommy John surgery and John Danks was starting a rehab assignment, Jake Peavy was thankful. Thankful to be playing a guitar set at the Fan Cave, thankful to sink his teeth into video of six or seven Mets g…

Tigers-Nats postponed, to be made up Thursday

Updated May 7

Share Tweet

Tuesday night's game between the Nationals and Tigers was postponed because of inclement weather and has been rescheduled for Thursday at 4:05 p.m. ET at Nationals Park.

Updated May 7

Share Tweet

T&R: Phillies mulling trade for replacing Halladay

Source:

CNNSI.com

The Dodgers and Blue Jays: From baseball's offseason darlings to cellar dwellers

Updated May 7

Share Tweet

If you sat down with a notepad and pen the day before the baseball season started and tried to guess which teams would be in last place five weeks into the season, would you put the Los Angeles Dodgers and Toronto Blue Jays on the list? Sure, you'd writ…

Source:

yahoo.com

Once again, expensive free agents are failing to meet expectations

Updated May 7

Share Tweet

As another expensive crop of free-agents fails to meet expectations with their new teams, it's clear free-agency is more like a used-car lot than ever before, writes Tom Verducci.

Source:

CNNSI.com

Football legend Carter tosses out first pitch for Reds

Updated May 7

Share Tweet

Recently elected into the Pro Football Hall of Fame, former NFL wide receiver and Ohio State star Cris Carter threw out a ceremonial first pitch Monday night before the Reds played the Braves at Great American Ball Park.

Updated May 7

Share Tweet

Cliff Lee shut down the Giants once again with eight strong innings, Michael Young hit a two-run double among his three hits and the Philadelphia Phillies stopped San Francisco's season-best six-game winning streak with a 6-2 victory Monday night.

Updated May 7

Share Tweet

Braves catcher Brian McCann, who was making his season debut after spending five weeks on the disabled list, went 0-for-4 with a walk in Monday's 7-4 win over the Reds. McCann, 29, underwent offseason surgery to repair a torn labrum in his right shoulde…

Cashner's career night silences Marlins

Updated May 7

Share Tweet

Andrew Cashner tossed 7 1/3 scoreless frames, allowing just four hits to the Marlins in a 5-0 Padres victory Monday night -- a win that marked the club's ninth in its last 12 games.

About Last Night: You Got Spur'd

Updated May 7

Share Tweet

In case you were out meeting the Mets, meeting the Mets, stepping right up and greeting the Mets, here's what you missed in sports on Monday: The Go...

Source:

grantland.com

Harvey Stellar, Mets Walk Off

May 7

Matt Harvey surrendered just one hit over nine innings pitched as Mike Baxter's single in the 10th lifted the Mets to a 1-0 win over the White Sox.

Walk-Off Homer Lifts Reds Past Braves

May 7

Shin-Soo Choo hit two home runs, including the walk-off shot, to lift the Reds to a 5-4 win over the Braves.

SweetSpot TV: Leadoff Hitters

May 7

Eric Karabell and David Schoenfield break down the best and worst leadoff hitters this season.

SweetSpot TV: Batting Righty

May 7

Eric Karabell and David Schoenfield discuss the top right-handed batters in the game today.