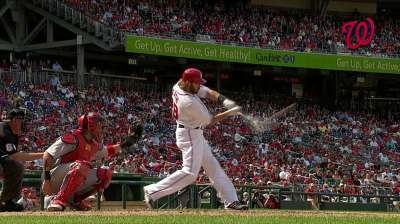 Right-hander Jordan Zimmermann showed once again why he has been the Nationals' best pitcher, leading his club to a 3-1 win over the Tigers at Nationals Park on Wednesday night.

Share Tweet

Solid in return, Peavy gets plenty from bats

Jake Peavy returned to the mound with a stellar performance in Wednesday's 6-3 victory over the Mets at Citi Field, where Alejandro De Aza sparked the White Sox offense.

Share Tweet

Giants recover from Phillies' rally, win in 10th

The Giants squandered a two-run, ninth-inning lead Wednesday but rebounded in the 10th inning on Andres Torres' two-out RBI single to outlast the Philadelphia Phillies, 4-3.

Share Tweet

nytimes.com CNNSI.com nydailynews.com yahoo.com

May 8, 2013

After his one-hit, nine-inning performance against the White Sox on Tuesday, the superlatives keep piling up for Matt Harvey.

Share Tweet

Casilla exits game with right knee injury

Giants right-hander Santiago Casilla left Wednesday's game against the Philadelphia Phillies during the eighth inning with an injured right knee.

Share Tweet

Walk-off warriors: Giants take out Phillies in 10th

Share Tweet

Marquis outduels Nolasco as Padres top Marlins

ESPN.com

May 8, 2013

Jason Marquis outpitched Ricky Nolasco, Yonder Alonso had a sacrifice fly in the sixth inning and San Diego Padres beat the Miami Marlins 1-0 on Wednesday to complete a three-game sweep.

Share Tweet

Dan Uggla hit a pair of solo homers and Juan Francisco added his first career grand slam as the Atlanta Braves recovered from a stunning last-swing loss by beating the Cincinnati Reds 7-2 Wednesday.

Share Tweet

The Nats game was rained out last night; it happens. Fans can exchange their unused tickets for tickets to a future game; as is standard. Unfortunately, that "future game" is very specifically Thursday afternoon's game, no substitutions. Read more...

Share Tweet

Phillies starter Roy Halladay will undergo surgery to repair a partially torn rotator cuff, frayed labrum and bone spurs in his right shoulder, but he is optimistic he can return to the mound this season.

Share Tweet

The Braves will fly to San Francisco for a four-game series with the Giants after Wednesday's series finale against the Reds. Jason Heyward, meanwhile, will fly to Atlanta.

Share Tweet

yahoo.com deadspin.com

May 8, 2013

Your browser does not support iframes.Welcome to the big leagues, Marcell Ozuna.Ozuna, a Miami Marlins rookie recently called up after Giancarlo Stanton's injury, has been hitting pretty well. But Tuesday night in the Marlins game against the San Diego …

Share Tweet

Wild first pitch breaks glass at Citi Field

Your browser does not support iframes. This is why the New York Mets can't have nice things! Gary Green, a lifelong Mets fan who also happens to be CEO of the Class AAA Omaha Storm Chasers, got a chance to throw a ceremonial first pitch Tuesday night be…

Share Tweet

Miami Marlins closing upper deck of mostly empty new stadium for several dates

It didn't take long for a brand-new ballpark to start looking like the place the Miami Marlins used to call home. Because of weak attendance at Marlins Park, the club announced Tuesday it will be closing the upper deck for several upcoming home dates. T…

Share Tweet

White Sox Pitcher Hector Santiago Forgets His Turn To Bat

Hector Santiago pitched so well last night that the Mets' Matt Harvey didn't even get the win even though he took a perfect game into the seventh inning. But when he was due to hit with two outs in the sixth, Santiago was nowhere to be found. Stupid int…

Share Tweet

The Marlins Are So Bad, Businesses Don't Want To Open Nearby

Apologies if it seems that we're dwelling on the failures of Marlins Park-but there are oh so many of them, each more embarrassing than the last. This one's about that huge "economic impact" the new stadium was supposed to bring to the area. More than a

Share Tweet

The Juice: Cincinnati Reds home runs stun Atlanta's Craig Kimbrel in ninth-inning comeback

Your browser does not support iframes. The Juice returns for season No. 6! It's almost eligible for free-agency! Stop by daily for news from the action, along with great photos, stats, video highlights and more. One strike away from his 100th career sav…

Share Tweet

Kyle Kendrick has been pulling his weight since the season started, outpitching the more highly paid and highly touted Cliff Lee, Roy Halladay and Cole Hamels. His excellent season continued Tuesday in a 6-2 victory over the Giants at AT&T Park, whe…

Share Tweet

White Sox Double-Up Mets

May 8

Jake Peavy went 6 2/3 innings to lead the White Sox to a 6-3 win over the Mets.

Dan Uggla Homers Twice In Braves Win

May 8

Dan Uggla had two home runs and scored three times, helping the Braves defeat the Reds.

Roy Halladay To Undergo Surgery

May 8

Phillies pitcher Roy Halladay discusses his upcoming shoulder surgery for bone spurs.

Harper's Homer Powers Nationals

May 8

Bryce Harper homered and drove in two runs to help Jordan Zimmermann earn his sixth win of the season.