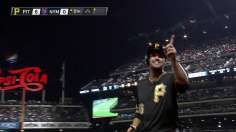 Updated May 10
Share
Tweet
Left-hander Wandy Rodriguez disposed with the Mets' lukewarm batting order for six innings, while cleanup man Garrett Jones started one three-run rally with a double and ended another with a replay-reviewed homer in Friday night's 7-3 win.
Updated May 10

Share Tweet

Ian Desmond's three hits included a two-run homer and an RBI double, and Danny Espinosa and Kurt Suzuki also drove in runs with doubles, helping the Washington Nationals beat the Chicago Cubs 7-3 for their season-high fifth consecutive victory.

Manuel hopes Aumont cuts down on walks

Updated May 10

Share Tweet

More than a month into the new season, Phillies reliever Phillippe Aumont boasts a 2.45 ERA, a number few would gripe about. But in his 11 innings, the right-hander has already walked 10 batters.

Jones awarded homer after replay at Citi Field

Updated May 10

Share Tweet

Pirates manager Clint Hurdle successfully petitioned the umpiring crew to consult replay, and a brief delay was all it took to reverse a triple to a home run for Garrett Jones against Mets right-hander Shaun Marcum on Friday.

Updated May 10

Share Tweet

Mike Baxter has developed into a pinch-hitting weapon for the Mets. His manager attributes Baxter's success to his attention to detail.

Sources:

nytimes.com MLB.com

Updated May 10

Share Tweet

Francisco Liriano is set to come off the disabled list and make his Pittsburgh Pirates debut Saturday against the New York Mets.

Source:

ESPN.com

Updated May 10

Share Tweet

WASHINGTON -- Washington Nationals left fielder Bryce Harper is out of the lineup against the Chicago Cubs after having an ingrown right toenail removed, while right fielder Jayson Werth is probably headed to the 15-day disabled list.

Cubs activate reliever Fujikawa from disabled list

Updated May 10

Share Tweet

As expected, the Cubs on Friday activated reliever Kyuji Fujikawa from the 15-day disabled list prior to the club's weekend series against the Nationals.

Astros Fan Behind Home Plate Really Wants You To See His Fake Dong

Updated May 10

Share Tweet

We pride ourselves on vigilance to behind-the-plate fan frivolity, what with jackasses pantomiming blowjobs at Wrigley or dudes outfitting themselves in Marlins gear during non-Marlins postseason games. So when this fan at last night's Angels-Astros gam…

Source:

deadspin.com

Updated May 10

Share Tweet

The Juice returns for season No. 6! It's almost eligible for free-agency! Stop by daily for news from the action, along with great photos, stats, video highlights and more.A pair of walk-off wins Thursday night showed us two very different ways to win a…

Source:

yahoo.com

Kimbrel earns 100th career save

Updated May 10

Share Tweet

Braves closer Craig Kimbrel turned in a scoreless ninth inning in Thursday night's 6-3 win over the Giants to record career save No. 100, a milestone that proved elusive this week.

McCann leads way as Braves top Giants

Updated May 10

Share Tweet

Brian McCann highlighted a three-hit performance with his first home run of the season and aided the four-run fifth inning that gave Julio Teheran the support he needed in the Braves' 6-3 win over the Giants on Thursday night.

Mets could go after Cincinnati Reds outfielder Shin-Soo Choo in offseason

Updated May 10

Share Tweet

It's only May, and yet on the nights when Matt Harvey isn't pitching, the only real intrigue surrounding the Mets is figuring out how they're going to turn this team into a contender by next year, never mind this season.

Source:

nydailynews.com

MLB Mock Draft: Gray looks like best bet at No. 1 -- for now

Updated May 10

Share Tweet

This year's MLB Draft is unusually difficult to handicap.

Source:

CNNSI.com

Updated May 10

Share Tweet

Patrick Corbin threw six-plus strong innings and drove in a run to help lead the Arizona Diamondbacks past the Philadelphia Phillies 2-1 on Thursday night.

Desmond Powers Nationals Past Cubs

May 10

Ian Desmond had a home run and an RBI double the Nationals' 7-3 win against the Cubs.

Dodgers Suffer Eighth Straight Loss

May 10

Derek Dietrich's three-run blast, his first career home run, helps the Marlins to a 5-4 win over the Dodgers.

Giants Crush Hudson, Braves

May 10

Tim Hudson surrenders six runs in just 3 2/3 innings pitched as the Braves fall to the Giants 8-2.

D-backs Win Fifth Straight

May 10

Miguel Montero's homer in the eighth lifts the Diamondbacks to a 3-2 win over the Phillies.

Sports Columnists

Don Banks: Now the NFL's lone iron man, Fletcher reflects on his past, fut…

May 10

With the retirement of Tampa Bay defensive back Ronde Barber this week, the NFL lost one of its consummate professionals and a player who had become a hallmark of consistency throughout his celebrated 16-year career.

2013 NBA playoffs: Golden State Warriors coach Mark Jackson has fresh appr…

May 10

Golden State coach Mark Jackson is succeeding with a fresh approach.