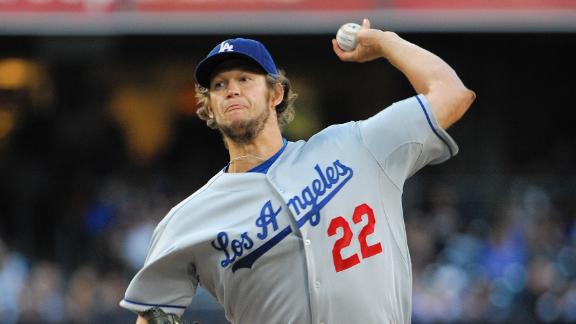 Your browser does not support iframes. The Los Angeles Dodgers have several players capable of taking over a series. Among them, though probably closer to the middle of the list, would be outfielder Carl Crawford. But ever since the NLDS against the Atl…
Share
Tweet
Atlanta Braves hinge their postseason future on 15-year veteran Freddy Garcia

There are really only two options for Freddy Garcia in Monday's NLDS Game 4: He's going to be the unlikely hero, the 15-year veteran and major-league castaway who musters a bit of postseason magic. Or, Garcia's going to be a punchline in another disappo…

Share Tweet

Braves' Paul Janish breaks nose lifting weights

This is what happens when a team turns it back on Dan Uggla. The only backup infielder on the Atlanta Braves roster during this round of the playoffs has a broken nose. Paul Janish, a shortstop by nature who also steps in at third base and second, broke…

Share Tweet

Hanley Ramirez's resurgence coming at right time for Dodgers -- and himself

CNNSI.com

Oct 7, 2013

The Dodgers are on the cusp of the NLCS with a rejuvenated Hanley Ramirez leading the way.

Share Tweet

Carl Crawford falls into the stands, lands on his head while making a great catch

We'll remember NLDS Game 3 between the Los Angeles Dodgers and Atlanta Braves for the offense. The teams scored 19 runs on 24 hits, with an early tete-a-tete in which both teams were lighting up the scoreboard. The Dodgers ultimately won the game handil…

Share Tweet

Kershaw To Start Game 4 On Short Rest

Oct 7

Tim Kurkjian discusses the news that Dodgers ace Clayton Kershaw will start Game 4 on short rest against the Braves.

Uribe, Dodgers Advance

Oct 7

Juan Uribe's two-run homer in the eighth lifted the Dodgers past the Braves and into the NLCS for the first time since 2009.