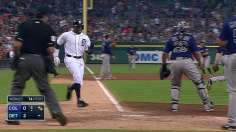 nytimes.com
MLB.com
Updated 2 hours ago
Justin Verlander equaled his longest outing of the season, pitching eight solid innings to lift the Detroit Tigers to a 4-2 victory over the Colorado Rockies on Friday night.
Upvote
Share
Tweet
Some Dodgers' fans in LA area finally get to watch team on WGN broadcast

yahoo.com

1 hour ago

Hundreds of thousands of Dodgers fans in and around Los Angeles have been shut out from watching the majority of their games after the team-owned SportsNet LA began airing spring training and regular season games in February. Time Warner Cable, which ag…

Upvote Share Tweet

Rockies right fielder Carlos Gonzalez exited Friday night's 4-2 loss against the Tigers after he reaggravated his right ankle sprain while making a sliding catch in right-field foul territory at Comerica Park.

Upvote Share Tweet

nytimes.com

3 hours ago

The Mets are not rebuilding, but they are not contending, and on Friday night they did not come close to winning against the Giants.

Upvote Share Tweet

Vogelsong Stifles Mets in Gaints' 5-1 Win

nytimes.com

3 hours ago

Ryan Vogelsong pitched a two-hitter for his second career complete game, Hunter Pence emerged from a deep funk with a triple and three RBIs and the San Francisco Giants beat the New York Mets 5-1 on Friday night for their second straight win after a six…

Upvote Share Tweet

The Giants purchased the contracts of infielder Matt Duffy and outfielder Jarrett Parker from Double-A Richmond on Friday while clearing roster room by designating second baseman Dan Uggla and outfielder Tyler Colvin for assignment.

Upvote Share Tweet

Repositioned and Revitalized, but Staying Put With the Dodgers

nytimes.com

4 hours ago

A self-described everyday center fielder, Matt Kemp was thriving a little more than a week after being shifted to right and after being the subject of trade rumors.

Upvote Share Tweet

Yielding to a unanimous decision from a panel of medical experts, Giants right-hander Matt Cain almost surely will undergo surgery to have bone chips and spurs removed from his throwing elbow. Given the minimum recovery time for such a procedure, which …

Upvote Share Tweet

A's, Tigers, Dodgers: World Series or bust in '14

MLB.com

8 hours ago

Every team would love to win this year's World Series championship, but there are three teams that must win: the Dodgers, Tigers and A's. I mean, they really, really, really must win it all. Anything less than a 2014 World Series trophy for any of those…

Upvote Share Tweet

yahoo.com MLB.com ESPN.com nytimes.com

20 hours ago

On a day that the Los Angeles Dodgers watched the MLB trade deadline pass without a single move, they reminded us of one simple but important fact — they have Clayton Kershaw. And Kershaw, as he's continuing to prove this season, is the best pitcher in …

Upvote Share Tweet

Marte, Hill Lift Diamondbacks Past Pirates, 7-4

nytimes.com

24 hours ago

Andy Marte hit a two-run home run and Aaron Hill added a solo shot in the sixth inning to power the Arizona Diamondbacks to a 7-4 win over the Pittsburgh Pirates Thursday night.

Upvote Share Tweet

Verlander Powers Tigers Over Rockies

Aug 1

Justin Verlander pitched eight innings with five strikeouts and two earned runs to lift the Tigers to a 4-2 victory over the Rockies.

Vogelsong Pitches Giants Past Mets

Aug 1

Ryan Vogelsong struck out five and allowed only two hits in the Giants' 5-1 win over the Mets.

Trade Deadline Breakdown

Jul 31

The Baseball Tonight crew breaks down the trades made by the A's and the Tigers.

D-backs Top Pirates

Jul 31

Andy Marte homered for the first time since Sept. 8, 2010 as the Diamondbacks defeated the Pirates 7-4.