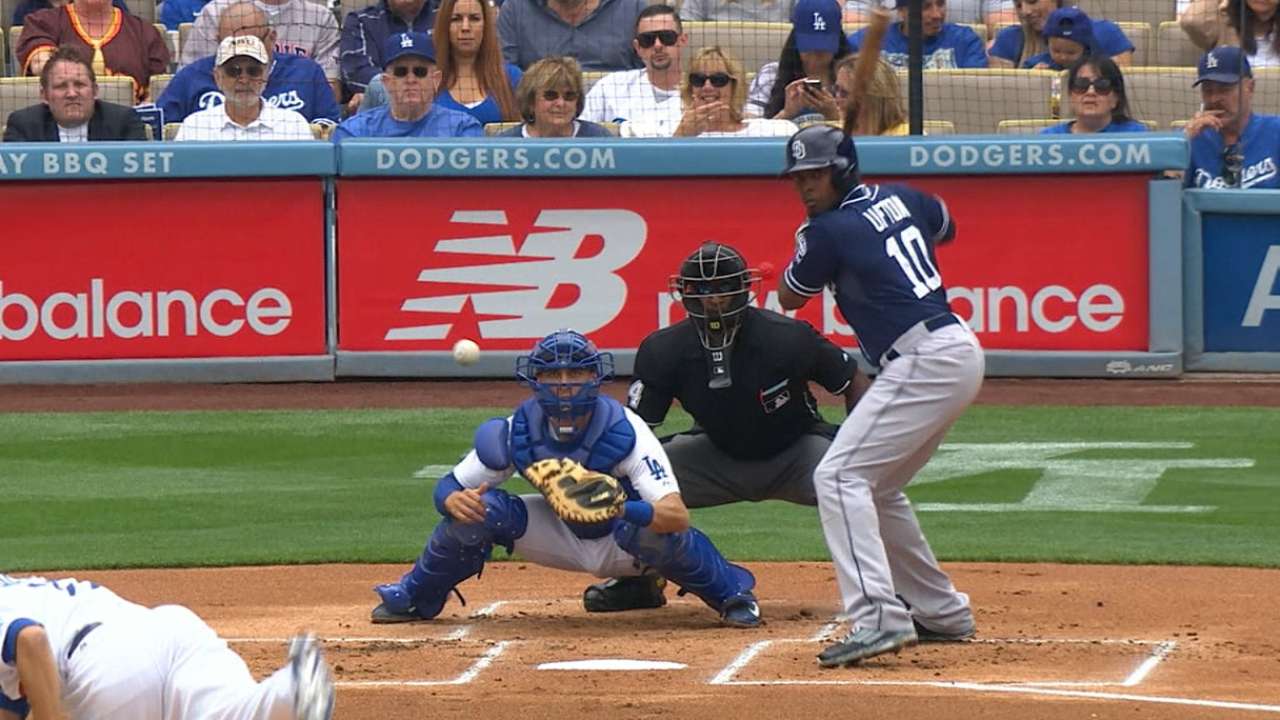 nytimes.com
MLB.com
ESPN.com
yahoo.com
Updated 15 hours ago
Justin Upton hit a grand slam and drove in six runs, and San Diego broke loose on Sunday, backing unbeaten James Shields in an 11-3 victory over the Dodgers.
Share
Tweet
MLB.com nytimes.com

17 hours ago

An emphatic eight-run fourth inning and Chad Bettis' dominant mound performance were more than enough for the Rockies in their 11-2 win over San Francisco in Sunday's series finale at Coors Field.

Share Tweet

Dodgers Fan Videotapes Himself Catching Home Run Ball

deadspin.com

19 hours ago

The Dodgers may be getting spanked by the Padres today at Chavez Ravine, but at least one L.A. fan will go home happy. That's because this guy in left field not only snagged a home run ball, but he caught his own feat on video. That's talent. (Send us y…

Share Tweet

yahoo.com

21 hours ago

The San Francisco Giants and Colorado Rockies had a long day at the ballpark on Saturday. The division rivals met up for a day/night doubleheader that was scheduled to begin at 2:10 and 7:10 pm respectively in Denver, but ended up way behind schedule th…

Share Tweet

yahoo.com

24 hours ago

Your browser does not support iframes. When Memorial Day arrives on Monday, it will take on an extra-special meaning for St. Louis Cardinals right-hander Mitch Harris. When the Cardinals line up to face the Arizona Diamondbacks at Busch Stadium in St. L…

Share Tweet

Descalso's rare homer snaps Giants' streak

MLB.com

May 24 (yesterday)

Daniel Descalso's two-run homer in Saturday night's sixth inning enabled the Colorado Rockies to inch ahead and helped them claim a 5-3 victory over the San Francisco Giants, ending the defending World Series champions' eight-game winning streak.

Share Tweet

nytimes.com

May 24 (yesterday)

Anthony Rizzo matched his career high with six RBIs and the Chicago Cubs beat 9-6 Saturday night, snapping the Arizona Diamondbacks' five-game winning streak.

Share Tweet

Giants outlast Rockies for eighth straight win

MLB.com

May 23 (yesterday)

A remarkable display of two-out hitting carried the San Francisco Giants to their eighth consecutive victory, a 10-8 decision Saturday over the Colorado Rockies in the first half of a day-night doubleheader.

Share Tweet

Sprained toe forces Lyles to exit vs. Giants

MLB.com

May 23 (yesterday)

Rockies right-hander Jordan Lyles suffered a sprained toe on his left foot during Saturday's start against the Giants. He is listed as day to day.

Share Tweet

Minor League Team Commits Three Errors On The Same Play

deadspin.com

May 23 (yesterday)

Minor league baseball is a cheap good time, as long as you don't hold the players to too many expectations. Here's Rockies AA affiliate New Britain committing three errors on the same play in the bottom of the fifth today at Harrisburg. Here's how the o…

Share Tweet

yahoo.com MLB.com nytimes.com

May 23 (yesterday)

Just when you thought it was safe to party at Coors Field on a Friday night, Brandon Belt of the San Francisco Giants is here to crash it. Or at the very least make you reconsider your choices in life. During Friday's wild 11-8 victory against the Rocki…

Share Tweet

yahoo.com

May 23 (yesterday)

On Wednesday, we learned that Los Angeles Dodgers left-hander Hyun-jin Ryu — the team's No. 3 starter the past two seasons behind Clayton Kershaw and Zack Greinke — would be facing surgery on his ailing left shoulder and would likely miss the remainder …

Share Tweet

yahoo.com

May 23 (2 days ago)

One of the more unusual and admittedly entertaining moments during the 2013 postseason occurred when Scott Van Slyke of the Los Angeles Dodgers and Joe Kelly, then of the St. Louis Cardinals, engaged in a standoff immediately following the national anth…

Share Tweet

Zack Greinke walks the highwire for a slumping Los Angeles Dodgers team

ESPN.com

May 23 (2 days ago)

Zack Greinke walks the highwire for a slumping Los Angeles Dodgers team

Share Tweet

Padres' Renfroe among top performers in Minors Friday

MLB.com

May 23 (2 days ago)

Padres No. 1 prospect Hunter Renfroe is starting to hit his stride. He notched four hits for the first time Friday night, which was his third straight multi-hit game.

Share Tweet

nytimes.com

May 23 (2 days ago)

Paul Goldschmidt tied it with a two-out, two-run homer in the 10th inning and Nick Ahmed singled home the winning run in the 13th to give the Arizona Diamondbacks a 5-4 victory over the Chicago Cubs on Friday night.

Share Tweet

Kershaw Struck By Liner, Loses Part Of Tooth

Mar 20

Clayton Kershaw was hit by Andy Parrino's broken-bat liner in the bottom of the third inning in the Dodgers' 3-2 loss to the A's. Kershaw remained in the game.

Leaving San Francisco Was Easy Call For Sandoval

Mar 9

ESPN SweetSpot blogger David Schoenfield discusses Pablo Sandoval's comments about feeling disrespected by the Giants.

Yasiel Puig Puts On A Big Head

Mar 9

While signing autographs during spring training, Los Angeles Dodgers outfielder Yasiel Puig decided to have some fun by putting on a giant head of himself.

Matt Kemp Conversation

Mar 7

Padres outfielder Matt Kemp talks to Josina Anderson about moving on from the Dodgers' organization, preparing to play in a San Diego Padres uniform and addresses durability questions.

Sports Columnists

2015 NBA playoffs - Golden State Warriors eye finishing touch against Hous…

May 25

For all intents and purposes, these Western Conference finals are over. The only question that remains: How quickly will Steph Curry and the Warriors seal the deal?

2015 NBA playoffs - Golden State Warriors learning what it takes to be cha…

May 21

Steve Kerr is trying to impress upon his inexperienced Warriors just how hard the playoffs can be, without them actually proving it by adding to the degree of difficulty.

NBA Playoffs 2015 - Golden State Warriors and Houston Rockets going small …

May 21

The Western Conference finals are downsizing. And while Houston has no problem going small, it might be playing right into Golden State's hand.