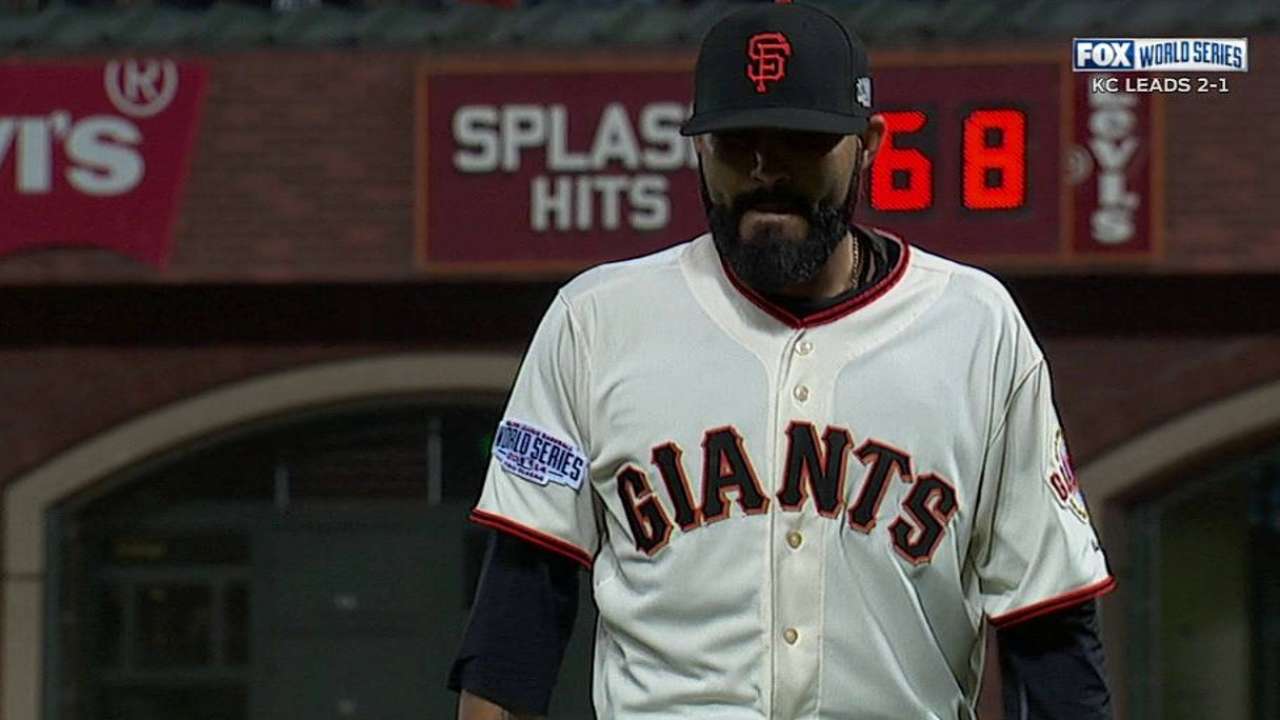 nytimes.com
MLB.com
Updated 36 minutes ago
Sergio Romo tested free agency, had some offers and decided he wanted to stay put in San Francisco, pitching for the only major league organization he has known.
Upvote
Share
Tweet
nytimes.com ESPN.com

57 minutes ago

San Francisco Giants second baseman Marco Scutaro underwent back surgery that could end his career.

Upvote Share Tweet

Padres fans celebrate Tony Gwynn with Christmas light display

yahoo.com

3 hours ago

We've seen a number of tributes to Tony Gwynn since his death in June — from a graffiti mural to a San Diego craft beer — but we're pretty sure this is the only one that has a Santa Claus, elves, candy canes and a Christmas tree. And that Santa, we migh…

Upvote Share Tweet

Hot Stove takes no holiday: What's next?

MLB.com

21 hours ago

Now that the acquisitions of Matt Kemp, Wil Myers and Justin Upton have completely reshaped the Padres' roster, it might be time for some other teams to step up to the plate with the biggest movers and shakers of this offseason thus far. The drum beat o…

Upvote Share Tweet

Cain resurgence could be difference-maker in '15

MLB.com

Dec 21 (yesterday)

It's been a surprising, slow-to-develop Hot Stove season for the Giants. But all could be forgotten in a hurry next spring if Matt Cain returns strong to join Madison Bumgarner in one of baseball's best 1-2 combinations

Upvote Share Tweet

nytimes.com MLB.com ESPN.com

Dec 21 (yesterday)

Having acquired Martin Prado from the Yankees, Miami traded McGehee, a third baseman, to the San Francisco Giants for the minor league right-handers Kendry Flores and Luis Castillo.

Upvote Share Tweet

Active of late, Giants pondering next offseason move

MLB.com

Dec 20 (2 days ago)

After sitting back and watching other teams swoop in on their free-agent targets earlier this offseason, the Giants have moved decisively in recent days. They answered their third-base question with Casey McGehee and will soon formally announce that the…

Upvote Share Tweet

Keeping Score: Padres Reshape Roster, but Results Remain to Be Seen

nytimes.com

Dec 20 (2 days ago)

San Diego acquired some notable names capable of great things, but there are reasons they were available.

Upvote Share Tweet

yahoo.com

Dec 20 (2 days ago)

The trades have been coming so fast and so furiously since last week's Winter Meetings that it's difficult to fully digest and sort out everything that has happened. One trade in particular though, the three-team 11-player deal involving the Tampa Bay R…

Upvote Share Tweet

yahoo.com

Dec 20 (2 days ago)

The deal sending Jimmy Rollins to the Los Angeles Dodgers is official now, meaning he's no longer the longest-tenured athlete in Philadelphia. Rollins was selected by the Philadelphia Phillies in the 2nd round of the 1996 amateur draft. He went on to sp…

Upvote Share Tweet

Nationals Trade For Prospect Who Is Stuck On The Padres Until June

deadspin.com

Dec 20 (2 days ago)

Baseball is weird, and its weirdness has claimed another victim. This time, it's Nationals, er, Padres shortstop Trea Turner. Turner was traded from San Diego to Washington in the three-team, 11-player Wil Myers trade. But Turner can't join the Nats unt…

Upvote Share Tweet

MLB.com

Dec 20 (2 days ago)

It's official: The Dodgers have passed the Yankees as baseball's highest-spending team. According to calculations made by MLB and reported by The Associated Press, the Dodgers 2014 payroll was a record $257,283,410. That's more than $20 million above th…

Upvote Share Tweet

LA Dodgers Chart New Course With Rebuilt Roster

nytimes.com

Dec 20 (2 days ago)

Andrew Friedman has thoroughly overhauled a 94-win team in his first two months running the Los Angeles Dodgers. None of his myriad moves made a bigger, more baffling splash than his trade of popular slugger Matt Kemp and $32 million to a division rival…

Upvote Share Tweet

MLB.com

Dec 20 (3 days ago)

With a logjam at third base and a need for a backup catcher, the Red Sox traded Will Middlebrooks to the Padres on Friday in exchange for catcher Ryan Hanigan.

Upvote Share Tweet

Padres Acquire Justin Upton in Trade With Braves

nytimes.com

Dec 20 (3 days ago)

Landing another of baseball's top power hitters, the San Diego Padres acquired Upton in a trade that sent four prospects to the Braves.

Upvote Share Tweet

Padres Complete Big Three With Upton Trade

Dec 19

Buster Olney discusses the excitement surrounding San Diego's new outfield after the Padres made deals to acquire Wil Myers, Matt Kemp and Justin Upton.

Sources: Padres Acquire Justin Upton

Dec 19

Tim Kurkjian discusses the improvements made by the Padres after they added outfielders Justin Upton, Matt Kemp and Wil Myers.

Padres Squeezing Dodgers For More Cash In Kemp Deal?

Dec 18

Buster Olney explains why the Padres are in a great position to squeeze the Dodgers for more money in order to finalize the Matt Kemp deal.

Padres Nearing Deal For Rays' Myers

Dec 17

Jerry Crasnick discusses what the addition of outfielder Wil Myers would mean to the Padres' lineup.