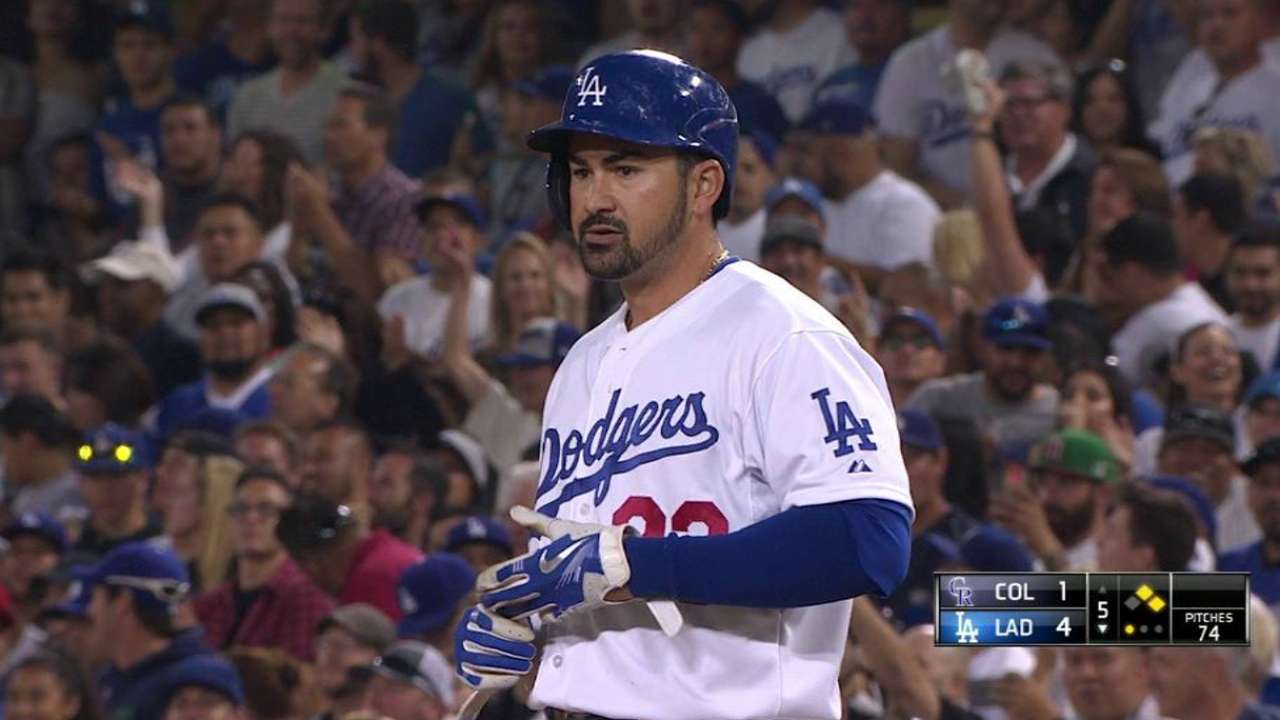 MLB.com
nytimes.com
Updated 11 hours ago
Torrid Adrian Gonzalez drove in three runs and Howie Kendrick had a pair of doubles as the Dodgers win streak reached six games with a 6-3 victory over the Rockies at Dodger Stadium Saturday night. Zack Greinke got the win, despite being chased with a t…
Share
Tweet
Crawford, Heston Lead Giants to Win

nytimes.com

14 hours ago

Chris Heston pitched into the eighth inning, Brandon Crawford hit a two-run homer and the San Francisco Giants snapped an eight-game losing streak with a 4-1 victory over the Arizona Diamondbacks on Saturday night.

Share Tweet

Starlin's single lifts Cubs past Padres in 11

MLB.com

18 hours ago

Starlin Castro knocked in the game-winning run in the 11th inning with a bases-loaded single onSaturday as the Cubs edged the Padres, 7-6, before a crowd of 33,958 at Wrigley Field.

Share Tweet

nytimes.com MLB.com yahoo.com

19 hours ago

On his second day with the Cubs, Kris Bryant played like the top prospect Chicago was expecting.

Share Tweet

Kemp launches first homer with Padres

MLB.com

23 hours ago

It took 12 games and 46 at-bats, but Padres' right fielder Matt Kemp got his first home run as a Padre on Saturday at Wrigley Field.

Share Tweet

Dodgers extend win streak to five, snap Rox road run at six

Howie Kendrick homered and doubled, Adrian Gonzalez had a pair of RBI doubles and Clayton Kershaw struck out 12 in six innings of a 7-3 win over the Rockies on Friday night at Dodger Stadium, extending the Dodgers' win streak to five games and snapping …

Share Tweet

MLB.com nytimes.com

Apr 18 (yesterday)

Josh Collmenter sent the defending World Series champions to their eighth straight loss with a four-hit shutout, the first complete game in the Majors this season. Giants starter Jake Peavy, battling a tight back, exited in the fourth inning after allow…

Share Tweet

Tulowitzki sees improved attitude among teammates

The Rockies' 7-3 loss to the Dodgers, their first defeat in seven road games, shouldn't stop the growth Tulowitzki sees in this Rockies team.

Share Tweet

Axford may need to extend emergency family leave

Rockies right-handed pitcher John Axford's family medical emergency leave will expire Sunday. Manager Walt Weiss said Friday the club will be in contact with the Commissioner's Office if it is determined that Axford needs more time.

Share Tweet

nytimes.com

Apr 18 (yesterday)

It took Clayton Kershaw three starts to get his first victory and he still is trying to find his groove after putting together one of the greatest seasons any pitcher ever had.

Share Tweet

Without sharpest stuff, Shields aids winning effort

MLB.com

Apr 17 (yesterday)

There were a few lamentable moments for Padres' pitcher James Shields to sort through in his first start at Wrigley Field on Friday, but he buckled down, struck out nine and came out ahead in San Diego's 5-4 win over the Cubs.

Share Tweet

A New Spring for Old Dodgertown

nytimes.com

Apr 17 (yesterday)

The Dodgers' former spring training site in Vero Beach, Fla., now called Historic Dodgertown, has returned to life as a multisports complex with O'Malley family involvement.

Share Tweet

yahoo.com

Apr 17 (2 days ago)

Bryan Stow, the San Francisco Giants fan who was nearly beaten to death four years ago outside Dodger Stadium, took another big step in his inspirational road to recovery on Thursday night. Stow attended the home opener of the Class-A San Jose Giants an…

Share Tweet

Strange But True Feats: Giants can't win, Rockies can't lose

ESPN.com

Apr 17 (2 days ago)

Strange But True Feats: Giants can't win, Rockies can't lose

Share Tweet

MLB.com nytimes.com

Apr 17 (2 days ago)

Aaron Hill drove in a pair of runs in the 12th inning as the D-backs held off a late rally by the Giants, who fell to their seventh straight loss.

Share Tweet

Kershaw Struck By Liner, Loses Part Of Tooth

Mar 20

Clayton Kershaw was hit by Andy Parrino's broken-bat liner in the bottom of the third inning in the Dodgers' 3-2 loss to the A's. Kershaw remained in the game.

Leaving San Francisco Was Easy Call For Sandoval

Mar 9

ESPN SweetSpot blogger David Schoenfield discusses Pablo Sandoval's comments about feeling disrespected by the Giants.

Yasiel Puig Puts On A Big Head

Mar 9

While signing autographs during spring training, Los Angeles Dodgers outfielder Yasiel Puig decided to have some fun by putting on a giant head of himself.

Matt Kemp Conversation

Mar 7

Padres outfielder Matt Kemp talks to Josina Anderson about moving on from the Dodgers' organization, preparing to play in a San Diego Padres uniform and addresses durability questions.