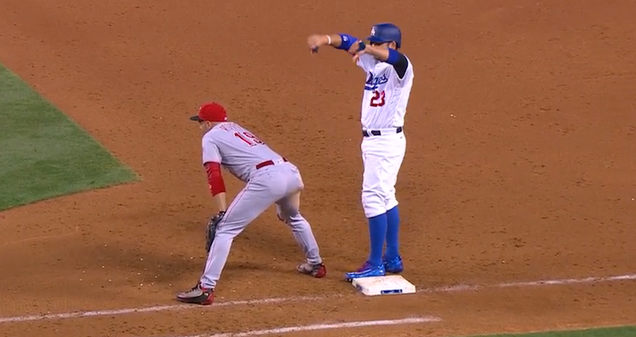 Joey Votto Has No Time For Your Foolish Japes
deadspin.com
Updated 44 minutes ago
Some rapscallion at last night's Dodgers game threw a paper airplane onto the field. Reds first baseman Joey Votto was not amused by this tomfoolery:Read more...
Share
Tweet
Padres try an outfield shift and it completely backfires

yahoo.com

2 hours ago

Shifts are the best or worst thing in baseball, depending on which side you're on. They're great when your favorite team uses them, but less so when they stop your favorite team from getting on base. Regardless, they're a useful weapon for teams to empl…

Share Tweet

Giants' free agent pitchers turn into their greatest strength

yahoo.com

4 hours ago

This past offseason, the San Francisco Giants made two big free agent signings to replenish their starting rotation. They snatched up Johnny Cueto, who had spent 2015 with the Kansas City Royals and the Cincinnati Reds, and Jeff Samardzija, who pitched …

Share Tweet

MLB.com nytimes.com

11 hours ago

Mike Bolsinger rejoined the Dodgers' rotation Tuesday with a strong outing against the Reds, limiting Cincinnati to two runs as his club won, 8-2, at Dodger Stadium, extending the Reds' losing streak to nine games

Share Tweet

Dodgers' Puig gets benched for lack of hustle

Share Tweet

Giants feast in 8th to back Shark, net series

MLB.com

13 hours ago

In a legitimate offensive eruption for the San Francisco Giants, they scored twice in Wednesday's sixth inning to snap a tie, then added five eighth-inning runs to pull away for an 8-2 victory over the San Diego Padres.

Share Tweet

Crawford, Samardzija Lead Giants Past Padres Again, 8-2

nytimes.com

14 hours ago

Brandon Crawford drove in four runs and Jarrett Parker homered to lead Jeff Samardzija and the streaking San Francisco Giants past the San Diego Padres 8-2 on Tuesday night.

Share Tweet

nytimes.com

16 hours ago

Thrust into the third spot in the lineup behind superstar teammate Andrew McCutchen earlier this month, Gregory Polanco knew it might take a while to get settled.

Share Tweet

Papi's 4 RBIs back Price as Sox handle Rox

MLB.com

16 hours ago

The Red Sox continue to pound the baseball at Fenway Park, making the Colorado Rockies their latest victims en route to an 8-3 victory on Tuesday night.

Share Tweet

Van Slyke could return after road trip

MLB.com

17 hours ago

Scott Van Slyke is progressing toward a return to the Dodgers. Manager Dave Roberts said Tuesday he expects Van Slyke (back) to come off the disabled list around June 3-4, after the club's upcoming seven-game road trip.

Share Tweet

MLB.com

18 hours ago

Giants left fielder Angel Pagan went on the 15-day disabled list with a strained left hamstring Tuesday as outfielder Jarrett Parker was recalled from Triple-A Sacramento.

Share Tweet

Hanley exits after taking pitch to toe

MLB.com

18 hours ago

Red Sox first baseman Hanley Ramirez had to exit Tuesday night's game against the Rockies with a contusion on his right big toe. The injury occurred when Ramirez was plunked in the fourth inning on a pitch by lefty Jorge De La Rosa. X-rays were negative…

Share Tweet

MLB.com

19 hours ago

With a second-inning double off the Green Monster against the Rockies on Tuesday night, Jackie Bradley Jr. pulled halfway to history. The Red Sox outfielder extended his hitting streak to 28 games with that knock putting him halfway to Joe DiMaggio's Ma…

Share Tweet

Why did Dodgers' A.J. Ellis catch 26 innings in two days?

ESPN.com

20 hours ago

Why did Dodgers' A.J. Ellis catch 26 innings in two days?

Share Tweet

nytimes.com

21 hours ago

The family of the late baseball star Tony Gwynn, a Hall of Famer who played with the San Diego Padres, has filed a lawsuit in California accusing makers of dipping tobacco of causing his death from cancer by getting him hooked at a young age.

Share Tweet

The Giants Won On A Fluky Walk-Off, And Are Suddenly Unbeatable 

deadspin.com

May 24 (yesterday)

The San Francisco Giants beat the San Diego Padres 1-0 last night, as Johnny Cueto threw a complete game shutout and they won on what was charitably (for Matt Kemp and Alexi Amarista) scored as a walk-off double for Hunter Pence.Read more...

Share Tweet

yahoo.com

May 24 (yesterday)

The ex-San Diego Padres DJ at the center of the national anthem controversy that humiliated the San Diego Gay Men's Chorus is now speaking publicly — apologizing for what he calls an "unfortunate mistake" and defending himself against allegati…

Share Tweet

MLB.com nytimes.com

May 24 (yesterday)

This is how well things are going for the Giants these days: Hunter Pence began Monday's series opener against the San Diego Padres resting his strained right hamstring, then finished it by launching a harmless-looking popup that turned out to be the ga…

Share Tweet

Kershutout! Clayton's two-hitter stymies Reds

MLB.com

May 24 (yesterday)

Clayton Kershaw dominated again Monday night at Dodger Stadium, firing a two-hit shutout in a 1-0 Dodgers win over the Reds, whose losing streak reached eight.

Share Tweet

nytimes.com

May 24 (yesterday)

Clayton Kershaw bailed out the Los Angeles Dodgers' exhausted bullpen with his third shutout of the season, and he was quick about it, too.

Share Tweet

Kershaw Struck By Liner, Loses Part Of Tooth

Mar 20

Clayton Kershaw was hit by Andy Parrino's broken-bat liner in the bottom of the third inning in the Dodgers' 3-2 loss to the A's. Kershaw remained in the game.

Leaving San Francisco Was Easy Call For Sandoval

Mar 9

ESPN SweetSpot blogger David Schoenfield discusses Pablo Sandoval's comments about feeling disrespected by the Giants.

Yasiel Puig Puts On A Big Head

Mar 9

While signing autographs during spring training, Los Angeles Dodgers outfielder Yasiel Puig decided to have some fun by putting on a giant head of himself.

Matt Kemp Conversation

Mar 7

Padres outfielder Matt Kemp talks to Josina Anderson about moving on from the Dodgers' organization, preparing to play in a San Diego Padres uniform and addresses durability questions.