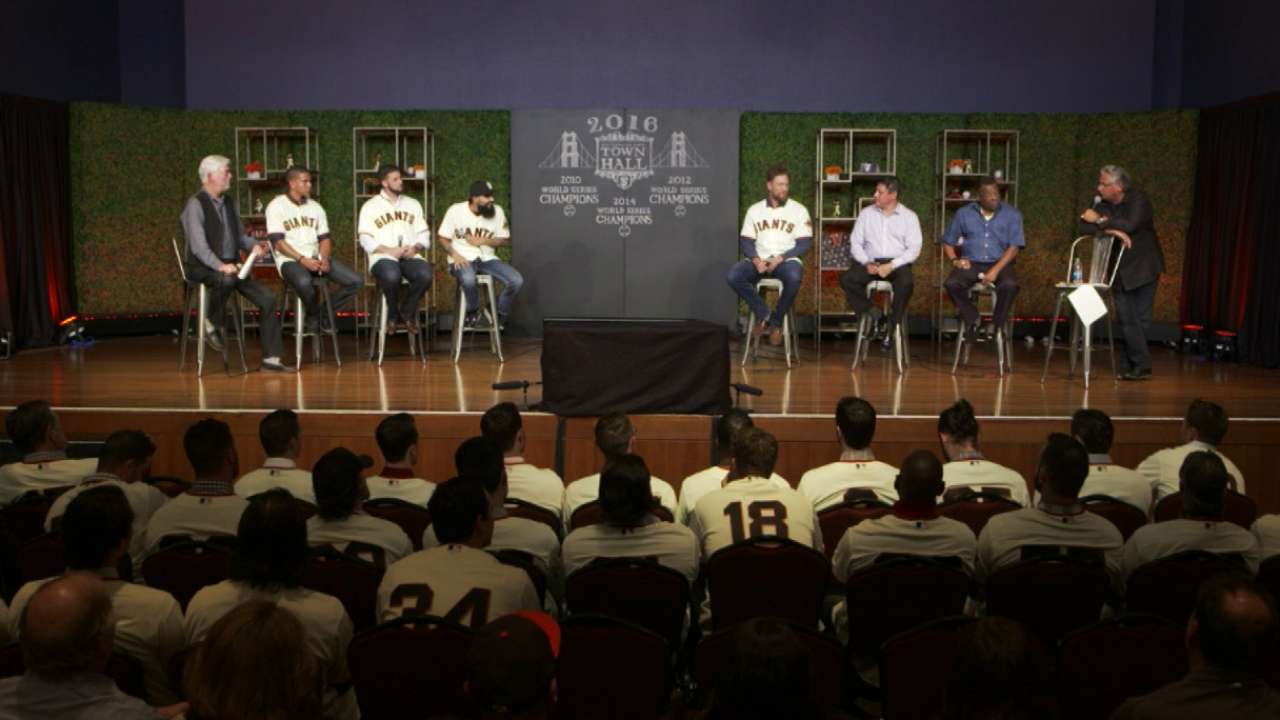 Panik optimistic about health for 2016 season

MLB.com

Feb 12 (yesterday)

Giants second baseman Joe Panik insisted Friday that not only will he enter Spring Training fully recovered from lower back inflammation, but he'll also remain healthy through the season.

Share Tweet

Montas may miss 4 months after rib surgery

MLB.com

Feb 12 (yesterday)

Rookie righty Frankie Montas, the centerpiece for the Dodgers in a December three-team trade, will miss two to four months after undergoing rib resection surgery on Friday, it was announced.

Share Tweet

Giants' Cain on health: Everything's feeling good

ESPN.com

Feb 12 (yesterday)

Giants' Cain on health: Everything's feeling good

Share Tweet

nytimes.com MLB.com

Feb 12 (2 days ago)

The San Diego Padres have hired Japanese pitching pioneer Hideo Nomo as an advisor for baseball operations to strengthen their presence in the Pacific Rim, the National League franchise said on Thursday.

Share Tweet

The Pirates added two intriguing left-handers to their staff on Thursday, signing Cory Luebke and Eric O'Flaherty to Minor League contracts with invitations to big league Spring Training.

Share Tweet

The Dodgers are attempting to trade infielder/outfielder Alex Guerrero and have talked to "numerous" clubs about the possibility, FoxSports.com reported on Thursday. The club has not commented on or confirmed the report.

Share Tweet

Rockies beef up bullpen, add vets to lineup

In our first installment of the Spring Training preview, we looked at Rockies On The Rebound. Now we take a look at The New Guys.

Share Tweet

deadspin.com yahoo.com

Feb 11 (3 days ago)

Most recently Tim Flannery was the crazy third base coach who windmilled home San Francisco Giants runners en route to three World Series victories, but the majority of his baseball career took place in San Diego. He played alongside Bruce Bochy as the …

Share Tweet

nytimes.com

Feb 11 (3 days ago)

First baseman Brandon Belt agreed to a one-year, $6.2 million contract with the Giants.

Share Tweet

5 bats could shape how NL West is won

MLB.com

Feb 10 (4 days ago)

The Dodgers and Giants have ruled the National League West in recent seasons with dominant pitching, but the division also houses some serious offense. The Rockies and D-backs scored the most runs in the league in 2015, with the Giants coming in fifth. …

Share Tweet

nytimes.com MLB.com yahoo.com

Feb 9 (4 days ago)

Reliever Tyler Clippard says that Arizona's potential to contend for a title was a big reason he signed with the Diamondbacks.

Share Tweet

Padres sign Schumaker to Minors deal

MLB.com

Feb 9 (5 days ago)

The Padres signed infielder/outfielder Skip Schumaker to a Minor League contract on Tuesday.

Share Tweet

yahoo.com

Feb 9 (5 days ago)

In our Homer History series, writers re-tell the stories of memorable home runs from their perspective. In this installment, Yahoo Sports Big League Stew writer Mark Townsend recounts the time Todd Helton's walk-off blast ignited an incredible run. As a…

Share Tweet

5 potential impact arms in wild NL West

MLB.com

Feb 8 (6 days ago)

Remodeled pitching staffs make the National League West one of the most unpredictable and fascinating of the six divisions as Spring Training approaches. Any number of arms could prove pivotal in a lively race. Here are five to watch.

Share Tweet

Roberts: Reflecting on Jackie's influence

MLB.com

Feb 8 (6 days ago)

The Dodgers are the groundbreaking franchise of Jackie Robinson. When I put on this uniform as a player, I understood the special responsibility to honor those that played before me, as well as the amazing bond between the Dodgers and their fans. I feel…

Share Tweet

Giants' annual FanFest set for Saturday

MLB.com

Feb 7 (7 days ago)

Virtually every square inch of AT&T Park will be thrown open to the public on Saturday, when the Giants conduct their annual FanFest.

Share Tweet

Spring cleaning: Rockies gear shipped

MLB.com

Feb 6

Tyler Sanders finished his Friday walking through the eerily empty clubhouse and storage areas of Coors Field, knowing that baseball and all its gear would greet him by the time he landed in Scottsdale, Ariz., Saturday afternoon.

Share Tweet

X (10) Super baseball things from 50 years ago

MLB.com

Feb 6

This weekend, football's final fling until after baseball's All-Star break, is all about number 50. Not the 50-yard line or Ken Strong of the New York Giants of the 1930s and '40s, the only player for whom No. 50 is retired, but for the 50th Super Bowl.…

Share Tweet

Kershaw Struck By Liner, Loses Part Of Tooth

Mar 20

Clayton Kershaw was hit by Andy Parrino's broken-bat liner in the bottom of the third inning in the Dodgers' 3-2 loss to the A's. Kershaw remained in the game.

Leaving San Francisco Was Easy Call For Sandoval

Mar 9

ESPN SweetSpot blogger David Schoenfield discusses Pablo Sandoval's comments about feeling disrespected by the Giants.

Yasiel Puig Puts On A Big Head

Mar 9

While signing autographs during spring training, Los Angeles Dodgers outfielder Yasiel Puig decided to have some fun by putting on a giant head of himself.

Matt Kemp Conversation

Mar 7

Padres outfielder Matt Kemp talks to Josina Anderson about moving on from the Dodgers' organization, preparing to play in a San Diego Padres uniform and addresses durability questions.