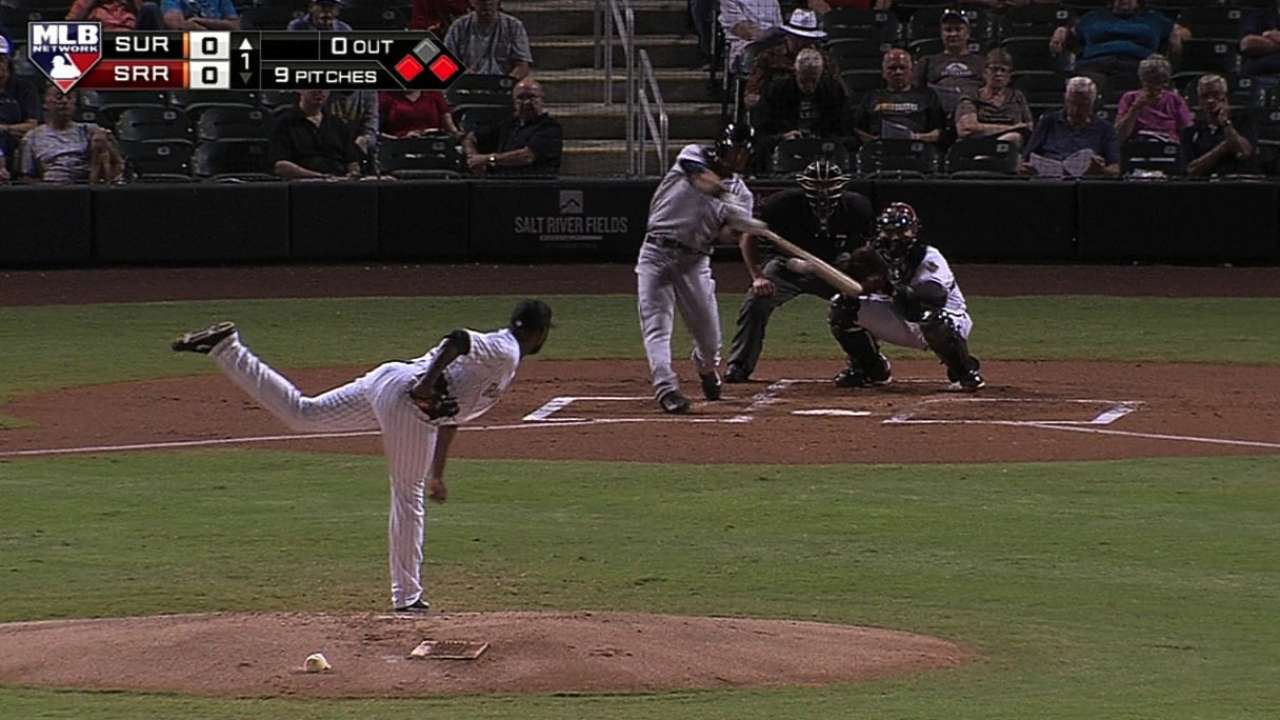 Speed is key for Padres farmhand in pitch-clock game
MLB.com
Updated 11 hours ago
San Diego prospect Mallex Smith, who swiped 88 bases in A ball this year, scored the go-ahead run in Surprise's 5-4 victory Thursday night. It was the ninth game using the 20-second pitch clock -- a pace-of-game initiative being tested at the Arizona Fa…
Upvote
Share
Tweet
The San Diego Padres have declined right-hander Josh Johnson's $4 million option for 2015.

Upvote Share Tweet

Giants' latest title offers questions, answers

MLB.com

15 hours ago

Should a Fortune 500 company hire Brian Sabean as chief operating officer? Is Sergio Romo really gone? Is Brandon Crawford better than everybody realizes? How will Bruce Bochy look in bronze? What we learned about the Giants -- these issues and others -…

Upvote Share Tweet

nytimes.com ESPN.com

16 hours ago

The Giants-Royals finale was seen by an average of 23.5 million viewers, raising the average for the World Series to 13.8 million, an audience larger than 2012's record-low 12.7 million.

Upvote Share Tweet

ESPN.com nytimes.com

17 hours ago

Baseball's business season began Thursday when 121 players become free agents, a group that includes Pablo Sandoval, Michael Morse, Jake Peavy, Sergio Romo and Ryan Vogelsong of the World Series champion San Francisco Giants.

Upvote Share Tweet

MLB.com

18 hours ago

Dan Haren surprised nobody on Thursday, picking up his $10 million player option for 2015, and he will return to the Dodgers' starting rotation.

Upvote Share Tweet

deadspin.com

19 hours ago

Rapper and Yay Area ambassador E-40 is a big San Francisco Giants fan, and he had some nice seats behind home plate for the World Series. Last night, he posted a video of Pablo Sandoval's series-ending out from his perspective.Read more...

Upvote Share Tweet

Yost surprised as anyone with MadBum's performance

MLB.com

20 hours ago

On the day after Madison Bumgarner dispatched the Royals with five more shutout innings, manager Ned Yost had a story about the Giants' Most Valuable Player of the World Series.

Upvote Share Tweet

Rockies encouraged by growth of resilient Ottavino

MLB.com

20 hours ago

The Rockies and right-handed reliever Adam Ottavino would rather not have gone through a disappointing performance in June. But the way Ottavino bounced back could be valuable information for his future.

Upvote Share Tweet

Royals thank KC faithful at Kauffman Stadium

MLB.com

21 hours ago

Barely 12 hours had passed since the Royals' first postseason team since 1985 had absorbed a tough 3-2 loss to the Giants in World Series Game 7. But an estimated 15,000 fans piled into Kauffman Stadium on Thursday morning to say thanks to the Royals. M…

Upvote Share Tweet

yahoo.com

22 hours ago

Well, distraught Los Angeles Dodgers fans, here's something that might cheer you up a tad bit after watching your bitter rivals win the World Series — the Dodgers are the early favorites to win the 2015 World Series, according to online sportsbook Bovad…

Upvote Share Tweet

Two Shot, Dozens Arrested in San Francisco Following Giants Win

nytimes.com

Oct 30 (yesterday)

Two people were shot, one was stabbed and around 40 were arrested as celebrations in San Francisco for the Giants victory in the World Series turned violent overnight, police said on Thursday.

Upvote Share Tweet

Giants memorabilia headed to Hall of Fame

ESPN.com

Oct 30 (yesterday)

Madison Bumgarner's World Series performance earned him a spot in the Hall of Fame -- well, at least for his caps.

Upvote Share Tweet

KANSAS CITY, Mo. — As it relates to sport, a dynasty is supposed to be a sequence of champions. A sequence is supposed to be a continuously connected series of occurrences. The championships must connect, and not merely in a figurative sense. And yet, i…

Upvote Share Tweet

Giants culminate up and down season with surprising World Series win

There was a day near the end of June on which a San Francisco Giants fan would have told you the boys in orange and black had no chance to be World Series champs again. The Giants had surrendered a 10-game lead in the NL West in an epic midsummer collap…

Upvote Share Tweet

Morse saves best for last with Series-winning RBI

Michael Morse drove in a couple of runs in Game 7 of the World Series, the first on a second-inning sacrifice fly and the second on a single in the fourth that proved to be the Series-winning RBI in a game the Giants won, 3-2, to capture their third Wor…

Upvote Share Tweet

Scattered violence, arrests mar Giants revelry

ESPN.com

Oct 30 (yesterday)

=They cheered every strike and pop fly together. They booed every pitch called as a ball in unison. Then, when victory was theirs, an orange-and-black sea standing shoulder to shoulder roared as one.

Upvote Share Tweet

Your browser does not support iframes. KANSAS CITY, Mo. — Before MadBum's triumphant finishing number in the World Series, there was Jeremy Affeldt's effective warm-up performance that put the San Francisco Giants in a position to win another championsh…

Upvote Share Tweet

From Giants ace Madison Bumgarner continuing to make history (this time out of the bullpen) to Pablo Sandoval completing a record-setting postseason of his own, Game 7 of the 2014 Fall Classic provided plenty more material for the baseball annals.

Upvote Share Tweet

Hunter Pence and Pablo Sandoval each tied the all-time record with 12 hits during the World Series. Pence had at least one hit in every game of the Fall Classic, and Sandoval set a single-postseason record with 26 hits during the Giants' run to a third …

Upvote Share Tweet

Smallville: Giants show off fundamentals on big stage

Using two sacrifice flies and a single to right, the Giants scored just enough runs to back up an amazing pitching performance by Madison Bumgarner and Co., wrapping up a postseason run that proved that there are many different ways to manufacture runs …

Upvote Share Tweet

Giants write their own history against all odds

Bruce Bochy knew the odds were stacked against his team entering Game 7 of the World Series on Wednesday night. For a team that defied the odds for much of the season, however, it didn't seem to faze the Giants that no road team had won a World Series G…

Upvote Share Tweet

Giants execs savor fitting end to title quest

This year's Giants gave team president and CEO Larry Baer much to appreciate, including their professional attitude, and general manager Brian Sabean also was immensely proud of the club.

Upvote Share Tweet

Giants' World Series victory parade slated for Friday

Though the Giants clinched the World Series on the road in Kansas City, fans will have an opportunity to celebrate the 2014 title Friday when the club returns home for a victory parade.

Upvote Share Tweet

MadBum seals MVP with outing, postseason for the ages

We have never seen anything quite like Madison Bumgarner on this postseason stage and in this Fall Classic. The Giants claimed their third title in five seasons in a 3-2 Game 7 victory in which Bumgarner cemented his obvious, unanimous claim to the Most…

Upvote Share Tweet

Giants worried that Gordon's hit and Blanco's error would tie score in ninth

KANSAS CITY, Mo. — Not long after the last out of Game 7 of the World Series on Wednesday night, Gregor Blanco joked about the play before the last out. It might have stopped Blanco's heart. Alex Gordon hit a ball into the gap in left-center field for a…

Upvote Share Tweet

World Series Game 7 Highlight-ary

Oct 30

The Giants beat the Royals in Game 7 to win the 2014 World Series.

David Ross On World Series Game 7

Oct 29

2013 World Series champion David Ross joins Keith Olbermann to address some storylines heading into Game 7 of the 2014 World Series.

Giants-Royals Preview

Oct 29

Mark Mulder previews Game 7 of the World Series between the Giants and the Royals, discusses the keys to P Tim Hudson's success and gives his pick for who wins.

Giants Win World Series

Oct 29

Baseball Tonight Spotlight: The Giants held off the Royals 3-2 to win Game 7 of the World Series.