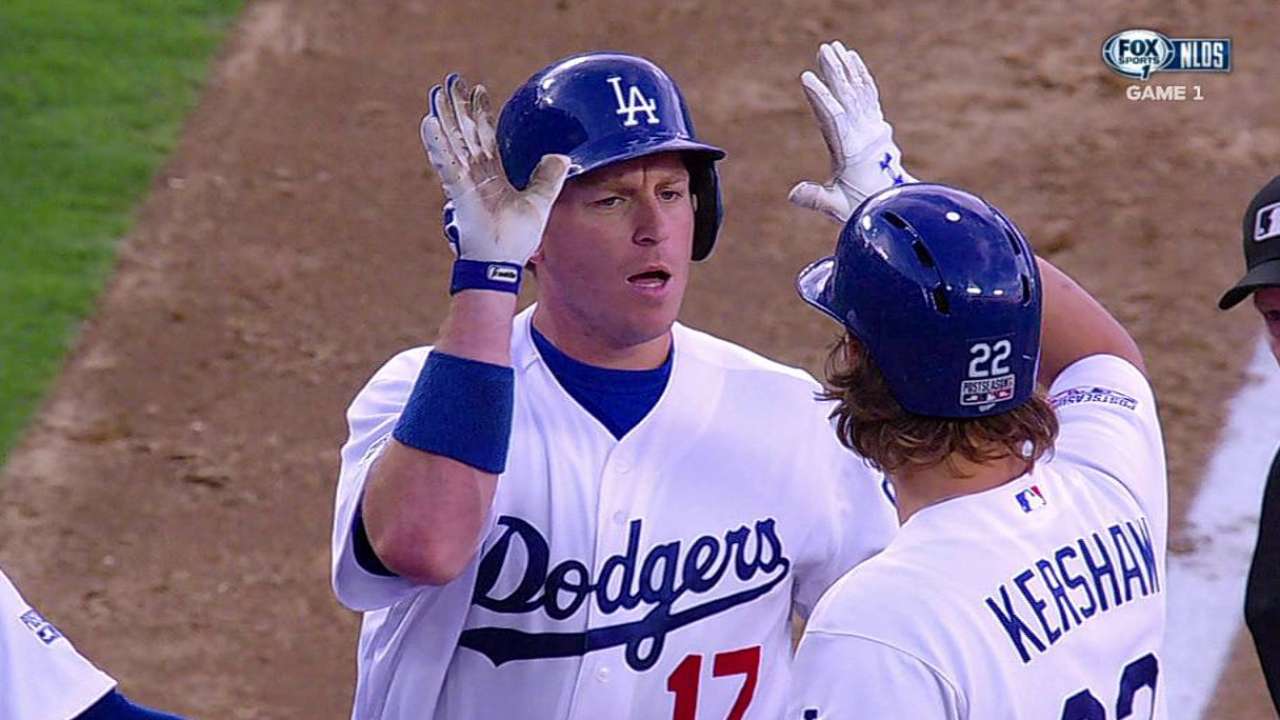 ESPN.com

32 minutes ago

The Braves pulled off another trade in their busy offseason Friday, dealing right-handed pitchers David Hale and Gus Schlosser to the Colorado Rockies for minor league catchers Jose Briceno and Chris O'Dowd.

Upvote Share Tweet

Rockies sensed Wilson's winning attitude early on

MLB.com

9 hours ago

Football star Russell Wilson impressed the Rockies with his demeanor and skills on diamond after being drafted by the club in 2010.

Upvote Share Tweet

yahoo.com ESPN.com nytimes.com

17 hours ago

Longtime MLB front office executive Omar Minaya is making a move to the MLB Players Association. Best known for being the general manager of the New York Mets from 2005 to 2010, Minaya had spent the last three seasons with the Padres serving as their se…

Upvote Share Tweet

Dominguez designated for assignment

MLB.com

20 hours ago

The Giants trimmed their Major League roster to its 40-man limit Thursday by designating infielder-outfielder Chris Dominguez for assignment.

Upvote Share Tweet

ESPN.com

21 hours ago

The two men who savagely beat a San Francisco Giants fan outside Dodger Stadium face up to 10 years in federal prison on firearms convictions.

Upvote Share Tweet

Prospect Anderson needs more time for elbow to heal

MLB.com

22 hours ago

Rockies lefty pitching prospect Tyler Anderson will not be ready to pitch at the start of Spring Training in order to allow a stress fracture in his left elbow to continue healing, the club announced Thursday.

Upvote Share Tweet

yahoo.com

23 hours ago

Baseball teams are romancing the past this week. Consider the Seattle Mariners' nice-looking new alternate jerseys and the San Diego Padres' announcement that they'll go retro with late '80s brown pinstriped uniforms for five games. One of the other mor…

Upvote Share Tweet

Dodgers players to help cap special week in the community

The Dodgers' week-long "Pitching in the Community" initiative to serve the greater Los Angeles area concludes Friday, with up to 22 current players participating in events throughout the city.

Upvote Share Tweet

Hosmer looks back on Royals' 'incredible ride'

Watching the Royals sweep their way through the early part of the postseason and into the World Series, it was apparent just how much the club's run energized the organization and Kansas City itself. After getting over the disappointment of the Royals' …

Upvote Share Tweet

The Dodgers' desire to sign Cuban free agent Yoan Moncada has been tempered by the weighty penalties that would be levied against the club if it does.

Upvote Share Tweet

ESPN.com

Jan 28 (yesterday)

The Arizona Diamondbacks have hired Joe Carter as special assistant to general manager Dave Stewart.

Upvote Share Tweet

yahoo.com

Jan 28 (yesterday)

There's a legion of baseball fans out there who've campaigned for years to get the San Diego Padres to bring back their brown uniforms. On Wednesday, their wish came true — sort of. The Padres announced that they'll wear their brown pinstriped uniforms …

Upvote Share Tweet

Veteran lefty Bedard signs Minors deal with spring invite

MLB.com

Jan 28 (2 days ago)

The Dodgers announced Wednesday the signings of veteran starter Erik Bedard and Minor League reliever Ben Rowen to Minor League contracts with invitations to Spring Training.

Upvote Share Tweet

yahoo.com

Jan 28 (2 days ago)

When Pablo Sandoval chose to leave the San Francisco Giants for the Boston Red Sox in free agency, he talked about wanting "new challenges." Maybe that meant hitting homers over the Green Monster. But maybe it also meant hitting half-court bas…

Upvote Share Tweet

Apprehensive at first, Morneau finds home with Rockies

First baseman Justin Morneau wasn't sure how he'd fit with the Rockies when he signed with them before last season. He was a Twins mainstay from his Major League debut in 2003 until August 2013, when he was dealt to the Pirates -- where he helped during…

Upvote Share Tweet

Kemp talks to Larry King about leaving LA, joining SD

New Padres outfielder Matt Kemp touched on several topics recently during a interview for "Larry King Now," including his departure from the only organization he's ever known and his new start in San Diego.

Upvote Share Tweet

Mays man of the hour as Giants return to New York

Willie Mays' appearance highlighted one of several events that the Giants scheduled last week to share the glory of the 2014 World Series triumph with fans in the franchise's original home.

Upvote Share Tweet

Tulo, CarGo healthy, committed to Rockies

ESPN.com

Jan 24 (6 days ago)

This has almost become an annual rite of impending spring: Troy Tulowitzki insisting he is healthy and can stay that way for an entire season.

Upvote Share Tweet

NYC fans endure winter weather to visit WS trophy

MLB.com

Jan 24 (6 days ago)

Fans withstood the 30-degree weather to line up on the snow-covered sidewalks hours before Finnerty's sports bar in New York opened in order to secure a chance for a picture with the Giants' coveted championship hardware.

Upvote Share Tweet

Buster's Blog: Importance Of Brandon Belt

Jan 29

With the loss of Pablo Sandoval, the Giants will need Brandon Belt to step up in production if the team hopes for any chance at repeating as champions.

Greatest Dynasties In Baseball History

Jan 26

Cary Chow and David Schoenfield look at the greatest baseball dynasties and pick out where the current Giants fit on the list.

ESPN The Magazine Music Issue: Adrian Gonzalez

Jan 19

Los Angeles Dodgers first baseman Adrian Gonzalez discusses Mariachi music and how his Mexican roots play a role in baseball.

Buster's Blog: Value Of A Good Righty

Dec 23

Buster Olney discusses the Giants and Sergio Romo agreeing to a new deal and why it is especially important because of the Padres' recent additions.