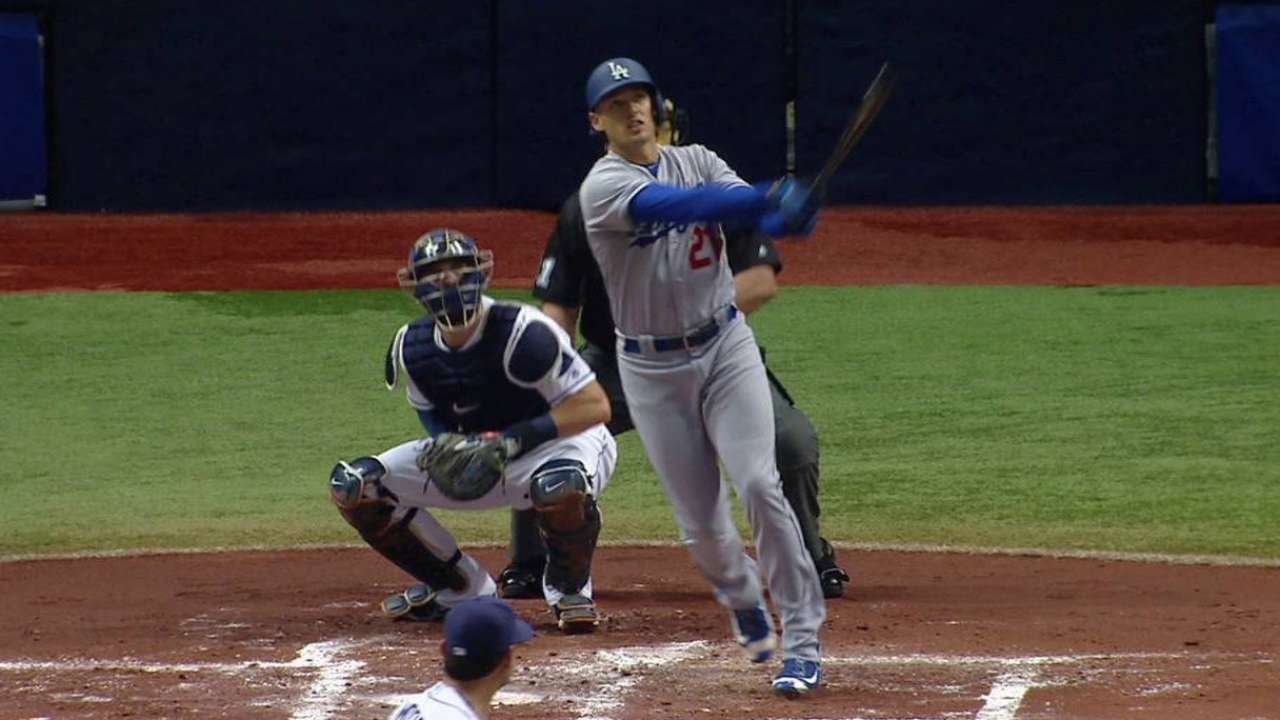 nytimes.com

2 hours ago

Trayce Thompson, Joc Pederson and Yasiel Puig homered as the Los Angeles Dodgers pulled out of an offensive funk with a 10-5 victory over the Tampa Bay Rays on Tuesday night.

Share Tweet

nytimes.com

3 hours ago

Upset with himself for striking out with two runners in scoring position, Jeff Samardzija snapped his bat over his left thigh while heading back to the dugout — an unusual show of frustration for a pitcher on his way to a win.

Share Tweet

Reds relievers set dubious runs-allowed record

MLB.com

4 hours ago

On Tuesday in the top of the eighth inning, the Giants scored two runs against Cincinnati reliever Caleb Cotham to snap a 1-1 tie. That made it 21 consecutive team games with at least one run allowed by the Reds bullpen to set a single-season record.

Share Tweet

Hamilton leaves early with jammed left thumb

MLB.com

5 hours ago

Reds center fielder Billy Hamilton exited Tuesday's game vs. the Giants before the fifth inning because of a jammed left thumb, the club revealed. Hamilton was replaced by Tyler Holt after going 0-for-2.

Share Tweet

Panik close to return; injured relievers progress

MLB.com

6 hours ago

Giants second baseman Joe Panik continued to gain momentum in his recovery from a tight right groin and remained on course to return to the lineup Wednesday or Thursday.

Share Tweet

Erlin needs Tommy John surgery

MLB.com

6 hours ago

The Padres' worst fears regarding left-hander Robbie Erlin were realized on Tuesday, when an MRI exam on his left elbow revealed a partial tear of the ulnar collateral ligament. Erlin will undergo Tommy John surgery and miss the remainder of the 2016 se…

Share Tweet

Friedman misses Rays, still building with Dodgers

MLB.com

7 hours ago

Andrew Friedman said he doesn't regret moving from the Rays to the Dodgers 18 months ago, but he seems to greatly miss colleagues that became friends.

Share Tweet

Moscot scratched with shoulder tightness

MLB.com

8 hours ago

The Reds announced that Tuesday's scheduled starter vs. the Giants, Jon Moscot, has been scratched and will be replaced by left-hander John Lamb.

Share Tweet

yahoo.com

9 hours ago

The most anticipated pitching performance of the season will take place Friday. Shockingly, it doesn't involve Jake Arrieta, Clayton Kershaw or Noah Syndergaard. In fact, it involves a player who has posted a 4.68 ERA over the past four seasons. Former …

Share Tweet

Kemp's 2-Run Double Enough for Shields, Padres vs Rockies

nytimes.com

May 3 (yesterday)

Matt Kemp's two-run double in the first inning was all James Shields needed for his first victory of the season.

Share Tweet

Cueto Roughed Up but Giants Rally for 9-6 Win Over Reds

nytimes.com

May 2 (yesterday)

Johnny Cueto enjoyed the hugs and the applause. He didn't care much for one horrid inning that put him in line for a loss — until the Reds' bullpen got involved, of course.

Share Tweet

Giants surge back for win after Reds' big frame

Sending 11 men to the plate in a six-run, six-hit bottom of the third inning, the Reds got the best of their former ace Johnny Cueto. But the Giants beat up a vulnerable bullpen for five runs in the top of the seventh to get the 9-6 win Monday at Great …

Share Tweet

Their Sunday stumble against the Giants squarely behind them, the Mets wasted no time Monday returning to their winning ways. Bartolo Colon delivered eight shutout innings, and the Mets backed him with three first-inning homers in a 4-1 win over the Bra…

Share Tweet

nytimes.com

May 2 (yesterday)

Nomar Mazara hit a solo shot to break a tie in Toronto, and Tony Barnette worked one inning for the win. Texas has now won five of its past six games.

Share Tweet

deadspin.com

May 2 (yesterday)

Longtime Dodgers announcer Vin Scully is going all out during his final stint in the booth. The season's only a month old, and we've already had two great episodes of Storytime With Vin Scully. Two weeks ago, he debunked the myths surrounding the number…

Share Tweet

Williamson called up to help fill in for Pagan

The Giants recalled outfielder Mac Williamson from Triple-A Sacramento and optioned left-hander Steven Okert to Sacramento on Monday.

Share Tweet

Stats of the Day: Kershaw does it all

On Sunday, Clayton Kershaw hurled a three-hit shutout with 14 K's to defeat the Padres, 1-0. The lefty also drove in the Dodgers' only run, via a single in the third.

Share Tweet

Lovely weekend for 5 sweeping beauties

MLB.com

May 2 (2 days ago)

The broomsticks were out in full force Sunday as five teams -- the Red Sox, Nationals, Tigers, Phillies and Rockies -- completed series sweeps.

Share Tweet

yahoo.com

May 2 (2 days ago)

Welcome to The Walk Off, the nightly MLB recap from Big League Stew. Here we'll look at the top performers of the night, show you a must-see highlight and rundown the scoreboard. First, we start with a game you need to know about. When the Los Angeles D…

Share Tweet

Kershaw Struck By Liner, Loses Part Of Tooth

Mar 20

Clayton Kershaw was hit by Andy Parrino's broken-bat liner in the bottom of the third inning in the Dodgers' 3-2 loss to the A's. Kershaw remained in the game.

Leaving San Francisco Was Easy Call For Sandoval

Mar 9

ESPN SweetSpot blogger David Schoenfield discusses Pablo Sandoval's comments about feeling disrespected by the Giants.

Yasiel Puig Puts On A Big Head

Mar 9

While signing autographs during spring training, Los Angeles Dodgers outfielder Yasiel Puig decided to have some fun by putting on a giant head of himself.

Matt Kemp Conversation

Mar 7

Padres outfielder Matt Kemp talks to Josina Anderson about moving on from the Dodgers' organization, preparing to play in a San Diego Padres uniform and addresses durability questions.