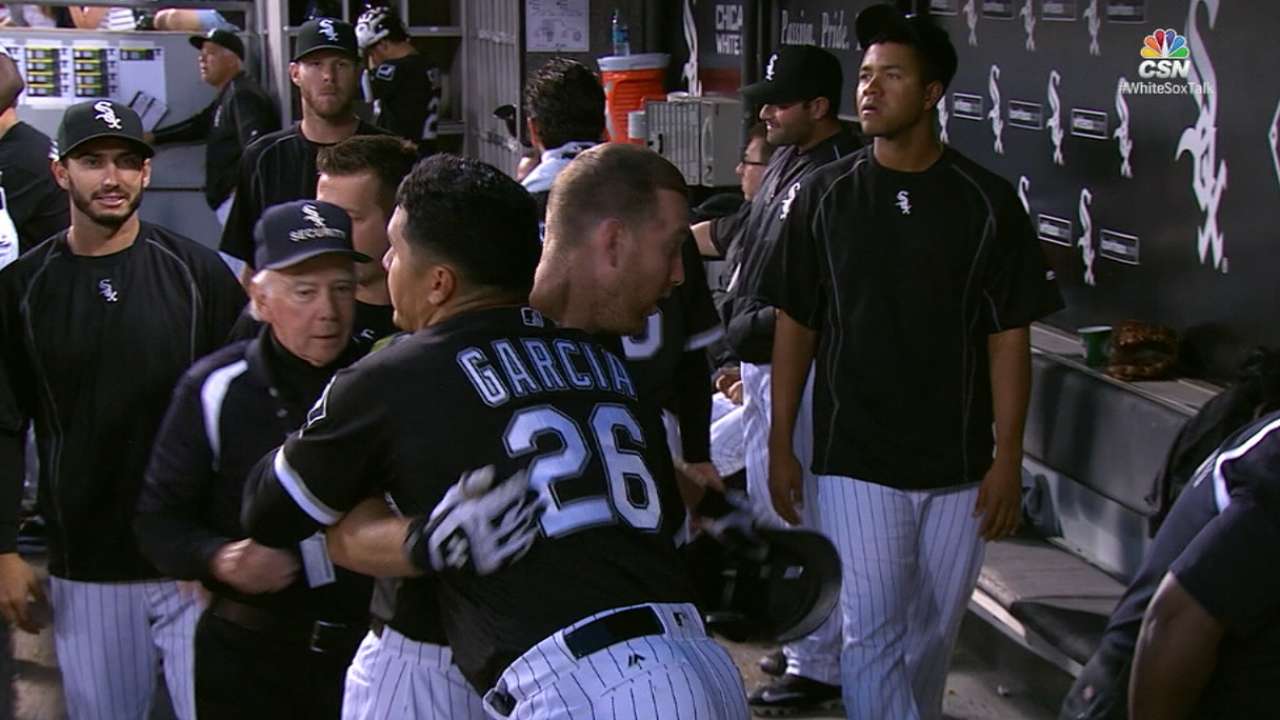 MLB.com
Updated 6 hours ago
James Shields picked up his first win as a member of the White Sox in what was easily his most effective start since being traded from the Padres, and Chicago survived a five-run Minnesota ninth to claim a 9-6 victory on Wednesday night at U.S. Cellular…
Share
Tweet
No DH for Bumgarner: Ace to bat vs. A's

MLB.com

6 hours ago

Madison Bumgarner will strike a blow, at least the Giants expect him to, for pitchers everywhere on Thursday when manager Bruce Bochy will place him in the batting order against the Oakland A's.

Share Tweet

Lowrie, Alonso Homer to Lead Athletics Past Giants 7-1

nytimes.com

7 hours ago

The Bay Bridge series has brought out the best of the Oakland Athletics and the worst of the San Francisco Giants.

Share Tweet

Braun bashes to pad #ASGWorthy case

MLB.com

7 hours ago

Ryan Braun extended his hitting streak to 10 games with a big showing in Wednesday night's 7-0 win over the Dodgers at Miller Park, going 2-for-4 with a home run and four RBIs.

Share Tweet

Dodgers' Brock Stewart settles down, sees it all in debut

Share Tweet

MLB.com nytimes.com

8 hours ago

Junior Guerra pitched eight scoreless innings and Ryan Braun homered on a four-RBI night in the Brewers' 7-0 win over the Dodgers on Wednesday at Miller Park.

Share Tweet

A-Gon tossed after check-swing strikeout

MLB.com

10 hours ago

Dodgers first baseman Adrian Gonzalez was ejected by third-base umpire Dan Bellino after striking out in the fourth inning of Wednesday night's game with the Brewers.

Share Tweet

ESPN.com

11 hours ago

Dodgers remain in wait mode with Clayton Kershaw's back

Share Tweet

Davis out of A's lineup with bruised left shoulder

MLB.com

11 hours ago

Khris Davis was scratched from the A's lineup against the Giants on Wednesday night with a bruised left shoulder.

Share Tweet

Orioles win 7th straight, tie June HR record

MLB.com

13 hours ago

Mark Trumbo put a bow on Baltimore's historic June by launching the club's 55th homer of the month, as the Orioles completed a two-game sweep of the Padres with a 12-6 victory Wednesday afternoon at Petco Park.

Share Tweet

Blue Jays conquer Rox behind Sanchez, Donaldson

MLB.com

13 hours ago

Aaron Sanchez twirled eight strong innings and the Blue Jays held off a late rally by the Rockies for a 5-3 victory on Wednesday to win their first series at Coors Field.

Share Tweet

MLB.com nytimes.com

Jun 29 (yesterday)

Troy Tulowitzki started a six-run fourth-inning rally with a home run in his former home, and the Blue Jays defeated the Rockies, 14-9, at Coors Field on Tuesday night after a 2-hour, 41-minute pregame delay for hail, rain and lightning.

Share Tweet

Smolinski's 3-Run Pinch-Hit HR Leads A's Past Giants 13-11

nytimes.com

Jun 29 (yesterday)

Pinch-hitter Jake Smolinski hit a go-ahead, three-run homer during Oakland's five-run eighth inning that carried the Athletics to a 13-11 victory over the San Francisco Giants on Tuesday night.

Share Tweet

Uriasly, folks: LA teen gets hit, pick, win

MLB.com

Jun 29 (yesterday)

What were you doing when you were 19 years old? Dodgers left-hander Julio Urias was setting career highs for innings (six) and pitches (100) in his first Major League win, a 6-5 triumph over the Brewers on Tuesday at Miller Park.

Share Tweet

Trumbo Hits 23rd Homer, Has 4 RBIs as Orioles Beat Pads 12-6

nytimes.com

Jun 29 (yesterday)

Mark Trumbo hit his major league-leading 23rd homer and drove in four runs for the AL East-leading Baltimore Orioles, who beat the San Diego Padres 12-6 Wednesday for their seventh straight win.

Share Tweet

Rockies' Grounds Crew Magically Transforms Hail-Filled Lake Into Respectable Baseball Field

deadspin.com

Jun 29 (yesterday)

Weather, as weather is wont to do, fucked shit up earlier tonight at the Colorado Rockies' park before the team's game against the Toronto Blue Jays. The field looked completely unusable, until the grounds crew worked their magic.Read more...

Share Tweet

Kershaw Struck By Liner, Loses Part Of Tooth

Mar 20

Clayton Kershaw was hit by Andy Parrino's broken-bat liner in the bottom of the third inning in the Dodgers' 3-2 loss to the A's. Kershaw remained in the game.

Leaving San Francisco Was Easy Call For Sandoval

Mar 9

ESPN SweetSpot blogger David Schoenfield discusses Pablo Sandoval's comments about feeling disrespected by the Giants.

Yasiel Puig Puts On A Big Head

Mar 9

While signing autographs during spring training, Los Angeles Dodgers outfielder Yasiel Puig decided to have some fun by putting on a giant head of himself.

Matt Kemp Conversation

Mar 7

Padres outfielder Matt Kemp talks to Josina Anderson about moving on from the Dodgers' organization, preparing to play in a San Diego Padres uniform and addresses durability questions.