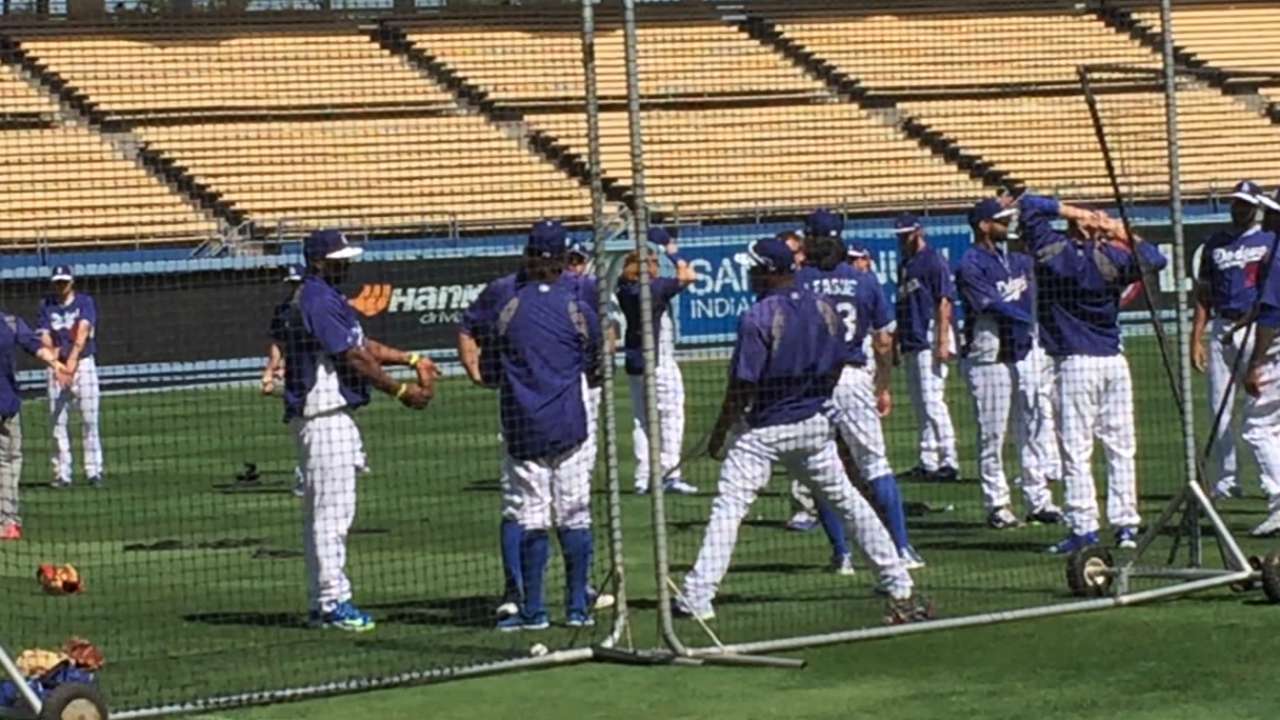 Pressure to win nothing new for Mattingly
MLB.com
Updated 4 hours ago
Dodgers manager Don Mattingly knows that his high-payroll group of star veterans is expected march through October. But as a Yankees star player under late owner George Steinbrenner, Mattingly is all too familiar with pressure to win.
Upvote
Share
Tweet
Healthy LA swaggers into rematch vs. Cardinals

MLB.com

5 hours ago

The Dodgers were far from at full strength when they fell to the Cardinals in six games last year in the NLCS. This year, L.A. is ready to turn the tables on St. Louis.

Upvote Share Tweet

ESPN.com

5 hours ago

Sandy Alomar Jr., Jay Bell and Andy Green are among seven confirmed candidates for the Arizona Diamondbacks' manager position, the team announced Wednesday on Twitter.

Upvote Share Tweet

MLB.com

8 hours ago

John Holdzkom and left-hander Bobby LaFromboise were included on the Pirates' roster for Wednesday night's National League Wild Card Game against the Giants at PNC Park, as announced by manager Clint Hurdle. Holdzkom and LaFromboise, both September call…

Upvote Share Tweet

There's no doubt the Pittsburgh Pirates and San Francisco have taken two vastly different roads to reach the 2014 NL wild-card game. For the Pirates, there are 20 years of futility now firmly placed in the rearview mirror. The satisfaction of a winning …

Upvote Share Tweet

Giants relying on power, balance combination

MLB.com

22 hours ago

If the Giants are to prolong their bid to win another World Series in another even-numbered year, they'll have to survive with a lineup for Wednesday's NL Wild Card Game that includes Gregor Blanco and Travis Ishikawa, whom have been regarded as platoon…

Upvote Share Tweet

Dugout Ritual Honors Swings With Extra Pop

nytimes.com

23 hours ago

Each time one of the Dodgers hits a home run and returns to the dugout, he is greeted by a stream of small, soapy bubbles emanating from a pair of toy machines.

Upvote Share Tweet

nytimes.com MLB.com ESPN.com

24 hours ago

Edinson Volquez's renaissance began with a simple game of catch.

Upvote Share Tweet

Colletti looks back and ahead to Dodgers' postseason

MLB.com

24 hours ago

In the nine years, Ned Colletti has been the general manager, the Dodgers have reached the postseason five times, four as National League West champions. In those nine seasons, the Dodgers have the third-best record in the league behind St. Louis and Ph…

Upvote Share Tweet

MLB.com

24 hours ago

The constellations and the pitching schedule aligned perfectly, allowing Giants ace left-hander Madison Bumgarner -- with his 11-4 record and 2.22 ERA in 18 road starts this season -- to start Wednesday's National League Wild Card Game (5 p.m. PT, ESPN)…

Upvote Share Tweet

Martin's ability to play brings Bucs' lineup together

With Russell Martin convinced that his balky left hamstring won't keep him out of action and with a left-hander going for the Giants in Madison Bumgarner, the Pirates' starting lineup could write itself for Wednesday night's National League Wild Card Ga…

Upvote Share Tweet

Gordon cleared for Game 1 after right hip irritation

Despite missing the regular-season finale with right hip irritation, Dee Gordon has been cleared for Friday's NL Division Series opener against the Cardinals at Dodger Stadium (3:30 p.m. PT on FS1). He was a full participant in the Dodgers' workout Tues…

Upvote Share Tweet

Last two NL MVPs face off in Wild Card Game on Wednesday

With the Bucs' Andrew McCutchen (the reigning National League MVP) squaring off against Buster Posey (the 2012 NL MVP) of the Giants on Wednesday in the NL Wild Card Game, it will mark the first time two previous NL MVPs squared off in the playoffs sinc…

Upvote Share Tweet

nytimes.com ESPN.com MLB.com

Sep 30 (yesterday)

Shuba, a Dodgers outfielder, is remembered for a welcoming gesture to Jackie Robinson on the day that Robinson, as a minor leaguer, broke baseball's color barrier.

Upvote Share Tweet

Kemp earns NL Player of the Month honors

Dodgers outfielder Matt Kemp missed half of last September with a left ankle injury. This September, he's the National League Player of the Month.

Upvote Share Tweet

With the city buzzing about Buctober for the second consecutive year, fans gathered for a Pirates rally in Market Square the day before the National League Wild Card Game against the Giants (Wednesday, 8 p.m. ET on ESPN). Some fans came on their lunch b…

Upvote Share Tweet

The Cardinals Took Care Not To Celebrate In The Diamondbacks' Pool

deadspin.com

Sep 29 (2 days ago)

The Cardinals found themselves in much the same position as the Dodgers did a year ago: at Chase Field, about to clinch the division. Would they celebrate the same way, by diving into the right-field pool and peeing all over the unwritten rules? They wo…

Upvote Share Tweet

Position-by-position breakdown for Cardinals-Dodgers

MLB.com

Sep 29 (2 days ago)

With the Dodgers and Cardinals set to open their National League Division Series on Friday at Dodger Stadium with two of the best pitchers in baseball on the mound in Clayton Kershaw and Adam Wainwright, we take a look at each position on the diamond fo…

Upvote Share Tweet

Twins pitcher Ricky Nolasco says he wishes he still played for Dodgers

yahoo.com

Sep 29 (2 days ago)

They say honesty is the best policy. In the case of Minnesota Twins right-hander Ricky Nolasco, they are full of baloney. Nolasco, who just finished the first season of a four-year, $49 million contract, mentioned overnight on Twitter that he'd rather b…

Upvote Share Tweet

yahoo.com

Sep 29 (3 days ago)

Your browser does not support iframes. San Francisco Giants outfielder Hunter Pence gave his second impassioned speech of the week after his team closed out the regular season on Sunday with a win at AT&T Park. This one contained no F-bombs, not lik…

Upvote Share Tweet

Fan Fences: The 2014 M.L.B. Playoffs Have a Neighborly Feel

nytimes.com

Sep 29 (3 days ago)

Four potential World Series matchups involve teams from the same area. In an earlier round, the Dodgers and the Giants, longtime rivals, could meet.

Upvote Share Tweet

NL Wild-Card Preview

Oct 1

Doug Glanville and Red Sox catcher David Ross preview the matchup between the Giants and Pirates and make their predictions.

Sport Science: 'The Catch'

Sep 30

Sept. 29 marked the 60th anniversary of Willie Mays' iconic grab. ESPN "Sport Science" examines this legendary moment.

Giants Vs. Pirates Wild Card Game Preview

Sep 29

The Baseball Tonight crew looks ahead to Wednesday's National League wild card match up between the Giants and the Pirates.

World Series Predictions

Sep 28

The "Baseball Tonight" crew give their predictions for which team will win the World Series.