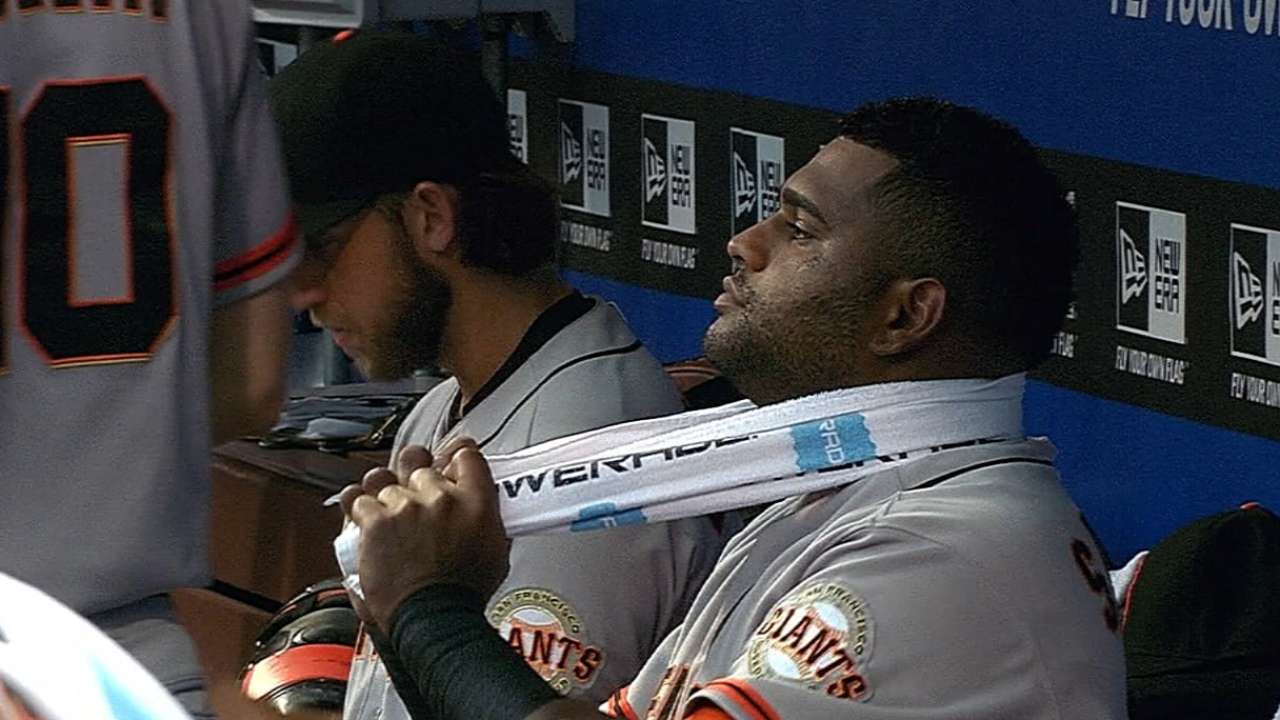 MLB.com
Updated 7 hours ago
The Red Sox could have the lead in the bidding for free-agent third baseman Pablo Sandoval, with The Boston Globe reporting on Saturday that the club's five-year, $95 million offer may give it the edge over the Giants and Padres. The club has not commen…
Upvote
Share
Tweet
MLB.com

20 hours ago

The Padres were not the only club to emerge on Friday as a frontrunner to sign Cuban outfielder Yasmany Tomas, as the Braves have joined the mix. Here's a recap of the major Hot Stove stories of the day.

Upvote Share Tweet

nytimes.com MLB.com

Nov 21 (yesterday)

Reliever Joel Peralta was acquired by the Los Angeles Dodgers from the Tampa Bay Rays as part of a four-player trade.

Upvote Share Tweet

Friars show interest in dealing for Bruce

MLB.com

Nov 21 (yesterday)

Say this much about first-year Padres general manager A.J. Preller: He's apparently leaving no stone unturned in his pursuit of offensive help. Now it appears the Padres may have interest in Reds outfielder Jay Bruce.

Upvote Share Tweet

White Sox reportedly asking about catcher Montero

MLB.com

Nov 21 (yesterday)

The White Sox are one of three teams inquiring about D-backs catcher Miguel Montero, according to a report Thursday in The Arizona Republic. Montero, 31, is a two-time All-Star who has drawn interest from the crosstown-rival Cubs and Dodgers, as well as…

Upvote Share Tweet

The Dodgers acquired veteran reliever Joel Peralta and minor league left-hander Adam Liberatore from the Tampa Bay Rays on Thursday night in exchange for young right-handers Jose Dominguez and Greg Harris.

Upvote Share Tweet

Padres make Minors trade among roster moves

MLB.com

Nov 20 (yesterday)

The Padres tidied up their 40-man roster on Thursday in advance of the Rule 5 Draft next month, pulling off a trade, adding three to the roster while shedding two other players. The Padres traded outfielder Reymond Fuentes to the Royals in exchange for …

Upvote Share Tweet

MLB.com

Nov 20 (3 days ago)

Yasiel Puig doesn't have any complaints about his experience as part of the MLB squad that competed against the Japanese national team in the Japan All-Star Series, but the Dodgers outfielder would add more time at the beginning of the trip for players …

Upvote Share Tweet

Padres strongly considering keeping Ross, Cashner

MLB.com

Nov 19 (3 days ago)

While there's certainly no nebulous area in regards to the Padres' biggest offseason need -- offense -- the team might be rethinking the way it goes about addressing it. Instead of trading starting pitchers Tyson Ross or Andrew Cashner to upgrade the of…

Upvote Share Tweet

Haren would rather retire than pitch outside LA

ESPN.com

Nov 19 (3 days ago)

Dodgers pitcher Dan Haren said Wednesday that he would rather retire than be traded to a team other than the Angels.

Upvote Share Tweet

Butera, Beliveau visit children's hospital in Japan

MLB.com

Nov 19 (3 days ago)

On their last off-day of the Japan All-Star Series, Dodgers catcher Drew Butera and Rays reliever Jeff Beliveau visited the Okinawan Prefectural Nanbu Children's Medical Center on Wednesday.

Upvote Share Tweet

Angels hire Anderson to manage Triple-A club

The Angels have brought in longtime Dodgers infielder and former Rangers coach Dave Anderson to be their new Triple-A manager, a position vacated after Keith Johnson was moved to roving infield coordinator.

Upvote Share Tweet

Dodgers add four to reconstructed front office

The Dodgers continued to round out their new front office on Tuesday, announcing the hiring of David Finley as vice president of international and amateur scouting, Galen Carr as director of player personnel, Jeff Pickler as special assistant for pro sc…

Upvote Share Tweet

Giants announce Spring Training schedule

The World Series-champion Giants will open their Spring Training schedule on March 3 against the Athletics at newly renovated HoHoKam Stadium in Mesa, Ariz., and they will face the American League-champion Royals on March 23 at Scottsdale Stadium.

Upvote Share Tweet

At some point, Pablo Sandoval will sit down and consider everything the Giants and Red Sox are putting on the table. Both teams will offer financial security and a great baseball environment. Both teams will offer the opportunity to be part of a corners…

Upvote Share Tweet

Hudson 'pretty sure' he will retire after 2015

ESPN.com

Nov 18 (4 days ago)

San Francisco pitcher Tim Hudson says next season will probably be his last. Now, he won't leave without a World Series championship.

Upvote Share Tweet

Smith's fast start kept Padres' offense afloat in 2014

There is no question that Seth Smith carried the Padres' offense during the first two months of the 2014 season.

Upvote Share Tweet

Dodgers acquire Minor League slugger Jensen from Marlins

MLB.com

Nov 17 (5 days ago)

The Dodgers acquired Minor League outfielder Kyle Jensen from the Marlins on Monday for a player to be named or cash considerations.

Upvote Share Tweet

Topps is putting out autographed Johnny Manziel baseball cards

yahoo.com

Nov 17 (5 days ago)

Much like it did last year with Russell Wilson, Topps is giving Johnny Manziel his own baseball rookie card. The Cleveland Browns backup quarterback was drafted by the San Diego Padres in the 28th round of June's amateur draft, a stunt for fun and atten…

Upvote Share Tweet

MLB.com

Nov 17 (5 days ago)

It has been 38 seasons since the Big Red Machine of Cincinnati became the last National League team to win back-to-back World Series championships. The Giants are in position to end the drought. Now, if they can only re-sign free agent Pablo Sandoval.

Upvote Share Tweet

For Dodgers G.M. Farhan Zaidi, New Team Affords New Possibilities

nytimes.com

Nov 17 (5 days ago)

Zaidi spent 10 years in Oakland, where he earned the admiration of General Manager Billy Beane. With Los Angeles, which hired Zaidi this month, he will have vast resources to exploit.

Upvote Share Tweet

Joc Pederson's 1994 Buick Century could have been yours

yahoo.com

Nov 16 (6 days ago)

As we told you in August, Los Angeles Dodgers prospect Joc Pederson was holding a raffle to give away his 1994 Buick Century — which he bought for $1,000 — to one lucky fan of the Triple-A Albuquerque Isotopes. As we've now learned, ownership papers act…

Upvote Share Tweet

Cubs to host Cardinals in first-ever night opener at Wrigley Field

yahoo.com

Nov 15 (7 days ago)

One of baseball's oldest and greatest rivalries will take center stage in MLB's standalone Sunday night opener on April 5. And no, we're not talking about Yankees/Red Sox or Dodgers/Giants for a change. The back-to-back NL Central champion St. Louis Car…

Upvote Share Tweet

Reliever Peralta Heading To L.A.

Nov 21

Jerry Crasnick discusses how Dodgers president of baseball operations Andrew Friedman's familiarity with the Tampa Bay Rays' organization likely contributed to the trade that brings reliever Joel Peralta to Los Angeles.

MLB All-Stars No-Hit By Japan

Nov 15

Japan's Takahiro Norimoto combined with three relievers on a no-hitter as Japan beat the MLB All-Stars 4-0 to take a 3-0 lead in their five-game series.

Did Kershaw Deserve MVP?

Nov 13

Mark Mulder breaks down Dodgers pitcher Clayton Kershaw winning the NL MVP.

Kershaw Returns To SportsCenter With MVP

Nov 13

Clayton Kershaw joins SportsCenter after becoming the first NL pitcher to win the MVP since Bob Gibson.