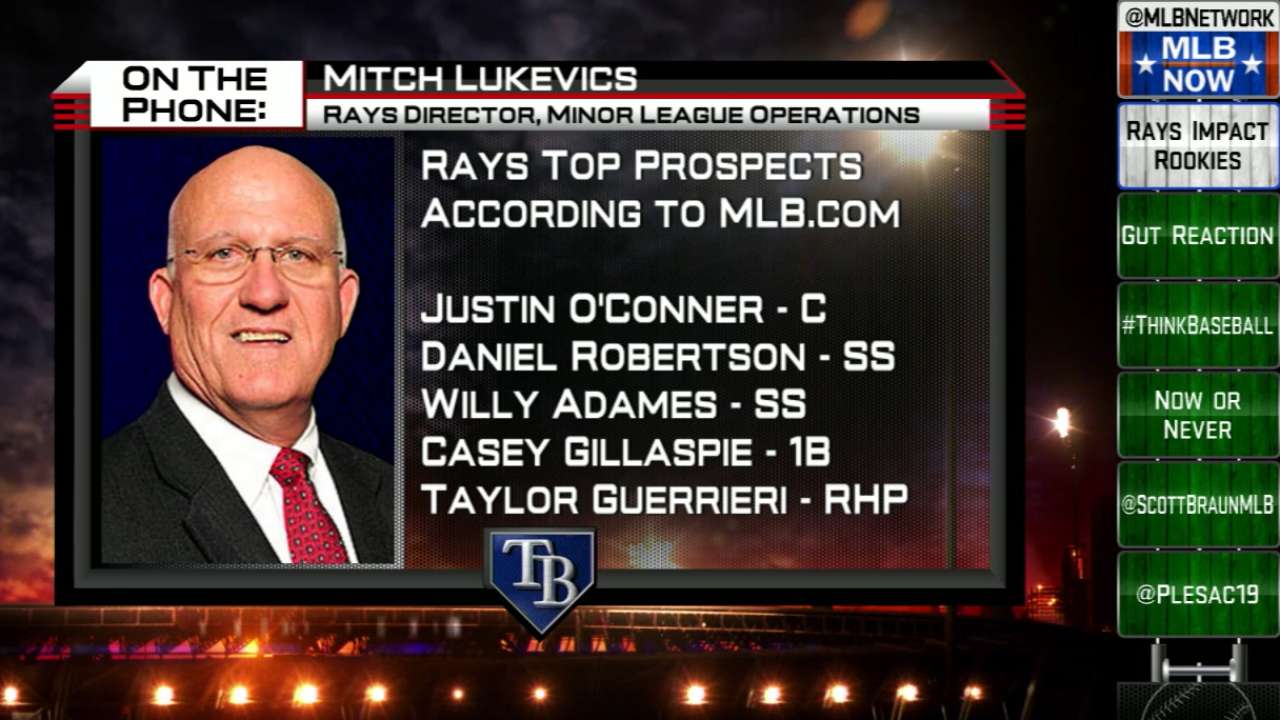 MLB.com

3 hours ago

Major League Baseball games are back. Madison Bumgarner, who threw the last pitch of the 2014 season 125 days ago for the Giants in Game 7 of an unforgettable World Series against Kansas City, is scheduled to start for the defending champs against Oakla…

Upvote Share Tweet

Wilson to visit Rangers' camp at end of March

MLB.com

4 hours ago

Seahawks quarterback Russell Wilson, who has led his team to back-to-back Super Bowl appearances, will make his annual visit to the Rangers' camp on March 28 when they play the Padres.

Upvote Share Tweet

Brewers hint at Opening Day plan with spring rotation

MLB.com

5 hours ago

After Mike Fiers starts an exhibition against the University of Wisconsin-Milwaukee on Wednesday, Kyle Lohse will start in Tempe, Ariz., against the Angels on Thursday, and Matt Garza will pitch against the Dodgers on Friday. That order makes it appear …

Upvote Share Tweet

Versatile roster will keep Padres' infield in motion

MLB.com

21 hours ago

Yangervis Solarte is a third baseman who also plays plenty of shortstop and second base. Clint Barmes spent parts of last season playing all four infield spots across the diamond. And Alexi Amarista has played at least five different positions in each o…

Upvote Share Tweet

Competition heavy for three open spots on Giants

MLB.com

21 hours ago

With Tuesday's Cactus League opener against the Oakland A's, the Giants will begin conducting auditions for the few vacancies in their cast. The Giants will have exactly one relief spot up for grabs, and also could have as many as two roles available fo…

Upvote Share Tweet

MLB.com

22 hours ago

Left-hander Carlos Rodon makes his Cactus League debut Friday when the White Sox take on the Padres, and the highly touted prospect doesn't seem overwhelmed or nervous about the opportunity.

Upvote Share Tweet

D-backs to honor woman who died in Syria

ESPN.com

22 hours ago

The Arizona Diamondbacks will wear a black patch with "KAYLA" on it in spring training games Tuesday through Sunday in memory of Kayla Mueller, the young Arizona woman who died in captivity in Syria.

Upvote Share Tweet

MLB.com

Mar 2 (yesterday)

Most of the Dodgers' workout on Monday was washed out by rain, but they did receive good news from pitchers Hyun-Jin Ryu and Joel Peralta.

Upvote Share Tweet

Here's how the conversation about Opening Day goes when you have a pitcher of Clayton Kershaw's accomplishments. The Dodgers -- and everyone in baseball -- knew Kershaw would be scheduled to pitch that game before anyone even arrived at Camelback Ranch.

Upvote Share Tweet

Big innings don't always equate to struggles next season

MLB.com

Mar 2 (yesterday)

History shows Madison Bumgarner's workload of 270 innings in the regular season and postseason combined last year won't necessarily bring extra hurdles to the Giants ace this year.

Upvote Share Tweet

Rockies add veteran Axford to pen at $2.6M

ESPN.com

Mar 1 (yesterday)

The Colorado Rockies have selected John Axford's contract, adding a veteran reliever with late-inning experience to their bullpen.

Upvote Share Tweet

Urias impresses Dodgers in live batting practice

MLB.com

Mar 1 (yesterday)

Dodgers hitting coach Mark McGwire, general manager Farhan Zaidi, pitching coach Rick Honeycutt and special advisor Sandy Koufax all gathered on the field behind a batting cage at Camelback Ranch to watch a teenage phenom throw live batting practice Sun…

Upvote Share Tweet

Dodgers add veteran Adams to bullpen mix

ESPN.com

Mar 1 (2 days ago)

The Los Angeles Dodgers continued to stockpile high-upside pitchers with lengthy injury histories, adding reliever Mike Adams on a minor-league deal Sunday.

Upvote Share Tweet

Bumgarner slated for Giants Cactus League opener

Madison Bumgarner, already named the Giants' Opening Night starter, also will begin San Francisco's Cactus League schedule by facing the Oakland A's on Tuesday in Mesa.

Upvote Share Tweet

Tulowitzki, Gonzalez out for spring opener, but club 'encouraged'

Rockies manager Walt Weiss said Troy Tulowitzki and Carlos Gonzalez would miss the team's Spring Training opener, but the club is pleased with their progress as they return from injuries suffered last season.

Upvote Share Tweet

Wisler determined to build on educational 2014

After essentially breezing his way through the Padres' organization, three-plus seasons filled with dominant starts, Matt Wisler, the club's top pitching prospect, had his toughest challenge in Triple-A last season. Now he's in camp with his eyes on a r…

Upvote Share Tweet

Grandal catching on quickly at Dodgers camp

Camp Boomer, presided over by Dodgers coach Steve "Boomer" Yeager, just opened, but newcomer Yasmani Grandal -- the centerpiece in the Matt Kemp trade with the Padres -- already has opened eyes.

Upvote Share Tweet

Dodgers want versatile Barnes to focus on catching

Austin Barnes has the rare skill set for catching and second base, but the Dodgers have told him to put away the infield glove. For now, he will work exclusively as a catcher, general manager Farhan Zaidi said.

Upvote Share Tweet

Lincecum showing old form at camp

Tim Lincecum has received rave reviews at camp. Of course, he formerly prompted such awe on a regular basis. And if the Giants right-hander truly has recaptured his Cy Young Award-winning form -- well, who knows what could happen this year?

Upvote Share Tweet

Turner looks to keep turning heads with Dodgers

Being a non-roster position player in a Dodgers Spring Training camp is likely to lead to a year as Triple-A insurance, or worse. So what Justin Turner did last year, mostly under the radar, deserves respect.

Upvote Share Tweet

Preller settles in for first spring as Padres GM

First-year Padres GM A.J. Preller spent a busy offseason revamping the roster, but he says he's constantly evaluating the team's makeup and looks forward to watching position battles play out in Spring Training.

Upvote Share Tweet

Struggles behind him, Strickland looks to earn spot in 'pen

Hunter Strickland shined for the Giants in his first few big league innings in the regular season, but he was hit hard in the postseason. With the struggles behind him, Strickland is looking ahead towards a role with the Giants in 2015.

Upvote Share Tweet

Jansen fitted for weight-bearing boot

After stitches are removed next week, the boot will allow Dodgers closer Kenley Jansen to begin placing weight on the foot and gradually ramp up athletic activity. Until then, he will continue on crutches.

Upvote Share Tweet

Are Dodgers Better With Offseason Additions?

Mar 1

The Dodgers won 94 games last season, but are they now even better with the additions made in the offseason?

Dodgers Injury Update

Mar 1

ESPN injury analyst Stephania Bell discusses the timetable for Dodgers closer Kenley Jansen to return to Los Angeles' lineup, as well as injuries to starting pitchers Zack Greinke and Hyun-jin Ryu.

Shields Embracing Expectations

Feb 28

James Shields discusses his decision to sign with San Diego during the offseason, the mentality of going deep into games and facing expectations.

High Expectations For New-Look Padres

Feb 28

San Diego's big offseason acquisitions Justin Upton and Matt Kemp discuss the Padres' chemistry and share their expectations for the 2015 season.