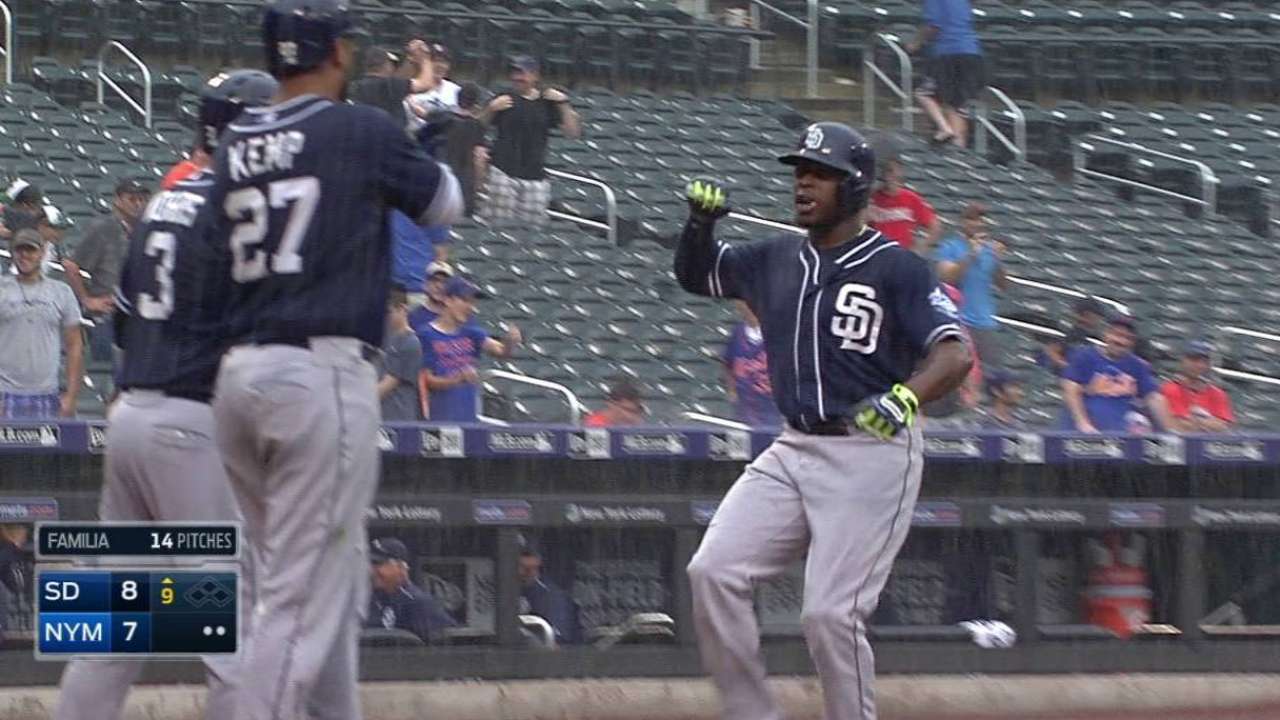 Upton's homer caps rain-soaked rally over Mets
MLB.com
Updated 57 minutes ago
The Mets were two strikes away from a series win over the Padres on Thursday afternoon at Citi Field, but Justin Upton squeezed a go-ahead three-run homer into the seven-minute span between ninth-inning rain delays, leading the Padres to an 8-7 victory.
Share
Tweet
Toronto Land Price, Dodgers Pull Off Blockbuster

nytimes.com

1 hour ago

The Toronto Blue Jays added another big weapon to their roster by acquiring Detroit Tigers ace David Price on Tuesday while the Los Angeles Dodgers landed pitcher Alex Wood as part of a 13-player, three-team blockbuster.

Share Tweet

nytimes.com

1 hour ago

After a rain delay in the ninth inning, a three-run homer from Justin Upton that stunningly gave the Padres an 8-7 lead and after another rain delay, the Mets went quietly.

Share Tweet

nytimes.com deadspin.com

2 hours ago

Justin Upton hit a three-run homer through a driving rain with two outs in the ninth inning, and the San Diego Padres stunned the New York Mets 8-7 Thursday as they overcame a six-run deficit during a game delayed nearly four hours by two storms.

Share Tweet

nytimes.com MLB.com yahoo.com

4 hours ago

The first-place Los Angeles Dodgers bolstered their pitching staff on the eve of the trade deadline, completing a 13-player deal with the Atlanta Braves and Miami Marlins on Thursday that sent two starters and two relievers to the NL West leader.

Share Tweet

yahoo.com

8 hours ago

As if Troy Tulowitzki's monster debut with the Toronto Blue Jays wasn't enough, we can only hope Colorado Rockies fans still upset by the trade weren't watching Jeopardy on Wednesday night. Because sometimes when the trivia isn't about Victorian Era lit…

Share Tweet

Friars pull a fast one with early departures

MLB.com

9 hours ago

It was quite a moment Wednesday when both Padres starting pitcher Tyson Ross and left fielder Justin Upton -- the target of recent trade talks -- left San Diego's 7-3 victory over the Mets before the final pitch had been thrown.

Share Tweet

Dodgers score 8 two-out runs to drop A's

MLB.com

17 hours ago

The Dodgers responded to the A's four-run seventh with a five-spot in the bottom of the inning and two more runs in the eighth, doing most of their damage with two outs, to earn a 10-7 victory and snap their three-game losing streak on Wednesday night.

Share Tweet

Phillips, Reed among 10 top prospect performers Wednesday

MLB.com

19 hours ago

Top prospects from the Astros and Padres turned a game between Double-A Corpus Christi and San Antonio into an old-fashioned Texas shootout.

Share Tweet

Dodgers Rally in 7th for Dramatic 10-7 Win Over Oakland

nytimes.com

19 hours ago

Pinch-hitter Kike Hernandez delivered the go-ahead, two-run double during the Dodgers' five-run seventh inning, and Los Angeles rallied from a three-run deficit for a wild 10-7 victory over the Oakland Athletics on Wednesday night.

Share Tweet

yahoo.com

20 hours ago

Wednesday was quite an interesting day for the Miami Marlins. It started with reports that the team was back to its salary-shedding ways, sending pitcher Mat Latos and and top bench hitter Mike Morse to the Los Angeles Dodgers for a trio of minor league…

Share Tweet

Kershaw Struck By Liner, Loses Part Of Tooth

Mar 20

Clayton Kershaw was hit by Andy Parrino's broken-bat liner in the bottom of the third inning in the Dodgers' 3-2 loss to the A's. Kershaw remained in the game.

Leaving San Francisco Was Easy Call For Sandoval

Mar 9

ESPN SweetSpot blogger David Schoenfield discusses Pablo Sandoval's comments about feeling disrespected by the Giants.

Yasiel Puig Puts On A Big Head

Mar 9

While signing autographs during spring training, Los Angeles Dodgers outfielder Yasiel Puig decided to have some fun by putting on a giant head of himself.

Matt Kemp Conversation

Mar 7

Padres outfielder Matt Kemp talks to Josina Anderson about moving on from the Dodgers' organization, preparing to play in a San Diego Padres uniform and addresses durability questions.

Sports Columnists

5-on-5: Biggest risers, fallers for 2015-16 NBA season

Jul 28

After a summer of deals, which teams are on the inside track to success next season and which are headed for a down year? Our 5-on-5 panel weighs in.

The MMQB Mailbag

Jul 22

Today is a good day for logic around the NFL. Because: • The Tennessee Titans on Tuesday signed the second pick in the draft, quarterback Marcus Mariota, meaning that five days before the first practice of the NFL preseason, all 32 first-round picks hav…

Adande: Jordan wouldn't let pride get in the way

Jul 21

The healthiest sign in DeAndre Jordan's return engagement with the Clippers is that the final decision was made for the right reasons, overcoming what would have been a prideful mistake.