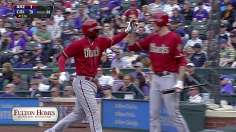 Chacin goes on DL with strained lower back

ESPN.com

Apr 21, 2013

The Colorado Rockies have placed pitcher Jhoulys Chacin on the 15-day disabled list with a lower back strain.

Share Tweet

Barry Zito and Chad Gaudin combined on a six-hitter, Buster Posey homered and the San Francisco Giants beat the San Diego Padres 5-0 on Sunday to complete a three-game sweep.

Share Tweet

Matt Kemp singled home the go-ahead run and Mark Ellis had three RBIs, as the Dodgers beat the Orioles, 7-4, to end their six-game slide.

Share Tweet

Tim Lincecum earned a rousing ovation with a four-hit effort over 6 2/3 innings, and Pablo Sandoval hit a two-run homer to lead the Giants to a 2-0 victory over the Padres on Saturday night at AT&T Park.

Share Tweet

Worrying About The Dodgers

Apr 21

Curt Schilling and Karl Ravech discuss the biggest concerns for the Dodgers.

Dodgers Snap Six-Game Skid

Apr 21

Matt Kemp drove in the go-ahead run during a four-run fifth inning to guide the Dodgers to a 7-4 win.

Zito, Giants Blank Padres

Apr 21

Barry Zito tossed seven shutout innings in the Giants' 5-0 win against the Padres.

Rockies Suffer First Home Loss

Apr 21

The Rockies' eight game win streak is over with a 5-4 loss to the Diamondbacks.