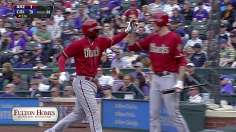 Chacin goes on DL with strained lower back

ESPN.com

Apr 21, 2013

The Colorado Rockies have placed pitcher Jhoulys Chacin on the 15-day disabled list with a lower back strain.

Share Tweet

Barry Zito and Chad Gaudin combined on a six-hitter, Buster Posey homered and the San Francisco Giants beat the San Diego Padres 5-0 on Sunday to complete a three-game sweep.

Share Tweet

Matt Kemp singled home the go-ahead run and Mark Ellis had three RBIs, as the Dodgers beat the Orioles, 7-4, to end their six-game slide.

Share Tweet

Tim Lincecum earned a rousing ovation with a four-hit effort over 6 2/3 innings, and Pablo Sandoval hit a two-run homer to lead the Giants to a 2-0 victory over the Padres on Saturday night at AT&T Park.

Share Tweet

Worrying About The Dodgers

Apr 21

Curt Schilling and Karl Ravech discuss the biggest concerns for the Dodgers.

Dodgers Snap Six-Game Skid

Apr 21

Matt Kemp drove in the go-ahead run during a four-run fifth inning to guide the Dodgers to a 7-4 win.

Zito, Giants Blank Padres

Apr 21

Barry Zito tossed seven shutout innings in the Giants' 5-0 win against the Padres.

Rockies Suffer First Home Loss

Apr 21

The Rockies' eight game win streak is over with a 5-4 loss to the Diamondbacks.

Sports Columnists

Cleveland Cavaliers reach out to Phil Jackson about open coaching position…

Apr 21

As they did eight years ago when he was in retirement, the Cleveland Cavaliers have reached out to Phil Jackson about their head coach opening, sources told ESPN.com.

Manu Ginobili gives San Antonio Spurs a lift in Game 1

Apr 21

After missing the bulk of April, Manu Ginobili helps lift the Spurs past the Lakers in Game 1.